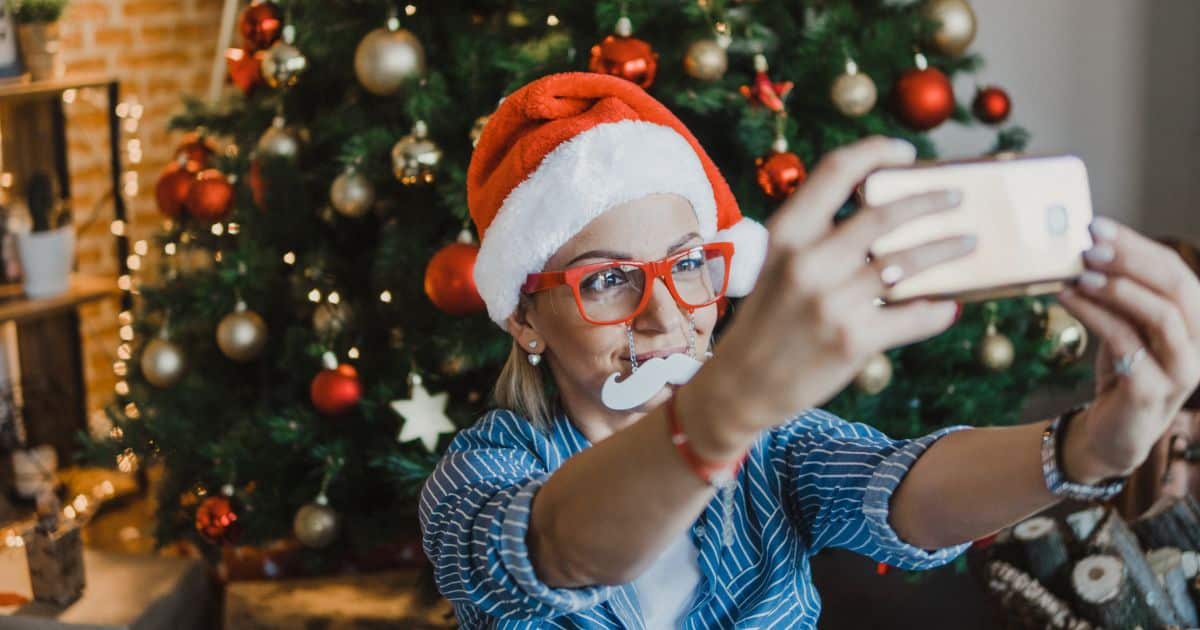 Are you a mulled wine glass half-full kinda gal?
If so, you'll love this article where we focus on all the good things about being a single mother at Christmas.
No-one puts in as much effort as us single mums at Christmas time so we absolutely deserve to enjoy ourselves when the big finally arrives. Sometimes, in order to do this, we have to focus on the upsides of Christmas a separated parent. We promise you that there are lots of them.
If you're concerned about Christmas as a single mum, keep reading and get into a merry mindset to help you survive the festive season.
The upside of being a single mum at Christmas
Do Christmas your way
If you are a sole parent this Christmas, you hold the sleigh reigns mumma. Meaning you have complete control over how the festivities unfold for you and your children. How exciting is that?! You can create new Christmas traditions and plan the lead-up and the day itself however you see fitting.
As a co-parent who shares Christmas with your children's dad, that's fine too. Make sure you have parenting orders in place so everyone knows the plan for Christmas nice and early. If you don't, start the conversation early to organise who has who when. Then, start your party planning for the Christmas period.
Celebrate Christmas whenever you want
It might be that you won't have your kids on Christmas morning this year which is a bitter pill to swallow for many single parents. But, instead of wallowing in a winter wonderland, plan those morning celebrations for another time.
The people who will be most delighted are your little ones. What child wouldn't like two visits from Santa, two Christmas Days and even two lots of presents?
Spend what you want (and no more)
Then there's the money … our seasonal stressor. We want to get everyone lovely gifts, have special food on the day and attend all the festive events in the vicinity … but we don't want to be paying it off for the next year.
Don't panic, as there are lots of ways to have a cheap yet cheerful Christmas. This includes doing Christmas shopping online, spreading the cost and making gifts.
The best bit is, that as a single mum you have total control over your spending. Get saving early, plan a budget (see our Christmas budget sheet here) and don't get carried away. No-one wants to start the new year in debt. Instead start it with a fresh savings account to prepare for Christmas 2023.
Put up the tree whenever you damn well like!
I love that in the Single Mum Vine FB group, the mums share photos of Christmas trees proudly decorated at the beginning of November. And if that's your desire, then why the hell not?!
How wonderful having no one to tell you that you can't put a 12-foot blow-up Santa on your roof this Christmas!
And, at the same time, if you want to keep decorating simple and don't want the hassle of decorating the outside of your home as was the way EVERY year of your marriage, then it's simple … don't do it.
Reminder: You can never have too many Christmas decorations, whatever your ex might have told you. Go mad single mumma!
The upside of being a single mother at Christmas (CONT.)
Treat yourself as a single mum at Christmas
It's always nice to get a gift from hubby or a partner but, come on, you have to admit they didn't always get it right.
When you're a single mum at Christmas, you can treat yourself to whatever you like … well, within reason. And make sure that you do as you soooo deserve it.
There is no reason why you can't buy yourself a gift this Christmas. If fact, make it two or three.
Factor "your" gift into your Christmas budget so you don't miss out.
Get inspiration for what to buy yourself this Christmas here: 50+ Gift ideas for mums (sisters, aunties and girlfriends).
Go Christmas-style crazy
I think I enjoy Christmas even more now than I did when I was married.
In my experience, men are just not into Christmas like us women are. I found myself toning down my childlike excitement and trying to be all-adult about it … when really, I felt like screaming "5 MORE SLEEPS UNTIL SANTA COMES."
Now though, Christmas is an all-out crazy celebration where everyone has heaps of fun, whatever ridiculous form that may take.
Teach the lessons and values that matter to you at Christmas
Christmas is a wonderful time to teach our kids values. This includes the gift of giving, helping those in need and moving away from the feverish commercialism and competition to get the latest iPhone.
You can decide what lessons to teach your children, which in-turn, they can pass on to their children when they have families of their own.
You might even get some peace this Christmas
If your ex is taking the kids for some of Christmas it will allow you time to enjoy some more peaceful pastimes.
Understandably, it can be upsetting to be "sans kids" on this special day but get planning and decide what to do with your festive free time. Meet up with family and/or friends, do charity work or pig-out in front of a Yuletide movie.
Further reading: 12 Things to do if you are alone on Christmas Day.
My final thoughts on the upside of being a single mum at Christmas
I get it, Christmas can be hard as a single parent, especially on the first few years after your separation. The Christmas you have known is gone and you have to start afresh.
But this can also be super exciting.
It's an opportunity to do Christmas at your house exactly how you want.
Chocolate for breakfast. Tick.
No big meals to cook. Tick.
Snuggly Christmas movies in the evening. Tick.
Your kids will feed off your emotions. If you are excited about Christmas even if it is totally different to any Christmas you have done before, they will be too. Worse, if you are apprehensive and down about Christmas, it might ruin theirs.
So, if for no other reason than your kids, pull up your mum pants, don those flashing reindeer antlers and dance the elf dance around the living room.
Merry Christmas everyone!