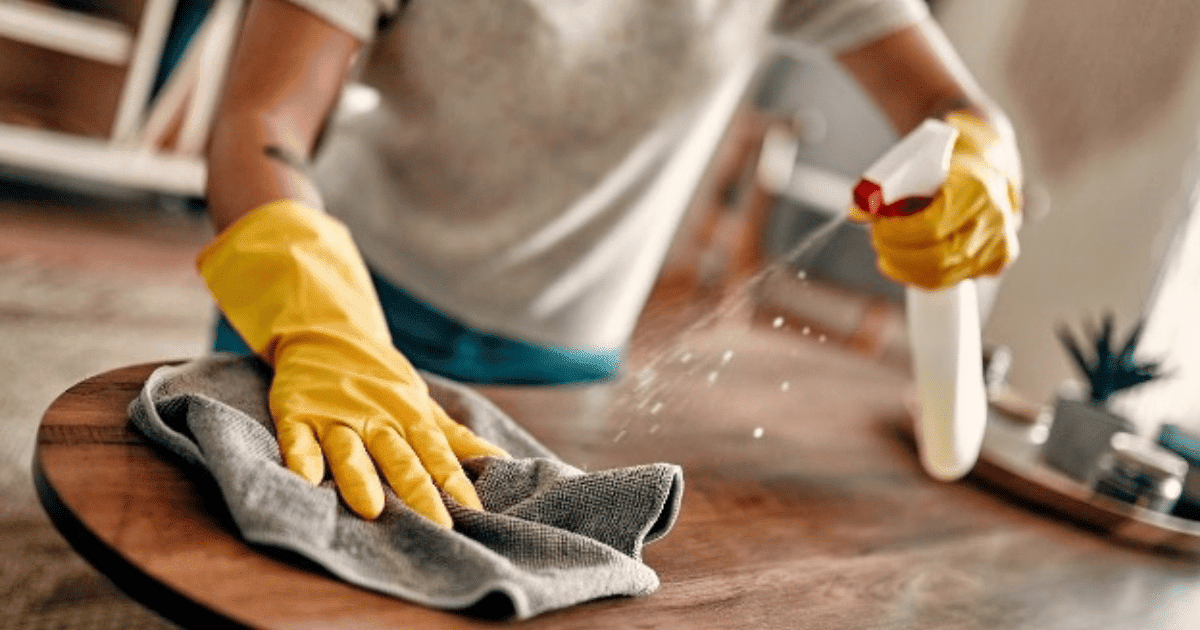 Bond cleaning or end of lease cleaning demands careful and deep cleaning techniques to pull off properly. If you have not hired a professional bond back cleaning company to help you out, it is paramount that you plan the cleaning properly. After all, your security deposit depends on it.
The stress of moving coupled with leaving behind a well-maintained property can be overwhelming. It is for this reason that prior preparations become absolutely mandatory. As soon as you decide that you'll be leaving the rented house, start making a plan to efficiently move as well as get the end of lease cleaning done.
This step by step guide to help you with your bond cleaning is designed to help you do exactly that. Let us begin.
Step 1: Choose a moving date
As aforementioned, your planning should start as soon as you decide that you are vacating the rented space. To start things off, choose a moving date ahead in time. Make sure that it is not too close so that you have enough time to start making preparations. While choosing a moving date, keep these things in mind:
Your expenses are going to go up during this time. It is wise to keep a track of your expenses and come up with a budget. This budget should consider your movers and packers' costs, packing supplies, cleaning supplies, and transportation costs.
Moving during the weekdays and during the middle of the month is cheaper. Demands are low during these periods generally. You can save some money by choosing a moving date when the demand for good removalists is low.
Make sure that your schedule is clear around the time that you are moving. Procuring supplies, packing everything up, and the end of lease cleaning itself take time. It is better to clear your schedule and take a few days off work if possible.
If you are getting help for the bond back cleaning as well as for moving to the new house from your friends and family, it is important to check with them about their schedules too.
Step 2: Start planning
Although moving requires a lot of planning, we're only going to cover the points that are related to your bond cleaning.
Do some research online and read about the kind of cleaning supplies and the cleaning techniques that experts recommend. If you are living in a big city such as Melbourne, getting these bond back cleaning supplies would be pretty easy.
Check out the prices of the cleaning supplies online even if you plan to buy them from a local store. It is good to be educated about the costs involved with your bond cleaning. Check for discounts as well.
Make a list of all the rooms that you'll need to clean or get cleaned. By doing this, you will get a fair idea about the quantity of supplies that you will require. Make sure that you follow your budget closely.
If you are planning to hire professional end of lease cleaners, ensure that your research is detailed. Choose a company that is experienced and trustworthy. Request quotes from multiple companies and compare them before you select one.
It is better to do all of these things much before the actual cleaning begins. If you have time, you should start the planning stage at least one month before the moving date.
Step 3: Getting the right supplies
Once you have a rough idea about the kind of supplies that you'll require, it is time to hit the stores. Every room or piece of item is unique and may demand some special treatment. Bond back cleaning, generally, is much more thorough than your regular weekend cleaning. It is crucial that you get an ample amount of supplies so that you don't have to make multiple runs to the store.
The basic supplies
Some of the items that you'll definitely need are listed below:
A mop, a broom, and a bucket

Squeegees and sponges

Hand towels and floor scrubbers

Steel wool

Floor disinfectants

Sprayable cleaning solution

A few rags, newspapers, and some microfiber cloth

Garbage bags, disposal bags, etc

Gloves and face masks
Optional supplies
It is recommended that you get some of the following as well to get better results:
Glass cleaners, wood cleaners, and all-purpose cleaning solutions.

Grout cleaning brush.

Lint roller.

Adhesive remover.
Also, it would be good if you have a vacuum cleaner to help do the cleaning faster. This is especially true if you are dealing with carpets, rugs, and clothed couches.
The cleaning supplies that you need also depend on the kind of house that you need to clean. As mentioned above, a vacuum cleaner is a helpful addition if you have carpeted floors. For hardwood floors, wood cleaning solutions become a necessity. Gauge what your house needs and purchase accordingly.
Step 4: Use homemade cleaning solutions if possible
The thing about cleaning supplies is that the difference between the branded ones and off the shelf labels is minimal. Also, sometimes homemade cleaning supplies work much better. They help you save money and often prove to be a more effective way to deal with pesky stains and odours.
All purpose cleaner 
To make an all purpose cleaning solution, add white vinegar to an equal quantity of water. Add lemon rinds or lemon juice to this solution along with some rosemary twigs. Let the solution rest for 5 to 7 days before using it.
This all purpose cleaner can help you get rid of stubborn stains on hard surfaces such as wood floors and marble countertops. You can use this in a spray bottle or simply pour some of it over the surface. Use steel wool or a damp rag to get the best results.
Kitchen cleaner
Add baking soda to water in a 4:1 ratio. This solution is ready to use and is wonderful on kitchen countertops, the inside of your fridge, as well as on other appliances. We recommend this cleaning solution to everyone who is planning to do their own bond back cleaning. The solution works wonders on stainless steel and can also be used to unclog kitchen drains.
Glass cleaner
Add rubbing alcohol, white vinegar, and water to a spray bottle in a 1:2:8 ratio to get your mirrors, glass windows. and other transparent surfaces shining again. You can also add some perfume to spice things up a bit. Make sure that you avoid using this solution on very hot days because it tends to dry up and leave marks on the glass surfaces.
Grease cleaner
Although, there are umpteen number of DIT solutions that you can prepare, there are some that are more important than others. Getting on to our last one, mix half a cup of ammonia with a gallon of water to prepare a wonderful answer to grease and oily stains on hard surfaces. It works amazingly well on ovens and microwaves and can deal with pesky grease marks on gas and electric stoves as well.
Step 5: On the day of cleaning
As the day of moving approaches, your plan should start kicking in. It is very important that you pack and move everything before you start the cleaning. End of lease cleaning has to be deep and meticulous. Packing tends to leave behind a lot of mess so it is a good idea to completely empty out the house before you begin the process. Some of the best bond cleaning companies suggest that you let your packers and movers complete their job before the cleaners come in.  
After you have an empty house to yourself, it is time to get rolling.
Starting the bond back cleaning
First, decide how you are going to tackle the job at hand – room by room or task by task. We suggest doing the latter since you'll need a singular set of cleaning supplies to get the job done. What we mean by this is that it is better to sweep the house first. Then, move on to the mopping. By dividing your time in tasks, you'll move through the job more quickly.
Cleaning room by room is also an option. You can start by cleaning the rooms with carpeted floors, for example. Alternatively, you can start by cleaning all the bathrooms, then the kitchen, and then the rest. It is better to initiate the cleaning from the dirtiest room. This is usually the bathrooms. Make sure that you remove the shower curtains and other smaller fixtures before you begin.
Keep all your supplies in an accessible place together
To go through the job quickly, it is important that your cleaning supplies are accessible to you. You can buy a small cleaning trolley or use a bucket that you can carry around the house as you clean your way through it.
Dry then wet
Another great piece of advice that you can use is to dry clean the house before you use water or cleaning solutions. Dust is the principal agent that dirties a place up. Sweeping or vacuuming the entire house before you start using a mop or a damp cloth is a good idea.
Bond cleaning with pets
Another situation where a vacuum cleaner becomes an absolute necessity is when you have pets. This becomes even more crucial if you have carpeted floors. Vacuum slowly across the surface of the carpet or rug in a W pattern. Do not pull or push the vacuum too quickly. For urine stains, use homemade stain removers or purchase them from the store. Stains from urine and fur related issues may also demand fumigation of the entire house. For this, you'll need to call in for professional bond back cleaners. Fortunately, this isn't a problem in Melbourne where there are plenty of options when it comes to good bond cleaning companies.
Carpet cleaning, in general, may also require some expert help. If you are not confident with your cleaning skills, it is recommended that professional help is taken. Move out cleaning experts have the right equipment and adequate amount of cleaning supplies to take care of such situations. Also, they have the skill set to complete the job quickly and efficiently.
Outdoor bond cleaning
Another nice area where professional help may be required is the outdoors. This may include your backyard, your front lawn, or your porch. Mowing the grass and cleaning the greasy barbeque – it may call for some specialised equipment. Also, your patio or driveway may require thorough sweeping and washing before you move out and hand over the keys.
Step 6: After the cleaning
After you are done with the hectic bond cleaning, it is time to review the job and check for any missed spots. One of the best and the quickest ways to ensure this is to have your property condition report with you. This report contains details of the property when you first moved in. It reports the damages already present in the property. You can compare this report to the current condition of the house and take care of any issues that remain. The house owner will also inspect the property using this report as a reference. In case there are any condition issues, he or she will deduct some amount from the security deposit before handing it back to you.
Finally, we recommend that if you are dealing with a large house or do not feel confident about doing a good job, you can call a few move out cleaning companies in your vicinity. You don't have to hire them – you can ask for advice or get your cleaning supplies from them. Also, if their estimates seem fair to you, you can go in the direction of hiring them for you. The biggest benefit that comes with hiring end of lease cleaning outfits is that you can be relaxed about the whole situation. Professional bond back cleaning experts will most definitely do a good job at cleaning your rented space