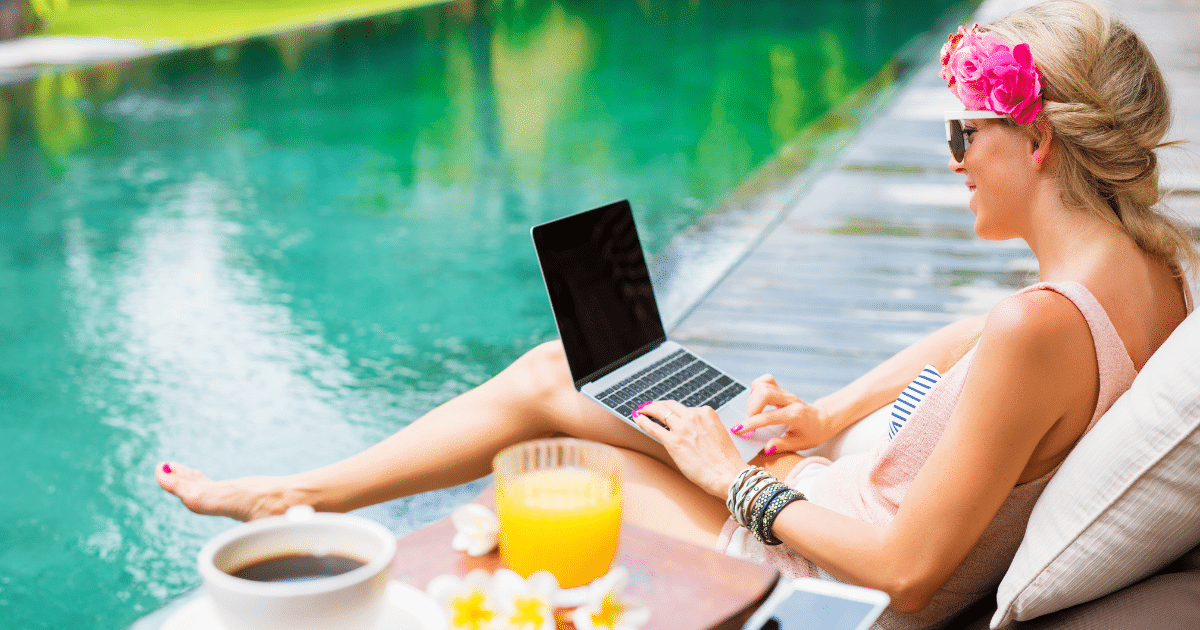 In a fast-paced world where demands and responsibilities often consume our daily lives, it's easy to overlook the importance of self-care. Wouldn't it be great if there were self-love courses to teach us how to love ourselves more?
Well, there are!
Thankfully, the digital era has brought us a wealth of opportunities to explore personal growth and embark on transformative journeys. The best bit is that you can do it all from home, and in your own time.
In this article, we share our ten favourite self-love courses that you can do online, empowering you to cultivate self-compassion, embrace your uniqueness, and embark on a profound path towards self-discovery.
Consider this your first step towards embracing a life infused with love, acceptance, and personal growth.
Ready? Let's go.
Yoga, Meditation and Mindfulness for Self-Love and Empowerment
Feeling stressed lately?
Whether you need to unwind, reconnect with your inner self, or improve your spiritual and physical health, this foundational course will kick-start your journey to yoga, meditation, and mindfulness. Claire, the teacher, will give you healthy recipes aligned to the practice, teach different basic poses, get you started on affirmations and journaling, and more.
This transformational course accepts beginners and experienced yogis who want to deepen their self-awareness. In addition, you get full lifetime access to the modules and downloadable resources.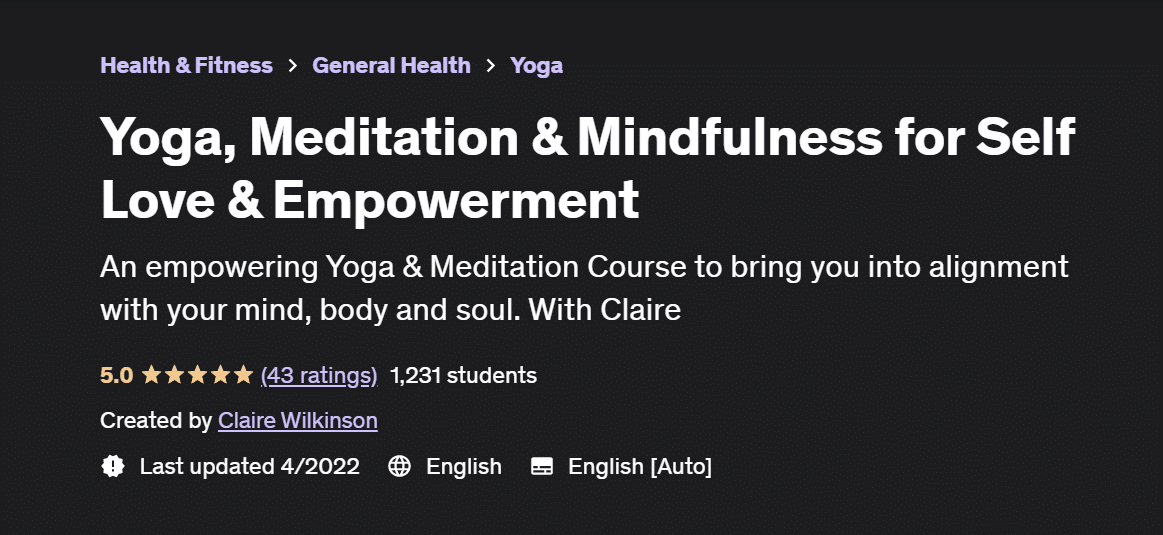 Course length: 7 hours 13 minutes
Course platform: Udemy
Self Confidence: Develop Amazing Confidence and Self Esteem
Self-confidence is a great thing to possess, especially because, as mums, we want our children to develop the same. This course aims to activate your self-confidence by boosting your public skills, improving your self-image, and helping you exude powerful body language.
The course is a beneficial choice for any mum - whether you're a full-time stay-at-home mum, a working mum, or you have your own business. Exercises like improving your smile and maintaining eye contact will teach you how to be more comfortable in social situations. On the other hand, there is a section on improving your confidence at your job, which will be helpful for working mums.
This course has 33 lectures lasting an average of 5 minutes each. In these bite-sized classes, you will learn to be more confident in your life.
Course length: 4 hours 55 minutes
Course platform: Udemy
Kirbanu
If you're struggling with low self-esteem, self-worth, or self-love, check Kirbanu's course on Teachable. Kirbanu is a voice empowerment coach who helps people cultivate their voice and use it to improve different aspects of their lives.
The lessons I'm most excited about in this course are: breaking free from old thought patterns, letting go of comparing myself to others, and stopping waiting for someone else to save me. These topics will be helpful for mums, whether you're in a relationship or not. At the end of the course, you will become a stronger woman for yourself and a happier mum for your kids.
You also get lifetime access to the course materials, which include video lessons, printable journal sheets, and downloadable guided meditations.
Course length: 2 hours
Course platform: Teachable
The Self-Love Project
If you're overwhelmed with modern-day stress, wish to become more positive, or want to exude self-love that can trickle down to everyone around you, definitely check out Eloise King's The Self-Love Project.
This course will help you cultivate simple, research-based daily habits to improve your self-love quotient in mindfulness, happiness, food, and movement. It will equip you with science-based techniques for calming your brain, dealing with everyday challenges, nourishing yourself, and moving your body.
Across six weeks, you get their guidebook, workbook, weekly video sessions, personalised data, a tool to help you activate happiness (The Self-Love Halo), resources for stressful moments (Self-Love Toolkit), regular motivational e-notes, and access to a community to help you stay accountable.
Course length: 6 weeks
Course platform: The Self-Love Project
Radical Self Acceptance: Rediscover The Joy of Living
On a scale of 1 to 10, how much do you love yourself?
This course is aimed at anyone who says less than a 7.
It is an excellent resource if you have low confidence, are harshly self-critical, are confused about how you want to live, struggle with people walking all over you, and/or harbour anger and resentment toward others. It teaches you the importance of self-acceptance to having a better life and how to find it.
You'd love the journaling practice, mirror work, guided meditations, and daily routines you can integrate into your everyday life.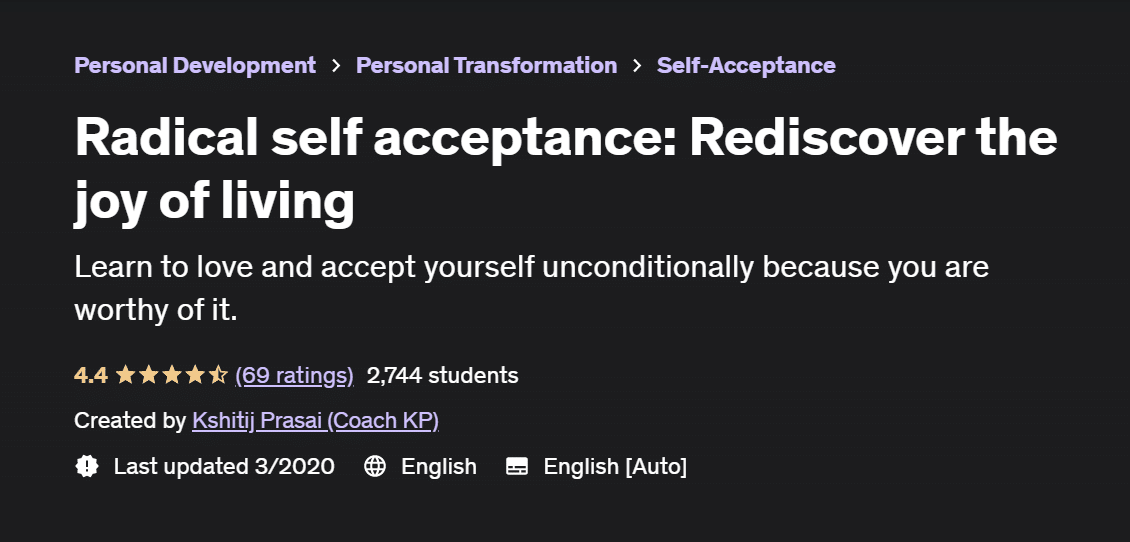 Course length: 1 hour 43 minutes
Course platform: Udemy
Simple Self-Confidence Course
Born from bestselling author Barrie Davenport's own confidence journey and thousands of comments on her blogs, this course provides the formula for increasing your self-confidence with simple and actionable steps.
This course promises to give you the ability to create a better life for yourself and your family, make a better income due to your confidence, become comfortable in any social situation, and feel great about yourself.
Here, you will learn about the costs of being shy and the relationship between confidence and your personality and appearance, among others. You and your kids will specifically love to listen to limiting beliefs due to childhood issues and how you can help your children by being a confident mum.
At the time of writing, the course is on sale, and you get lifetime access to video lessons, audio lessons, worksheets, and other bonus materials.
Course length: 30 days
Course platform: Teachable
Katrine Horn Self-Love Activation Course
Finally, here's a course that will kick-start your self-love and discovery of your true self. If you've ever struggled to believe that you deserve the good things in your life, Katrine Horn's bite-sized modules may be the perfect resource.
The course has 12 online videos for you to binge-watch. But it is highly recommended that you fully immerse yourself with the accompanying typeable workbook and downloadable guided meditations to get the full benefits of the course.
By the 12th module, you will be in touch with your personal values and vision, set your boundaries, know how to say "no," and more - all of which eventually lead to you accepting that you are worthy.
Course length: 12 hours
Course platform: Katrine Horn