If you are a woman in Australia experiencing any form of domestic violence, know that you are not alone. Amidst the shadows, there shines a glimmer of hope in the form of dedicated domestic violence charities that provide crucial support and aid to those in need.
We understand that reaching out can be difficult, but remember that your safety and well-being matter above all else. This article presents ten compassionate domestic violence charities that stand ready to support and uplift you during these difficult times.
These charities offer various services, including confidential helplines, safe shelters, counselling, legal aid, and more.
Never hesitate to take the first step toward seeking help. Never forget, you deserve a life filled with love, respect, and dignity, and these organisations are here to help you reclaim it.
1800Respect
An easy to remember lifeline is offered by 1800Respect to Australians who are struggling with abuse, be it physical or psychological.
It is one of the leading domestic violence charities and hotlines that cater to thousands of DV and abuse victims all over Australia. 1800Respect's reliable services include safety planning and providing 24/7 confidential counselling to those who seek their help.
Friends With Dignity
One of the most notable domestic violence charities in Australia positions itself uniquely and fills the gap in helping DV and abuse survivors. Friends With Dignity operates only through registered referring agencies and ensures anonymity of the referrals/clients throughout their process of assistance.
The organisation provides help in transitioning survivors into independence with the "little" huge things. This may include helping a family obtain necessary home appliances after moving, gathering skill resources for mums who may need driving lessons and job training, and collecting funds for removal from a violent home.
Volunteers and donations are accepted and utilised to accommodate as many referred clients as possible.
Lifeline
Lifeline offers a safe and non-judgmental space to communicate and intervene for callers who are in emotional distress or are contemplating suicide and holding out their last string of hope. The organisation's services can be urgently accessed through call, text, and chat.
Their hotline and website are important to take note of whether you are a DV and abuse survivor or not. Suicide prevention is our responsibility especially when we have the power to help someone who is struggling and seeking an early exit from this life due to pressure, depression, or other mental health issues.
The Salvation Army
An international Christian movement founded in London and known for their work with the homeless and their charity shops all over the world, The Salvation Army has services that cater to families affected by domestic violence and abuse.
The organisation also helps in risk assessment and planning for the removal of victim-survivors from violent homes. They also assist to address survivors and families' homelessness, unemployment, and poverty that could be directly caused by domestic violence.
RizeUp
RizeUp is an Australian organisation that works in partnership with registered domestic violence agencies to augment the services they provide. They have helped more than 13,000 families move towards peace and safety, away from domestic violence.
By accepting and distributing donations and training volunteers to assist victim-survivors, RizeUp helps local domestic violence charities and urgent care teams attend to clients in a more efficient and anonymous fashion.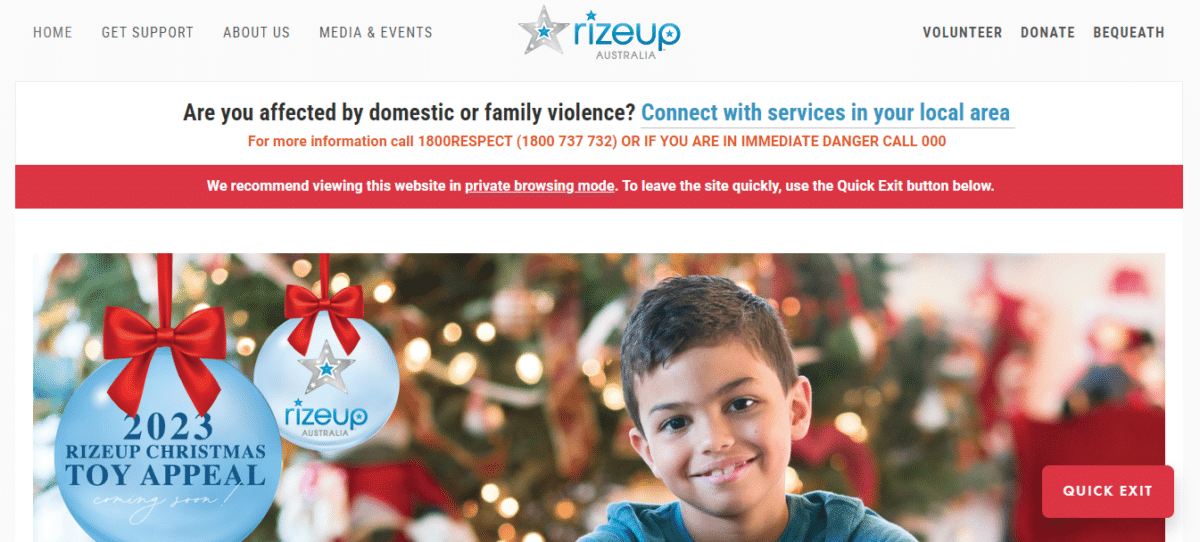 Red Rose Foundation
The foundation aims to help address the darkest and most unfortunate aspect of domestic violence: death.
They organise "Red Rose rallies" to honour and remember those killed in domestic violence. The foundation also has programs to support surviving families of those killed and inform the media about domestic violence related deaths.
Red Rose Foundation recognises that strangulation is one of the highest risk indicators to domestic violence related homicides and premature deaths. The foundation believes strangulation is a particularly high-risk form of domestic violence that needs a specialised response.
In response, Red Rose Foundation provides information, resources and therapeutic support, available to women in Australia who survived the trauma of non-fatal strangulation in their experience of domestic violence.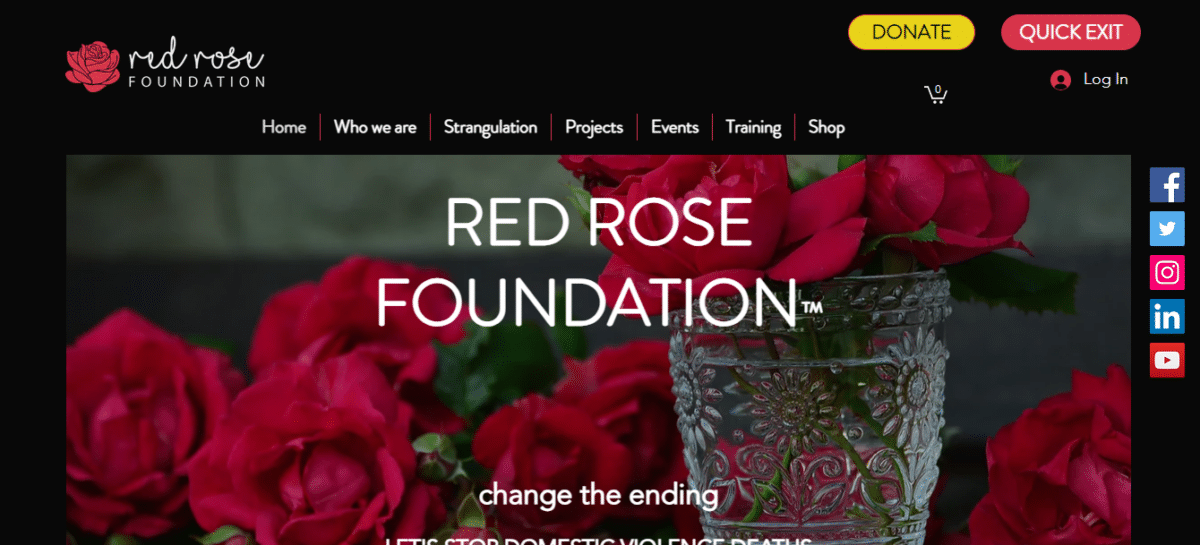 Mission Australia
In Australia, domestic and family violence is the leading cause of homelessness for women and children.
With Mission Australia's objective to help eradicate homelessness in the country, programs are implemented to assist with safety planning, help victim-survivors obtain legal services, and improve families' social welfare through professional services and acommodation.
Next Steps
Specialising in homelessness assistance for domestic and family violence victim-survivors, Next Steps creates and provides Starter Packs for their clients through the kindness of donors and supporters.
Next Steps continuously collects donations and works through community partners with the objective of helping restore dignity and provide safe and clean materials to families fleeing domestic violence.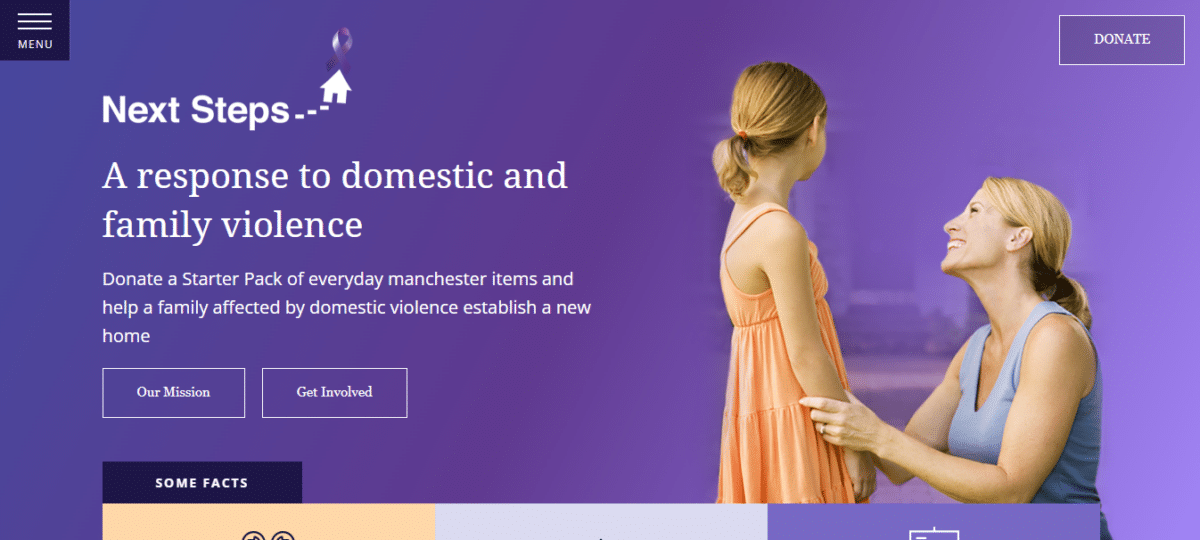 Beyond DV
Beyond DV aims to empower and support women and children victim-survivors in the Brisbane area (and for those willing to travel) as they rebuild their lives after domestic violence.
As with many domestic violence charities, Beyond DV was borne out of a lived experience helping a loved on who happens to be a victim-survivor. The organisation focuses their work on their identified Five Pillars of Recovery: Social Connection, Legal Support, Health Support, Housing Support, and Financial Rebuilding.
White Ribbon
Seeing the dominant prevalence of domestic violence and abuse being directed towards women by men, White Ribbon aims to eliminate gendered violence through primary prevention.
The organisation puts focus on educating and mobilising men and boys (and the community) to take action against violence and abuse. By implementing evidence-based and research-backed strategies and activities in the community, White Ribbon works towards fostering discussion and encouragement among men to champion for women's safety.