Parenting can be hard, but parenting through divorce is harder. Whilst we grapple with our own emotions we must ensure our children have the knowledge and understanding they need. Thank goodness for a wonderful range of children's divorce books that deal with divorce and separation.
Whether it's a colourful picture book or a sensitively-targeted chapter book, they are an extremely powerful resource no single parent should underestimate.
You don't have to look far to find some real game-changers.
Many are written by children psychologists or formed from years of research. Hidden within the words or illustrated pages are thoughtfully targeted messages that provide advice, understanding and coping mechanisms. They are straight-forward, honest, comforting and stigma-free.
Furthermore, divorce books can ease the sense of isolation your child may feel as they relate to fictional characters dealing with experiences similar to their own.
SEPARATION & DIVORCE BOOKS FOR YOUNGER CHILDREN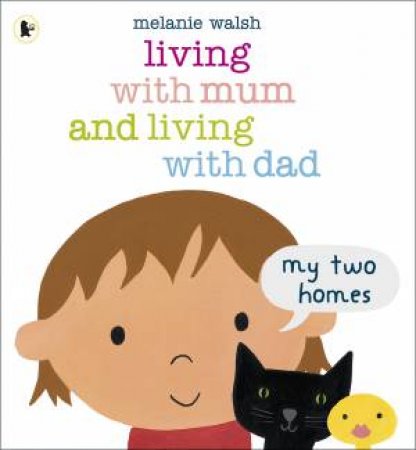 A feel-good book at its very finest. This simple story is about a little girl living in two homes with two sets of everything, from toys to bedrooms. Sometimes she's with her dad, and sometimes she's with her mum, but she's always having fun. The book gives a sense of reassurance to very young children of separated parents – a home that's just as normal and can even be better than a two-parent one.
Recommended for: Parents looking for a read-aloud book that teaches kids to accept families of all kinds and variations, especially single mum families.
The creation of an award-winning author, the simplicity of this story is guaranteed to engage and comfort young children. A trustingly beautiful tale of a little boy who tries to find some glue to stick his mum and dad back together and to stick their smiles back on. The rhyming text imparts a powerful message reminding children that the parental love is still as strong as ever.
Recommended for: Parents who want to reassure their preschoolers that mum and dad loves them as much as ever.
Bea is dealing with big changes after her parents' divorce, like living in two separate apartments and her dad announcing his upcoming marriage. It's not always easy, but she copes by keeping a list of things that will always stay the same: her parents' love for her and each other. A brilliant and uplifting book about the constancy of love when life is changing and getting bigger.
Recommended for: Middle-grade kids who are dealing with changes after divorce or separation. Perfect for parents who want to reassure their children that they are always loved, no matter what happens.
With comforting optimism, this book focuses on a little boy called Alex and his difficulties getting accustomed to living between two homes. It explains how although his circumstances have changed, one thing always remains the same, which is that he is still loved. The matter-of-fact style of writing makes light of what can be a big issue. It concentrates on what is gained when parents separate, rather than what is lost.
Recommended for: Parents looking for a separation book that is child-focused and easy to understand. Can helps kids become more optimistic about their situation.
DIVORCE BOOKS TO HELP YOUR KIDS COPE (CONT.)
Using a gentle, tell-it-like-it-is tone this book is targeted at children coming to terms with shared parenting. The story follows two siblings and examines a range of family situations in a realistic and straightforward way. It considers the practicalities of two houses and the not-always-good emotions associated with it. Eye-catching illustrations even allow children to colour in the pages.
Recommended for: Parents who want to ease the anxieties a child might have after a family breakdown and help them understand that there is life after separation.
This emotional story follows Karen, an 11 year old girl, as she navigates her parent's separation. It depicts her journey from desperation for them to stay together, to awareness that this won't happen and eventually an acceptance of reality. It covers the frustrations and sadness of the situation, the value of good friends and how, in time, it's possible to readjust and feel happy again.
Recommended for: Older kids and preteens who are struggling to make sense of their new normal. This book will help them understand that divorce/separation is truly not the end of the world.
An unusual yet refreshing way of dealing with divorce issues, this book is about a ten year old boy with a helping investigator called Professor Skye. Between them they have to solve eight cases which deal with topics encountered during his parents break-up and divorce. Covering topics in this style is particularly helpful for boys who may not otherwise consider their feelings as closely.
Recommended for: Older kids who are struggling to cope with emotions like sadness and anger in the middle of a divorce. Great for kids who hate self-help books but love mystery books.
OUR FINAL SELECTION OF DIVORCE BOOKS FOR CHILDREN (CONT.)
A touching story about a young girl's struggle to deal with her parent's separation, divorce and second marriage. It covers worry and challenges that can effect preteens/teens in a similar position, as well as other school related issues. An emotional read with an over-riding vibe of hope and forgiveness. Great discussion questions throughout the book encourage the reader to consider their own circumstances.
Recommended for: Preteens and teens who love horses and are struggling to cope with divorce and a second marriage.
An endearing story of 12-year-old Floss, who has to cope not only with her parent's divorce but with her mother and her new family moving to the other side of the world. This book presents the difficult choices that may have to be made and the emotions that accompany them. A riveting yet tender storyline demonstrates how even the hardest decisions can be made and overcome with parental love and support of good friends.
Recommended for: Preteens and younger teens who are dealing with the aftermath of divorce and all its complexities, including the difficulties of maintaining friendships.
A heart-warming, realistic read about a young girl who lives week on/week off between her two step families, feeling she doesn't really fit into either. It follows an unusual yet compelling structure as the chapters work through the letters of the alphabet. Dealing with upsetting issues which some children will find comfort relating to, it retains a perfect balance of sadness and comedy with a feel-good happy ever after.
Recommended for: Preteens and younger teens looking for reassurance, comfort and guidance after a parental split, especially on navigating new family dynamics.
This book cleverly combines comedy and charm in the story of school girl, Kitty, who is dealing with the post-divorce trauma of her mother's new boyfriend. She shares her feelings with her friend who is also from a broken family, but who has different circumstances and opinions. Her journey to learn how to accept change, however difficult, is sensitive yet amusing, making it an un-put-downable preteen read.
Recommended for: Preteens and teens who are struggling with anger, sadness and fear that comes with adjusting to a new family member post-divorce.