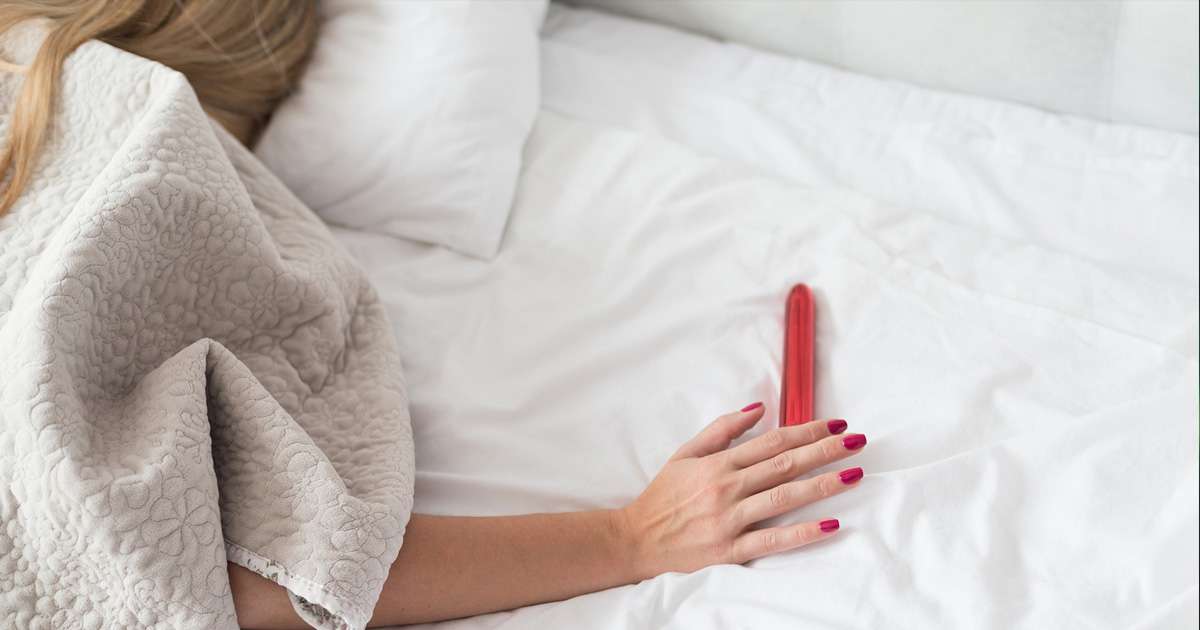 Buying a vibrator for the first time can be a little awkward, even embarrassing. But don't let that put you off. It's also lots of fun.
Even if you are a sex toy novice, the rest of the world is not. Meaning there is a huge amount of choice on the market when it comes to buying vibrators. Be prepared to be wowed!
If you're thinking of taking a tentative look, but are not sure where to start, help is here. We'll soon have you paired-up with your new buzzy best friend … and you'll never look back.
REASONS TO BUY A VIBRATOR
Increase your happiness
Increase your happiness. While experts are not exactly sure why vibrators feel oh so so good, they know that it can help men and women increase sexual pleasure. The hormone oxytocin is released during orgasm, which may raise your feelings of happiness, affection, and contentment.
Learn about your body and what turns you on
Remember how exciting it was the first time you explored your own body, discovering the ways touch and contact can set you on fire? If it's been years since you felt joy and thrill like that, a vibrator can be a valuable learning tool. It can give you the confidence to tell your partner exactly how to please you, or you can please yourself in the bedroom with your new best friend.
Enhance the pleasure of solo play
Enhance the pleasure of solo play. Even if you're single, a vibrator can take your solo play to the next level. It's a fact that some women need a vibrator to orgasm, so it's worth it to try if you have a difficult time reaching climax on your own. If you've never used a vibrator before, check out recommendations for beginners. There's a wide range of vibrator types available on the market, so you're sure to find something to love.
Improve your overall relationship
The positive effects of using a vibrator can spill over to other areas of your relationship. When you feed the hunger for pleasure and physical closeness, it can make your partner more loving and affectionate. Because let's face it, a satisfied, happy person in the bedroom makes an amazing partner.
Better sex life with your partner
A vibrator can do wonders for your sex life. Couple toys (or toys for him and her) intensify the pleasure and joy of sex for many people. If your sex life is lackluster, or it's been a while since you were happy in the bedroom with your man, sex toys might just re-ignite that spark and help improve your relationship. Start slow if both of you have never used them before. Try out different types and see what you like.
WHAT KIND OF STIMULATION DO YOU LIKE?
Buying a vibrator is all about you and your self-pleasure. It is not a one size fits all purchase.
Think about wether you get pleasure from stimulation on the G-spot, clitoris, both or somewhere else. Do you enjoy the feeling inside, outside, hard, gentle .. or a mixture of all? Do you like the same sensation every time, or are you looking to widen you self-pleasure repertoire? According to LoveHoney:
"Most women find it easier to achieve orgasm through clitoral stimulation than any other kind, which is why the vibrator is one of the most popular sex toys."
If you like G-spot stimulation (and most women do) a good starting point is the Desire Luxury Rechargeable G-Spot Vibrator. For a more spread-out sensation, a little Frigga Lay On Massager would be perfect.
If you're not sure, get one with a few extras so you can have a play around and see what arouses you most. The Happy Rabbit G-Spot Rechargeable Rabbit Vibrator, is a great first stop for your vibing journey.
Stockist: Lovehoney
WHAT'S THE DIFFERENCE BETWEEN A VIBRATOR AND A DILDO?
Well, it's easy. A vibrator does just that, vibrates. Whereas a dildo doesn't.
A dildo is more phallic, designed for penetration and comes in a range of materials to enhance pleasure, including rubber and glass. If a dildo is more appealing, you could try a Basix Slim 7 Inch Suction Cup Dildo, but there are heaps of others on the market. Get the one that appeals to your senses … and your naughty side.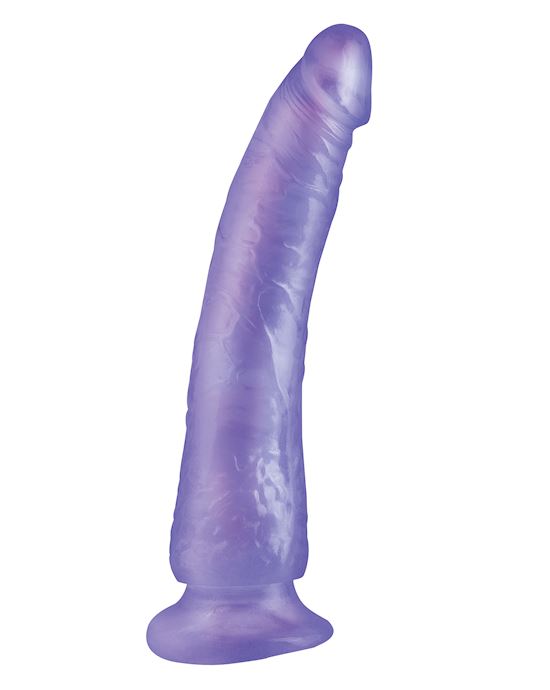 Stockist: The Adult Toy Megastore
IS YOUR VIBRATOR A GOOD FIT FOR YOUR LIFESTYLE?
Strange question? Not at all.
Being ladies and general over-sharers we don't bat an eyelid, but others may, and hey being discrete is kinda classy. Plus, if you have kids, they have an uncanny way of coming across mummy's toys at inopportune moments so be prepared! If your vibrator is just for home, make sure you find it a nice hidey-place, or buy something to fool even the most insightful child.
A completely non-phallic vibrator which can be left lying around willy-nilly (pardon the pun) is the Lush 3 Bluetooth Vibrator by Lovense. It could even pass-off as a hands-free ear-piece if you need to do some fast-thinking!
Further reading: 14 Sex toys you can disguise if your kids discover them.
It's also worth considering the noise of you vibrator in relation to where you live and when you intend to use it i.e. the quieter the better. Not only that, a jack-hammer sound is def not conducive to feeling sexy. Luckily most vibrators are made from silicone which muffles noise, but as a general guide, the more you pay, the more discrete they are sound-wise. We like this Quiet Waterproof Electric Massager.
Further reading: 10 Extra quiet vibrators that won't wake the household.
If your vibrator is not for you alone and you have partner to play with, a remote control vibrator is a good option, allowing you to control the level of fun for your partner, even if you are not together!
Perhaps you travel a lot and like to keep your new friend close? If this is the case, no worries. Little doesn't mean less with a vibrator. The hilarious but super-handy Oh! Kiss Me Lipstick Vibrator can be popped into your handbag for whenever it's needed!
Stockist: LoveHoney
ECO FRIENDLY VIBRATORS (YES THEY EXIST!)
We can all agree that vibrators are good for your body, mental health, and relationships. However, many sex toys end up choking landfills, polluting oceans and adding to plastic waste. Some countries have strict rules about the disposal of sex toys and won't accept used ones for recycling, so they end up in the garbage. In addition, certain chemicals in plastic sex toys can be harmful. An example is phthalates that can affect the reproductive system in animals.
If you're feeling a little guilty each time you add a new toy to your cart, there's reason to celebrate. While vibrators aren't exactly reusable like apparel and accessories, there is a growing market for sustainable sex toys. If you're wondering what earth-friendly toy to get, the options just keep getting better, from a recycled dildo to a vibrator made from plant-based plastic.
Many top brands are switching from traditional materials, power sources, and manufacturing methods. For example, plastic is being replaced with medical-grade silicone, and battery-powered toys with rechargeable models.
Eco-friendly vibrators tend to be more expensive than plastic ones, but these toys are not only designed to be more ethical and planet friendly, but also more durable and safer for the body. When looking for an eco-friendly vibe, avoid hard plastic, phthalates, porous toys that attract germs, and toys that need batteries. Instead, look for silicone, glass, porcelain, plant-based plastic (bioplastic), metal, and up-cycled/recycled materials. Also, read about the company's sourcing process. Toys produced in a facility where workers are treated well is ideal.
One of our favourite brands is Lovehoney, a company that takes sustainable pleasure seriously. Their Love Not War Amore eco-friendly bullet vibrator is our pick for beginners: it's made from recycled aluminium and silicone that feels heaven on your skin, it's USB rechargeable, and it comes with a bamboo storage bag. Talk about luxe and guilt-free.
Stockist: Lovehoney
BUYING A VIBRATOR ON THE HIGH STREET
No longer taboo, sex toys are big business, which is great as you can browse and buy super-easily. Pop a search into Google to find your nearest adult shop and enjoy the touch and feel of high-store shopping. Most shops have booths where you can discuss sales items privately, ensuring you come out with the perfect-purchase. If nothing else, it will be an experience you can tick off your bucket list.
BUYING A VIBRATOR ONLINE
If the thought of discussing the pros and cons of sex toys with a stranger is all too much, the easier and more popular option is to buy online, and the choice is limitless. Reputable online stores include: adultshop.com, Lovehoney, Adult Toy Megastore and Femplay.
Further reading: The best online adult shops in Australia.
You may not have the benefit of a sales person, but you have something far more genuine: product reviews! Make sure you read through them before hitting buy. All online shops will send your goodies in anonymous packaging, so Mr Postie will be none-the-wiser.
Image from: adultshop.com
BUY WITH A FRIEND
If you have a man in your life, buying your new toy together can be lots of fun. Vibrators are a great way to spice-up your sex life, so don't hog it! Ask him what turns him on and purchase it together. The anticipation of its arrival and the thought of all three of you getting to know one another is a sex game in itself.
No man, no worries. If you're simply looking to enhance your sex life with yourself, you can always ask a close friend for advice. Lovehoney even has a 24/7 chat option where you can discuss your needs in earnest with an expert … so never feel you have to do this alone!
PICK YOUR PRICE
You'll get what you pay for with your vibrator, but that doesn't mean you have to spend a lot. Prices range from $15 for a Rocket Bullet Vibrator to $229.96 for a Fun Factory Stronic Petite Thrusting Vibrator.
Prices will vary depending on look, material and functionality. It also depends how much you have to spend and how important the purchase is to you.Stockist: Adult Toy MegaStore

Go! Buy a vibrator!
Don't question buying a vibrator or see it as unnecessary luxury. Sex and orgasms are as natural as the trees outside your window. Anything that will make you feel good without relying on another person is an investment in your well-being and your health. Happy vibrating!