Contents:
Whether you have never used a breast pump before or need a new one, the market is flooded with different brands and types … it can feel a little overwhelming.
If you're new to the baby business, you might wonder why you need a breast pump. It may seem like a crazy concept to pump milk out of your boobs! I will never forget my first attempt which eventually became a reliance on my machine, both to ease my pain and save precious, nutrient-filled milk for my baby.
For many new mums, their breast pump becomes an essential but also very personal piece of equipment, which is why choosing the right one is super important.
We've done our research and in this article, I will take you through:
What is a breast pump
Why a new mum needs a breast pump
The difference between manual and electric pumps
What to look for before purchasing
The five best breast pumps on the market today
Further reading: How to create a strong and healthy body after baby.
What is a breast pump?
Breast pumps are medical devices used to draw milk from a mother's breast. They are used either to alleviate yourself from clogged ducts or to collect milk to be fed to your baby later. They can come in manual or electric. Electric breast pumps can come in single (you can pump one breast at a time) or double (you can pump both breasts at a time).
Why a new mum needs a breast pump
Express Milk
While you can definitely simply feed your baby straight from the breast if you can, and express milk with your hands, there are times when breast pumps can come in handy. Breasts can be used to collect breast milk that can then be fed to your baby through a bottle or a feeding tube.
Many mums, including me, use breast pumps to store breastmilk for my baby to consume while I am out at work or an errand.
Pull Out Inverted Nipples
Before I became a mum, I had no idea that my nipples were inverted. This made breastfeeding challenging for my daughter to latch. In the beginning, I used a simple silicone device called a nipple puller. But when I started using my electric breast pump more regularly, I found that the need for a separate device for my inverted nipple decreased.
Relieve Engorged Breasts
Every breastfeeding mum knows the horrors of engorged breasts and clogged milk ducts. Some mums even develop infections that cause them to get a fever. Breast pumps can take out the milk that are clogging the breasts and alleviate the pain.
However, if you're a new mum, you should know this: the more you empty your breasts, the more they produce milk. This means expressing milk through a breast pump can also cause engorged breasts.
Increase Breast milk Supply
As I said in the previous section, the best way to increase your breastmilk is to remove milk. This is easily by breastfeeding, but of course, your baby won't be breastfeeding all the time, at least after a few weeks. (She has to sleep, you know!)
Many mums have successfully increased their milk supply by using a breast pump in between feedings. However, as I said earlier, this could also lead to breast engorgement, since your breasts will be producing more milk. So, if you want to try using a breast pump to increase your milk, keep in mind that "oversupply" is a thing and it's NOT a good one.
Measure Your Breast milk
Finally, there are mums who just need to know the precise amount of milk their babies consume. To be honest, I'm one of these, since weight gain was a concern when my daughter was a newborn. So, I knew how much more I needed to make and how much we needed to supplement with formula.
What to look for before purchasing
One thing you must remember as a new mum is that different breast pumps work differently for mums. What I mean is because a breast pump worked for many mums doesn't mean it will work for all. For some mums, looking for the perfect breast pump that works for their body could take a long time.
With that said, here are some of the things you should consider when looking for a breast pump.
Convenience
Aside from considering popularity and cost, comfort and ease of use should be of utmost importance when it comes to something you may use multiple times daily.
Budget
Budget is also an important factor when choosing a breast pump. Which breast pump is within your budget?
In some countries like the US, breasts pumps are included in a mum's health insurance. So, check with your insurance company if you can get a free breast pump.
It is also important to look into the price of replacement parts, which you need to change often.
Availability of Replacement Parts
Pump accessories do not and should not last forever. Depending on the frequency of use, you should be replacing them (duck valves, breast shields, etc.) quite frequently to keep your pump in optimum condition.
For instance, worn duck valves would not be effective in pumping out milk, so you could think you're producing less when it's not the case. So, it's important that pump accessories are easily available. That they can be bought separately is also a factor to consider.
Single or Double Pump
You should also take into consideration whether you need a single or double pump. For instance, if you'd be pumping while working, I think you would be better off with a double pump, since it takes a shorter amount of time to express breastmilk. If, however, you would be breastfeeding your child, a single pump would do.
Noise
Another factor you can take into consideration is noise. If you're going to use your pump at work or at a public place, you might want to look into something discreet. Also, manual pumps are quiet, while electric pumps could be quite noisy.
Portability
Portability is really important for on-the-go mums. Does it need to be plugged to a power source, or does it operate using a battery? Whether you I am working from home or onsite, I personally take portability seriously.
Customer Reviews
You might also want to check customer reviews before purchasing your pump. Customer reviews would give you an idea of the experience of other mums with these pumps.
However, take other mums' reviews with a grain of salt. As I said, how each pump works depends on the body of individual mums. Each mum would have a totally different experience in terms of output and convenience. Who knows? Maybe what works on other mums won't work on you and vice versa.
Guarantee or Warranty
The best thing about buying a breast pump from the official store or an authorized distributor is that it often comes with a guarantee or warranty.
If you're planning to get an electric breast pump, you'd be better off with one that has a warranty. This is because good-quality electric pumps can be pricey, so you would want one that can be replaced or repaired for free for a certain period.
The five best breast pumps on the market today
First up, we have a super famous portable single electric breast pump. Back when I was still active in new mum groups, Medela Swing Flex was one of my "dream" pumps. Many pumping mums have only great things to say about this popular breast pump.
Although on the higher spectrum price-wise, my friends rave that Medela Swing Flex Electric Breast Pump gives value for money. It's easy to assemble and clean since there's not a lot of parts compared to other electric breast pumps. It's also durable and portable. Best of all, my mum friends love that they manage to express more milk pain-free.
A single electric breast pump can be used for the other breast while breastfeeding your baby on the other. You can also use it to pump both breasts, one after the other. Check out this power pumping schedule when using a single electric breast pump.
Where to Buy: BabyBunting
For the next item on this list, we have a portable double electric breast pump. Tommee Tippee Made for Me Double Electric Breast Pump is compact and lightweight, making it a great choice for on-the-go mums. It has minimal parts, making it easy to set up.
It has 5 stimulating modes and 9 expressing modes, so you can try the best combination for you.
The best thing about a double electric breast pump is you can pump both breasts simultaneously. This means the time it takes to pump both breasts is shorter compared to a single electric breast pump. You can either hold the pumps in your hand or use a pumping bra.
Where to Buy: ChemistDirect.com.au
Further reading: 10 Breast feeding jumpers for convenience and warmth.
Now, if you're looking for a manual breast pump, the famous Medela Harmony is a great option.
You can use this to pump a breast while feeding your baby on the other, or while using a milk catcher (see last item). This manual pump is lightweight and there's no need for batteries or power source. Manual pumps are great where there's no accessible electricity. This means you can pump anywhere, anytime.
Manual pumps are great because you can control the positioning and speed of expression. Electric pumps could be painful at times – especially if you forget to reset the speed – which isn't going to be a problem with manual pumps.
Where to Buy: BigW
I have tried many breast pumps until I finally found my partner in Spectra. I actually have S1 (portable), S2 (hospital grade), and wearables, and they're all great.
Spectra pumps are known for their powerful motors. The pink variant, S2, is hospital grade, therefore the most powerful. It's not portable and should be plugged to a power source to be used.
Spectra S2, like S1, has a flashlight so you can use it at night without turning on the lights.
The main drawback is that Spectra S2 has lots of accessories, so it could be more challenging to prepare in the beginning.
Hospital-grade breast pumps have powerful motors that often employ a closed system. Spectra S2 has barriers in place that prevent breastmilk from entering the motor.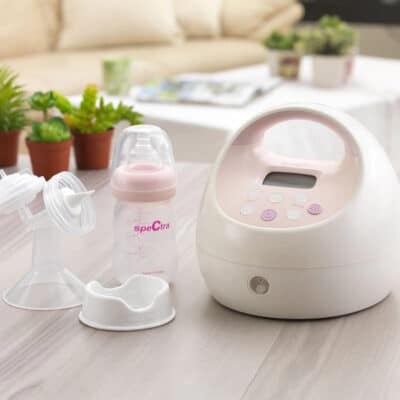 Where to Buy: Spectra
Pigeon manual breast pump
And now, for my most favourite of all: the milk catcher! Pigeon Milk Saver Pump is an excellent pump that "catches" milk from your free breast while your baby nurses or you're using a manual or electric pump on the other.
What makes a milk catcher or saver pump great is that, once it's attached on your breast, you don't have to do anything at all. All you need to do is leave it be and let the milk flow from your breast. You can then transfer this milk into a bottle or milk bag. No milk wasted!
A milk catcher is also great because it doesn't need electricity to use. It's also easy to clean, since there's only one component: the pump itself.
To use the Pigeon Milk Saver Pump, watch this video tutorial by Pigeon Singapore.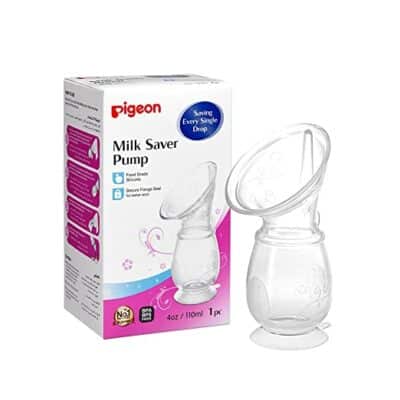 Where to Buy: BabyBunting
Further reading: Nursing sports bras: Choosing the right one for you.