How to choose swim wear for your body type?
Are you feeling less than confident with your mum bod when you hit the beach or the local pool? Are you cursing yourself that you didn't do that diet or start that fitness routine?
Well don't. If your kids are dragging you to the water and skipping dessert the night before hasn't made the blind bit of difference, there is another way.
Take a look in the mirror and decide your body shape. From there, let us help you find a flattering swimsuit that accentuates the good bits and subtly hides the parts you're not as keen on.
Here are our ideas on how to choose swim wear for your body type.
Further reading: Which laser hair removal machine to buy in Australia.
How to choose swim wear for your body type
Big boobs
First on our list of swim wear for your body type: Straps and underwire are your friends if you have a bigger bust. You can wear any style you like as long as it's supportive and comfy. Look for adjustable straps, halter bikinis or something with closure on the back that keeps the suit on no matter how active you get!
We found this at: Birdsnest
Flat chest
Ladies with flat or smaller chests are in luck because they can wear virtually any style, especially the cute trendy ones that people with bigger boobs may have a hard time pulling off. To accentuate the chest area, choose something that draws the eye to the top like ruffles, prints and embellishments. Bandeaus and bikinis are excellent choices.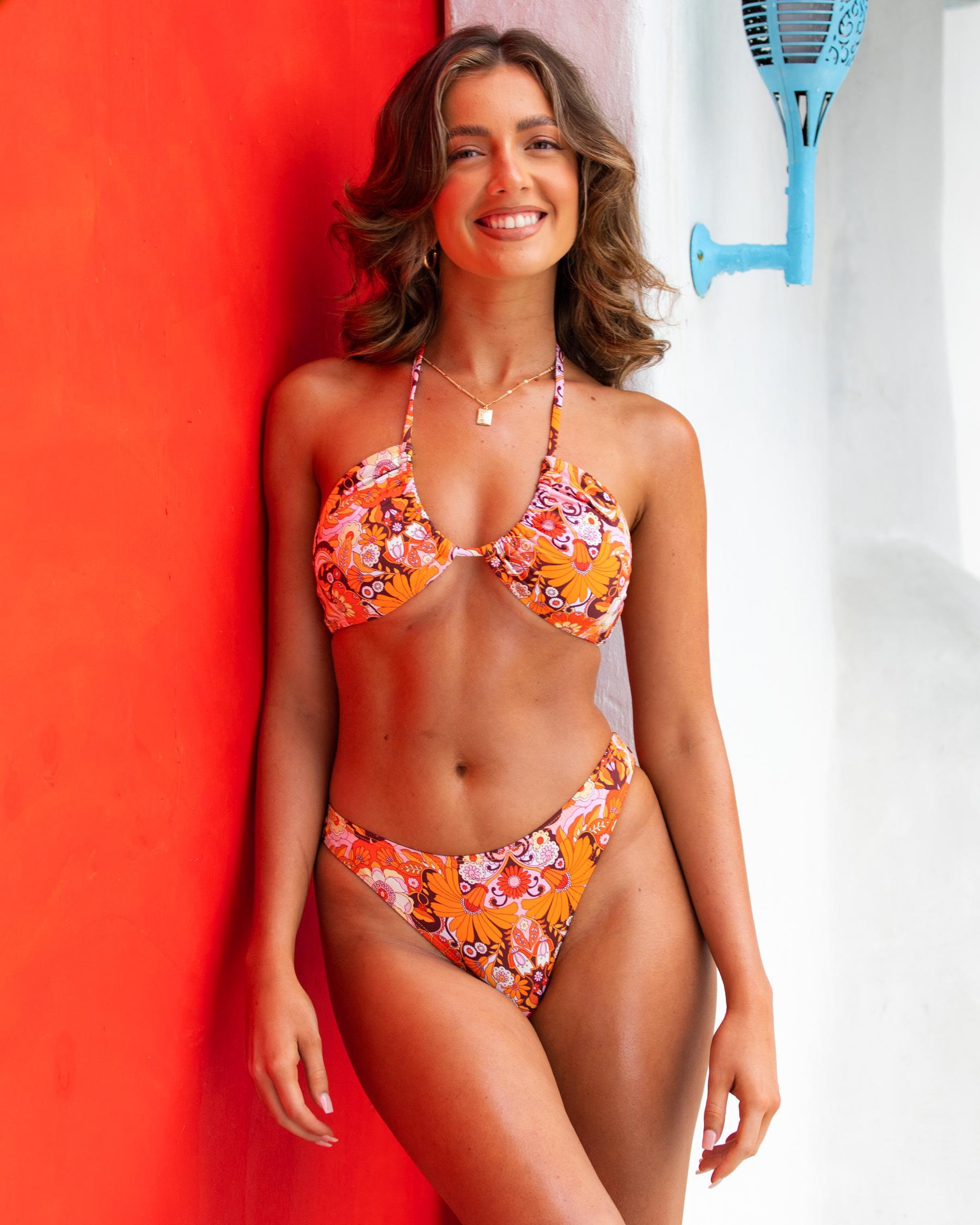 We found this at: City Beach
Plus size
Plus size swimsuits are as varied as regular swimsuits, so choose whatever style complements your body type, whether its apple, pear, curvy or straight. One piece swimsuits are a popular choice because they offer full coverage, but you can get away with other styles if you make design elements work for you. Knotted waist styles are brilliant to appear slimmer in the midsection, and solid or subtle prints draw the eye away from areas you want to hide.
We found this at: Big W
No curves
Have a flat body or wish you were more curvy? Ruffles, ruching, fringe, bold prints, piping and sexy styles are the best swimsuits for your body type. These embellishments distract from a flatter butt and top and give the illusion of curves. Pick a cheeky bottom over a full coverage one to better show off your assets.
We found this at: Cupshe
Pear shape
Pear-shaped ladies are more curvy on the bottom than the top, so this means getting coverage for the bottom half whilst drawing the eye to the neckline or bust area. Try a plunging neckline with a sleek, simple bottom or a colour block bikini with a bold printed top and solid bottom. Avoid boy shorts and bottoms with extra fabric that adds bulk.
We found this at: Shopbop
Best swimsuits for body type
Short legs
Continuing on our list of swim wear for your body type: Cheeky bottoms are perfect for short-legged gals who want a lengthening look. Try a thong if you have a slim bottom or trendy high leg styles (think 80s and original Baywatch) that give the illusion of mile long legs. Don't be afraid to show skin and rock that skimpy bikini!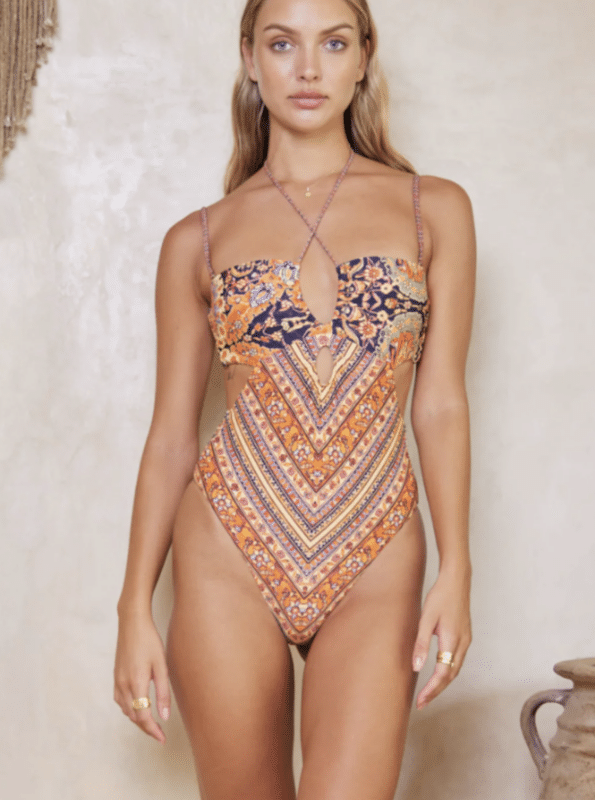 We found this at: Tigerlily
Long legs
For the lucky ladies with longer legs, the sky's the limit. You can wear any swimsuit for your body type, from full coverage bottoms to barely-there bikinis. If you want to downplay the length though and look less gangly, try a skirt bottom, low rise bikini or boy short.
We found this at: Asos
Short body
Shorter torsos need the help of embellishments to lengthen the leg and draw attention to the bust area. Choose low-rise bottoms, string bikinis and anything cheeky that elongates the leg, as well as halter tops or something with an embellished or plunging neckline.
We found this at: Asos
Long body
Two-piece swimsuits break up the length of the torso and make swimsuit shopping a lot easier…you can mix and match! Choose high waist and high cut styles but avoid swim skirts, boy leg and chunky bottoms. A colour block one-piece like this one is also perfect if you want more coverage.
We found this at: Peony Swimwear
Big tummy
We can all benefit from a swimsuit that keeps the tummy area taut and flat, can't we. It's actually very easy to do this if you choose the right style. A one-piece suit with a plunging neckline and embellished waist are both brilliant as well as high-waist bottoms that you can match with a patterned or bold top.
We found this at: Zaful
How to choose swimwear for your body type (cont.)
Big butt
Big bottoms are so hot right now, but if you want to de-emphasise yours at the beach or pool, you'll need a comfortable swimsuit with full coverage. Choose solids and clean lines and save the embellishments for the top area where you want the eye to focus.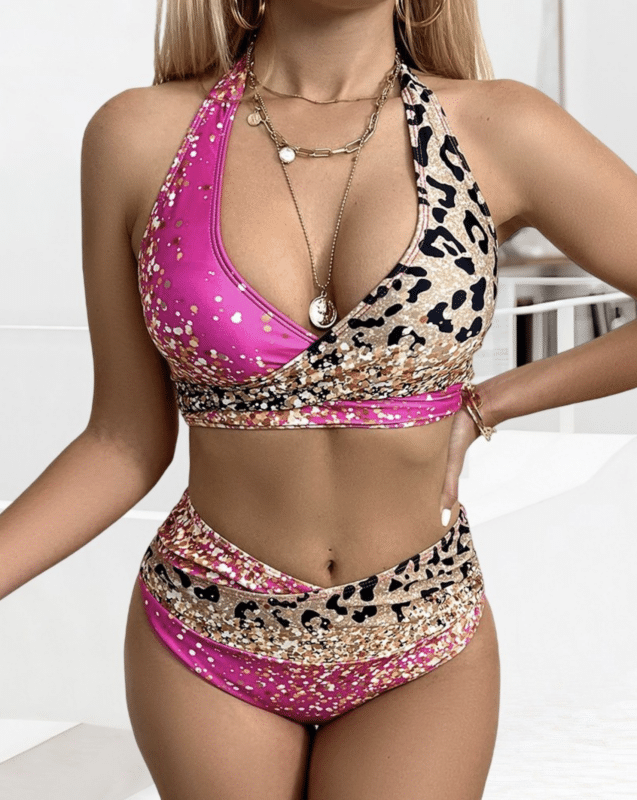 We found this at: Boutique Feel
Flat butt
A flat tush is a dilemma that can be easily solved with a bottom that gives the illusion of fullness or simply distracts the eye. Choose loud patterned, frilled and ruched bottoms and avoid full coverage ones. You can also get away with more cheeky styles like a Brazilian.
We found this at: Cupshe
Love handles
Similar to a large tummy, love handles are easily hidden with a cute one-piece or something with a high-waist bottom that extends past the belly button. Separates make it a cinch to shop as you can mix and match. This one piece is also perfect swimsuit for your body type.
We found this at: Asos
Big hips
Rock your big hips like Beyonce with a swimsuit that draws the eye to the slimmest part of the torso (waistline) and the chest and shoulders. Any high-waisted or high-rise bottom works perfectly as well embellished tops and deep necklines.
We found this at: Cotton On
Pregnant/Maternity
It's easier than ever for expecting ladies to look awesome with a wide range of maternity swimwear to choose from. Every day the styles get cuter and more comfy so you're not stuck with the traditional one piece. If you need support around the chest area, choose halters, supportive tops and trendy tankinis with straps.
We found this at: PatPat