This article about diet programs was last updated in 2022.
Everything you need to know about diet programs is right here …
I don't care what anyone says, eating healthily and dieting, takes time. Put it this way: It takes longer to prepare a nutritious home-cooked dish, than it does to say .. stick some chicken nuggets in the oven or grab a take-away. And with kids in the mix who are not following your diet regime, is can be almost impossible for modern day mums to kick the cals.
Enter the wonderful world of diet programs which make 'eating right' so damn easy that we have no more excuses. Except maybe one: Which program should I use?
Well, to cross that final excuse off your list and to get you happily dieting, we've prepared a list of the best and easiest diet programs for busy mums. After all, anything that saves time AND makes us thinner has got to be a winner.
READY-MADE FOOD DIET PROGRAMS
Using a ready-made meal delivery service is the easiest way of all (for even more choice check out this list of best home delivery services Australia). Simply pick your food online, receive your delivery and heat it up. Like we say, no excuses. There are differences though. Some are fresh, some frozen and different ones cater to different diets and of course, different budgets. Here is our overview of ready-made food diet programs.
The recently rebranded Weight Watchers (WW) is the maker of the "#1 best diet for weight loss 9 years in a row," according to U.S. News and World Report, so they must be doing something right. Besides offering personalised diets/meal plans created by nutritionists for those who are actively losing weight, WW is for anyone who wants to build healthy habits. Weight Watchers (WW) Healthy Kitchen is perfect for busy mums who want to prepare healthy meals but don't have the time. Created by chefs and nutritionists, WW Healthy Kitchen's ready-made meals are balanced, protein-packed, gluten free and without added sweeteners, artificial flavours or preservatives. One downside of this diet program is the lack of delivery option. At this time, you can only buy ready-made meals at Woolworths or the Woolworths online shop.
Box types: Meals for 1 person (400g per box)
Price range: $10 per 400g box, WW membership starts at $42.50/month

Pros: Chef and nutritionist-prepared healthy meals
Cons: The selection is quite limited (6 lunches and dinners) and there is no home delivery service at this time.
SPECIAL: Get 3 months free (terms apply)
My Muscle Chef is a fairly new ready-made food delivery service, but it has already established a loyal following. Customers love their clean, high-protein meals and meal plans that meet a range of dietary requirements. They have high-protein, low-carb, low-calorie, keto and even vegan options as well as fixed meal sets for couples. Their goal is provide great-tasting nutritious meals for active and busy people, from bodybuilders to working mums. The meals are great value for money and perfect if you're a time poor mum on a weight loss/healthy lifestyle journey.
Box types: Meals for 1 person and couples
No. of meal kits per week: As many as you like
Delivery area: Australia-wide, See full list here.
Price range: From $10 per meal, meal plans and fixed sets from $165 per week

Pros: High-protein meals for active people, excellent meal variety, no additives or artificial flavours
Cons: People with bigger frames may need to supplement the meals with snacks
SPECIAL: Free shipping for subscribers
Clean eating for weight loss is effortless thanks to Macros, a meal delivery company specializing in fresh, healthy meals made from whole food ingredients. Each meal is designed by a dietitian and prepared by a chef so you can enjoy what you're eating even if you're on a diet. Their menu selection is pretty impressive, with high protein, plant-based, gluten-free, nut-free and dairy free meals on offer. Simply choose your diet goal/meal plan (weight loss, sculpt, balanced, etc.), number of meals per week (the more you order the cheaper it gets) and you're all set.
Box types: Meals for 1 person and families
No. of meal kits per week: As many as you like
Delivery area: Australia wide
Price range: From $82.95 per week ($9.65 per meal) for single meals

Pros: High protein dietitian-designed meals, excellent meal variety, fresh ingredients without additives
Cons: Portion sizes may be too small for very active people or those building muscle
SPECIAL: More specials on their website.

Want to lose weight but hate to give up your favourite foods, like desserts? Dr. Sanford Siegal's Cookie Diet may be the right diet for you. The Cookie Diet is a two-step weight loss plan that relies heavily on cookies to help you shed those kgs. It sounds too good to be true, but the concept is pretty simple: You are restricted to 1,000 to 1,200 calories per day. You get to eat 9 cookies each day (60 calories/cookie for a total of 500 calories) and a healthy dinner of lean protein and salads.
Box types: Cookie packs for 1 person
No. of meal kits per week: As many as you like
Delivery area: Free shipping Australia wide
Price range: From $69.95 for a one-week supply to $539.95 for a 4-month supply

Pros: Great for short-term weight loss, affordable

Cons: Very restrictive, not recommended for people on a gluten-free, vegan or dairy-free diet

SPECIAL: Receive $20 off your first order when you sign up for emails

Youfoodz is Australia's #1 healthy meal delivery service (according to customer reviews) and they certainly deliver with a line of ready-made meals that are sumptuous, healthy and fresh, not frozen. Youfoodz aims to make healthy eating easy for everyone, and their ready-made meals are a great fit for the busy mum lifestyle. One of the popular diet programs from Youfoodz is the 70/30. It's a line of meal plans based on the premise that by eating clean, healthy meals for 70% of the week, you can lose weight and become healthier. The 70/30 plan comes in three variants: Starter (10 meals for 5 days), Classic (10 meals and 10 snacks for 5 days) and Complete (15 means and 10 snacks for 5 days). You can create your diet program on their website, choose your favourite meals from an extensive list and have them delivered straight to your door.
Box types: Meals for 1 person
No. of meal kits per week: As many as you like
Delivery area: See list here
Price range: Snacks from $1.50 and  fresh meals from $9.95. Meal plans between $69.65 – $213

Pros: Endless menu and meal combos, next-day delivery, fresh meals
Cons: Minimum order value for home delivery, meals are not frozen
SPECIAL: Enjoy 20% off with discount code:YFM-BEANSTALK20
Whether you are looking to lose weight fast or gradually, or just maintain healthy eating habits, Be Fit Food has a diet program for you. Created by a doctor and a dietitian, Be Fit Food provides science-backed programs and meal bundles for individuals looking to slim down or improve their overall health. They offer a wide range of nutritionally-balanced, very low calorie, and low-carb-high protein meals as well as snacks and accessories. The company has very positive reviews on meal taste, selection and variety and on packaging and delivery. However, some are concerned about the long-term sustainability of their very low-calorie regimens.
Box types: Meals for individuals, couples and families
No. of meal kits per week: 7, 14 or 28
Delivery area: Australia wide, see full list here.
Price range: From $57.95 (7 breakfasts) per week
Pros: Tasty and filling meals, great meal variety, dietitian-designed meals
Cons: Very restrictive calorie intake for rapid/gradual weight loss may not be sustainable for a lot of people
SPECIAL: Sign up to Be Fit Food for exclusive rewards

When it comes to diet programs, Lite n' Easy has it covered with its customisable, healthy meal plans that includes everything from mains to desserts—delivered to your front door. Dietitians create the meals and professional chefs prepare them, so you are sure to have a healthy, great-tasting meal on the table even if you're too busy to shop or cook. Like other ready-made diet programs on this list, Lite n' Easy is great whether you're looking to shed some kgs, maintain your weight or just become healthier.
Meal plans: Full 5 and 7-day meal plans and dinners
Delivery area: See full list here
Price range: $6-12 per single-serve meal, $83 – $192 for full meal plans. Total price depends on chosen meal plans and delivery location.
Pros: Customisable meal plans with over 100 meals to choose from, money-back guarantee

Cons: Minimum order value of $49 for all deliveries
SPECIAL: Money-back guarantee on your first delivery
Jenny Craig is one of the popular diet programs offering home delivery in Australia.  With the help of a dedicated personal consultant and chef-crafted meals delivered to your door, you can lose weight and not stress over food shopping or meal prep. Jenny Craig has over 70 diet meals (from breakfasts to shakes and soups) to choose from and 2 meal programs: the 12-week Trial and 12-week Premium programs. The meal portions are designed to be small (in line with their philosophy that smaller portions=easier weight loss), but you do get to eat nutritionally-balanced meals six times a day.
Meal plans: Simple, Essential and Rapid Results

Delivery area: See full list here
Price range: From $88/week to $185/week

Pros: Dedicated personal consultant, popular with diabetics, vegetarian options, wide range of low-calorie, low-fat and low-sodium meals, pickup option
Cons: Prices tend to be on the high side, limited selection of vegan, paleo and keto meals
SPECIAL: Sign up for emails to be the first to hear about specials.
The Gluten Free Meal Co. is filling a gap in the ready-made meals market with their gluten-free bake mixes and flour blends delivered straight to your door. Food preparation and production are strictly monitored by food technologists and ingredients are sourced from trusted suppliers to bring you the best gluten-free mixes. All products are made with plant-based, organic whole flours and seed meals. Perfect for time-poor coeliacs or anyone who wants healthy, yummy gluten-free mixes for food prep.
No. of meal kits per week: As many as you like
Delivery area: Australia-wide delivery
Price range: From $2.95 to $13.50 per item
Pros: 100% gluten-free, organic bake mixes and flour blends

Cons: Limited products, No full meal plans available
SPECIAL: Free shipping on all orders over $100
WEIGHT LOSS PROGRAMS WITH MEAL PLANNING
The other option is to join up to a weight loss program with meal planning. These require you to prepare your own food following their guides. They make it super-easy, with some even going so far as to provide shopping lists! This is a more time-consuming but less-pricey option which lots of mums are loving. Here is our breakdown.
Noom is an award-winning diet program grounded on the psychology of weight loss and well being and aims to change behaviours that keep us from losing weight for good. Right from the start you get asked a number of questions about your age, height, weight and other information to personalise your plan. Noom tells you how long it will take you to reach your goal weight, but this is easily adjusted by choosing a calorie-restricted meal plan that fits your lifestyle. Track your meals, calories and activity with the user-friendly Noom app and check in with your goal specialist about once a week. You can also share your progress/interact with other Noom users online.
Price range: Plans from $59 (monthly) to $199 (annual)

Pros: Personalised diet plan, flexible pricing, user-friendly app, psychology-based weight loss/healthy lifestyle program

Cons: Coaching needs improvement, may not work for everyone

SPECIAL: 14-day free trial 
Australia's national science agency, the Commonwealth Scientific and Industrial Research Organisation (CSIRO) recently released their Total Wellbeing Diet program that's grounded on years of clinical testing and the latest scientific evidence. The goal of the Total Wellbeing Diet is not just fast weight loss, but sustainable weight loss and good gut health. It runs for 12 weeks and takes into account your behaviour and personality on top of nutrition and physical activity level in order to make healthy eating truly sustainable. The Premium Program comes with coaching sessions with a dietitian, unlimited phone support and cookbook. Both programs are unlike other diet plans in that there are no excluded food groups, meaning you can eat whatever you want as long as the meals meet the macronutrient requirement, which is essentially higher protein and low glycemic index.
Meal plans: 12-Week Program and Premium

Price range: $199 for 12 weeks, $299 for the Premium Program, $19.95/month loyalty plan
Pros: Evidence-based weight loss, nutrition and exercise program with food and exercise tracking, shopping lists and meal plans
Cons: $19.95 monthly fee after completing the 12-week program
SPECIAL: Get a full refund when you successfully complete the 12 week program (conditions apply).

Next on our list is The Healthy Mummy, the largest healthy eating and weight loss program designed specifically for busy mums. The 28-day weight loss challenge is the core of The Healthy Mummy. After signing up for a monthly challenge, you gain access to the program and mobile app for tracking progress. There's no reason to get bored with meals as the menu and theme change every month. Besides a wide array of delicious and customisable meal plans, you also get thousands of recipes, home workout videos and an amazing national support group.
Ease of meal preparation: 5/5, bulk meal planning and budget-friendly recipes

Price range: Subscription plans from $69 (monthly) to $129 (annual)

Pros: Affordable plans, nutritionally balanced meals, built-in workout program
Cons: Lots to digest and may be complex to get into for beginners
SPECIAL: $19.99 per month on the  28 Day Weight Loss Challenge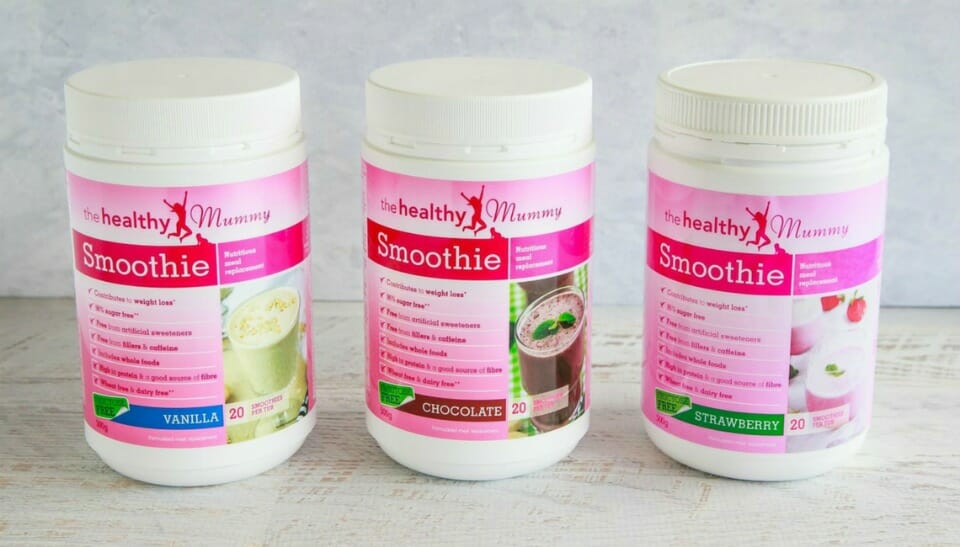 The 'fast' in the SuperFastDiet is more about fasting than speed, as it cuts down drastically on calories on some days of each week. The concept behind this diet program is to eat like you normally would for most days of the week (up to 2000 calories for women) and eat reduced calories (500 for women, 600 for men) on the other days. The SuperFastDiet has three fasting methods (2, 3 and part-day fasting) that lets you enjoy your favourite foods without guilt whilst achieving your weight goals. Subscribers also get multiple coaching videos every week, a personalised tracker and dashboard, and lots of recipes and meal plans.
Ease of meal preparation: 5/5, Easy meal prep with recipes and meal plans
Price range: $28 for the 28-Day Challenge

Pros: Comprehensive weight loss program with meal plans, recipes and private support group
Cons: Not suitable for a lot of people (type 1 diabetics, teens, pregnant women, the elderly and frail, and those with underlying medical conditions)
SPECIAL:  14-day free trial (cancel anytime within 14 days)
It's easy to see why Michelle Bridges' 12-week body transformation (12WBT) weight loss program is so popular. This online fitness and healthy eating plan attracts massive crowds of people looking to lose weight and live healthy lifestyles. Once subscribed, you get access to meal plan options, tasty recipes, weekly shopping lists, exercises and motivational videos. The plans are tiered for beginners (3 different beginner programs), intermediate and advanced users, so there's something for everyone, even the busy mum. The program can also be customised based on goals, like pregnancy fitness, losing that post-baby weight, or becoming more active.
Ease of meal preparation: 4/5, There are multiple meal options, including cooking for one and time saver plans. Meal prep and food shopping can take a lot of time.
Price range: Starts at $159 for 12 weeks of meal and exercise plans
Pros: Sensible meal planning and fitness program geared for long-term health and fitness
Cons: Tracking weight/fitness and exercising can be time-consuming
SPECIAL: Try 12WBT for free

Looking for a shake program? Top 10 diet shakes on the market right now (with specials).