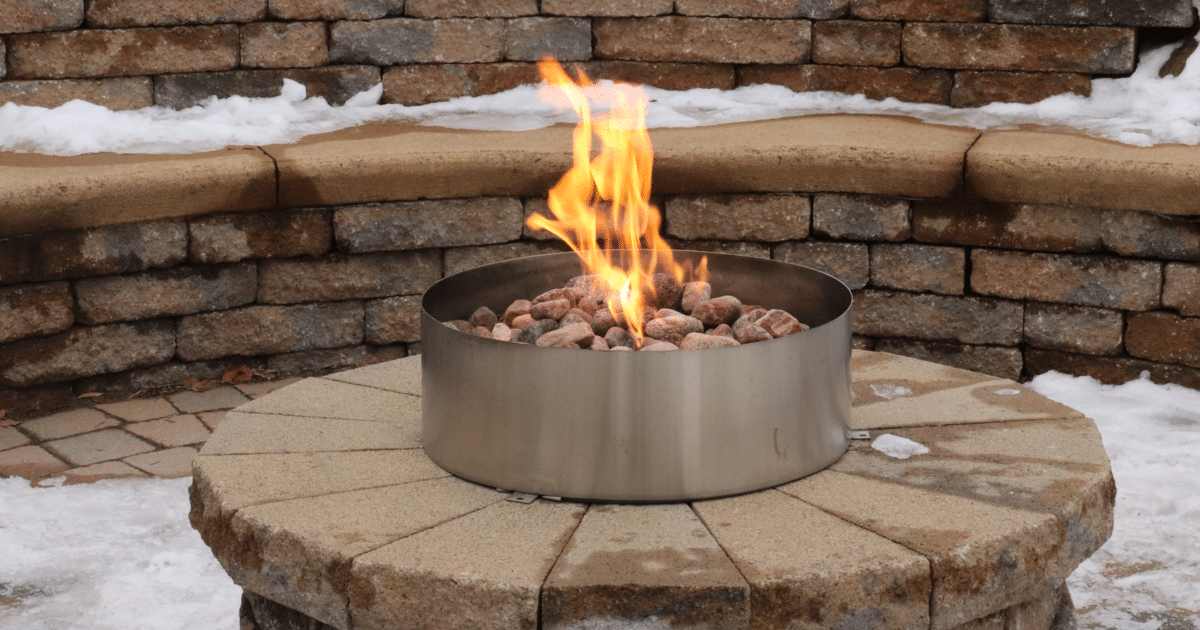 Ah, the enchanting embrace of winter – snow gently kissing the ground, icy winds tickling your cheeks, and the irresistible urge to hibernate like a bear!
But fret not, brave warriors of the outdoors, for a magical solution will keep you warm, environmentally conscious, and laughing in the face of Jack Frost …
The great ethanol fire pit.
Discovering the Magic: What is an Ethanol Fire Pit?
Imagine a cosy, eco-friendly hug waiting for you in your backyard. That's what an ethanol fire pit is – an outdoor heating appliance that runs on bioethanol, a fuel lovingly crafted by Mother Nature from plant materials like corn or sugarcane.
Say farewell to traditional wood-burning fire pits and gas-powered heaters because these extraordinary contraptions produce absolutely zero harmful emissions and don't require any pesky electrical connections.
Plus, they come in a delightful assortment of styles, ensuring you'll find one that complements your impeccably curated outdoor aesthetic.
Eco-Friendly Warmth: The Benefits of Ethanol Fire Pits
Now, let us explore these great ethanol fire pits' myriad benefits. First and foremost, they're environmentally friendly (Mother Earth sends her regards) and produce no smoke or fumes.
This means you can use them in areas where open fires are frowned upon, and you can say "ta-ta" to chimneys and flues – you certainly won't need those with an ethanol fire pit.
Easy as Pie: The Effortless Use of Fire Pits
But perhaps the pièce de résistance of these fire pits is their sheer ease of use. Gone are the days of chopping wood or hunting for logs. Pour some bioethanol fuel, ignite it with a flourish, and – abracadabra! – you've conjured instant warmth and ambience.
Let's not forget the mesmerising, pirouetting flames perfect for a meditative retreat or a thrilling evening of spooky tales with loved ones.
Designs as Diverse as the Stars: Choosing Your Perfect Ethanol Fire Pit
As diverse as the stars in the sky, ethanol fire pits come in various shapes and sizes.
The charming tabletop variety is perfect for your bijou balcony; the majestic freestanding models will transform your backyard into the gathering spot of legends, and even the sophisticated wall-mounted option that masquerades as a work of art when not in use – how très chic!
Safety First: Ensuring a Secure and Cosy Experience
However, safety must always be top of mind. When using your ethanol fire pit, ensure it's placed on a sturdy surface, well away from any flammable materials, and always keep a watchful eye on curious children and pets.
Follow the manufacturer's instructions to the letter, and you'll be basking in the glow of your fire pit, secure in the knowledge that all is well.
Setting Up Your Fire Pit: Embarking on the Grand Adventure
Are you prepared to embark on the grand adventure of ethanol fire pits?
Fear not, for assembling one is as easy as pie – follow the instructions, fill it with fuel, and ignite the flames. Remember to keep a keen eye on your fire-enthusiast fur children and tiny humans!
Styling Your Fire Pit: Creating a Captivating Outdoor Space
And now, for the grand finale – styling your fire pit!
Surround your new backyard centrepiece with inviting seating, perhaps some plush Adirondack chairs, rustic benches, or an arrangement of oversized pillows for lounging. Add a touch of whimsy with decorative lanterns or twinkling string lights overhead, casting a soft glow that complements the warmth of the dancing flames.
Natural Elements and Enchanting Atmosphere: Bringing the Outdoors to Life
Of course, we must remember to include natural elements, such as lush plants or rugged rocks, to create an enchanting atmosphere reminiscent of an ethereal woodland glade. Succulents can add a dash of panache while being low maintenance and easy to care for during the frosty months.
With these imaginative touches, your outdoor space will transform into a beautiful oasis that keeps you warm and provides a visually stunning addition to your backyard this winter.
Embracing the Warmth and Magic of Fire Pits
The majestic ethanol fire pit is your passport to staying snug as a bug this winter while being eco-friendly and oh-so-fashionable.
So, wrap yourself in your cosiest blanket, gather your marshmallows, and prepare to cackle with delight in winter's chill as you bask in the comforting warmth of your ethanol fire pit.
Here's to a season of outdoor merriment, laughter, and memories to last a lifetime!
Year-Round Versatility: A Fire Pit for All Seasons
But wait, there's more! Did we mention how splendidly versatile ethanol fire pits are? Indeed, they can be enjoyed throughout the year, casting their hypnotic glow upon your outdoor gatherings even as the seasons change.
Whether a summer soiree or an autumnal harvest festival, your trusty ethanol fire pit will steadfastly provide warmth and charm to any occasion.
The Power of Connection: Gathering Around the Flames
And let's remember the camaraderie and conversation that inevitably spring forth around the comforting embrace of an open flame.
With an ethanol fire pit as the centrepiece of your outdoor space, friends and family will naturally gather, sharing stories, laughter, and the simple joy of each other's company.
It's the stuff of dreams – a magical portal to a world of connection and warmth, all in your backyard.
Further reading: How to babyproof your backyard.
Boundless Possibilities: Personalising Your Ethanol Fire Pit Experience
As you venture into the realm of ethanol fire pits, consider the boundless possibilities for personalising your outdoor space.
From chic minimalist designs to elaborate sculptural masterpieces, the world is your oyster when selecting the perfect fire pit for your unique tastes and preferences.
And once you've chosen the ideal model, let your creativity run wild as you style your fire pit area, crafting a cosy haven that's as distinctive and enchanting as you are.
A Heartwarming Invitation: The Ethanol Fire Pit Experience
An ethanol fire pit is more than just a source of warmth – it's an invitation to connect, dream, and revel in the wonder of the great outdoors.
So go ahead, brave adventurers – embrace the magic of an ethanol fire pit and make this winter a season to remember. Bask in the glow of friendship, love, and laughter, warmed by the gentle embrace of the flames, and let your heart be filled with the joy and delight that can only be found in the captivating world of ethanol fire pits.
Further reading: Brilliant DIY shed ideas.