Easter is coming and mum's everywhere are racking their brains for ideas to keep their kids entertained during the holidays. One of the cheapest ways for creative fun is to grab the crayons and download some free printable Easter colouring pages.
It's worth noting that they're not just for the kids. Colouring-in is known to help us mums chill-out too! In fact, this simple act can calm the brain and body making you feel more relaxed. This in-turn, leads to all sort of good things, such as better sleep and a healthier mindset.
All up, if you incorporate some Easter colouring into your holidays, it's going to benefit everyone.
To save you time hunting down the best free printable Easter colouring pages, here are some I have used in the past, as well as new ones I found recently online.
10 Free printable Easter colouring pages
1. Cute chick and egg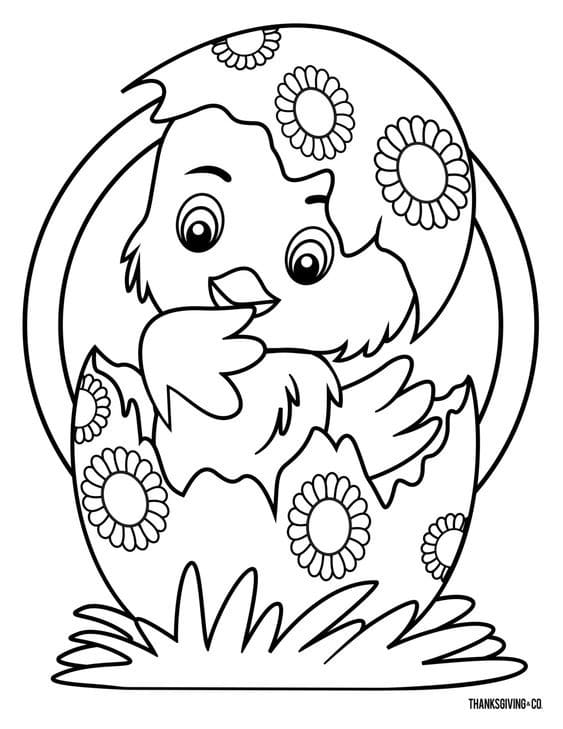 This is the cutest chick and egg free printable I could find. It's super easy to colour in so great for the really little kids too.

Source: Pinterest
2. Lots of eggs
Crayola has come up trumps with this beautifully detailed colouring piece which is great to both adults and kids.
Source: Crayola
3. Cute bunny with flowers
With the cutest bunny in the centre and all the foliage, this colouring page indeed screams spring.
Source: Skip to My Lou
4. Rabbit popping out of a spotted egg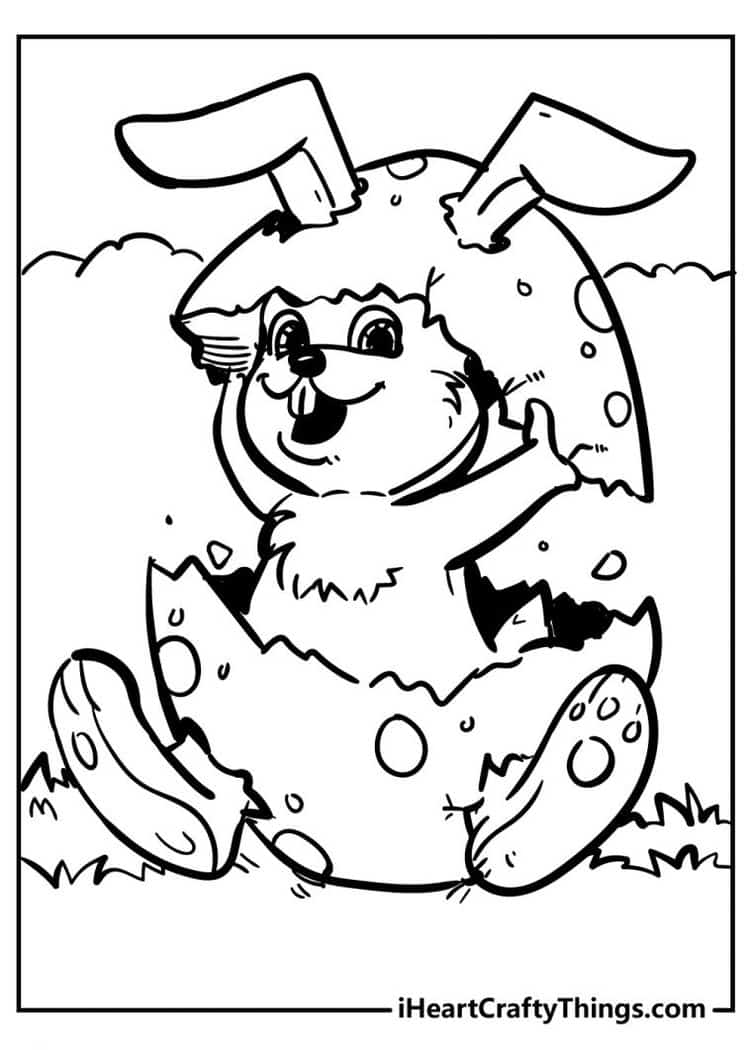 Here's an adorable rabbit popping out of a spotted egg! It's a super adorable and funny scene that both kids and adults will surely love.
Source: iHeartCraftyThings.com
5. Bunny mandala
This one's a super cute mandala. It has more than the bunny and spring foliage. You will also find other insects like ladybugs and butterflies. What can you see?
Source: Drukowanka
6. Intricate rabbit with flower pattern
Isn't this one adorable? It's a flowery rabbit! It's just black and white now, but I can really imagine it coming to life with all the potential colours you can use.
Source: Pinterest
Free printable Easter colouring pages (cont)
7. Three Easter bunnies painting a huge Easter egg
This is classic colouring page with tradition style bunnies carefully painting an egg … complete with bonus butterflies!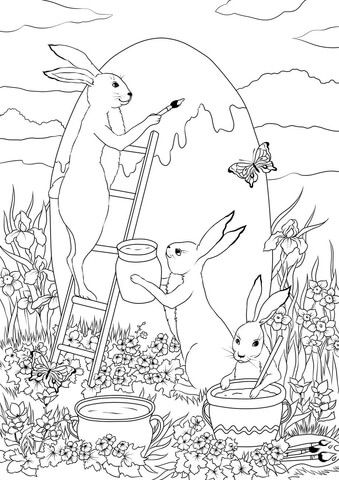 Source: Pinterest
8. Two rabbits in flowers
This colouring page is really sweet, isn't it? Even the black and white picture looks grand, sleek, and tall. It will be even more beautiful when the colouring is complete.
Source: Raskrasil.com
9. Little Bunny in the carrot house
This little rabbit in a carrot house is cute enough for both adults and kids – especially adults with little to no experience in colouring. That little bunny sure looks like a stuffed doll!
Source: Pinterest
10. Cute squirrel with a nut
Now, here's one for mums and kids who love spring but aren't interested in bunnies and Easter eggs. Look at those intricate patterns on the tail!
Source: Raskrasil.com