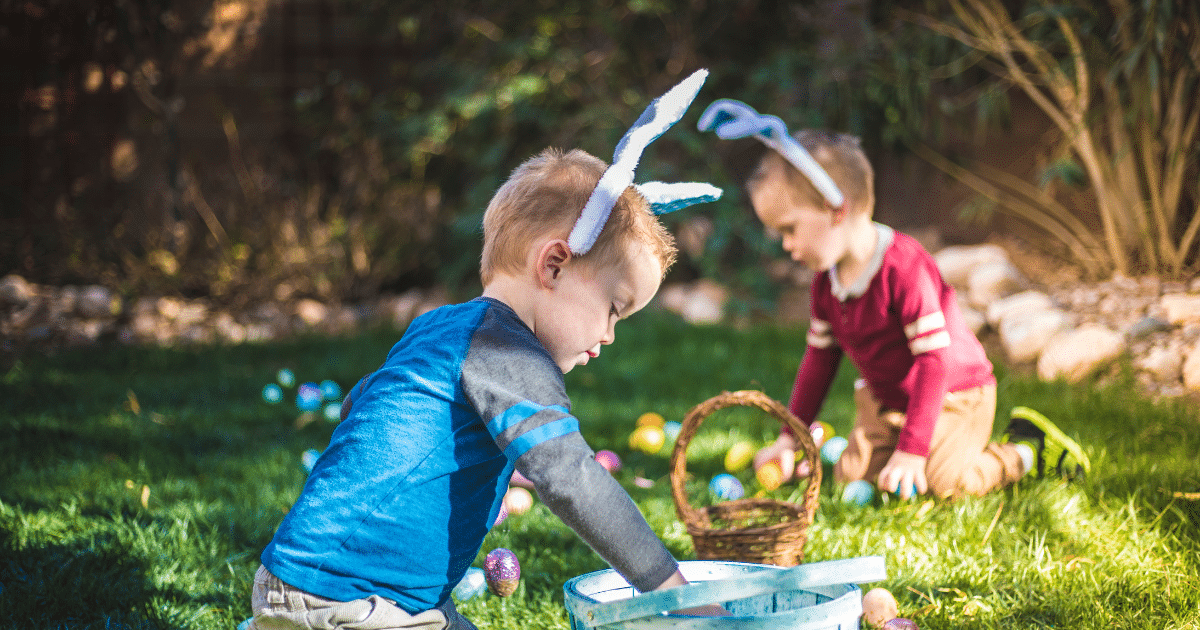 Easter! A lovely long weekend with lots of time to hang with the kids. Yay!
So, what are some cool ideas for kids this Easter which will be lots of fun but won't break the bank.
We have you covered with our fab list of egg-citing Easter activities.
1. EGG PAINTING
Entertain the kids this Easter with this simple but oh so fun activity. It's a blast for both parents and kids to play around with different colours. You will need some craft materials for this: crafting eggs, egg stand or egg carton, newspapers or old tablecloth to protect the surface, different colours of acrylic paint and paint brushes.
We suggest wearing old clothes as they might get stained or an apron to protect from drips. Being neat is def not required. Go crazy and use as much or as little paint as you want. Make an abstract mess or a masterpiece … the only rule is to have fun!
Source: Sunshine Whispers
2. PLANTING FLOWERS
Start a beautiful tradition this Easter by planting flowers with your kids. It's a fun activity that gets them outdoors in nature and off the screen. They get to play with dirt and tools and learn how flowers grow and how to care for them. You might even inspire them to start their very own little garden.
To get kids excited about the activity, tell them they can plant their favourite flower. Go and pick out the seeds from the garden centre or an online shop. Use your own garden tools or improvise with other materials (like a large spoon for digging) if you don't have any. Some shops sell low-cost flower growing kits that contain everything you need, from tools to seeds to fertiliser.
Source: Yellow Octopus
3. EGG AND SPOON RACE
Entertain the kids this Easter with a classic egg and spoon race. Besides the laughs and fun, this game improves balance and coordination. All you need is some hard boiled eggs (fresh can get really messy) and spoons. Line up the kids on the starting position and give each child a spoon with the egg balanced on it. The arm not holding the spoon should be behind their back.
When you say go, the race starts. The winner is the one who reaches the finish line first without the egg rolling off the spoon. Otherwise, the kid has to go back and start again.
You need a large enough space for the race. If you're doing it indoors, move some furniture to the side of the room. We love to do this activity outside in the sunshine while blasting dance music to crank up the festive mood.
Source: Kidspot NZ
4. MAKE BUNNY MASKS
Easter crafts are super adorable and kids always have a great time. These paper plate Easter bunny ears is easy as 1-2-3. You need just three items: paper plate, scissors, pink paint or pink coloured marker.
Fold the paper plate in half and use a pencil to lightly draw one bunny ear on half of the plate. Cut around the shape and fold the ears upward so they are vertical. Use a pink marker or pink acrylic paint to colour in the bunny ears and you're done!
If the kids feel like doing more crafts, you can make matching bunny noses using popsicle sticks, pipe cleaners and pink pom poms. There are photo instructions on the blog below so you can't really go wrong.
Source: The Suburban Mom
5. DOWNHILL EGG ROLL
Another traditional Easter game that will entertain the kids is the downhill egg roll. In the UK, rolling decorated eggs down grassy hills goes back hundreds of years and annual competitions are held in many places. At the White House, the Easter Egg Roll is an annual event hosted by the President and First Lady each year for kids and parents.
Traditionally, the eggs are boiled and wrapped in onion skins, but now they're usually painted. You can also use chocolate eggs or plastic eggs. The rule of this game is simple: The one who can roll their egg the farthest down the hill is the winner. Don't pick a hill that's too steep if you have young kids. A nice gentle slope works best to avoid injuries. Put on some dance music to liven things up.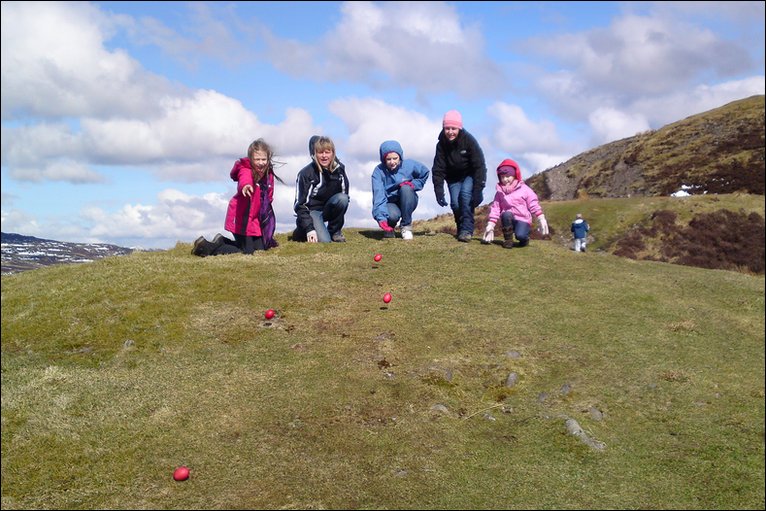 Fun ideas to entertain young kids this Easter (cont.)
6. DO A WORD SEARCH
If it rains or the kids don't want to go outside (it happens!), entertain them indoors with Easter printable activities. There are lots of free printables online that you can download and print. Or you can buy a big activity book with an Easter theme. We like word searches, word scrambles, colouring pages, and mad libs where you ask the players to say words that substitute for the blanks in the story you're reading.
All these build critical thinking, spelling, vocabulary and creativity skills, plus, did we mention they're super fun to do? Make a game out of it and give prizes to the winners. Chocolate bunnies, candy, snacks, toys and school supplies are always a hit.
Source: My Unentitled Life
7. TEDDY BEARS PICNIC
Head to the local park or your back yard and hold a teddy bears picnic with the littles. Each child brings their favourite teddy bear and helps organise the food and activities. There are lots of healthy and easy snack recipes online with an Easter theme. You can make these with the kids to make it even more fun. We like bunny-shaped sandwiches, bunny fruit shapes, fruit kabobs, frozen yogurt bites, lemonade and anything made of peanut butter and chocolate!
For the picnic activities, you can read aloud Easter books for story time, have tea with the bears with plastic food and tea sets, have a dance contest or make Easter crafts. Teddy bear picnics are also perfect for a photo session. If the weather doesn't cooperate, clear some space in the living room and move your picnic there. Then go watch Easter movies with the bears!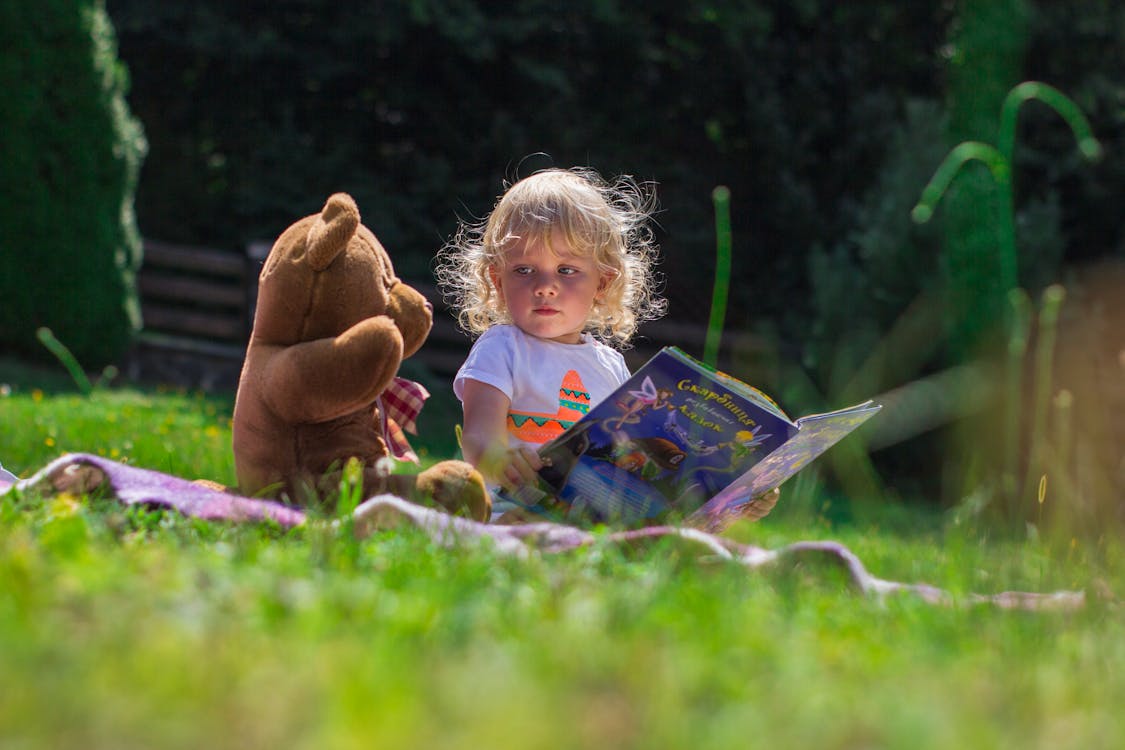 8. EASTER EGG SCAVENGER HUNT
An egg hunt is another traditional activity to entertain the kids this Easter. But instead of unleashing the children in a mad dash for eggs and having the whole thing end in just 2 minutes, have an egg scavenger hunt instead. This way, you can pace the activity and make sure that every kid gets a prize.
Scavenger hunts require some planning, but don't fret if you're pressed for time. Scavenger hunt clue cards like this one from Etsy are ready to download, print and use. Hiding places are included in the list, like the mailbox, kitchen cabinet, bathroom drawer, etc., as well as location descriptions. All you have to do is hide the eggs beforehand and prepare the prizes. The kids figure out the hiding places from the clue cards.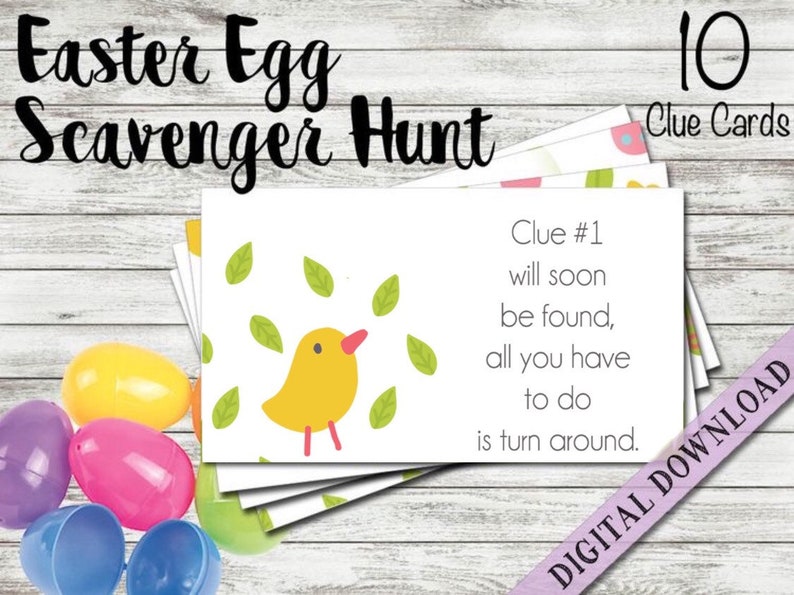 Source: Etsy
9. COLOURING IN COMPETITION
Get creative this Easter with a colouring competition that's fun and builds fine motor skills. You'll need some Easter-themed colouring pages plus crayons, markers or colour pencils. There are many free printable colouring pages online, or you can head to Etsy and buy them on the cheap. Book shops also sell colouring books with seasonal themes.
The great thing about this colouring competition is that everyone's a winner. The important thing is to have fun and really get into it. You can make up your own rules…be as silly as you want! Give out awards for the most creative use of a certain colour, for colouring out of the lines, and for using unusual colours (like blue for leaves and green for clouds).
Source: Itsy Bitsy Fun
10. DO SOME BUNNY ORIGAMI
Origami is soo addictive! Even kids who don't normally like crafts will sit down quietly with paper and make awesome creations, as long as instructions are provided. It's like Lego but cheaper. For Easter, try these easy origami bunnies. You'll need white paper, black and pink markers, pink construction paper, glue and scissors (yes, a little cutting is involved).
A video with step-by-step instructions can be found on the Red Ted Art website. Basically, you cut paper into squares and make a series of folds to form a bunny shape. It's really easy to follow even if you've never done origami before. Plus the colouring part is a blast.
Source: Red Ted Art
Get more fab Easter ideas here:
21 Easter gifts for kids which have nothing to do with chocolate
Fun ideas to entertain the kids this Easter