Christmas isn't Christmas without an advent calendar.
But, as many co-parents know, most advent calendars don't stand the pressure of being lugged between two homes.
In my married years, our girls had beautiful felt advent calendars with pockets which I filled with mini delights. Yet, however carefully we transported them between homes after our separation, the treats would fall out and ruin the surprise. We moved to simple chocolate ones, but even these would fall apart in transition with the chocolates sliding out of position. There is nothing worse than the excitement of opening a door, only to find it empty!
Don't stress though, this is all part of the co-parenting at Christmas adventure, and it can be over overcome. Before we share our favourite kids advent calendars with you, here's what to think about before you buy.
Advent calendars for shared care: what to think about
Depending on the care arrangement you have with the other parent, it might be easier to leave the advent calendar at one house. For example, if dad has care every other weekend, could your child wait and open a couple of extra days in one hit? It could be fun to have more than one door to open.
If you are moving advent calendars between two homes regularly, choose a design which is easy to transport alongside all the other paraphernalia you have to move back and forth. Small and sturdy will make for easier logistics during changeover.
For shop-brought advent calendars which have chocolates or toys behind the doors, go for something reasonably high quality so the treats don't fall out of place during transit. For added security, lie them flat in transport so everything stays where it should be.
If you can get away with it, chose an advent calendar without moving parts and actual "things" behind the doors. Calendars with pretty Christmas scenes behind each door were all the rage when we were kids and we took such delight in them. Unfortunately, kids today expect more. Try an advent calendar with colouring pages or stickers (see our suggestions below), instead of 25 treats that could come apart from the calendar in transport.
So with a plan in mind, here are some cute advent calendars for kids who live between two homes.
Brilliant advent calendars for kids who live between two homes
Little sacks
Using cute little sacks to mark the countdown until Christmas is a great way to do an advent calendar between shared homes. You can work out which dates your child is with you and which dates they are with dad, then divvy the sacks up accordingly. It's up to you if you leave it for dad provide treats for his sacks, or you might want to fill them all before handing over. We love this idea since once you have done the initial organisation, there is nothing to send between homes.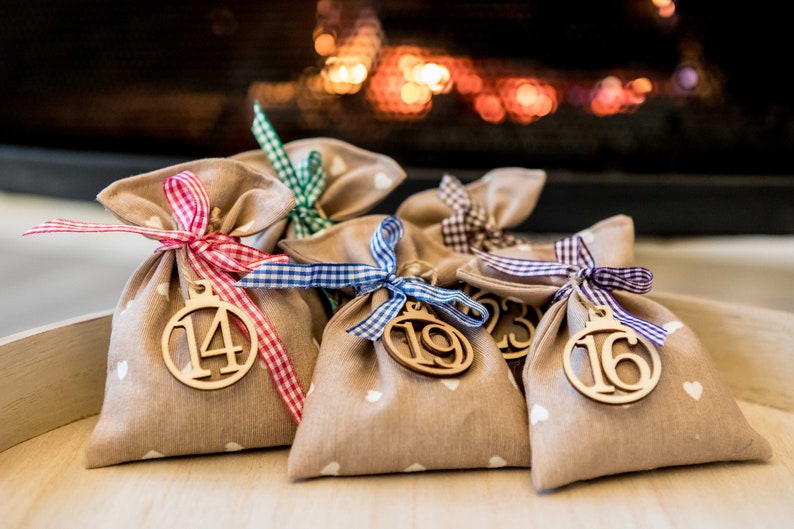 We found this at: Etsy
Drawer advent calendar
How cool is it to countdown Christmas while the ultimate Christmas villain, The Grinch, looks on? Seems like counting the days leading up to it is going to be a fun chase event for your dear little ones. This lovely wooden advent calendar opens 24 draws for you to put little surprises, filling the Christmas countdown with magic, day by day. Even better, this calendar folds away easily in a backup whenever your kid needs to stay at mum or dad's house.
We found this at: Big W
A simple picture advent calendar
Give something to tease the Christmas season to your kids with a simple picture advent calendar featuring stickers and cover art from the timeless children's book Guess How Much I Love You, by Sam McBratney. This calendar has 25 numbered windows for each day until Christmas that opens to a seasonal photo memento, getting you and your little munchies into the festive groove. It's pure fun, and easy to stash for the children and have it on full display in the living room at dad's house.
We found this at: eBay
Brilliant advent calendars for kids who live between two homes (cont.)
Advent calendar activity book
For little bookworms, an advent calendar book collection is a brilliant idea. With 24 beautifully illustrated books behind each window, your kids can read a new magical story every day from Aladdin to the Wizard of Oz, plus Christmas classics like the story of the Nativity. And it's easy to stash in the luggage if you're a co-parent and the kids are moving between homes.
We found this at: Booktopia
A toy collection advent calendar
If your little ones love Pikachu, then this adorable advent calendar toy collection will bring a bigger wow to their Christmas countdown. Starting from the first day of December, they can open a hidden window that reveals a Pokémon monster for each day until the big day. And oh, this calendar fits in a box, all 24 tiny anime figures, and can be packed effortlessly whenever the kids are switching between homes.
We found this at: CrazySales
Christmas jewellery kit
For co-parented kids who love Christmas trinkets that they can wear, we highly recommend this advent charm calendar. For 24 days up to Christmas day, they get a super cute festive charm that can be added to a wearable DIY bracelet or necklace. This jewellery set fits in a small cardboard box (21 cm x 16 cm) that's a cinch to pack when your child gets ready to go to mum or dad's house.
We found this at: Catch
Christmas colouring pages
If your children love arts and crafts, these Christmas colouring pages are great for sharing between homes. Colouring is not only a calming activity in the bustle of the holiday season, it also develops handwriting skills and boosts creativity. Download all 25 pages in advance and print them out so they can take them to dad's house to colour and display. Each day, your kids can sit down and colour a different Christmas character.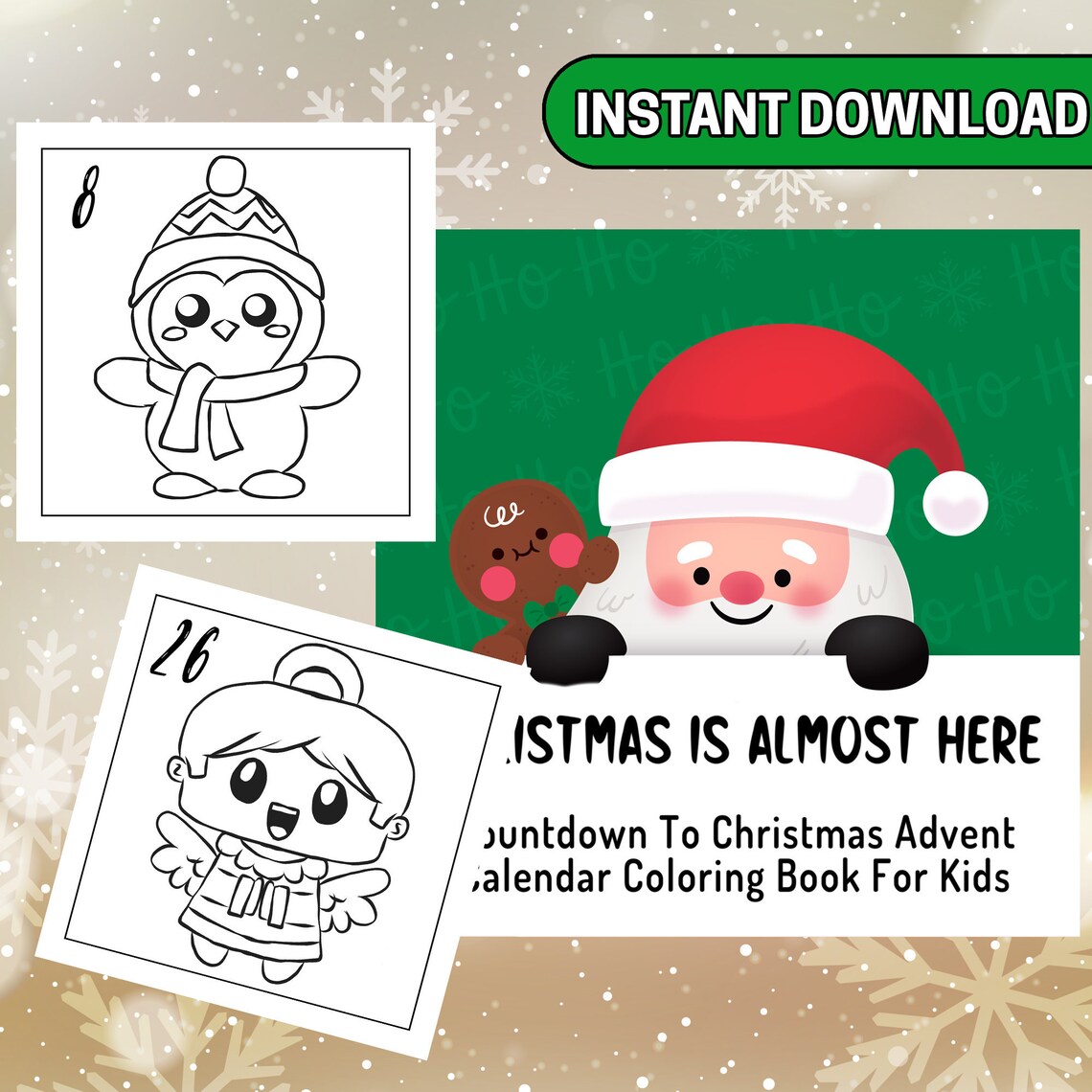 We found this at: Etsy
Final words on advent calendars for kids who live between two homes
In the world of shared parenting during the holiday season, finding the perfect advent calendar for kids who shuttle between two homes is indeed a juggling act.
As a seasoned single mum on this journey, I understand the unique dynamics and challenges involved in preserving the Christmas spirit for our little ones. Advent calendars, with their daily surprises, are a cherished part of the holiday tradition. However, the logistics of moving them between households can sometimes lead to disappointment.
But rest assured, there are solutions to keep the magic alive. Before selecting the right advent calendar, consider your co-parenting arrangement and the ease of transport. Sturdy designs and careful packaging can make a big difference.
The goal is to make the Christmas countdown a memorable and seamless experience for your children, regardless of the co-parenting logistics.
So, choose the advent calendar that best suits your family's needs and relish the moments of togetherness that this special season brings.
Happy holidays!