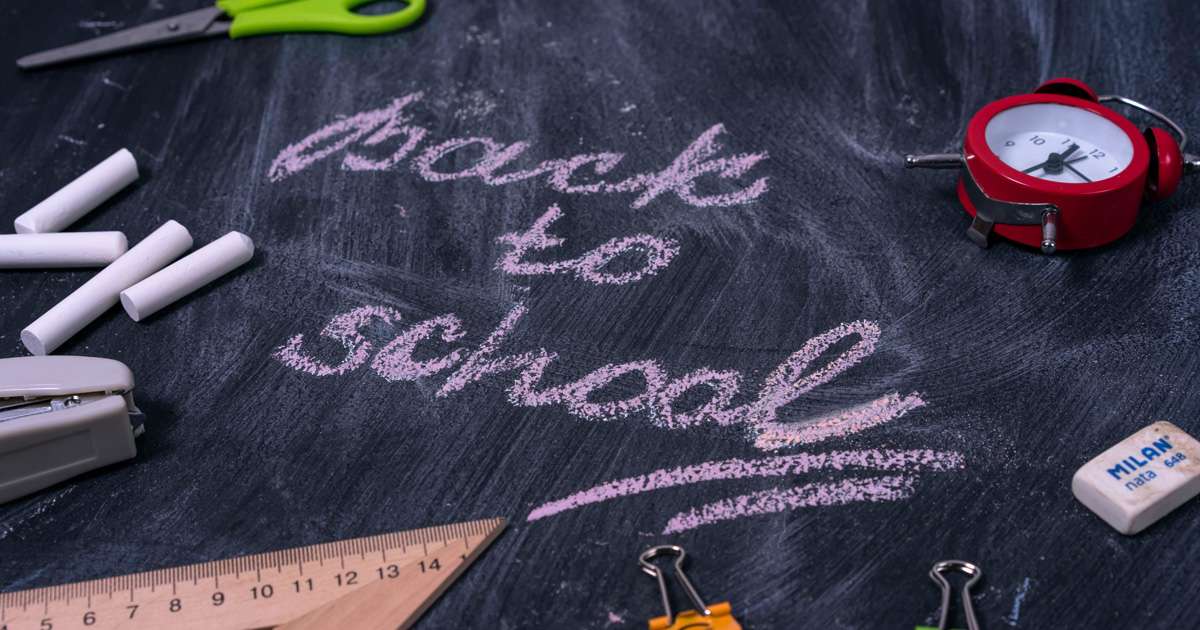 With the new school year starting soon after Christmas, you are gonna want bang for your buck when it comes to back-to-school deals.
I get it! And am here to help you keep the cost of back-to-school 2023 down.
As a single mum of two girls who I have got through school on a shoe-string without them wanting for anything, I'm going to tell you where to find the best school deals alongside other tips to help you save money, including:
What to do before you buy anything for the new school year
Ways to save on back to school supplies
When to start your hunt for back to school deals
Where to find the best back to school deals
Further reading: Back to school costs and how to stop them sky rocketing.
What to do before you buy anything for the new school year
Before you hit the shops (or the websites) it's worth doing a quick check around the home for items you may already have. Such as:
Check old pencil cases for pens, pencils, rulers, rubbers, sharpeners that can be re-used
Check through exercise books that are returned from school as some may be un-used or have very little use – just tear out the used pages and voila
If packed lunch boxes and water bottles have withstood the previous school year or been recently replaced, use again
Take time to go through school uniform with your children to see what actually fits and what doesn't so you only buy what is really necessary
Check out school shoes for size, many have removable insoles allowing them to last longer as your child's feet grow, you may get away with not buying a new pair … yet
WAYS TO SAVE MONEY ON SCHOOL SUPPLIES
As well doing the above, here are some other tips to save money on your back to school shopping:
If it's not late, get younger kids to put items they need on their list for Santa, this way you can get Christmas gifts and "back to school" all rolled into one cost
Hand down items of clothing, shoes, sportswear to younger children if it is still in good order
Only buy school uniform for the season and spread the cost of winter items for later in the year (remember your child is likely to have a growth spurt between now and then)
Don't get caught up with brand names whatever the "other kids" are getting, buy with your budget
Put your name down to receive notifications about second-hand uniform sales at your schools and get in early for the best bargains
Check local Facebook groups for parents selling second-hand school uniform because their kids are finishing or moving schools
If your child is required to get a box of stationery, get the list and buy the items separately, this is more timely but often less expensive than buying it made-up
Shop the web for online specials on back to school gear (I do this for you below)
WHEN DO BACK TO SCHOOL SALES START?
In Australia, some back-to-school sales start as early as Boxing Day. Others start at the beginning of January allowing a good three weeks before children return to school, which is usually at the end of January, depending on the state they are in. Check 2023 term dates here.
WHERE TO FIND THE BEST BACK TO SCHOOL DEALS?
I've scoured the web for some really great back to school deals. Here is what I found.
SCHOOL SHOES
Clark's has the best back to school deals on shoes for girls and boys. Besides the specials, I love the endless variety of sizes to ensure a perfect fit. Schedule an in-store fitting for precise measurements. Get 10% off by becoming a Clarks VIP member.
My kids say Doc Martens are too cool for school, haha. I have to tell them that these are for school because they can withstand anything. The shoes are pricey but totally worth it in terms of quality, construction, and durability. They don't have a lot of width options, but other than that, the shoes are always an excellent buy. They have a big range with 30% off and you sign up to their newsletter to get more savings.
My Shoes & Sox purchases are always a good buy. I like their perfect fit guarantee, great customer service, and free delivery on orders over $69. And if you are a loyalty club member, you get your 7th pair of shoes completely free.
Further reading: 4 Mistakes when buying school shoes.
SCHOOL BAGS
Head over to City Beach for great back to school deals on everything from school bags to travel luggage. There's a great selection of brands and styles for all ages at discounted prices. Get 20% off you first order when you sign up to their newsletter.
You can count on Cotton On and Typo (which you'll find on the Cotton On website) is best for school bags, especially for older girls. The shop carries well-known and local brands for primary school to university. All items come with free delivery when you order $60 or more and at the time of writing there is 50% off original prices.
Kogan's back to school deals on backpacks and school bags are hard to beat. If you're on a really tight budget, they have multiple instalment plans like Zip Pay and Afterpay. Most of the styles are utilitarian and perfect for older kids or teens off to uni. The Kogan Hot Deals some of the best on the internet.
SCHOOL UNIFORM
Find back to school deals on school uniforms at Rivers, your one-stop bargain destination. For even more discounts and exclusive offers, check out Rivers Rewards. Tip: If you can wait for some items, check out the Clearance section in about March for cheap school gear.
Big W is home to high-quality but affordable school gear, with a wide range of uniforms, shoes, and accessories starting at $4. Besides the price, I love the the good fit, decent fabric, and good construction of their basics and plain clothing. Check out the catalogue specials as back to school approaches as you'll find lots of deals.
STATIONERY
One of our favourite shops has awesome back to school deals on stationery and supplies. From pens to post-its to standing desks, Catch has the best prices on a wide range of popular brands. Extra $15 off if you pay with Latitude Pay.
Officeworks is the store for you if you are back to school shopping or simply crazy about affordable office supplies. Their brand and item selection is unbeatable and the 5% price beat guarantee is a big plus.
Ebay back to school deals can be hard to find so we've put a nice handy link here for you. Ebay is a treasure trove of one-of-a-kind items, cool stationery and vintage designs at affordable prices. They also have standard school supplies that you can buy individually or in bulk.
APPLE AND BACK TO SCHOOL
One thing I love about Catch is the frequent specials. There's always a sale happening. If you're looking for back-to-school deals like these sweet Apple Airpods, head to the store now.
Kogan is the place to be if you love Apple products but have a tiny budget. Kogan Refreshed has a wide range of refurbished Apple electronics that have been tested and include original accessories…at less than half the price of a brand-new device.
Apple devices are pricey but you can get great back to school deals at The Good Guys. They negotiate weekly deals so customers pay less than the advertised price. You can also use Latitude Pay for no-interest installment payments.
LUNCH BOXES AND WATER BOTTLES
House is one of my top shopping destinations for kitchen appliances and homewares. I found this cute thermos that's a perfect addition to my daughter's back-to-school lunch box.
I like Kmart Australia for bargain back-to-school deals like this multi-layered lunch box and food keeper. Plus, the store has heaps of payment options (Afterpay, Zip Pay) and Fly Pay for installment purchases.
I prefer printed lunch boxes to boring, plain ones and my kids agree. This lunch bag with a whimsical jungle print is a winner. It's roomy and it's insulated to keep your hot lunch hot and cool drinks cold.
Further reading: Bento boxes for kids: Our pick of the best.
SCHOOL LABELS AND NAMING
Head to Stuck on You for all your school and name labelling needs. They have stick on labels, iron-on labels and specialty labels like stamps, pencils and allergy. Personalisation is a snap and you can choose from small or large sticker packs. The best deals can be found in the Stuck On You Value Packs.
Bright Star Kids is another great store for school and name labels for kids and teens. Their value kits let you choose a design and font for your text. Shop now and get 100 labels for just $30. Join their Family Club to collect points with purchases to use as payment on future orders.
Hippo Blue labels are excellent for school and home. Younger children will love the illustrated designs that can be customised to your heart's content. Some sticker packs include over 200 labels for just $15.