One of the best ways to get your kids to look forward to going to school, is to get them the perfect pencil case.
And boy, are there plenty to choose from!
Check out our list of super cool pencil cases that will have your child chopping at the bit to get to their classes!
Pencil cases to help your kids look forward to school
The Big Kawaii pencil case is just that, large enough to hold 50 pens or pencils and super adorable to boot. This one is perfect for the start of school when kids still have all of their brand-new supplies. The three different compartments (one for pens and pencils, another for small things like erasers and a big one for scissors, tape and markers) make it a snap to get stuff sorted. Choose from nine different designs.
We found this at: Ali Express
Young boys who like animals and bright colours will love the Glitter Critters Name Me! Pencil Case from Catch. You can't go wrong whether you choose the jungle animals or ocean critters design. Both are fun and collectible with 12 slots for pens or pencils. Each item comes with 12-month warranty so you don't have to worry about the pencil case falling apart before its time. Perfect for active little hands!
We found this at: Catch
For neat and tidy kids who like everything organised, a big, high-capacity pencil case is perfect. This one from New Chic comes with 4 layers and 75 (count em!) holes to keep pens, pencils, paint brushes, rulers and erasers in place. Finding your favourite pen is easy peasy because everything is not jumbled together. Comes in six colours with different chain tags.
We found this at: New Chic
Kids can show support for their favourite AFL team with this sporty pencil case from Catch. It's big and roomy to fit all their writing supplies, with an extra side zipper compartment to hold smaller things like coins and lunch money. The official AFL merchandise features a team logo and song on the front and another logo on the back.
We found this at: Catch
Remember those pop out pencil cases with a zillion compartments? You probably had one as a child. They're still around and now your kids can enjoy them. The Smiggle pencil cases come in different designs but all have buttons that you press to open the secret compartments (where you hide the candy). They also have a built-in sharpener, small case for pencil shavings and even a mini calculator.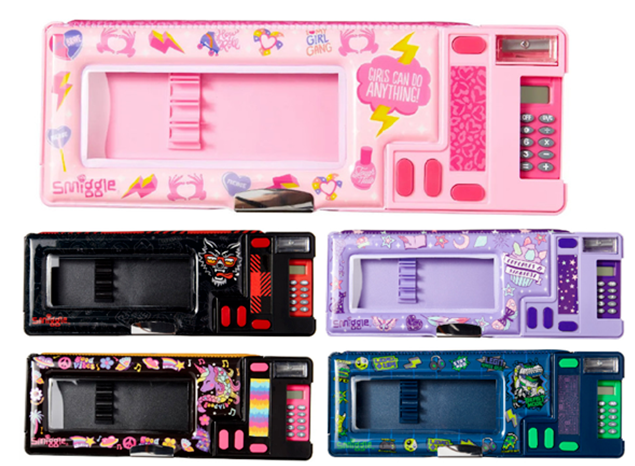 We found this at: Ebay
A simple pencil case with a cute summery design is great for older kids. This one from Billabong features a floral mandala design and comes in two colours, blue and lavender. It's not only for storing pens and pencils but also makeup, hand lotion, hair clips and more. Made from neoprene fabric with a zipper fastener and internal keyring holder.
We found this at: City Beach
Pre-teens and teenagers will adore this ultra-stylish pencil case from Kikki K. The blush leather case with a discreet logo in rose gold hardware is beautiful and elegant. It fits all your pens, pencils, markers and more. All that's missing is a matching notebook or planner. Made from New Zealand leather with a branded zipper and cotton/poly lining.
We found this at: Kikki K
Girls in the unicorn and glitter stage love everything sparkly. Give them this pretty pencil case with pink sequins that move when shaken (a fun activity when class gets boring). The transparent case features rainbow, cloud and wing designs on the front and says "Happy Things." There's plenty of room for all their school supplies inside.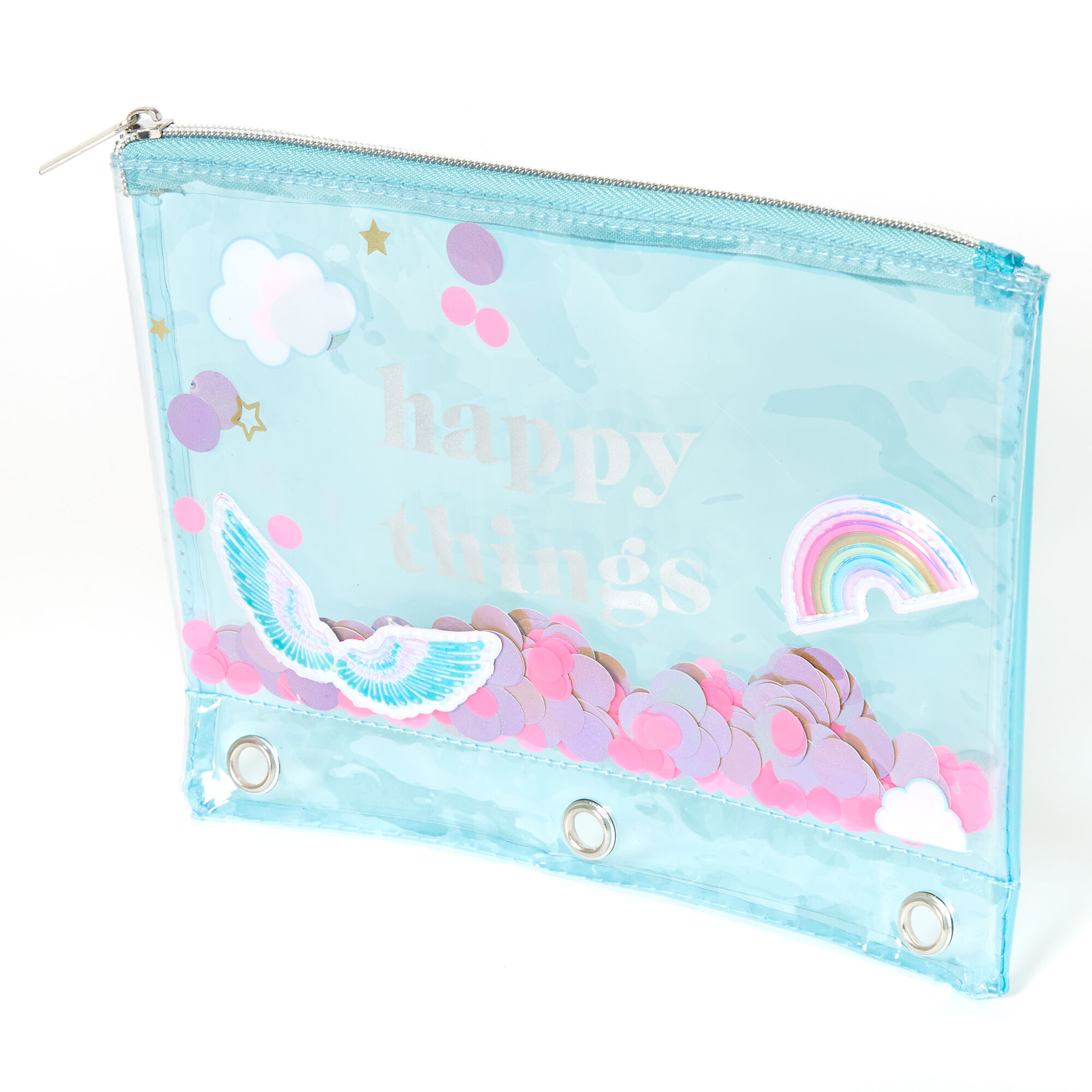 We found this at: Claire's
Make your child's pencil case extra special with a personalised label. These bag-style cases are just the right size for storing pencils and stationery supplies. They are also made from high quality materials for durability and are machine washable. Choose from lots of designs, colours and fonts before adding your child's name or a special message.
We found this at: Bright Star Kids
A simple and utilitarian pencil case is just the thing for older boys and girls. Get something that is durable and stands up to heavy abuse like this one from Typo. It's lightweight, padded, water repellent and comes in eight different designs. It's a bit smaller than your standard pencil case but has enough space for a phone, charger, snacks and change. Three zippered compartments make it easy to sort your stuff.
We found this at: Cotton On
Get your hands on plenty more specials here: Find the best back to school deals in Australia.