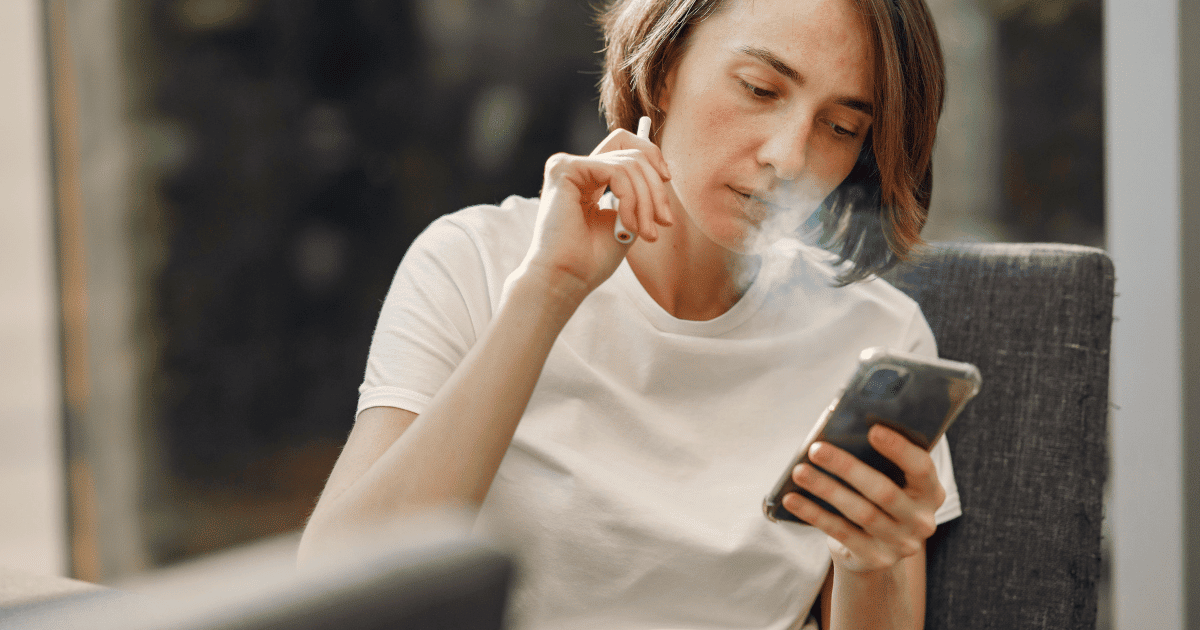 If you're one of the many mums out there who vapes then this article is for you. Here are nine things that every mother who uses an e-cigarette should know.
9 Tips for vaping mums
1. Keep your vapes out of reach
Kids are curious creatures and part of every mum's job is to keep them away from anything that may pose a danger to them. That's why the very first tip on our list is to keep your vaping supplies somewhere where children can't get to them. This could be someplace they simply can't reach, such as a shelf that's too high for them to get to, but the best place is a locked storage container. If your purse happens to lock then you might already have an ideal solution for where to keep your vapes. If it doesn't, you might consider buying a lockable storage pouch and tossing it inside your bag to make sure everything is safely tucked away where only you can get to it.
2. Never leave e-juice lying around
In an absolutely tragic event that occurred in 2019, a toddler in Melbourne ingested some of his mother's liquid nicotine while her head was turned and died. The child's mum washed the boy's mouth out and called for an ambulance but he sadly died just 11 days later while in the hospital. The coroner said that it was not a case of neglect as the child was well cared for but rather a "momentary lapse of vigilance" on the part of the child's mum. While not all mums who vape buy liquid nicotine to mix with vape juice, the point remains that vape juice, liquid nicotine, and any other vaping supplies that a child might ingest should never be left out – not even a second!
When storing your e-liquid, make absolutely sure that it's out of reach of any children and never leave any bottles or e-liquid mixing supplies unattended.
3. Talk to your kids about vaping
Just because you vape does not mean that you want your kids to do the same. Talk to your kids about vaping and make sure that you set clear expectations for them so that they know what is okay and what is not.
If you're using vaping as a way to quit smoking, make sure that they understand why this is a decision that you've made. Your goal in talking to them should in part be to educate them, not to chastise them. Honesty can go a long way when you're talking to your kids but be sure to remember that it's okay to put your foot down!
Before you start talking to your children about vaping, make sure that you know all of the facts. The best way to do this is to educate yourself in advance. This way, you will be prepared to answer any questions that might have.
4. Avoid vaping where kids are present
There's no question about it, kids are impressionable. What you say and do as a mum can have a big impact on the little ones. This is why you should be careful about where you decide to use your vape. If you can avoid vaping where they can see you, it's probably for the best. If nothing else, make sure you never expose them to secondhand vapour. This means not vaping in the car while you have children with you and not vaping inside your home.
5. Keep your doctor involved
If you're vaping e-liquid that contains nicotine, you are required to have a prescription and the only way you can get a prescription is from a licensed Australian doctor. Make sure that you and your GP are both on the same page and that you have outlined clear goals such as quitting smoking or reducing the number of cigarettes that you smoke.
6. Consider using less appealing vape juice flavours
In an ideal world, no kid will ever see you using your vape. Unfortunately, reality entails a world in which it's not unlikely that your young ones will see you vaping at some point. If nothing else, there's the chance that you'll be spotted refilling your vape with e-liquid or that one of your bottles of vape juice might be spotted at some point. Be this the case, you might want to reconsider the candy flavoured vape juice and instead opt for something a little less appealing to today's youths, such as menthol. If that doesn't work, you might just want to black out the labels of your bottles so that nobody, kids included, can tell what it is you're vaping without at least smelling it first.
7. Only use child-proof bottles for storing e-juice
With the world of vaping products a large one, it's not always a guarantee when buying a bottle of e-liquid that the bottle will be designed with the safety of children in mind. If the e-liquid you're buying comes from the UK, you might be all set because regulations in the UK and across the EU require e-liquid packaging to be child-proof and tamper-proof. As a result, TPD compliant vape juice is sold in bottles with childproof caps. Aussie mums with a valid vaping prescription can order EU e-liquids from overseas suppliers that are TPD compliant.
If your e-liquid is not in a childproof bottle, you should buy an empty childproof bottle designed for storing e-liquid and transfer your vape liquid to it for safe storage. Even with this added safeguard, be sure to store your e-liquid in a location where children are unable to access it. Empty childproof e-liquid bottles can be purchased from online retailers.
8. Know the signs that your child is vaping
For mums who vape and mums who don't, there's a chance that your kid might take up vaping at some point in their life. This is why all mums should know the signs that their teen is vaping. Here are some of the signs that your kid might be vaping:
Finding unusual items that might be for vaping, such as lithium-ion batteries, chargers, pods, coils, and atomisers. Be sure you know what they look like so that you can quickly identify them if you happen to spot them.
Behavioural changes such as mood swings or agitation might be a sign that your kid is vaping, as medical studies have shown that vaping nicotine may negatively impact the prefrontal cortex in the brain of youths, which is largely responsible for governing emotional control.
Shortness of breath could be another sign that your kid has taken up vaping. If you are noticing a reduction in your child's ability to breathe as well as they once did, it could be indicative of vape use.
Sweet fragrances such as peach, watermelon, apple, and strawberry lofting through the air could be vapour from fruit flavoured vape juice. There are also candy flavours so be sure to stay on your toes and identify any sweet scents that your nose detects. It could be perfume or lotion but it could also be vapour.
Abnormal coughing and throat clearing could be signs of vape use. If you notice your kid coughing or clearing their throat more than you would normally expect them to, it might be worth investigating.
While these signs could mean that your child is vaping, it's certainly no guarantee that they are. If they are vaping or you suspect them of vaping, it may be time for an honest discussion. If they admit to vaping or you suspect them of vaping, it may be best to stay calm and approach the matter in a non-judgemental fashion. Listen to what they have to say and try your best to understand them. But most importantly, consult your doctor.
9. Don't assume that it's okay to vape everywhere
Regardless of whether or not you're vaping to quit smoking, you should not assume that everyone else is fine with your vape use and wants to be around it. If you are vaping, be mindful of others and how your vape use might affect them. If you're too close to others, in a confined space such as a car, indoors, dining, or anywhere else where other people might be exposed to your vapour, be considerate and take into account that they prefer you go elsewhere to vape.