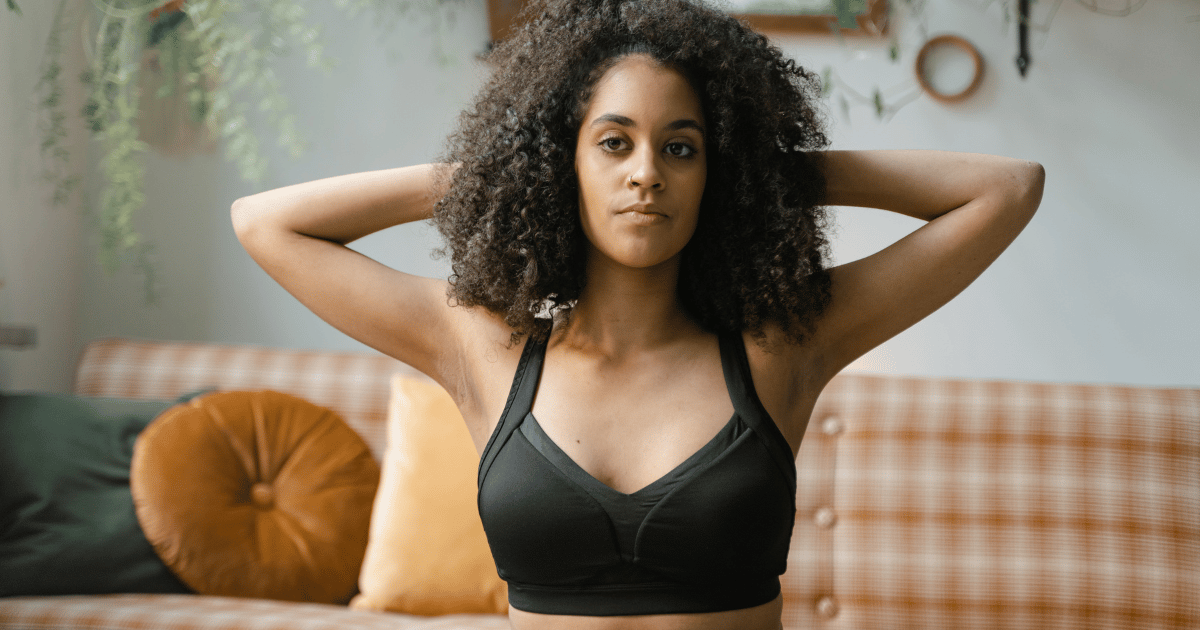 All manufacturers sew their underwear in view of the classic rounded shape of the chest. All styles and, especially, currently fashionable bralettes are really suitable for this. WTA player Iga Swiatek has cool stuff, pay attention. But how to choose the right bra for non-classic shapes?
For asymmetric breasts, Olya advises models with internal "pockets" where you can hide an additional pushup and compensate for the difference between the breasts. But you need to choose underwear exclusively for the size of a larger breast.

Bras with contour cups (with a wide bridge in the middle), with a push-up, bandeau with underwire, as well as sports and minimiser bras (with high closed cups) are suitable for conical (pointed) shaped breasts.

For the "omega" shape (from the upside-down symbol Ω) – mostly with large breasts of size D and larger – chunky, non-elastic three- to four-piece cups, as well as full-cup bodices, are recommended. If the nipples are strongly directed to the sides, models with special supporting inserts, with a narrow bridge, as well as cups made of tight, inelastic fabric will help.

Breasts with a flat top (which appears in most women after feeding or weight loss) should look closely at contour bras (which have a thin layer of foam in the cups) or push-up bras.
Also read: England Women's Euros win sees surge in sporting aspirations among 'sporty' girls – but gender gap remains.
How to properly wash a bra and how much to wear
Among all the beautiful styles for everyday wear, it is better to choose the one that reproduces the natural shape of the breast as much as possible: it does not raise it too much and does not squeeze it. In this sense, the same bralettes help a lot.
They do not have bones or pushups, but thanks to their special cut, they gently support the breasts and successfully correct their natural contours, Olya explains. Moreover, they are sewn from lace, satin, silk and do not look like everyday underwear at all – there is no shame in taking off your clothes at any time.
The quality of the fabric, Olya emphasises, is another important factor when choosing a bra: artificial Chinese "batistes" (those available in bazaars) create a greenhouse effect on breasts, do not absorb sweat, and harm the skin and health.
The bra can be on the body for a maximum of 12 hours a day. The terrible disease "cancerous tumour" often happens even among those who wear it around the clock, the mammary glands should rest. Also, Olya shares his knowledge, a bra (if worn often) lasts 1.5-2 years on average.
The bra should be washed after four or five wears, preferably by hand or in a special bag on a cold cycle so that it does not lose its shape.
A bit of history about sports bras
Glamorise Foundations in 1975 were the first to present a sports bra (in that particular case, the development was intended for tennis players). Two years later, a new commercial product – Jogbra – appeared on the market. Its mission is to hold the chest well during a run.
In the 90s of the last century, Playtex bought the Jogbra bra. Now the development and modelling of such products are approached from a scientific point of view. Christine Haycock – Associate Professor of the Department of Surgery has long studied the key aspects of how to choose the right women's sports bras for each woman, so that the design fully meets the physiological needs and anatomical features of the structure of the female body.
Further reading: 12 Online fitness programs you can do in your undies.