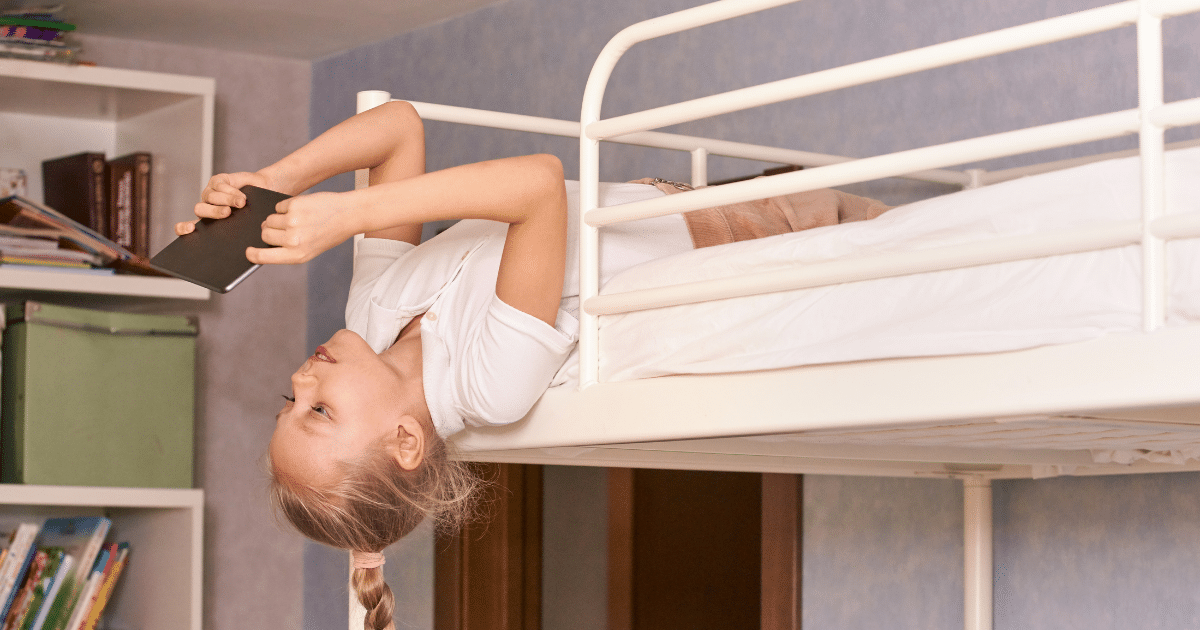 Contents:
Being a single mother brings many obstacles, and I recently faced a new challenge: downsizing our home after a divorce. With this came less space and the unavoidable decision to have a shared bedroom for my kids.
While the transition wasn't easy, we got there and now have a shared bedroom set-up that works, and, most importantly, my kids are happy.
If you are in a similar situation, see my tried-and-tested tips that helped me get my kids on board with the idea of joining forces and creating a shared bedroom space they have learned to love.
I'll share practical solutions, imaginative ideas, and clever hacks to make the most of your limited space while ensuring your little ones feel cherished, comfortable, and excited about their new shared oasis.
1. Try bunk beds or trundle beds
Bunk beds and trundle beds are a great way to make sharing a bedroom fun and doable for your kids.
If you're currently downsizing after a separation or a financial decision, or just trying to figure out a way how to make a single bedroom work for your two kids, making them sleep together in one bed can feel a bit invasive and unsettling for your kids.
Bunk beds and trundle beds give your kids separate sleeping spaces, which grants them a feeling of having their own personal space in a shared room.
Bunk beds can also be fun for kids, from choosing which bunk they prefer, to personalising their walls and covers. Trundle beds' bottom bed are more often recommended for occasional use and for rooms that have enough floor space.
2. Provide individual space (if room allows)
Space planning a shared bedroom is the secret to being able to provide individual space to your kids who are going to share a bedroom.
Having separate corners for their own desks, their own side of the room, or even their own wall can mean a lot to a kid who is sharing a bedroom with a sibling.
Strategise and mark how you would allot space for each of your kids who are going to share a room.
Make sure their individual space is indicative to their personalities and hobbies. For example, one might like a small reading nook, and the other a space for sports equipment or art supplies.
3. Get creative with functional storage
Anything could be a storage opportunity if you choose the right beds and furnitures for your kids' bedroom. You can store books and school supplies in organised boxes under the bed. Instead of having regular chairs or seats in their common floor space, opt for ottomans to store some of their favourite toys. Rather than a small couch by the door, choose a shoe bench instead.
Vertical space is also important to utilise especially if the room has a smaller floor space. High cabinets or shelves are fantastic to store stuff. Clothes and heavier items, like gadgets and body care supplies, can be placed on the lower shelves for easy reach. And spare bed sheets and special costumes can be stored in higher compartments.
4. Personalise their bed covers
Most of our trepidation over seeing our kids share a bedroom comes from our empathy towards them not having "enough" privacy and a sense of spatial ownership.
A really easy way to give your kids a personal space in a shared room is by personalising their bedcovers.
Getting customised sheets with their names on them, or shopping for covers that feature their favourite TV characters or colours will work towards creating a separate oasis for them in a shared room. You can also ask your kids how they would like their beds to look and work on it together as a project through tie-dyeing or quilting.
5. Create separate display walls
Separate display walls encourage your kids to express themselves individually.
By allowing them to decorate their own side, you can watch your kids' creativity grow and their tastes evolve, and teach them the proper way to take care of their own space.
Depending on whether you own or rent your property, you could paint the walls with chalkboard paint and supply coloured chalks for them to use as they please. Alternatively, allow them to stick up posters or (for minimum damage) lean a big cork board against the wall for them to pin pictures and decorations too. Note: Beware with pins and younger kids. If this is a concern try a magnetic board instead.
6. Remove any unnecessary clutter
Because space is valuable commodity in a shared bedroom for kids, keep the room as clean and clear as possible. Yes, messes are unavoidable every now and then; you're raising kids! This is why you should decide which is "clutter".
Try to declutter your kids' shared bedroom in the sense that you discard or give away everything that is not being (and will never be) used or needed by the kids in that room for at least the next six months. Declutter things like picture frames hung on the wall (floating shelves will be better for storage), shoes and clothes that no longer fit, neglected toys and books that are just taking up storage space.
7. Install a privacy curtain (older kids, different sexes)
Perhaps your kids are approaching or already inhabiting their puberty phase and they want to feel a tad bit more independent. Or maybe your kids are of different sexes and they simply need you to give them their own space as they need more privacy for when they get dressed or when they want refuge from school-related stress.
Instead of installing panel partitions or putting up a wall - which will surely make the room feel smaller and less appealing - you can put in a privacy curtain. This is easier to put in and a great non-committal way to divide the space and to assign limited access in order to allow your kids to accomplish more private tasks in a shared bedroom, like getting dressed or taking a call.
Final words
Instead of lamenting over your situation because your kids have to share a bedroom, look at the bright side. Shared bedrooms for kids can encourage them to develop a closer relationship, to be more creative, and to be more considerate of other people's spaces.
It is possible to make a shared bedroom functional and comfortable for your children. Follow my tips to create a shared bedroom for kids that allows them to maintain a positive sense of self, privacy and ownership.