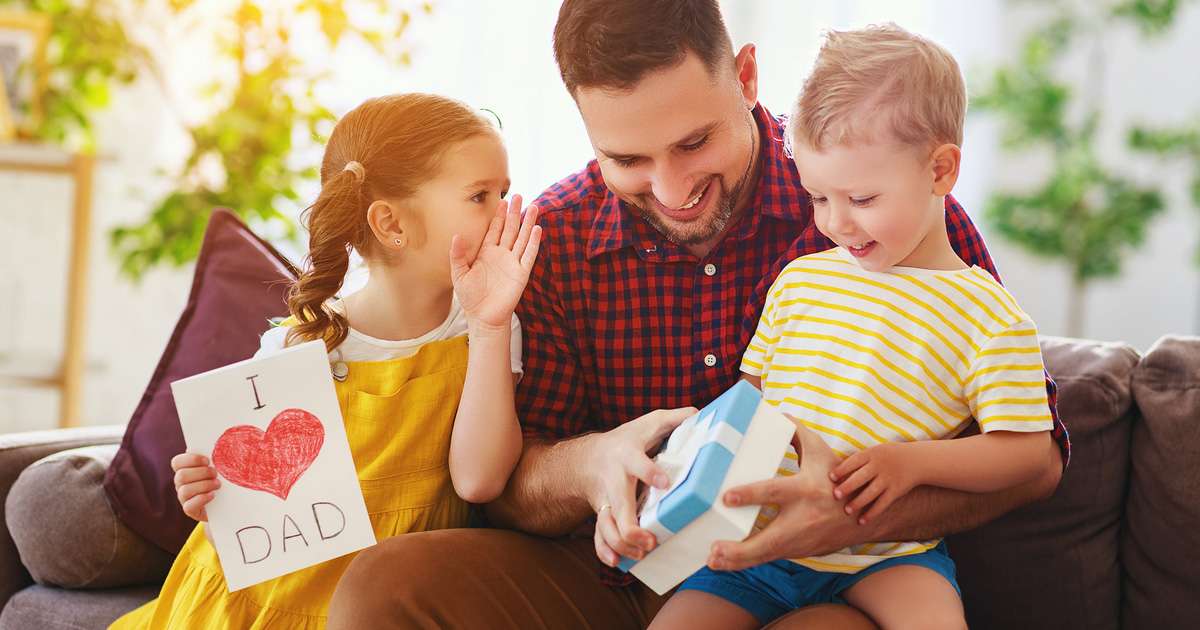 Are you racking your brain about what to get for Father's Day?
Men are pretty hard to buy for.
If you've drawn a blank and need some inspiration, our list of 50 Father's Day gifts for under $50 is here to save the day.
For more gift ideas (with a twist!) see: Hilarious Father's Day gifts for your ex.
50 Father's Day gifts for under $50
1. Custom BBQ Branding Iron with Interchangeable Letters
Up first on our list of Father's Day gifts: Name your steak and never end up with rare when you asked for well-done. Or play a joke with a funny message .. with 52 interchangeable letters the skies the limit for your steak-filled fun. A brilliant starting point on our 'gifts for Dad' list.
We found this at: Yellow Octopus
2. Personalised Stubby Holder
The perfect gift for the beer-loving man. Personalise with dad's favourite quote and add a message.
We found this at: Etsy
3. Flip Flop Thong Slippers
Keep things traditional with the obligatory 'sock' gift, but keep it quirky with these Flip Flop socks from Yellow Octopus. Now he can wear thongs all year round.
We found this at: Yellow Octopus
4. Letter Print Tops for Daddy and Me
Omg … too cute. Get Dad and son a matching set of tee tops! And not just for sons. There are father and daughter options too.
We found this at: PatPat
5. Fishing Keyring
It's understandable if you're at a loss for what to get the dad that loves fishing. Some sort of lure or a bag of bait? Keep it simple with this cute little keyring.
We found this at: Wish
6. Portable Wireless Bluetooth Speakers
If Dad loves his music then he'll love this portable speaker which we have to say looks way more expensive than it really is … always a bonus!
We found this at: Big W
7. Orotec Slimline Wireless Charger Pad
Wireless charging is a game changer. Dad will love this stylish one from Orotec that charges multiple devices in one go.
We found this at: Kogan
8. A Game of Thrones. A Song of Ice and Fire Series: Book 1
Seen the series (several times) but still not had enough? How about reading the book? They say the read is always better than the screen.
We found this at: Booktopia
9. Games Room General Knowledge Quiz
The games-lover will be delighted with this gift. The Ridley's General Knowledge quiz game has 140 questions to satisfy the keenest of trivia-enthusiasts.
We found this at: Yellow Octopus
50 Father's Day gift for under $50 (cont.)
10. Sports Headphones
These slick, splash- and sweatproof sports headphones have an adjustable loop hanger for a nice secure fit during sports and a 6-hour battery life, giving dad enough time to play, whatever the sport.
We found this at: Kogan
11. Steak Knife Set
Gifts for Dad just got super-practical, and also very handy, with this set of stainless steel steak knives. Guaranteed to make him cook up a storm in the kitchen.
We found this at: Temple & Webster
12. World's Greatest Farther T-shirt
What can we say? This 'World's Greatest Farter' t-shirt is an apt gift for any Dad!
We found this at: Zazzle
Further reading: Thoughts from a single dad this Father's Day.
13. Calf's Leather Flip Wallet
If Dad's current wallet is on its last legs, this little gem will make a great replacement. Made from soft calf leather, it's the quintessential gift for Dad to keep his cash in order.
We found this at: Myer
14. Beer Holder Shower Speaker
Scrub. Sip. Sigh. This handy beer holder will grip to any shower surface including tiles, glass and even mirrors. Shower and beer … the ideal combination, and a brilliant choice on our gifts for Dad list.
We found this at: Cotton On
15. Tabletop Pizza Oven
Great pizza will never be out of reach with dad's very own tabletop pizza oven. Perfect for backyard barbecues.
We found this at: Kogan
16. AFL Hoodie
Be a supporter of Dad's favourite AFL team by getting him a comfy hoodie with his AFL team colours to boot. Choose from 14 designs.
We found this at: AFL Footy Shop
50 Father's Day gifts for under $50 (cont.)
17. Australian Craft Beer Mixed 6 Pack
If Dad's a beer connoisseur, you can't go far wrong with this craft beer tasting pack. With a selection of beers from Australian breweries, it's a great opportunity veer off VB and try something different.
We found this at: Beer Cartel
18. Alarm Clock + Phone Charger
This 2-in-1 alarm clock and wireless phone charger gives Dad zero excuse for picking up the kids, or returning them on time after the weekend.
We found this at: Big W
19. Pornburger: Hot Buns and Juicy Beef Cakes Cookbook
Not for the healthy conscience, this book is packed with mouthwatering photos and 80 delicious burger and burger-related recipes – pretty much every kind imaginable.
We found this at: Booktopia
20. Mister Moustache Glasses Holder
This is actually so cool, in every way. A mustachioed eyeglasses holder made of hand carved mango wood. Best gift for four-eyed dads!
We found this at: Yellow Octopus
21. Pizza Wheel Cutter
This motorcycle pizza cutter makes pizza cutting a breeze and super cute. It's sure to make for a conversation piece on pizza night.
We found this at: MyDeal
22. It's Cookie Time
Does Dad have a sweet tooth? If so, you can't go past this cookie and beer combo from Dessert Boxes. It comes with a personalised message and is delivered throughout Australia.
We found this at: Dessert Boxes
23. Levi's Batwing Tee
Brand labels are usually super-expensive, but not in this case. This trendy batwing Levi's t-shirt comes in at brilliant price.
We found this at: Myer
24. Australia's Most Unbelievable True Stories
This book is will give Dad plenty of subject matter to impress friends and family. From the unknown, the forgotten and the very, very surprising, these unbelievable yarns are sure to impress.
We found this at: Booktopia
25. Men's Board Shorts
Give dad this rockin board shorts for beach or year-round wear. Goes great with t-shirts and hoodies and comes with multiple convenient pockets.
We found this at: Best & Less
26. Oyster Mushroom Grow Kit
If the Dad in question fancies himself as a bit of a green-fingered wiz he'll love this brilliant kit to grow his own mushrooms in just 10-15 days. Go on … give him his hunter/gatherer moment.
We found this at: Biome
27. Cards Against Humanity AU Edition
Addictive, hilarious, inappropriate and nasty in a kinda funny way, this Cards Against Humanity game has an Aussie twist and will keep Dad and friends entertained for hours.
We found this at: Yellow Octopus
28. Mad Hueys Cooler Bag
This quality cooler lunch bag has just the right amount of practicality and masculinity for Dad to use daily for his favourite packed-lunch.
We found this at: City Beach
29. Book of Dad Jokes
Ah, the good old Dad jokes. All the more funny because they're not very funny. But that doesn't matter they still make us laugh. Make sure he never runs out of material to entertain with this handy joke-filled book.
We found this at: QBD
30. Boganology Board Game
Does Dad have an inner bogan that needs to be released? In which case, this game is spot on. Hilariously, players can cash-in on child support and get extra Centrelink payments, as well as outrun the cops in thongs!
We found this at: My Deal
31. Wireless Portable Massager
This nifty little portable neck massager not only soothes sore muscles, but also stimulates blood flow and reduces tension. Just what Dad needs after a hard day at work. A list of Father's Day gifts wouldn't be complete without some sort of massager!
We found this at: Kogan
32. Vacuum Flask
A pretty cool gift for the tea lover. The thermos keeps Dad's favourite drink hot for up to 6 hours. Not only for tea. Think coffee and hot soup too.
We found this at: T2
33. Engraved Hammer
What Dad wouldn't love a new hammer? Especially one with a personalised messaged from his kids! When it comes to Father's Day Gifts, this gets top marks for practicality and sentimentality.
We found this at: Etsy
50 Father's Day gifts for under $50 (cont.)
34. Mad Millie Make Your Own Cheese Kit
This is a brilliant first time cheese-making kit for anyone looking to try their hand at something a bit different in the kitchen. Gives a special 'Dad-twist' to home-made pizzas. This is one of our favourites on our list of Father's Day gifts.
We found this at: Yellow Octopus
35. The Aussie BBQ Bible
We all know how much Dad loves a BBQ. With over 100 delish recipes, this book will encourage him to lift his game and produce some dishes he can really get his teeth into.
We found this at: Booktopia
36. Adidas Originals T-Shirt
The active Dad will be super-pleased with this cool Adidas Originals t-shirt. Talk about something looking more expensive than it is … this is a doozy on our gifts for Dad list.
We found this at: City Beach
37. Cheer and Beer Hamper
As hampers go this one is not too girly but full of of surprises that every man will secretly love, including 3 Steinlager Beers, H&S Mill Pistachio & Cheddar Bites, a Whittakers Milk Chocolate & Coconut Slab and an assortment of Italian Chocolate Truffles.
We found this at: Macarthur Baskets
38. Best Dad Slippers
What Dad can possibly live without embroidered slippers to keep his feet toasty warm? Perfect for those difficult to buy for fathers in your life.
We found this at: Etsy
39. Quick Dry Robe
Keep dad cosy and warm even in the winter with a quick-dry, luxury robe like this one.
We found this at: Asos
40. Smooth Soothe Shaving Kit
Give dad the gift of a smooth shave. This kit has everything he needs: calming shaving gel and post-shave water gel.
We found this at: The Body Shop
41. Tommy Hilfiger Wallet
Complete dad's stylish look with a sleek Tommy Hilfiger wallet that holds multiple cards and other essentials. The leather body comes with and 3 storage compartments.
We found this at: MyDeal
42. Groomsman Pro Sport Beard Trimmer
Give Dad a professional beard trimmer this Father's Day. This one from Wahl is heavy duty and comes with four interchangeable heads and 360-degree rotation.
We found this at: Shaver Shop
43. Nike Backpack
The man bag has never been cooler than this Nike backpack. Whether it's for work or a day at the beach, this seriously stylish carrier will do the job. Gifts for Dad just got practical.
We found this at: JD
44. Chess and Checker Board Game Set
So he loves mind-bending games? This natural wood board game set is just the ticket. He can play both chess and checkers!
We found this at: Temple & Webster
45. The Beautiful Poetry of Donald Trump
Whether you're a Trump lover or a hater, this is a gift Dad will never be expecting. The author has taken the President's tweets and transcripts and re-ordered them to create beautiful Donald Trump poetry! You gotta laugh.
We found this at: Amazon Australia
46. Key Organiser
Does dad need a new organiser for his keys? Get him this stylish, functional, and durable leather key organiser for Father's Day!
We found this at: Orbitkey
47. Crosley Cruiser Portable Turntable
Let the dance off begin! This portable turntable has Bluetooth so you can listen to your favourite tunes with a speaker of your choice.
We found this at: Big W
48. Wood Chip Smoker Box
Take BBQing to the next level with this simple yet effective wood chip smoker box. And so easy too: Simply fill with wood chips and place on the BBQ.
We found this at: Gifts Australia
49. The North Face Beanie
Keep the sun off Dad's head with this stylish black beanie from The North Face. Guaranteed to keep his head cool.
We found this at: Asos
50. Beer Caddy with Bottle Opener
Last, but most definitely not least on our list of Father's Day gifts: No more ripped cardboard carriers, this stylish 6-beer caddy has a steel handle and built in bottle opener.
We found this at: Yellow Octopus