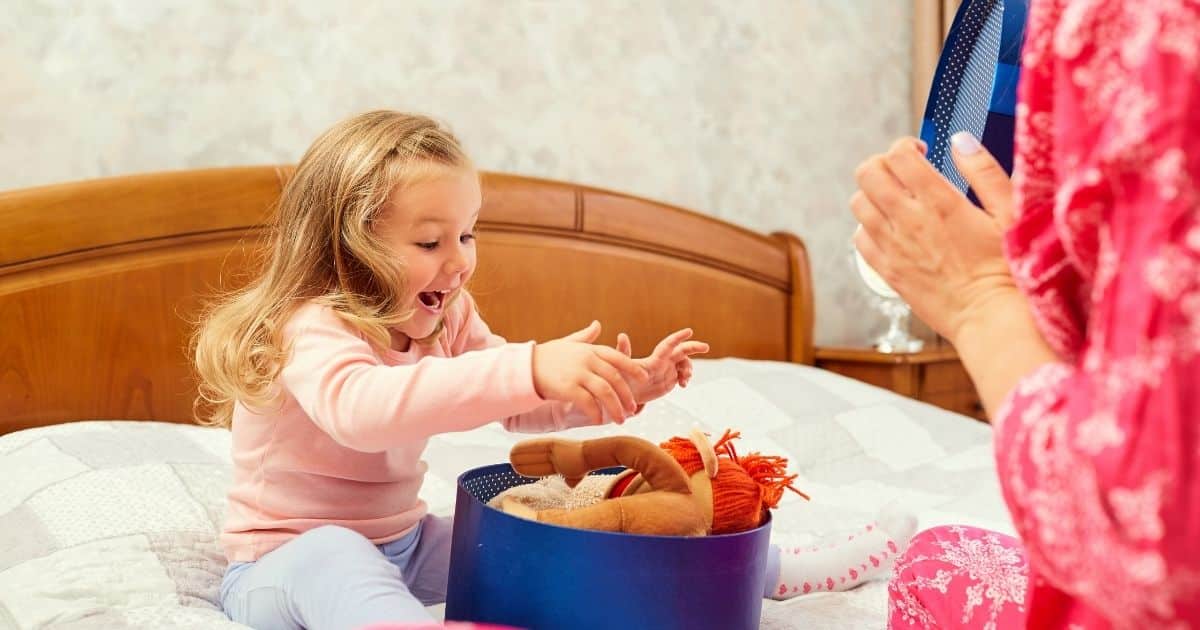 I have always found present buying for my daughters so much fun, especially when they were young. There's heaps of choice as little girls love everything!
Choosing anything pink and sparkly tends to go down well, like unicorns, fairies and princesses. But, little girls also love fun garden and sports stuff like planting pots, rollerskating and anything water related, such as a mask and snorkel or a fun inflatable.
My little girls loved a craft activity, think beads, arts or (as included in this article) a jelly soap kit.
But it might be that you are buying for a quieter, more studious, little girl who likes to curl up with a good book or scribble in her secret diary, complete with lock and key.
With so much choice, I thoroughly enjoyed putting together this list of gift ideas for young girls. Enjoy!
Need more ideas? See: 30 Cute little stocking stuffers for little girls.
25 Gift ideas for young girls (primary school age)
1. Star Projector
When it comes to gift ideas for young girls, star projectors are genius. See colourful star formations on walls and ceilings when you turn off the lights. One of my daughters used a star projector as a night light for years.I found this at: Ebay
2. An Electric (or Normal) Scooter
You can't go wrong with a scooter for a young girl. We never made it to the electric variety but they are all the rage now. Think about where the scooter will get most use as some places do not allow electric scooter use in parks or pedestrian pathways, in which case a good old fashion scooter would be a better choice.
I found this at: Toymate
3. Pool Inflatables
Little girls who love to swim or just lounge in the pool need an awesome inflatable. We found it worth paying a bit extra for one that lasts the season as they are rarely used to relax on. My girls would use them for jumping on and off and seeing how many of their friends could get onboard before it sunk.
I found this at: Temple and Webster
4. Underwater Camera
Techie gift ideas for young girls are always a winner. A pretty underwater camera like this one from is perfect for summer at the beach or poolside.
I found this at: Dick Smith
5. Weighted Blanket
A weighted blanket is like a comforting and warm hug that can soothe nighttime anxieties and help young girls sleep better. I recently bought a weighted blanket for my youngest daughter who suffers from anxiety and she adores it.
I found this at: Temple and Webster
Gifts for Girls (cont.)
6. Play Tent
Level up your playhouse with a pink princess castle tent that's perfect for indoor or outdoor fun. I love that it's sturdy and easy to assemble. You can choose from other designs that are less girly too.
I found this at: Adairs
7. Funky Jewellery
A unicorn jewellery-making kit with multicoloured beads and charms? Now that's an adorable gift for your little crafter.
I found this at: Etsy
8. Cool Pencil Case
What is it about young girls and their pencil cases? Mine where obsessed with them. It's also a handy gift for a young girls new school term or to help her keep stationery tidy around the home … in our dreams anyway!
I found this at: Bright Star Kids
9. Wireless Earbuds
Wireless earbuds are essential for the active girl. Never get tangled in wires again as you listen to your fave tunes and watch movies. Life changed when my girls got their own headphones and I wasn't subjected to their loud music and kids TV shows on a daily basis. Peace at last …
I found this at: Cotton On
10. Roller Skates
I love gift ideas for young girls that improve balance and motor skills. Glittery roller skates like these are made for street and park skating. I recommend a helmet too.
I found this at: Amazon
What to Get for a Young Girl (cont.)
11. Jelly Soap Kit
And because we love DIY kits, here's a crystal jelly soap set that lets your little girl make cute sparkling soaps for bath time.
I found this at: Riot Art & Craft
12. Backpack
This floral backpack from Best & Less makes a great gift for young girls. It's just the right size for school or travel. I think my 16 year old would still quite like this one!
I found this at: Big W
13. Their Favourite Dress Up
Playing dress-up is not only fun, it does wonders for your child's creativity and imagination. Costume Box has heaps of cute designs for any occasion.
I found this at: Costume Box
14. A Beach Towel
We go through about ten beach towels a year in our house. I have no idea what happens to them all. For this reason, a beach towel makes a great gift but maybe don't spend too much in case it gets lost.
I found this at: Big W
15. New Bedcovers
New bedcovers are the best for adults and kids alike. Make the most of buying the cute patterns while are young. My girls now have grey and green respectively!
I found this at: Temple & Webster
Gifts Ideas for Little Girls (cont.)
16. Anything Harry Potter
Few fandoms are as beloved by young children as Harry Potter. Any gift with a Harry Potter theme is sure to be a hit, like this amazing baking book with 45 recipes inspired by Great Hall feasts.
I found this at: Kogan
17. Science Kit
Looking for educational gifts for young girls? This science kit from Big W lets you make a floating ghost, bouncy ball, lava, kaleidoscope, and more fun experiments.
I found this at: Toymate
18. Books!
Give your young reading machine more fuel for the imagination. Booktopia is my go-to shop for popular titles like this helpful guide.
I found this at: Booktopia
19. Mask and Snorkel Set
A high-quality mask and snorkel set is essential for little swimmers. This one has a splash guard and mask with silicone skirt for comfortable wear. Great for the beach but equally as much fun in a swimming pool.
I found this at: Big W
20. Personalised Charm Bracelet
Gift ideas for young girls can't get sweeter than a personalised charm bracelet. I love this one from Etsy that can be engraved with your child's age, initials and birthstone.
21. Earring Box
This sweet, musical trinket box with a dancing ballerina takes me right back to my own childhood. The perfect place to store your little girl's treasures.
I found this at: OZ Sale
22. Art Kit
Artsy gift ideas for young girls are perfect to get the creative juices flowing. This mould and paint kit has everything they need to make cool plaster fridge magnets in different designs.
I found this at: Yellow Octopus
23. Board Games
If your child is a Paw Patrol fan, they will love this match cube game. Be the first to match five of your favourite Paw Patrol characters in a row.
I found this at: Spotlight
24. Easel
Crayola's double-sided easel (dry erase and chalkboard) is the perfect present for your little artist. The surface is magnetic so you can hang art and there's space for art supplies underneath.
I found this at: MyDeal
25. Bed in a Bag
If your little girls are like mine, they will love a sleepover. This cool bed in a bag makes it so much more fun and means they can camp out anywhere.
I found this at: Teddy & Co. Funland