Looking to decorate your little boys bedroom?
It's gonna be fun as there are some really great design ideas out there whatever your little man is into … and they don't have to cost the earth.
Get inspired with our list of cool bedroom ideas for little boys.
Further reading: 7 Clever ideas to set up a shared bedroom for kids.
10 Cool bedroom ideas for young boys
1. The dinosaur age
A dino theme is always a winner if you're looking for cool bedroom ideas for young boys. Dinosaurs may be extinct but they never go out of style. Check out the entire Jurassic Park franchise and the recent movies if you're starved for inspiration.
The bedroom below is a breeze to copy. Pick two main colours to work with (here it's green and brown) and coordinate your bedding and décor accordingly. Notice the matching patterns on the pillow cases, sheets and quilt. These are from Pottery Barn Kids, but you can find similar designs on Etsy and Amazon.
The bulletin board and big dino print on the accent wall are nice touches. If you have a white room and don't want to paint anything, try a nice dark green trim to start with. Then go to town on the decor. Young boys love anything with dinosaur prints. Throw in some dino plushies, books, and lamp shades.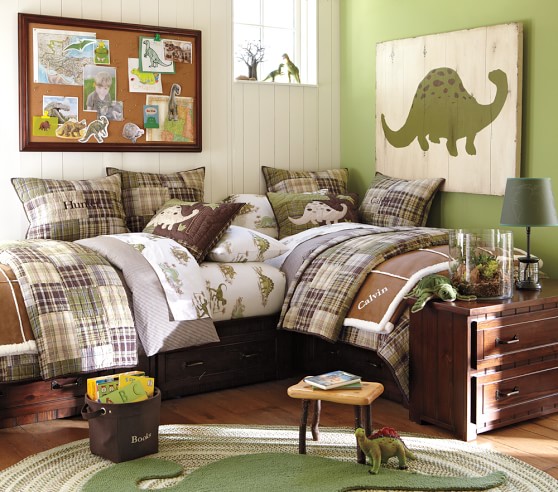 Image source: Pottery Barn Kids
2. Rockstar madness
Young rock stars need a bedroom to match their cool personality. The room below is perfect for an older boy. The dark accent wall makes the marquee letters and string lights really stand out. A guitar is a no-brainer, but it can be any musical instrument that your child loves. Keyboards, a drum set, or even an old school LP player are all excellent choices.
For the bedding, a classic plaid pattern or pin stripe adds interest but doesn't distract from the décor above the bed. The big rug and furry chair in neutral shades complement the dark furniture and bed frame.
For a younger boy, choose bold prints for the bedding and fun pillows shaped like instruments or musical notes. Add pops of colour here and there with rock star posters, hanging pennants, and bright rugs. One of the best things about the rock star theme is it works with whatever furniture you have.
Image source: Home Design Lover
3. Underwater
There are plenty of underwater bedroom ideas for young boys out there, from serene Nordic nautical to full on Pirates of the Caribbean. We like this theme because it's easy to pull off no matter the budget. You'll find an endless supply of underwater-themed merchandise online and in thrift shops, so choosing the right décor is just a matter of preference.
The room below is just a regular bedroom with a giant underwater mural for the accent wall. You can get a similar look by painting the walls blue and using decals or seamless wallpaper…no artistic skills needed!
This theme works with all types of furniture. You can use any bedding you like (we like simple white sheets and piped pillows). Go with shades of blue and aqua and maybe throw in some warm rugs and accessories for contrast. Hang up nautical prints or an old ship's wheel on the wall to complete the look.
Image source: Home Edit
4. The sport fan
If your little guy is an athlete or into sports, he will love a sports-themed bedroom like this one. The main colours (cool blue with bits of warm orange and maroon here and there) pop because of the plain white walls, but a warm or neutral base would also look great.
This room is all about the bedding. How adorable are those football and baseball-shaped pillows? And the quilt with the sporty appliques is just perfect. The fun prints on the walls also add charm. Instead of prints, try name decals or letters that spell out your kid's name to really make it his own.
The brown wooden bed frame ties the look together and offsets the cool colours of the room. If you have white or light-coloured furniture, choose bright red, brown or dark blue accents. Plaid or wide stripes and natural woven rugs would look fab as well.
Image source: Home Designing
5. Intrepid explorer
Adventure is out there, but you can bring it indoors with an explorer-themed bedroom for your kid. Like dinosaurs, this is one of those classic bedroom ideas for young boys. With the right décor and accessories, you can turn an ordinary room into a fun and comfy space that your little explorer will love.
Intrepid explorers need maps, books, treasure chests and good company on their exciting adventures. A big map on the wall with an X to mark the treasure is the perfect focal point. A map or a poster of their favourite place in the world is also an excellent alternative.
Use any colour scheme you want. We like a blue/orange or green/maroon combo that looks amazing on white or neutral walls. Decorate with animal plushies, wooden toy chests, and knick knacks from all over the world to represent trophies from their travels. Then add vintage table lamps, woven rugs and baskets around the room.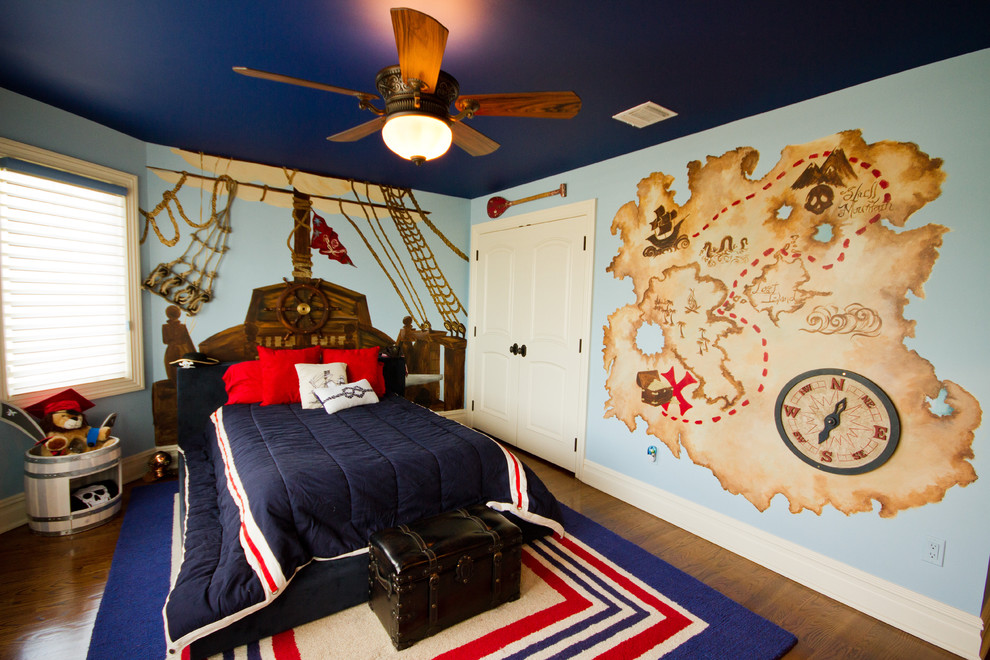 Image source: Digs Digs
Bedroom themes for little boys (cont.)
6. Car crazy
Car-themed bedrooms are great for both younger and older kids, but we suggest skipping the expensive car bed and custom furniture unless it's in your budget. Kids tend to get tired of stuff pretty quickly and you don't want to be stuck with useless merchandise when they move on to another obsession.
To get this look for cheap, spend your money on car-themed bedding, prints, plushies and toys. A single accent piece over the bed, like a giant poster of a Porsche or the Batmobile, already creates a major effect. Add spotlights or hanging lanterns to light up the poster and finish off with a fun vibrant rug on the floor.
You can get away with bold patterns and crazy accessories if the room is mostly white or neutral. Decals or a wallpaper mural of racing cars would be perfect for the accent wall. If the walls are already brightly coloured, tone down your anchor pieces accordingly.
Image source: Decoredo
7. Outta space
Looking for outer space bedroom ideas for young boys? This room delivers with its space-themed furniture and a fantastic mural of alien planets. The clean lines on the Murphy bed and cabinets add to the sci-fi element, while the accessories (check out the space suit and space man on the wall) keep it fun and light.
There are many variations on the outer space theme, your only limit is your imagination. The key is working with what you already have if you're on a budget. Minimalist furniture looks best, but you can make this work even if you have an ornate bed.
Giant space posters and space-themed wallpaper will do the trick, as well as glow-in-the-dark stars that you can stick to the walls and ceilings. Or get one of those revolving lamps that turn any room into a planetarium. Choose deep blue and fiery red/orange hues to complement white walls, or go all out and paint everything in midnight shades.
Image source: CBF Fund
8. Surf brother
Boys who love sun, sea and sand won't mind staying indoors when their bedroom looks like this. The big beach poster, the surfboard and the colours are throwbacks to summer holidays spent swimming and surfing. The cosy bed with the fluffy pillows and comfy quilt is a welcome sight after a long and tiring day. The shaggy rug is also inviting and perfect for napping or studying.
Cool blue and green hues are fresh and soothing and go great with warm white or neutral walls. Instead of a headboard, try a surfboard or a pair of crossed oars as a focal point above the bed. For younger kids, add sea animal plushies, star pillows and bedding with cute nautical patterns.
We love the surf theme because it's totally flexible and budget-friendly. Cheap but interesting décor (driftwood, nautical prints, white distressed paint) can instantly transform a space into a soothing beach sanctuary.
Image source: Pinterest
9. In the jungle
A jungle-themed bedroom is a must for animal lovers. It's one of the simplest and most affordable bedroom ideas for young boys. You can DIY your décor or buy them cheap online and at thrift stores. Working with what you already have is the trick to achieving an amazing look that won't break the bank.
Get the look below with jungle print bedding, curtains, rugs and wallpaper. Instead of building a canopy, try hanging printed curtains around the bed. Add lots of animal plushies and you're done. The jungle theme works well with neutral walls and natural wood textures. A green accent wall with jungle decals is also nice if you're feeling adventurous.
For a minimalist jungle, keep the patterns subtle and focus on one or two bold colours. Choose a few dramatic accessories (like a huge tiger plushie on the bed or a tropical hammock hanging from the ceiling) to add interest.
Image source: Ikea
10. Pirates ahoy
Pirates Ahoy is similar in style to the nautical and underwater themes. The look is easy to achieve and works with any budget. White and blue are classic colour combos while wood and natural textures are perfect for décor and furnishings.
The room below with its bunk beds is the perfect pirate's quarters for siblings. The white walls and ceilings make a great backdrop for bright red and dark blue pirate-themed decorations. The tiny corner shelf is adorable and brilliant for displaying nautical knick knacks. We suggest woven baskets or wooden chests/crates for storing bigger toys.
If you're a minimalist pirate, a neutral palette with black and white accents (a big black pirate flag would look cool above the bed) is classic and fun. Personalised touches can make up for the lack of colours. Try wooden letters on the walls, monogrammed pillows and treasure chests with your child's name or initials.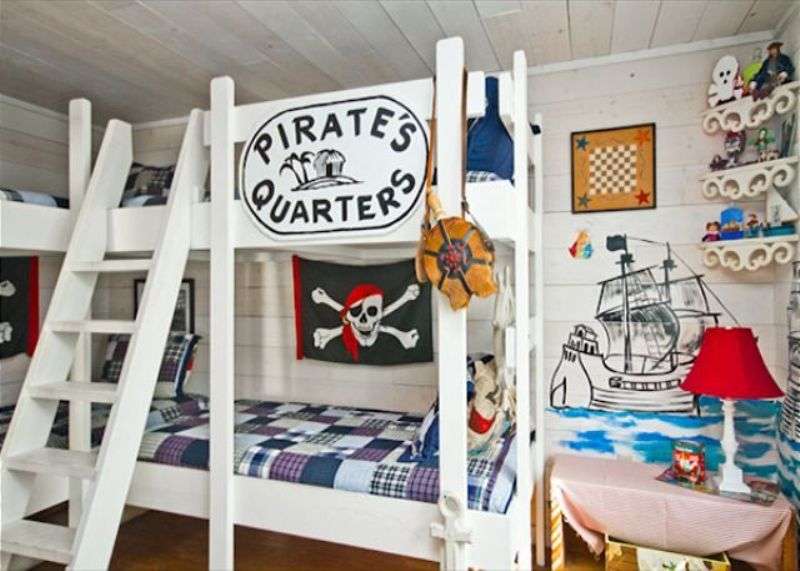 Image source: Kids O' Mania