MACROS is a subscription ready-meal delivery service with a few differences. Most importantly, the meals are not frozen … I wouldn't even try them if they were. Plus, they offer meals for various types of fitness depending on what you're after. Whether you want more energy, weight loss, to bulk up or get more toned, MACROS has a meal plan to help reach your goal.
I'm a single mum with two teen girls in a part-vegetarian, part-low carb household without a fitness goal. What drew me to MACROS was their reviews (check 'em out, they're great), the dietary choice and the family sized portions. Plus, with summer coming I knew my girls would appreciate the weight-loss focus (although they are both gorgeous and don't need to lose weight, but teenage girls and their bikini bods … need I say more).
Lately, I'm spending more money at the supermarket and more time in the kitchen trying to get creative with low cost not-so-healthy ingredients … have you seen the price of fresh veg these days? MACROS seemed like a good opportunity to ensure we were all eating healthy meals with a set budget and zero time cooking.
In the review I'll take you through the MACROS process from placing my order through to heating and eating the food.
Ordering MACROS online
Ordering MACROS online is easy-peasy.
First, sign up. This is straight-forward. Next hit the Plans tab to view all seven MACROS plans (more about these below). If you click on each plan it will take you through the plan options which includes the number of meals you can order and the cost per meal and per week. Click on Choose Plan and then comes the fun part, scrolling down and choosing you meals.
This couldn't be easier. The only place I came unstuck was trying to order the kombucha drinks which are at the end of the meal choices. I assumed these were extras I would pay for on top of the meal plan I had chosen. But you order a pack of 3 bottles in place of one meal order. For example, my order was for 15 meals but I ordered 13 meals and two three-packs of kombucha, which totalled to the 15 meals included in my plan.
Plans
There are seven plans in total which are categorised in two groups:
Everyday plans
Fitness plans
Here details on each:
I like that you can choose your plan by health goals. From a balanced diet through to weight loss and protein-packed fitness meals. You can also pick larger meals which are 700g instead of 350g that serve two and are classed as Family Meals. They wouldn't feed my family of one adult and two teens but they might some, and are perfect when just two of us need feeding.
A big thumbs up to MACROS for the Plant-based plan which had lots of choice for non-meat eaters or people such as myself and my eldest daughter who have chosen to cut back on meat.
Whatever plan you choose, you can book 7, 10, 15, 18, 21 or 24 meals per week.
Pricing
What it costs
Depending on the plan you choose, prices at the time of writing range from $9.40 to $12.40 per meal. They price decreases if you order more meals in your plan.
Latest Macro special
You an usually get a great special with MACROS, the latest is: Get up to $20 of your first order with code: YOUR20 (use at checkout).
Refer a friend
If you refer a friend to MACROS they reward you and your friend with $40 voucher.
Note: You get your voucher once your mate has placed their order.
Qantas points
If you are a Qantas point junkie like me, you will love that you get four Qantas points for every dollar you spend with MACROS. Make sure you are logged in via the Qantas shopping website or that you have your Points Prompter Browser Extension activated so you definitely get the points.
What I ordered
After much deliberation, I decided to go for the Balanced Plan of 15 x 350g one-person meals each week. The price was $161.25/week + shipping of $13. The total amount was $174.25.
How delivery works
Booking my MACROS delivery
I was a tiny bit gutted as I had to wait over a week for my first delivery. Although I get that joining a subscription program means you have to wait for the next delivery slot and from then my deliveries will be weekly.
The website says they deliver on Sunday/Monday or Thursday/Friday but mine was scheduled and arrived on a Tuesday. I see this as a good sign as they might be expanding their delivery range and times. Australia is a huge country and MACROS doesn't deliver to all of it.
Note: When you sign up and add your postcode you will notified as to whether or not they can deliver to you. This saves time and disappointment placing an order only to discover you are out of the delivery zone.
Receiving my delivery
Don't you just love it when a delivery go smoothly?
I received a text message on Monday to remind me of the delivery. Then, after dropping my daughter at work at 9am on Tuesday, I came home to a big MACROS box on my doorstep.
MACROS packaging: Keeping it cool
Living in Queensland there is always the worry of food getting warm if left outside too long. This wasn't an issue with this delivery due to the timing but the box was well insulated. In fact, all the meals where enclosed an insulated foil food bag which included two big ice packs.
MACROS delivers in refrigerated vans and say that this alongside the packaging will keep food cold for 6-8 hours. I wonder if this would be the case where I live but as consumers we have some responsibility. Perhaps get a neighbour to take your box in if you are out all day, or arrange for it to be left in the shade.
I guess my meals were neatly stacked when they started their journey but they were a bit messy when I opened the box and this ruined the presentation of some. The main thing is the order was correct and still cold.
Once in the fridge you can relax and enjoy your meals instead of scoffing at speed. The MACROS website states:
"Due to our Modified Atmosphere Packaging (MAP), our meals are naturally preserved by removing the oxygen – so your meals can last for a week in the fridge."
We ate the last meal from this delivery on day-six and it was still nice and fresh. So whatever this Modified Atmosphere Packaging is, it works.
Here is what I received for $174.25. I will add that each meal feels delightfully heavy so I have high hopes that they will fill us up.
TASTE TESTS
Below are comments on three meals I tried and the kombucha. I have picked a vegetarian, meat and fish meal for variety.
TOM KHA TOFU (9/10)
The tom kha tofu was the first MACROS ready meal I tried. I love veggie food so it was a safe bet. I would give this meal a score of 9/10. Here is why:
Surprisingly authentic tasty with nice hits of lemongrass, ginger and chilli. I can still feel a pleasant heat in my mouth as I type this. Oh and three kafir lime leaves which was a nice touch – not sure if I just got lucky.
Again, somewhat surprisingly, the tofu was the right firmness. Something I find hard to get right when I cook it.
Broccoli cooked to my personal taste – not too soft but not raw either. Some may find too soft.
A wee bit salty. Check before you season.
A smaller size than I would serve myself for dinner but my hunger was satisfied. My first realisation that my normal portion sizes are too big.
LOUISIANA SPICED BEEF N WEDGES (8/10)
I'm not a fan of minced beef, especially in ready meals because the quality can be dubious, that's why I chose this dish to critically review. Surprisingly my score for this meal is 8/10 because:
This ain't the best looking dish but I love, love, loved the taste … smoked paprika, garlic, lime. It just works.
The mince is some of the most tender I have tasted.
The wedges, whilst not crunchy were good (better than they look).
I was sure this meal wouldn't fill me up but it did, these meals are a bit like magic in the way they do that!
The presentation was disappointing but deceiving in relation to the taste.
JAPANESE MISO SALMON (7/10)
Ok, so next for the fish. This was the dish I was most dubious about because fish requires such delicate cooking. How would it fair in a ready meal, albeit a fresh one? I have given this meal a 7/10 for these reasons:
Omg to the delicious smell emanating from the microwave whilst reheating, anyone would think I had been slaving in the kitchen for the past hour.
Heaps of edamame and udon noodles.
Salmon portion little undersized compared to amount of other ingredients. Slightly overcooked for my liking (which is almost raw) but much nicer than I had expected
The food was packed into the container, almost too much to eat as the udon noddles are filling.
It needed salt … which is a pro because I like to season my own meals instead of them being too salty to start.
Although very filling and reasonably tasty it lacked a punch. Next time I'll add a little soy or extra miso and some red capsicum to the noodles for colour and flavour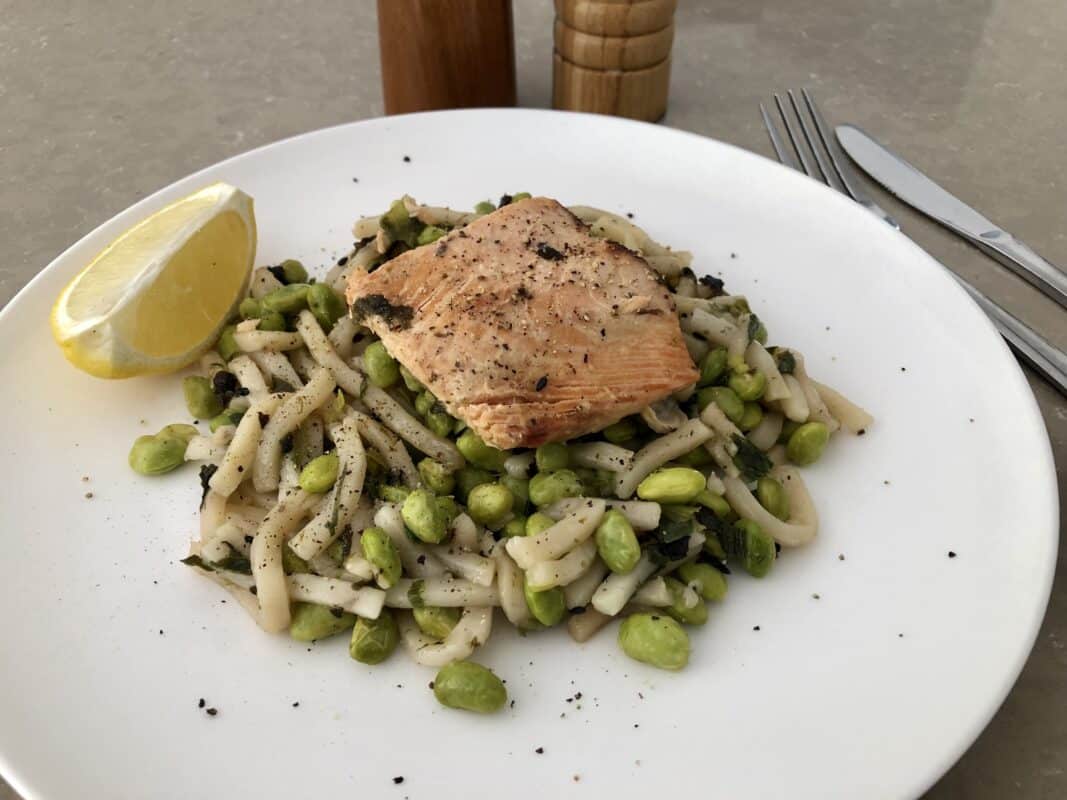 ORGANIC BLUEBERRY HIBISCUS KOMBUCHA
I love me a kombucha which is why I forwent two meals to order six bottles. My girls love it too, so it lasted less than two days in our house. Gotta give this a 10/10, here is why:
It tastes so good, especially served with ice and a few slices. The perfect summer drink.
You wouldn't know it to taste it but it's sugar free, so low calorie too. It does have erythritol though.
It is vitamin fortified (B1, B2 and niacin)
Makes a healthy alternative to water without the sugar hit of other soft drinks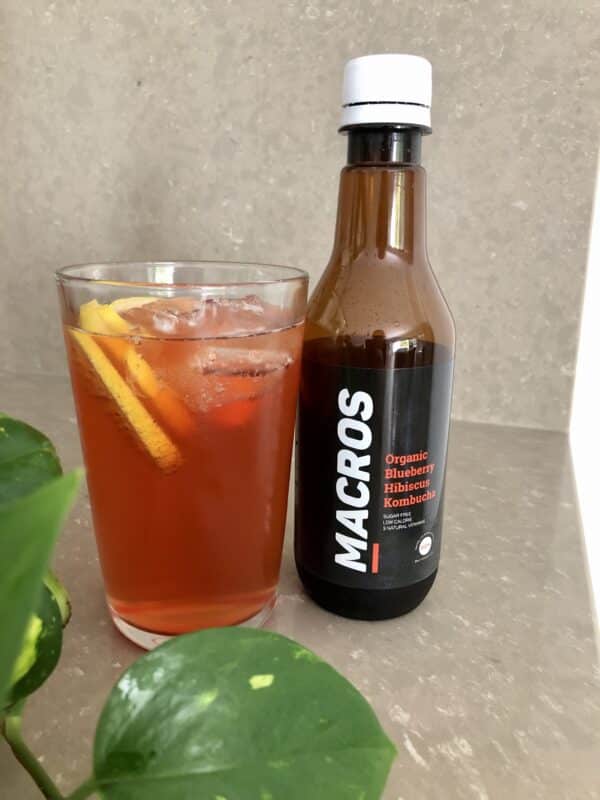 CUSTOMER SERVICE
I've emailed MACROS and received a response the following day. Which I was happy with.
At time of writing the Customer Support link isn't working on the website which is a worry and I have seen the odd review about poor customer service. Good to note these are mostly old reviews so hoping this is all fixed up now.
WHAT I LIKE AND DON'T LIKE ABOUT MACROS
PROS
They are not frozen, need I say more
Food is really flavoursome, you can tell it's made quality ingredients and tastes authentic (the Rogan Josh was as good as our take-away)
There are absolutely no unidentifiable ingredients in the food or on the ingredients list
These meals fill you up somehow, it must be the protein and food-combination but I felt pleasantly full after each
You can tell these meals have been curated by dieticians as they really fill you up, even though the portions aren't huge
Whatever Plan you choose there's a good choice of fish, red meat, chicken and veggie dishes
CONS
Packaging not quite secure enough and this ruin meals presentation
At just under $10 for single meal costs can add up but meals contain lots of foods which are super expensive at the supermarket
Not being frozen means you have to get through you meals within a week
Where we live, we are limited to one delivery day (Tuesday), it would good to have more choice
If you are someone who eats with their eyes you might be put of but the presentation of the meal in a plastic container
The writing on the packaging (orange on black) makes it hard to read heating instructions, ingredients and other details
IS MACROS WORTH THE MONEY?
Right now, with the cost of groceries, especially fresh ones, MACROS is definitely worth the money. Cooking meals with similar combinations and varied ingredients as MACROS at home would be very costly. Plus, there is no waste.
MY PERSONAL CONCLUSION ABOUT MACROS
I like MACROS and will use them again.
For me as a busy single mum, saving time in the kitchen and still feeding myself and my family healthy meals packed with fresh ingredients is a big plus. If I weigh the price up against a weekly grocery shopping bill and include the super foods from the MACROS meals, the price is certainly comparable.
Although I'm not dieting and don't have specific health goals, MACROS has taught me about portion size. I was eating waaaay too much before. I now know that if I combine the right foods, I can eat less and feel fuller for longer.
Similar to any ready meals, some foods work better than others. Curries, bakes and noodles hold their presentation, whereas meat and two veg type meals don't heat up as well in terms of looks. And, like all subscriptions meal delivery services, it can take a few orders to find what works for you from their range.
For healthy, filling meals that are ready in under four-minutes MACROS is a win for my family and lifestyle, especially for weeks when I want a break from grocery shopping and cooking.