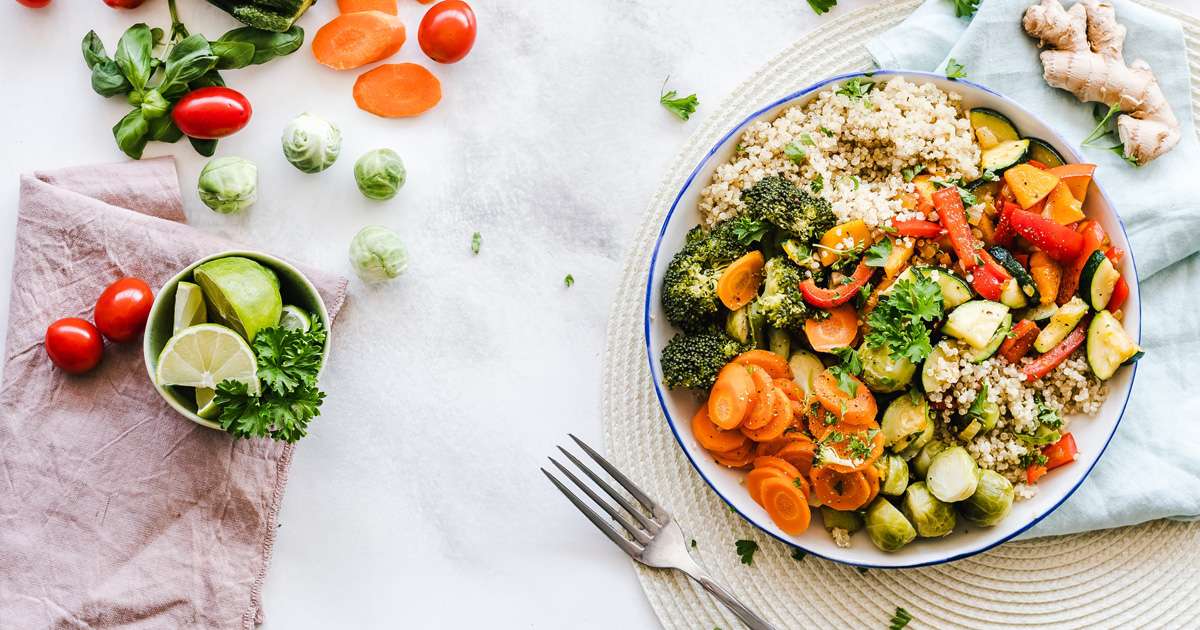 This article about meal delivery services was last updated in 2022.
With so many plates to spin, an increasing number of mums are reaching for ways to make life easier. And why the hell not? According to a survey by the Evening Standard:
"Mums will spend almost three years of their lives cooking for the family"
… so yeah, excuse-me if meal delivery services suddenly seems super appealing.
The best thing is, there is actually a great range on offer, so you can choose the perfect meal delivery service for your family.
And, since we're all about saving time, we've made it extra easy for you by listing them all below with delivery areas, pros and cons, discounts and links to see more.
MEAL DELIVERY SERVICES FOR THE BUDGET CONSCIENCE
Everyplate is the most affordable meal delivery service on this list and definitely a delicious bargain. They are known for their yummy comfort food (think steaks, burgers, tacos, mashed potatoes) at unbeatable prices. Starting at only $4.99 per dish with flat-rate delivery, it's a good option if you have people coming over and don't want to sweat all day in the kitchen. The menu is limited and rotates weekly and the food is not really for vegetarians, health conscious eaters or those with special dietary needs. But if you're on a budget and not too picky, this home delivery meal service is surprisingly tasty for the price.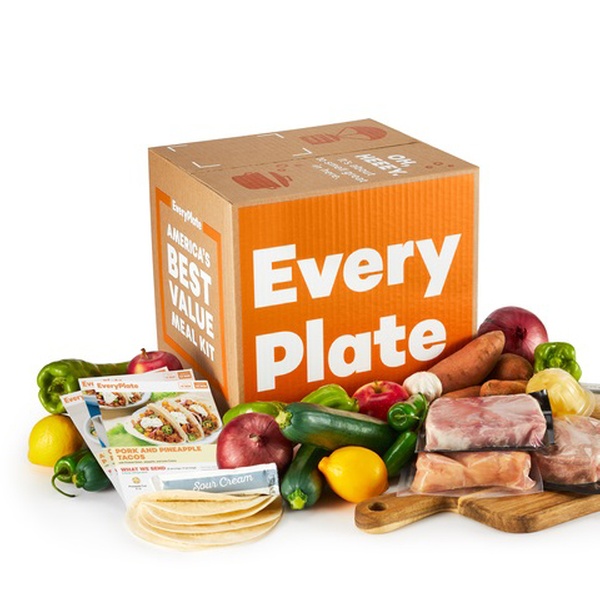 Box types: 2 to 6 people
No. of kits per week: 3 to 6
Delivery areas: Ingredients delivered to most of NSW, VIC, ACT and QLD
Price range: From $4.99 per meal, from $49 to $153/week
Pros: One of the cheapest meal delivery services, lots of comfort food favourites, packaging is designed to reduce plastic
Cons: Not for vegetarians, the health conscious or people with special diets, limited choices in the weekly rotating menu
SPECIAL: 40% off your first box, and 20% off your next 2 boxes at EveryPlate with code: BEANMPLATE
Possibly the most well-known of the meal delivery services for food kits, Hello Fresh has lured many with their fabulous advertising and specials. The recipes are nothing short of mouth-watering to look at, and the end results are surprisingly similar to the pictures, which is always a good thing. There is something about the simplicity of the menu cards that gets kids cooking too, so that's a bonus. The weekly nutritious choice includes standard dishes, gourmet upgrades, a vegetarian and 'dinner to lunch' option. Plus, they now offer a couple of yummy snack packs too.
Box types: Classic, Family and Veggie. 2 or 4 people.
No. of kits per week: 3 – 5
Delivery areas: See list here
Price range: From $9.99/dinner, $65.94 to $104.79 for boxes
Pros: Very easy to make, options to 'go posh' with gourmet and to grab some snacks
Cons: There are set days for delivery which won't work for everyone
SPECIAL: Get up to $130 off your first 4 boxes with code SINGLEMUMS130

Marley Spoon is hot on the tail of Hello Fresh in the popularity stakes. They boast chef-created dinners made with seasonal ingredients. There are 20 dishes to choose from each week including fast, healthy, vegetarian, no added gluten and family-friendly options. They focus heavily on sustainability with 100% recyclable packaging and reusable chill-packs made from 85% sugar cane! Food is sourced as locally as possible and, like most food delivery services, there is zero waste as everything is pre-measured for each recipe. Recipes are super-simple and have no more than 6-steps each. Easy-peasy.
Box types: Normal or Vegetarian. For 2 to 4 people
No. of meal kits per week: 2 – 5
Delivery areas:  Ingredients delivered to Sydney, Canberra, Melbourne, Hobart, Launceston, Adelaide, Brisbane, the Gold Coast, Wollongong, Newcastle, Darwin and NSW's Central Coast
Price range: $59.99 to $179.99 per week (boxes)
Pros: Delivery is daily, seasonal and sustainable, a reasonable amount of choice
Cons: Delivery area is a little limited
SPECIAL: More specials on their website
Dinnerly is touted as Australia's most affordable meal kit delivery service, and they may be right with kits starting at just $4.85 per dinner, per person. How do they keep their prices down but still deliver quality ingredients? They take a simpler approach using fewer ingredients, no posh packaging and digital recipes cards, which makes them environmentally-friendly too. This home delivery meal service includes fast, healthy and one-pan with around 14 recipes per week, changing weekly. They have fewer bells and whistles than their costlier competitors but offer a solution "for people who like homemade cooking, but don't like overpaying for the good things in life."
Box types: Regular and vegetarian, 2 people or 4 people
No. of kits per week: 3 – 6
Delivery areas: Ingredients delivered to most of NSW, VIC, QLD, SA, NT, ACT, WA and TAS
Price range: $4.85/serve, Boxes from $53 to $126
Pros: Cost-effective meal kit delivery service, less fancy packaging so less waste
Cons: Not as much choice for recipes each week, recipes a little basic (a pro or con!)
SPECIAL: Check their website for specials.
MEAL DELIVERY SERVICES FOR THE HEALTH CONSCIENCE
Want to lose weight? Weight Watchers (WW) is a global leader in diet plans and healthy meals. For the health-conscious mum who wants convenience above all else, Weight Watchers (WW) Healthy Kitchen offers ready-made meals that take the guesswork and time out of healthy meal preparation. Created by chefs and nutritionists, WW Healthy Kitchen dishes for lunch and dinner are nutritiously balanced, protein packed, gluten free, and come in a variety of flavours. There is no added sweetener, artificial flavours or preservatives. All meals are SmartPoints® ready, with each meal worth from 4 to 8 SmartPoints®. Currently, ready-made meal boxes are only available at Woolworths (chilled ready meal section) or the Woolworths Online store.
Box types: Meals for 1 person (400g per box)
Price range: $10 per 400g box
Pros: Chef and nutritionist-prepared healthy food, brilliant for weight loss, without the meal prep
Cons: Limited selection and no home delivery service at this time
SPECIAL: Check their website for specials
Be Fit Food's rapid/gradual weight loss program is a must-try if you've been struggling to lose or maintain a healthy weight. Be Fit Food offers dietitian-designed ready-made meals delivered to your door, so you don't have to count calories, go food shopping or cook. Reviews praise the taste and variety of their meal selection and prompt delivery times. However, some of the weight loss programs are very restricted in calories, so it's important to talk to your doctor or nutritionist before starting. Book a free 15-minute consultation with their dietitian to see if this meal delivery service is right for you.
Box types: Meals for individuals, couples and families
No. of kits per week: 7 – 28
Delivery areas: See full list here.
Price range: From $57.95 (7 breakfasts) per week
Pros: Tasty meals and great selection, complimentary consultation with a dietitian
Cons: Very restrictive rapid/gradual weight loss program
SPECIAL: Sign up to Be Fit Food for exclusive rewards

My Muscle Chef stands out from the crowd of meal delivery services with their high-protein meals that are big on taste and nutrition. The "functional food company" aims to fuel active Australians no matter their fitness goal. Whether you're a 9-5 professional who wants to build muscle or a busy stay-at-home mum who wants healthy, ready-made meals, My Musle Chef has got you covered. The meal variety is excellent and every meal is great value for money, especially if you order by bulk.
Box types: Single-serve meals and fixed sets for couples
Delivery areas: See full list here.
Price range: From $7.95 per meal, meal plans and fixed sets from $165/week
Pros: High-protein meals for active people, excellent meal variety, no additives or artificial flavours
Cons: People with bigger frames may need to supplement the meals with snacks
SPECIAL: Free shipping when you subscribe (minimum $99 order value)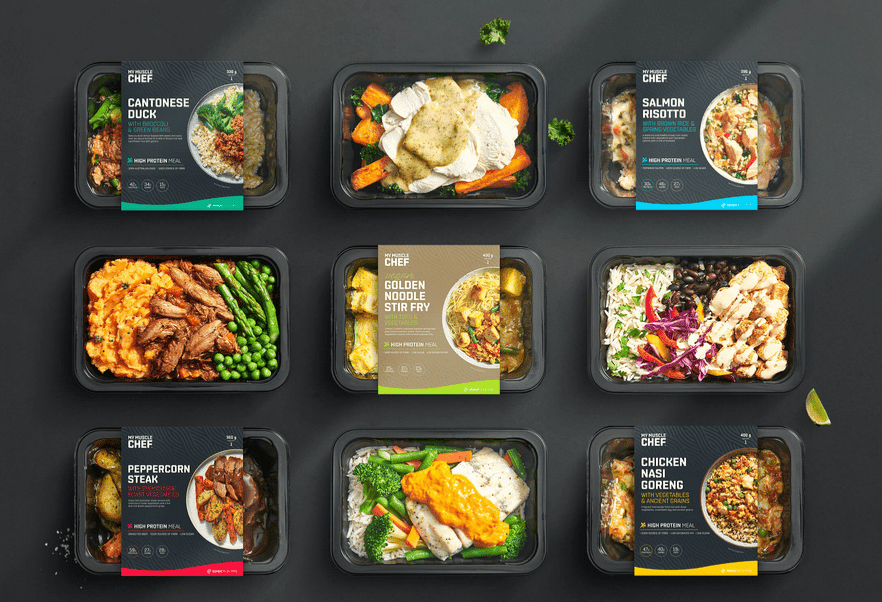 Macros is a food delivery company known for their healthy, chef-made, dietitian-formulated meals made from fresh ingredients. One of the biggest draws of Macros is their great selection of meals and plans, including high protein, plant-based, paleo, no added gluten, dairy free, nut-free and balanced. The menu is updated each week so you always have new flavours to look forward to. Macros makes it effortless for the busy mum to lose weight or maintain a healthy lifestyle. But if you are a serious athlete or looking to gain muscle, you may need to add snacks to the meals due to the small portion sizes.
Box types: Meals for 1 person (350g/meal) and families
Delivery areas: Australia wide
Price range: From $82.95 per week ($9.65 per meal) for single meals
Pros: High protein meals, great meal variety, whole food ingredients, dietitian-designed
Cons: Serious athletes or very active people may need to supplement with snacks due to small portion sizes
SPECIAL: Check out their website for discounts.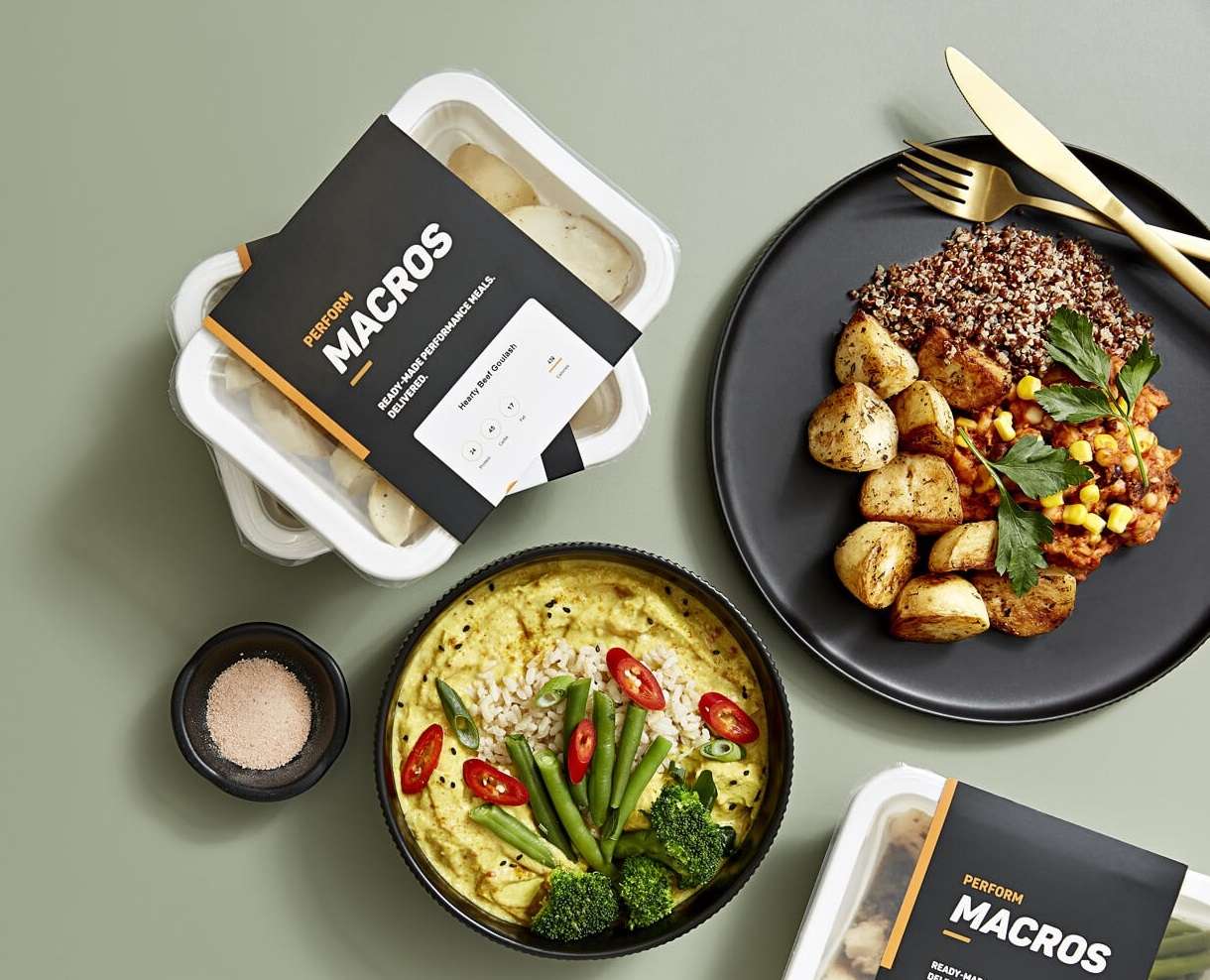 Lite n' Easy has been delivering dietitian-planned, healthy meals to Australians for over three decades. Meals can be customised based on your needs, whether you want to actively lose weight or you are simply too busy to shop and prepare healthy meals every day. The range of meals is extensive and includes breakfast, lunch, dinner, bowls, soups, desserts and Lite meals. These nutritious meals start from $6 and go up to $12 per single serving, with one week of meals starting at $117 (1200 calories, full 5-day plan). Overall, Lite n' Easy is a great option for those who want to actively lose weight but does not want to prepare meals themselves.
Box types: Full 5 and 7-day meal plans and dinners only
Delivery areas: See list here
Price range: $6-12 per single-serve meal, $82-192 for full plans
Pros: Highly customisable nutritious meal plans and ready made dishes which are great for weight loss
Cons: Pre-packed meals that may not appeal to those who want fresh meal prep kits, minimum order value of $49 for all deliveries
SPECIAL: Money back guarantee on your first delivery
Moving onto ready-made meals, Youfoodz certainly know how to tempt the tastebuds with their mouth-watering website. Providing fresh (not frozen) food, Youfoodz has everything from breakfast, lunch, dinner, wraps, snacks and soups. And although the general theme is healthy food, they have a 'Weightloss Refreshed' 70/30 diet plan too, which includes fresh meals and snacks designed to help you lose weight. They will even create a meal plan for you based on your goals, these being weight loss, clean eating or gain muscle.
Box types: Meals for 1 person
Delivery areas: See list here
Price range: Snacks from $1.50 and  fresh meals from $9.95. Meal plans between $69.65 – $213
Pros: Huge range of ready made meals, for many dietary requirements and next day delivery
Cons: You have to spend a set amount for home delivery, not frozen
SPECIAL: Enjoy 20% off with discount code: YFM-BEANSTALK20
The Gluten Free Meal Co. is Australia's only gluten-free ready-cooked meal delivery service. This is the ideal choice for coeliac or busy mums looking for gluten-free alternatives but does not want to prepare meals themselves. The menu for this home delivery meal service is extensive and EVERYTHING is gluten-free, including breakfasts, main courses, finger foods and even desserts. All dishes undergo gluten testing and ingredients and allergens are listed on the order page so you won't miss anything.
Box types: Single-serve meals (400g each)
Delivery areas: Australia wide
Price range: $2.95 – $13.50 per item (including soups and mixes)
Pros: Gluten-free food that meets dietary requirements delivered to your door, without possibly fiddly meal prep
Cons: Limited menu and no meal plans
SPECIAL: Free shipping on all orders over $100
JUST A REALLY CUTE FOOD DELIVERY BOX WE HAD TO MENTION
GoodnessMe is the country's largest health food sampling store. They offer health-focused subscription boxes which their team curates each month and sends to subscribers in Australia and New Zealand. If you are a fan of sustainable, organic, vegan, gluten-free and dairy-free products, this box is for you. Besides nutritious food, the box is filled with health-focused lifestyle and beauty products. Much of the box is food or drink (7-10 items) and the remainder is beauty/lifestyle items (2-3 full-sized or sample-sized products).
Box types: 1, 3, 6 and 12-month plans, kids monthly subscription box, quarterly beauty box
Delivery areas: Australia and New Zealand
Price range: From $75 for 3 months to $300 every 12 months
Pros: Health-focused food/drink and lifestyle items in one box delivered to your door
Cons: Selection is limited to health samples
SPECIAL: Free shipping for orders over $75