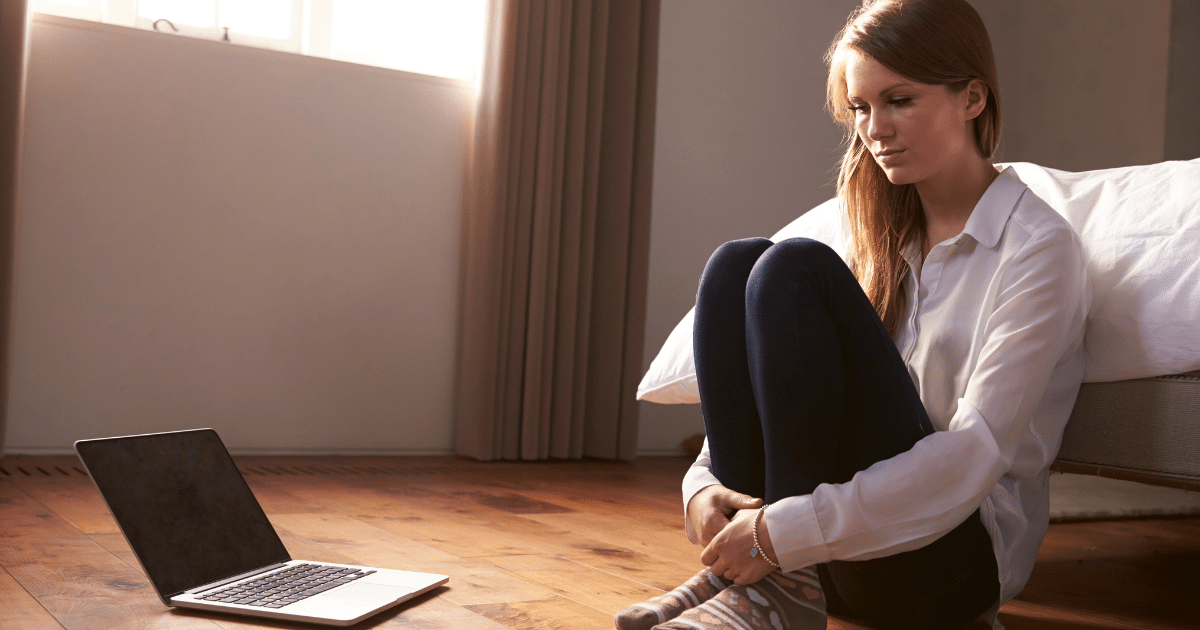 Contents:
The rise of online dating has significantly opened up opportunities to meet future partners. This is particularly true for single mums who may not be able to get out much because of caring for young children.
Incredibly convenient and simple, there are endless dating websites and apps to try your luck with. However, in all the fun and excitement, it's easy to get carried away and forget that there are some potential dangers to look out for too.
Further reading: 5 Tips to tackle online dating fatigue.
What is catfishing on the Internet
The term' catfishing' is used to describe when someone has created a fake online identity with the intent to pursue someone romantically under false pretenses.
Why do people catfish?
Some catfish because they don't wish to reveal something they see as potentially negative about themselves, and some do it just for fun.
Unfortunately, others have more sinister agendas, such as wanting to coerce someone into doing something they wouldn't normally do. For example, to give money, send intimate photos, or are trying to gather enough information to commit fraud identity.
How can catfishing make you feel?
Even if the catfishing is not particularly sinister, it can still be extremely hurtful and frustrating when you've invested time in someone online, only for them not to be who you thought they were. It can also make some women feel vulnerable and impact their ability to trust anyone again, especially if they have already suffered a traumatic breakup.
Catfishing is a somewhat scary concept. However don't let it stop you from using dating apps and sites. You need to protect yourself.
Tips to avoid being a victim of catfishing
Never use the Internet for online dating while under the influence of alcohol or drugs.
Don't leave it weeks, but take time to get to know someone and check that things' add up' before meeting up in real life.
Do a background check – Google a potential date if you have enough details. Thanks to the increase in online dating apps, you can also use searches created for potential dates.
Look for red flags, such as spelling mistakes and bad grammar on a profile when someone has stated they are college or university educated.
Be wary if they mention recent traumatic life events (such as the death of a partner or child), as many will fake stories such as these to make you feel sorry for them and therefore be more trusting.
One of the most significant indicators of catfishing is when a person makes excuses not to meet you, won't do a video call and even avoids all conversation about when to meet up. If they're putting off a face-to-face date, it could mean they have something to hide.
If a profile photo looks like a Hollywood movie star or model and appears too good to be true, use Google Images to check the profile photo. If it comes up on another site that makes you feel suspicious, or it's out rightly a magazine cover model, you are potentially being catfished. You can also use Catfish reverse image search apps.
Always remember, if it's too good to be true, it probably is.
What to do if you are catfished
If you are catfished, please remember, it is not your fault. It's an unfortunate consequence of online interactions; many people have faced similar situations.
Here are some suggestions if you realise you have been catfished.
Step back
Step back, remove your emotions (where possible), and assess the situation for what it is. Gather all the information you have about the person who catfished you. Review your conversations, their profile, and any photos or details they shared. Take note of any red flags or inconsistencies.
Stop communication
Cease all communication with the person who catfished you. It's important not to engage or confront them, as they may attempt to manipulate or deceive you. You may be tempted to have a go at them, tell them how you feel and what you think about them. Don't! Just stop communicating. They are not worth it.
Protect your privacy
If you shared any personal information with the catfisher, such as your address, phone number, or financial details, take measures to secure your information. Change your passwords for online accounts and consider enabling two-factor authentication for added security. If you have real concerns, call your local police for advice or a referral for online security support.
Report them
If you met the person on a dating website or app, report the incident to the platform's administrators. Provide them with the relevant information and evidence to help them investigate the situation and potentially prevent others from falling victim to the same catfisher.
Get support
Talk to friends, family, or online communities for support. Sharing your experience with others can be cathartic and may help you gain perspective. You are not alone. Many people are catfished. Just knowing this makes it easier to bare and understand.
Learn from it
Take this as an opportunity to reflect on the signs you may have missed and learn how to protect yourself in the future better. Be cautious and skeptical about keeping safe while online dating, especially when dealing with individuals you haven't met in person.
Get professional support
If you're struggling emotionally or mentally due to catfishing, don't hesitate to seek support from a therapist or counsellor. They can help you process your feelings, build resilience, and develop healthy coping mechanisms.
Further reading: 10 Online dating mistakes single mums should avoid.
And then there's kittenfishing
Another thing to be mindful of is kittenfishing. It's quite likely you're even guilty of this yourself!
A much lighter version of catfishing is when someone embellishes or improves their profile to make themselves more appealing online – such as using a photo from ten years ago, adjusting their age or lying about their education or profession.
Generally, people who kittenfish aren't meaning to be harmful. The reason is to present their best version to increase their odds of meeting someone. However, this doesn't make it any less annoying when you meet them in person.
And if you are tempted to kittenfish yourself, remember that potential dates and future partners will uncover the 'real you' at some point. Therefore, a true reflection of who you really are is always best.