So, you're over your last relationship, you've enjoyed your single time and now you're ready to start dating again, yay.
The only thing is, the game has changed … big time.
If you want to find your Mr Right or just some fun, you're gonna have to brave the world of online dating … however much you hate the idea of it.
Rather than looking at your phone with distaste, it is time embrace what is on offer (both with dating apps and potential partners!).
Follow our guide of the best dating apps for people who hate dating apps (updated for 2023), and you might find a whole world of fun that you never knew existed.
Further reading: How to choose the right online dating site for you.
eHarmony is No.1 on our list of dating apps for people who hate dating apps for a lot of reasons. It's THE app if you're looking for marriage or serious long-term relationships. It's also brilliant if you're completely new to online dating because of the slow pace. You have to complete a 30-minute quiz with more than a hundred questions before you can even find a match. There are no in-your-face raunchy pics here and no lame pickup lines (mostly). While you can still have fun with matches if that's what you're into, eHarmony is mainly for people who are tired of hookups, playing games and endless swiping. eHarmony claims to use a model to match 'couples based on features of compatibility found in thousands of successful relationships.'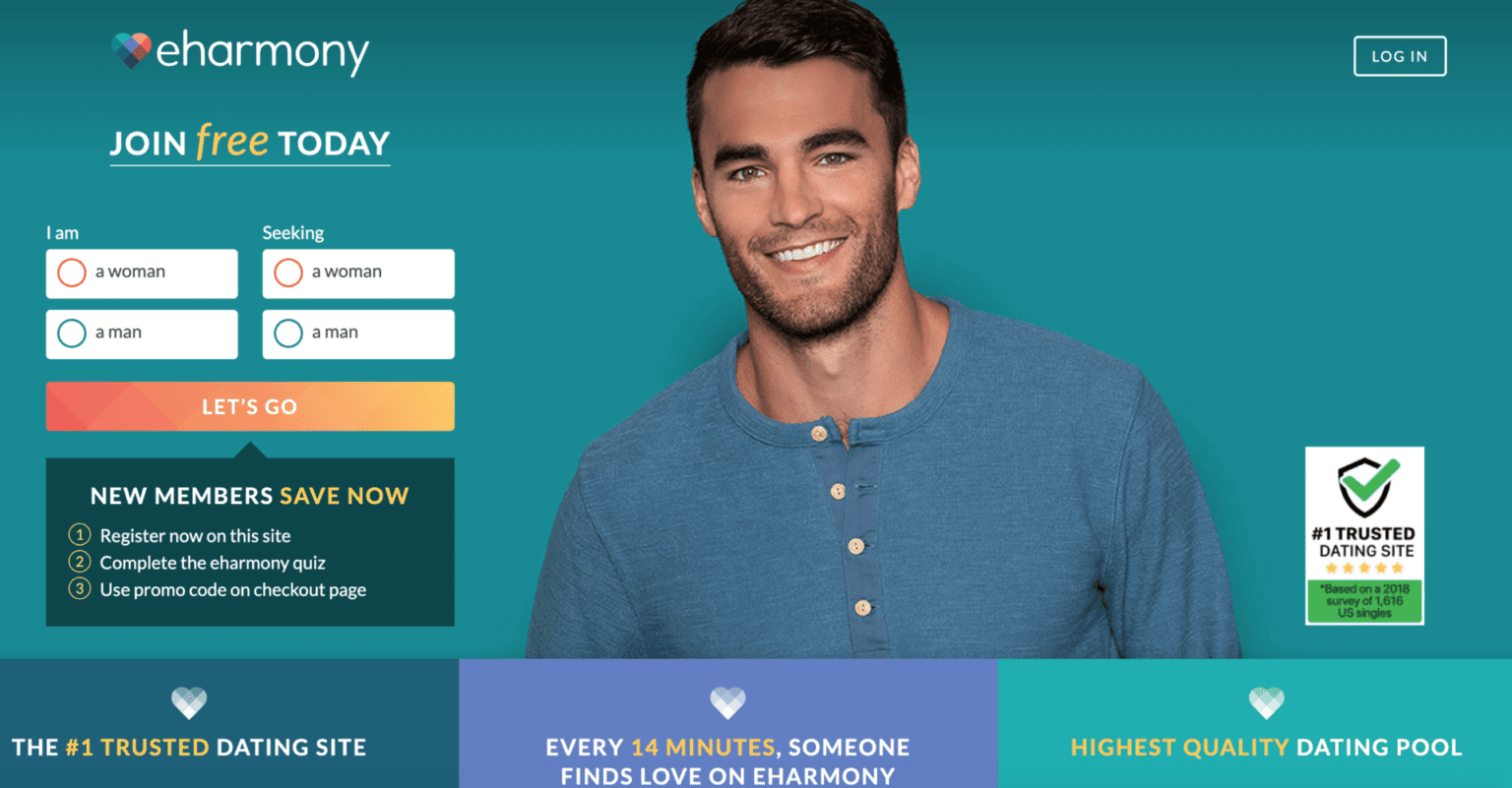 Free version: Yes
Pros: Great for the marriage-minded, easy to use for people new to online dating, profiles are packed with information, safe and secure matching, low chances of getting creepy messages
Cons: Questionnaire can be long, no same-sex matching, only paid members can view photos of matches
If you hate dating apps, you will like this one because: of the slow pace, safe environment and professional approach to finding The One
Like eHarmony, Elite Singles is a dating app that's great for anyone new to online dating. Elite's thorough matching process involves a questionnaire that takes a few minutes to complete. Among other things, the quiz asks you how important it is that your match have certain personality traits, like being marriage-minded. You don't have to trawl other users either, Elite chooses matches for you. The overall experience is very professional, as can be expected from a site where the typical user is aged 30+ with a college degree. But beware, it is a fairly pricey app.
Free version: Yes
Pros: Comprehensive personality quiz, targeted for an older demographic (30+), verified profiles
Cons: Expensive, you can't view photos and send messages without paying
If you hate dating apps, you will like this one because: it is easy to use, the matching process is thorough and comprehensive, and the overall vibe is very professional
Some women just want a good time with no strings attached. If that's your ultimate goal, Adult Friend Finder is worth checking out. Signing up is done in minutes and you can go straight to chatting up people and having fun. You can also choose the type of hookup you want (cybersex, swingers, threesomes). Just a warning: everything here is explicit, from the photos to the profiles to the messages … definitely not for conservative folks, but a great way to find a friend-with-benefits or casual sex.
Free version: Yes
Pros: Great app for someone who's just looking for a hookup or friends with benefits. Definitely for the open-minded, not for conservative people.
Cons: Free version has lots of pop-up ads, website layout looks shady.
If you hate dating apps, you will like this one because: it easily connects you with people who are also looking for hookups/a good time.
If you hate dating apps because of the deluge of messages and you're the type to make the first move, Bumble is the app for you. Bumble was created by a woman and designed to be empowering from the get go. It's unique in that women have to message the men first. Men have 24 hours to respond or the match disappears. For women messaging other women, either one can respond first. Women who have used Bumble either love this matching process or don't care for it. Some users reported that the number of matches is more manageable here compared to Tinder and the message quality is higher. For those who have never used a dating app before and want to feel safe online while looking for Mr. Right, Bumble is definitely a must-try.
Free version: Yes
Pros: Empowers women to make the first move, reduced risk of receiving unwanted messages, easy to use even if you've never used a dating app before
Cons: Profiles can be very brief and lack information for women to make the right decision
If you hate dating apps, you will like this one because: you can make the first move, it's a safe place to meet men, and there's a low chance of getting creepy messages.
Passion is like a cleaned-up version of the popular Adult Friend Finder. It's a laid-back place for naughty conversations and casual hookups with hotties in your area and around the world. It only takes a few minutes to sign up, and the site is very easy to use and navigate. You can connect with people via IM and chat as well as live webcam, and the large membership base guarantees a match with someone who shares your, um, passions. Like other apps, it can be difficult to arrange an actual meet-up with people if you live in a remote area, but you should be fine if you're in the city. Just watch out for the fake profiles.
Free version: Yes
Pros: Easy to use and navigate, access to IM and chats, unlimited live webcam
Cons: Lots of fake profiles, desktop only, limited features on the free version
You will love this app if: You hate x-rated dating apps and want naughty conversations in a laid-back environment.
Zoosk is attracting droves of Millennials like Tinder is, but not for the same reasons. Zoosk is a decade-old award-winning dating app with a clean, easy-to-use interface and behavioural matchmaking algorithm that works. We like the large amount of users (40 million in 80 countries) and options to promote your profile and improve match compatibility. Even if you're new to online dating, the app is super easy to use and not intimidating at all. Account setup is a breeze if you already have a Facebook or Google account. No endless quizzes or tedious personality tests either, just answer a few basic questions and you're all set.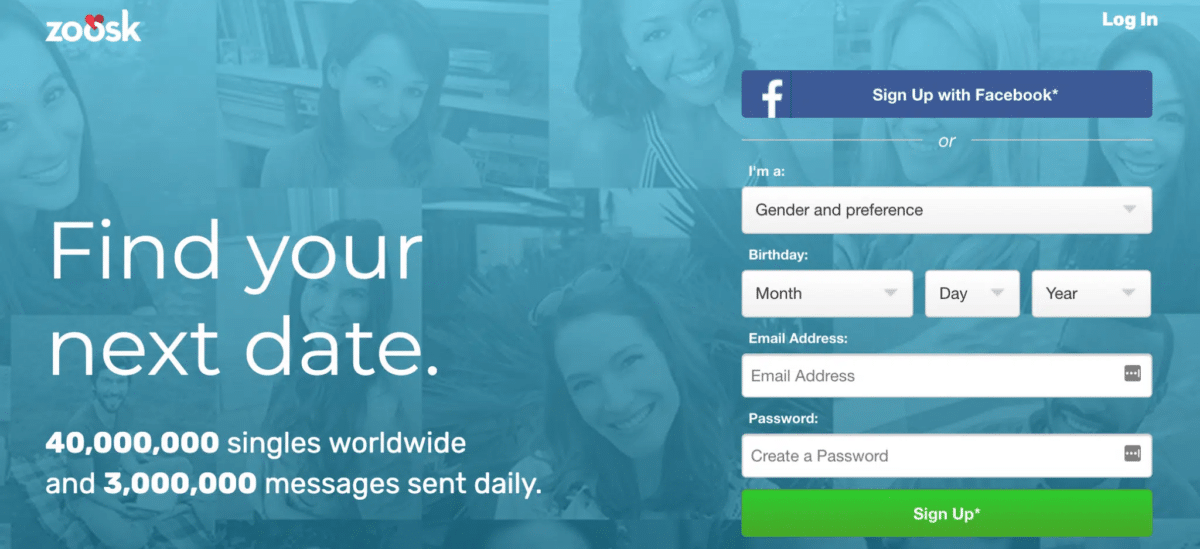 Free version: Yes
Pros: Super easy to use, photo verification to avoid fake profiles, smart matching, large active membership
Cons: Only paid members can message you
If you hate dating apps, you will like this one because: It's user-friendly, safe (verification option), and has a large membership base.
If you hate traditional dating apps, Sugarbook gives you a completely different experience … the sugar daddy experience! This is the place where (mostly) young women can earn money or treats while chatting up men. In fact, girls with a university email can sign up for free and get a premium account. Sugar daddies or mummies, on the other hand, have to pay through the nose in exchange for the full experience. A free basic account lets you send a few messages, and that's it. Try Sugarbook if you want to "build and negotiate your terms of relationship" with the app's hundreds of thousands of ID-verified members.
Free version: Yes (limited features)
Pros: Large use base of ID-verified members, easy to use app, free premium account if you sign up with a university email
Cons: Expensive for sugar daddies, basic account is very limited
You will love this app if: You are looking for a different dating experience, specifically a sugar daddy relationship.
If you're a bit over the shallowness of other dates apps, it could be time to give Hinge a whirl. Hinge encourages users to create detailed and engaging profiles that showcase their personality. You can add prompts, photos, and personal info to go beyond just swiping based on looks - all of which is a refreshing in the world of online dating. What's cool is that you can like or comment on specific parts of someone's profile, which leads to more genuine conversations and takes the focus of looks only. With a user-friendly interface and emphasis on authenticity, Hinge is a great choice for a more intentional dating experience.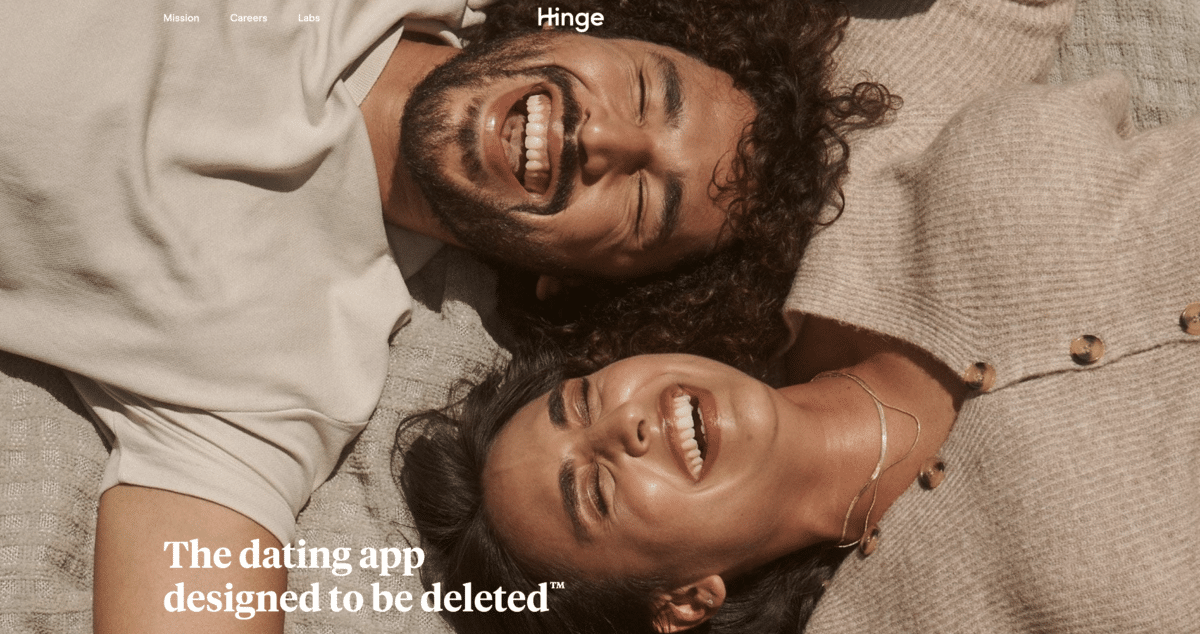 Free version: Yes (limited features)
Pros: They really push you to focus on the full profile, not just the pics
Cons: Limited users, especially in regional areas
You will love this app if: you're more interested in a person's values, as opposed to looks and surface-level interests.