This article about selling used clothes online was last updated in 2022.
There are a number if benefits to selling your used clothes online.
The most obvious being that you can make money. However, there are important environmental reasons too. Le Prix explains it perfectly here:
"Secondhand clothes don't consume further resources. They've been made. To not use them would be such a waste (like wasting food that's already been cooked.) Besides, you're helping to reduce the water waste and chemical pollution associated with today's fashion production methods."
Plus, op shopping is super-cool, so why not become a part of the process?
If you're wondering where to start, see our advice on where and how to sell used clothes in Australia.
Further reading: Best paid surveys in Australia to make money from home.
WHAT TO LOOK FOR WHEN CHOOSING AN APP OR WEBSITE TO SELL YOUR CLOTHES
There are lots of apps and websites where you can sell your used clothes online. How to choose the best marketplace for your needs?
Here are some things to consider:
Seller fees
This is the number one consideration for most sellers. Your sales minus listing fees (including postage and the cost of returns/exchanges) make up your profit, so the fees must be reasonable for your budget. If you are completely new to online selling, try an app that lets you list items for free.
User-friendliness
Selling used clothes online should be as simple as possible, no matter your selling experience. An app that's easy to use and navigate can be a game-changer if you're a total newbie, and a big help if you're a seasoned sales superstar.
Items sold
Women's clothing is one of the most popular categories for online sellers. Other popular items are accessories, menswear, and kids clothes and toys. Some sites don't accept certain items, so be sure to check.
Reach or customer base
An app or website with a large customer base helps you reach as many potential buyers as possible.
HOW TO PREPARE YOUR CLOTHES FOR SALE
Buyers don't want an expectation vs. reality situation when they order online. To give them an amazing buying experience, it's important to take time to prep your hot sales items.
Follow these tips:
Wash the clothes and iron/steam them to get rid of wrinkles. Remove stains and repair damage like rips and loose threads.
Model the clothes yourself or have someone else wear them for you. Buyers love seeing clothes on a real human!
When taking photos, use a plain background and great lighting (natural light is best if you don't have a studio setup). Use your phone or camera at the highest setting to take multiple photos from all angles and different distances.
Include certificates or proof of authenticity if you are selling vintage designer clothes and accessories.
TIPS TO MAKE YOUR LISTING WORK
PRESENTATION IS EVERYTHING
Presentation is key when you're selling used clothes online. A mediocre listing can tank the best products. On the other hand, a great listing will boost views, attract potential buyers and close the deal.
BE HONEST
Honesty is the best policy when selling used clothes online. How many times has the dress been worn? Does it have a stain or a loose strap? Highlight the best bits (one-of-a-kind, limited edition, etc.), but be honest about flaws and faults.
BE AS DETAILED AS POSSIBLE
Be as detailed as possible. Give your buyers all the information they need to close the sale. Write a detailed description, including measurements, sizing, and the year it was released. An FAQ section at the end of the listing is a great way to answer popular buyer questions and reduce messages to your inbox.
GET THE PRICE RIGHT
Set a fair price. Google is your friend. Pull up similar listings on the app or website to find out how much your item is going for.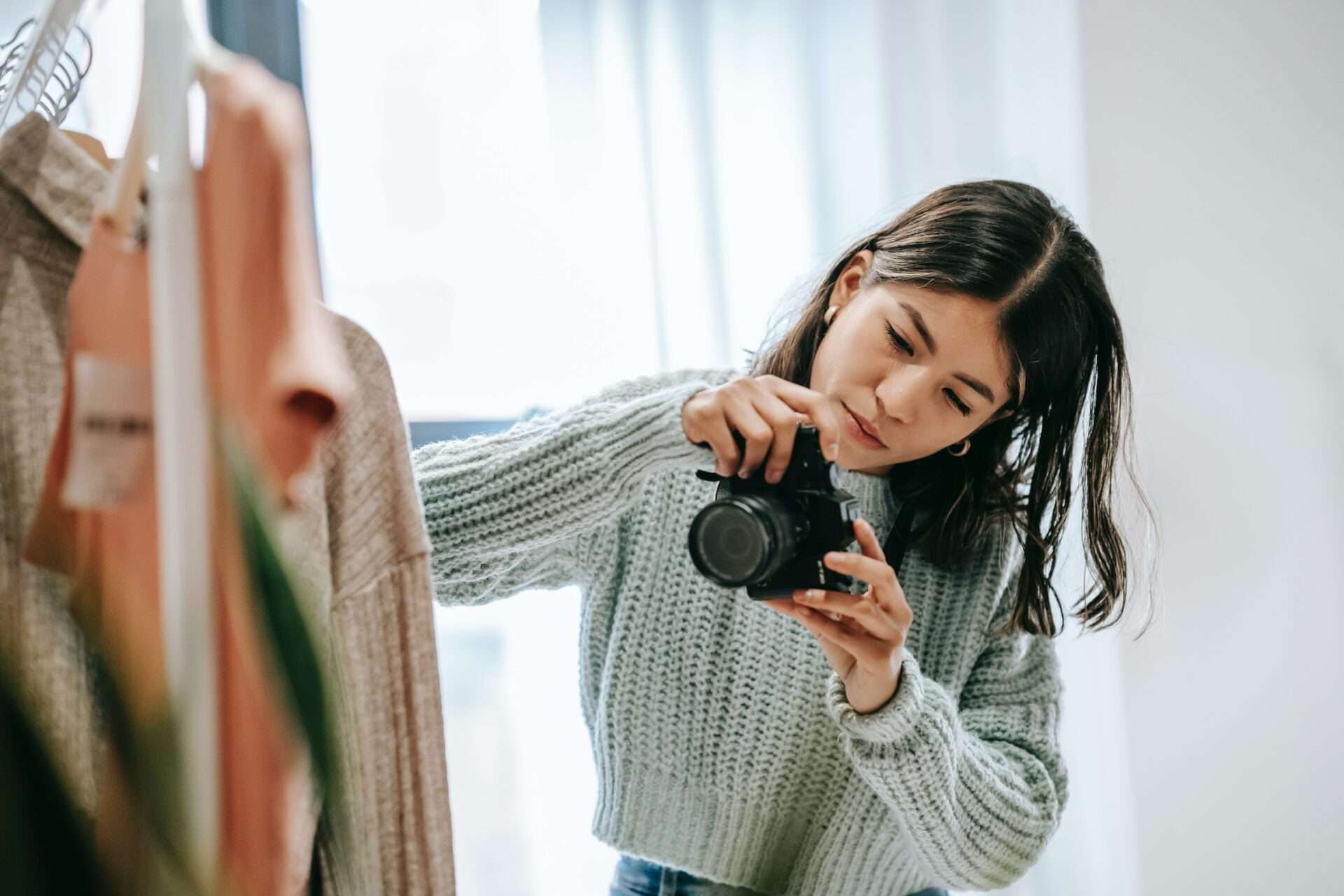 WHERE TO SELL USED CLOTHES ONLINE IN AUSTRALIA
With over 80 million users across Australia, Canada and the U.S., Poshmark's reach is hard to beat. It's the online marketplace for new and used items that range from clothing to homewares. Selling on Poshmark is straightforward. List your item, share with your network and watch the cash roll in. Of course, you have to take pictures, create your listing and arrange for shipping, but the process is super simple even if you're new to online selling. According to active sellers, Poshmark is a good fit if you are selling brand new or like-new popular brands, and you have at least 30 items to sell.
Range of items sold: Women, men and kids clothing and accessories, homewares
Cost to list/sell: Flat commission of $2.95 for all sales under $15. For sales $15 and over, Poshmark takes a 20% commission.

What we like most: No listing fees, large customer base, simple shipping process, perfect for very active sellers
Yordrobe is an up-and-coming South Australian hub for fashionistas selling used clothes online. This online consignment store sets itself apart from the competition by focusing on Australian designers and not just vintage items. You can shop these labels, swap your own stuff for Yordrobe finds, sell your items the usual way, or "drop" them at the Yordrobe warehouse. The best thing about the Drop option is that they take care of everything after receiving your used clothes … a huge plus if you're the type of seller who wants to ship it and forget it. Yordrobe does the hard work for busy sellers, from preparing the clothes to creating listings.
Range of items sold: Designer clothing and accessories
Cost to list/sell: Yordrobe takes 10% of the price when you make a sale and 50% when you use their Drop service. Flat $2.50 fee from each user who use the Swap option.
What we like most: Free to list items, perfect for busy sellers willing to pay the fee for Drop services, easy signup
The OG used clothes online marketplace is still going strong and has essentially remained true to its auction-style and Buy It Now roots. Is selling on eBay still worth it when there are other apps like Carousell offering trendier features? The answer is yes. Selling an item on eBay is easier overall and listings are low-maintenance, especially if you're busy and doing this as a side gig. You can leave your listing alone and it won't sink to the bottom of the search results. You have the option of letting the system lower the price every 5 days until the item sells. There are multiple shipping options, the customer base is huge, and the fees are comparable to newer online seller apps.
Range of items sold: Used clothes and accessories, health & beauty, electronics, home & garden, motors, business & industrial, food & grocery
Cost to list/sell: 15% fee for most clothing categories + 3% PayPal fee + $0.35 per listing after your first 200 listings (most categories)

What we like most: Extensive customer reach, easy listing process, multiple shipping and selling options
Carousell is one of the fastest-growing sites for used clothes online, with over 250 million listings posted on the app since its launch in 2012. Listing items on Carousell couldn't be easier: Tap the plus icon on the mobile app or click "Sell" on the web version, upload photos from your gallery, complete your listing, and post it. If you have lots of items, create custom collections like "Sale" or "New Arrivals" to attract customers and make it easy for them to find what they're looking for. Serious about promoting your items and attracting more buyers? Spending some Carousell Coins on listing upgrades will do the trick.
Range of items sold: Men and Women's fashion, health & beauty, luxury items, electronics, toys and games, books and stationery, home and furniture, outdoor and gardening, music and media, cars and accessories
Cost to list/sell: Free

What we like most: Free to list and sell, rapidly growing customer base, easy to use
Depop is making waves among millennials, younger fashionistas and celebrities who share a love of secondhand, one-of-a-kind, handcrafted styles. The mobile marketplace is a mashup of Instagram and Etsy, with a visual feed packed with eye-catching images of mostly clothes and accessories–the perfect place for sellers who love taking Insta-worthy product photos. This is probably the best way to make your items stand out, in addition to specials and bundles that you can set up in-store. Listing an item on Depop costs nothing, but they do take a 10 percent commission each time you sell something.
Range of items sold: Womenswear, menswear, jewellery, beauty, home, kids, sports, transportation, books & magazines

Cost to list/sell: 10% fee when you sell an item + transaction fee of around 2.9%

What we like most: Free to list items, ideal for sellers who can invest time in product photography
Facebook Marketplace is the obvious choice if you already spend a lot of time on the channel and have built up a following. Few apps can beat the simplicity and convenience that Marketplace offers, whether you are listing your first vintage dress or selling your 100th pair of designer shoes. It's free to join and list an item, and it's easy to boost your products by joining local groups and hosting live selling sessions. Posting to the Marketplace is equally easy: choose the type of item you want to sell, take photos, and enter a description and price.
Range of items sold: Apparel, accessories, baby & kids, beauty, home & garden, electronics, cars, property, classifieds

Cost to list/sell: Free for individuals, Merchants are charged 5% per transaction or $0.40 for items $8.00 or under

What we like most: No listing or selling fees, unbeatable customer reach, easy promotion, user-friendly and convenient