Tattoos are becoming increasingly popular with a trend in philosophical designs perhaps due to two years of uncertainty and isolation caused by the pandemic. As people get out once again and 2023 approaches, tattoo needles are humming once more. I'm going to look at tattoo ideas for legs that I think are really classy.
Legs make a great canvas for a tattoo because there is so much choice. You can go big with a thigh, calf or full leg design. Or keep it simple, small and understated with a cool concept that nestles into the ankle or is secretly tucked away at the top of your thigh.
What I like most about a leg tattoo is that it can be hidden away or paraded with pride, depending on your mood. A couple of my friends have had their legs inked and never looked back.
Here are my favourite tattoo ideas for legs.
15 Tattoo ideas for legs that are classy and cool
1. Butterly below the knee
I get why butterflies are popular tattoo ideas for legs. Butterflies are beautiful and they look great on any body part. I remember I had a temporary butterfly tattoo on my arm when I was 10 and I didn't want to wash it off for days! They're versatile as well. You can size them up or down, use one or two, or an entire swarm, do colour or black and white … they'd still look amazing on your skin.
I found this on: Pinterest
2. Upper thigh roses
Roses, roses, give me roses all day. Exactly like the design below, please. This one is not only well executed(props to the tattoo artist), the thigh area is just the perfect body part for this stunning design. The curving shape of the roses and the leaves is like a spotlight saying "Look at me, I'm fabulous." If you've always felt self-conscious about your thighs like I do, this tattoo might help you love your body more.
Further reading: Colourful flower tattoos to adorn your body.
I found on Our Mindful Life
3. Leafy ankle tattoo
The ankle is a pretty easy and safe place for a beginner tattoo and this design is brilliant. The monochromatic leaves that curve around the ankle and down draws attention to your pretty feet. If you are looking for something beautiful and meaningful but not so showy or too conspicuous, this design is perfect. It would look amazing in colour (maybe red roses) as well!
I found this on: Qadin
4. Full leg story tale sketch
All tattoos are personal and tell some beautiful story, from a tiny wrist symbol to a full leg treatment like the design below. I've always wondered what it would be like to get something like this for myself, but I'm too scared haha. I also prefer minimalist designs, even though I secretly envy women who can pull off gorgeous colour tattoos like these. It's an investment in time and money for sure, but totally worth it if your tat ends up looking like this.
I found this on: HoneyBramble
5. Patterned shin
Mehndi designs are always lovely especially on larger skin areas like the legs. I think they look like lace, don't you? Did you know that in India, women typically apply mehndi art to their hands, feet and backs of the shoulders for weddings and festivals? Anywhere there is contrast between the henna and the lighter skin of the palms, back of the hands and on the feet. TIL!
I found this on: StayGlam
Leg tattoo ideas for females
How's this for tattoo ideas for legs: weapons! It's not my personal favourite design, but it's definitely powerful and symbolic. Remember those badass ladies in the movies who keep knives in their stockings? A tattoo version is just as cool and probably safer. If you identify with femme fatales, this "hidden dagger" tattoo is for you. You can tweak the design and soften it with leaves or flowers if you like.
I found this at: Zest Vine
7. Permanent garter
A lace garter circling the upper thigh is oh-so-sultry and perfect for shorty shorts weather. I have a friend who has a similar tattoo and she loves it. She says it makes her feel sexy, powerful and like a 60s pinup. I agree! The garter belt design definitely gives me bombshell vibes. I also get why it's a popular design. The garter can be customised in so many different ways and looks amazing no matter your body type.
I found this on: Stay Glam
8. Flying birds leg tattoo
I cannot get enough of flying bird tattoos. Another versatile tattoo design that's filled with symbolic meaning and looks awesome no matter where you put it. Whether a solo sparrow, two lovebirds, or a flock in flight, it's guaranteed to look great on your legs. My friend who recently left a 15-year relationship got a similar tattoo to celebrate her freedom and the possibilities of her future. I think it's a lovely way to mark a life-changing experience.
I found this on: Pinterest
9. Full back of leg tattoo
For the minimalists out there, you can have a full tattoo for the front or back of the leg that still looks understated and elegant. Take this black and white design below filled with fancy scrollwork and Rococo curves. I love how the symbols somehow fit together seamlessly like a satisfying puzzle. And check out the hot air balloon tattoo on her ankle. I would get this one if you're a steampunk fan.
I found this on Zest Vine.
10. Flower resting above the knee
Do you like sunflowers? I think they're the happiest flowers. The color, the bold dark centers…everything about sunflowers just scream fun. I think this flower tattoo above the knee is a great option if you have a bubbly, optimistic personality. If not, it's still a good design if you're looking to lift your mood or need a jolt of sunshine. Even in black and white, this tattoo makes a bold statement.
I found this on: Tikli
Best leg tattoo ideas
11. Tribal leg tattoo design
Tribal tattoos will never go out of style. Warriors in the past wore their tattoos to indicate their tribe and as a warning or challenge to other tribes. For us ladies, I like to think of these bold markings in terms of empowerment and belonging. They can also be like armor that shields the wearer from the slings and arrows of life. If you can trace back your family tree to ancient times, it would be super cool to get a tattoo of your clan/tribal crest.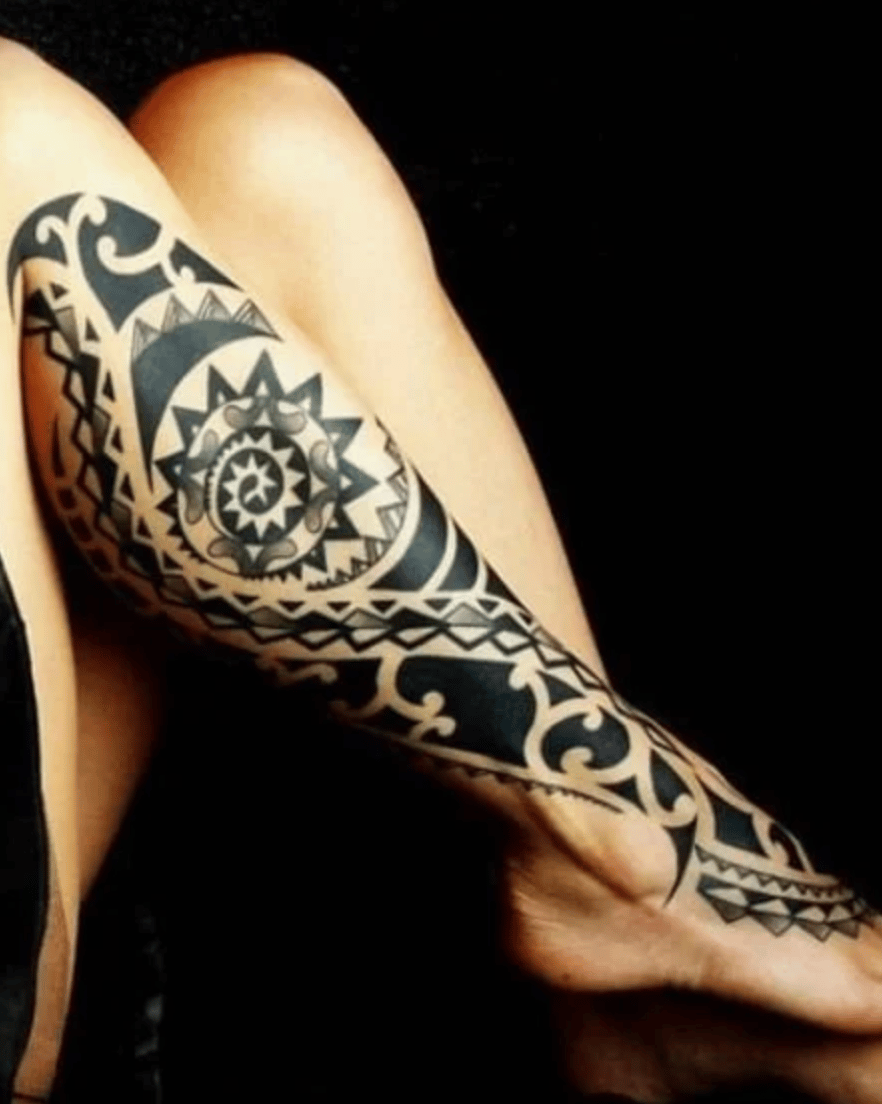 I found this on: The Trend Spotter
12. Dream catcher thigh
I know a dreamcatcher is designed to catch bad dreams and serve as protection for babies and children, but I was today years old when I learned that it's supposed to represent a spider web. According to the Ojibwe legend, when the Spider Woman couldn't reach all the children to protect them, mothers and grandmothers started to weave these dreamcatchers. With this tattoo, you always have a protective dream catcher charm with you to ward off harm and evil influences.
I found this on: Saved Tattoo
13. Around thigh jelly fish
Jellyfish might be the last thing on your mind when it comes to tattoo ideas for the leg. But look at this beautiful jellyfish tattoo around the thigh. If you love the ocean and everything in it, this is the perfect tattoo to get. And did you know that jellyfish symbolise immortality and tenacity? A type of jellyfish (called T. dohrnii) is actually immortal and (theoretically) never dies. If not eaten by a predator or if it does not die from disease, the immortal jellyfish reverts back into an embryo form and starts life all over again. Sweet.
I found this at: Outsons
14. Flowers growing up leg
Everything's coming up roses. And daisies and buttercups. Nothing like flowers to lift the mood! Besides being easy on the eyes, they are also packed with symbolism. Starting fresh after a breakup? Moving to a new place? Experiencing a big life change? Consider getting a tattoo of flowers growing up your legs. They mean hope, new beginnings, a bright future, and vitality. I like the quote "Grow where you are planted." Try adding your favourite string of words to this growing garden.
I found this on: Durimel
15. Tattoo for the cat lover
For us ladies who love their cats, a cat tattoo is a no-brainer. But instead of going literal, I love an elegant take on the subject like this garter tattoo that goes around the upper thigh. I couldn't even see the two cats at first, they're just that well hidden! And look at the subtle blue-purple background. It's the perfect combo of black ink and watercolour. A cat tattoo has so many meanings (luck, mystery, mysticism, grace, royalty, the list goes on), and you can make yours as personal as you want.
I found this at: Glaminati