Does your life revolve around juggling thousands of things daily, leaving you exhausted by lunchtime? Well, I'm here to let you in on a little secret that's been my go-to trick for staying energised and nourished amidst the chaos: How to make protein shakes at home.
Protein is vital, but who has time for elaborate meals? Not me! Protein shakes are a lifesaver. Quick to make, customisable, and loved by my little ones too!
As a health professional who's spent more time blending ingredients than I care to admit, I've learned a thing or two about whipping up delicious, nutritious, and ridiculously easy protein shakes that will rock your taste buds and keep you fuelled throughout the day.
Let's ditch sugary store-bought shakes and take control of our nutrition. I'll share my favourite protein shake recipes and sneaky tips for a healthier blend.
Blenders at the ready!
Further reading: 10 Top diet shakes on the market with specials
My top tips to make protein shakes at home
Invest in a high-power blender: Up your smoothie game by getting a high-power blender. It can make your shakes smoother and thicker. They will crush ice and frozen fruits with no problem, so you don't have to worry about your blender's motor breaking down.
Use fresh and frozen ingredients: I love adding fresh fruits to my shakes but am also obsessed with frozen ingredients. I cut fruits into small, even pieces and batch-freeze them in ziplock bag or freezer-safe glass containers. They make my smoothies thicker, and this way, I don't have to add ice. Great for cooler months.
Choose the right protein powder for your needs: You have plenty of excellent options for protein powder: whey, casein, egg, pea, hemp, brown rice, and mixed plants. Any of these will give you adequate protein to meet your daily requirements.
Add enough liquid for the perfect consistency: The right amount of water, milk, or fruit juice makes for a perfect concoction. Use more liquid if you want a shake; less if you prefer an ice cream-like consistency. Remember that you won't need to add as much liquid if you use fresh fruits, especially juicy ones.
Use ingredients to thicken your shake: Frozen bananas are my go-to add-on to turn my shakes thicker. But if you're not into bananas or want alternatives, full-fat milk, yoghurt, oats, fatty seeds like chia or flax, and nut butter are other fantastic options.
Get creative with flavours: I'm sure it won't be long before you get sick of drinking a plain protein shake daily. Aside from switching your add-ons now and then, also try other flavours. I occasionally try variants like cinnamon bun and carrot cake, but I find plain ones like vanilla and chocolate to be a better base for when I want to go crazy with my extras.
Use mindful sweeteners: Whenever trying out a new protein powder, remember to check the ingredients for sugar content. Of course, to be very sure, you can get pure protein (most likely with plant-based proteins like pea and rice), but many protein powders have natural or artificial sweeteners. If you care about more natural options, look for those sweetened using stevia or monk fruit. Ripe fruits are great sweeteners, too.
Drink immediately after making: This is one non-negotiable when it comes to protein shakes. Protein shakes are best ice-cold. Keep it from standing too long on the counter, and don't take too many intervals between sips. Not only do you not want your frozen ingredients melting, but it won't taste good. At all.
Clean your blender straight after using: One important thing to note is that protein shakes and smoothies tend to stick to your blender. Most blenders are also not dishwasher-friendly because you want to avoid getting water into the motor. A quick hack is to pour plain water into your blender container and run for a few seconds until all the gooey stuff gets loosened and removed. Then, you can wash it by hand.
Make note of what you like: You'll soon find out you have a few favourite protein shake combos. Experiment with the ratio of protein powder to add-ons, and always have your favourite ingredients on hand. Mine is basic: berry vanilla. Having a recipe you love will make you feel excited to take out your blender.
My five favourite protein shakes to make at home
Chocolate Protein Shake
If you like it au naturale - that is, without protein powder - I have just the recipe for you. Thick, super rich, and packed with fibre and super seeds, I love that I can whip up this yummy concoction even if I run out of protein powder. Plus, I still get 20 grams of protein with ingredients I already have in the pantry.
Get recipe here: Minimalist Baker
Vanilla Berry Protein Smoothie
This sweet and tart classic combo got me into the world of protein smoothies, and that's why it remains in my top spot. Refreshing and full of antioxidants, this recipe is thickened with yoghurt, but you can swap it with frozen banana or plant-based yoghurt if you're dairy-free. The juicy berries also mask the taste of the vanilla, so it's perfect if you have vanilla-flavoured powder on hand. Literally tastes like summer!
Get recipe here: Tasty
Peanut Butter Chocolate Protein Shake
Cow's milk, protein shake, peanut butter powder, oats: You can hit half your daily protein requirement with this! Easy to make and easy to finish, I especially adore this mixture for busy, fully-loaded days. Sometimes, I skip the oats and make this in my shaker cup, so it's perfect when I don't have time to wash the blender. (And sometimes I add a handful of kale; the chocolate and peanut butter flavours effectively hide the taste of yucky greens for my kids.)
Get recipe here: The Spruce Eats
Pineapple Protein Green Smoothie
Now, if you're not hiding 'em greens from your picky eaters, this tropical smoothie is super refreshing and nutritious. It tastes like piña colada, but you can be sure it's safe for the kids. (Of course, if it's just you…) The recipe calls for spinach, but you can definitely use kale or whatever neutral-tasting greens you have in the fridge. It's low-cal, so I add a teaspoon of seed oil to make it more filling.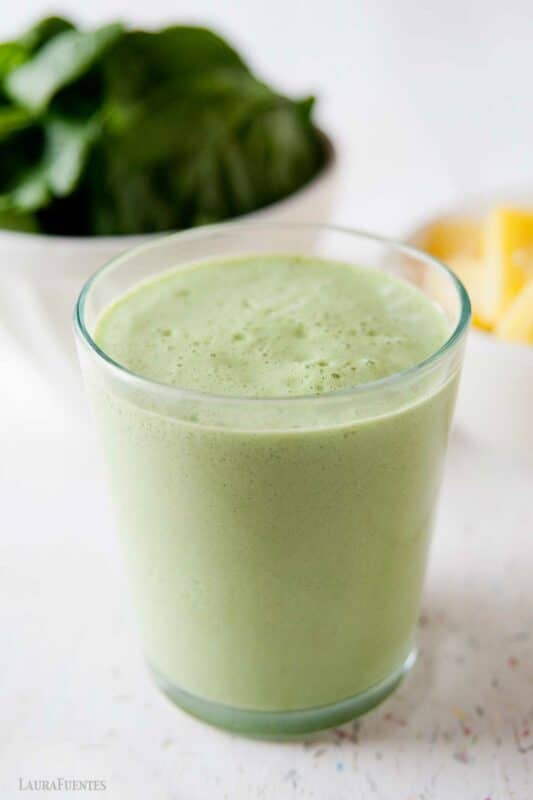 Get recipe here: Laura Fuentes
Protein Power Blueberry Banana Protein Smoothie
Last on my list of protein shakes to make at home, here's an indulgent cheesecake protein smoothie recipe that uses all-natural ingredients. It uses cottage cheese instead of protein powder, plus stuff you already have in your smoothie arsenal. Of course, you can switch it to another protein, like yoghurt or some plant-based protein powder, but I swear you'll love this combination. It seriously doesn't taste healthy!
Get recipe here: Hurry The Food Up