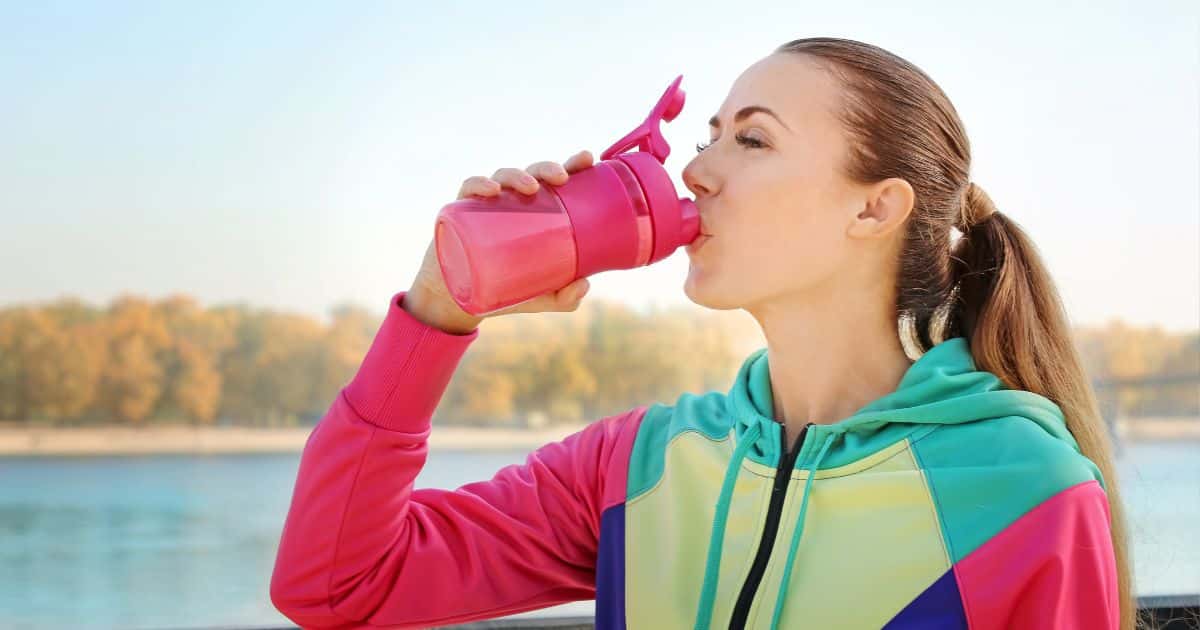 Contents:
Collagen powder is like stardust … it makes you look younger!
But with so much available to buy at online pharmacies, in health shops and even in supermarkets, where do you start in your search for a quality product that does what it say on the label?
A great place is right here!
So, without further ado, lets dive into mysterious yet marvellous world of collagen powders.
What is collagen?
Collagen is a type of protein that is one of the most abundant in the human body. It is often called the body's scaffolding because it forms connective tissues in the skin, muscles, bones, tendons and ligaments.
Collagen makes up around 80 percent of the skin, and together with elastin, keeps the skin plump, elastic and wrinkle free. But as we age, the body produces less collagen and the enzyme collagenase eats away at the natural collagen. This natural process, along with exposure to the sun and pollutants, causes the skin to sag and become dry as we get older.
The different types of collagen
Multiple types of collagen exist in the body. According to the Cleveland Clinic, scientists have identified around 28 types of collagen.
The five main types are:
Type I. The majority of collagen in the body is Type I. This dense type of collagen is used as support and scaffolding for our bones, ligaments and skin.
Type II. This type of collagen is part of cartilage and connective tissues in the body. Type II collagen contained in supplements usualy comes from animal sources like cows and chicken.
Type III. Type III is found in the muscles and organs.
Type IV. Type IV is found in the skin layers.
Type V. Type V is found in skin, hair and cornea.
What to look for when buying collagen powder
When buying collagen powder, look for collagen peptides or hydrolysed collagen in the ingredients. Collagen peptides are shorter chain amino acids that are more easily absorbed by the body than native collagen or gelatin. Choose animal collagen (marine, bovine or chicken) over plant collagen, unless you're strictly vegan. Ethically sourced, sustainable collagen lowers the risk of getting toxins and harmful chemicals, so make sure to check the label carefully.
We know how expensive collagen powders can be. To get the best value for your money, buy when there are store specials and look out for bulk discounts.
Our top recommended collagen powders
Please note: Some items listed have paid for insertion in this article, however, reviews are independently written by Beanstalk.
Kissed Earth: Brilliance
Most collagen supplements only help the skin, nails, and hair. But Kissed Earth Brilliance also aids in reducing hormonal imbalance, repairing muscles, and improving joint health and bone density. (Back pain mums, where you at? This is perfect for you!) That's what makes it stand out from other brands.
You can trust Kissed Earth Brilliance for its efficacy as it comes from 100% pure bovine collagen of pasture-raised cows. It comes in 5 variants but we love the Pineapple Coconut flavour.
Where to buy: Kissed Earth

Current discounts: Free international shipping on orders over $200, Save 20% when you subscribe, Enjoy 20% off your first order

How much you get: 30 servings

Different flavours: Pineapple Coconut, Vanilla, Chocolate, Apple Beets, Unflavoured

What we like most about this collagen powder: High-quality bovine collagen with 6000 mg collagen/serve
Swiish Glow Marine Collagen Powder
Swiish Glow Marine collagen powder contains hydrolysed collagen and offers fast absorption. If you want to take it while drinking juice or a smoothie, you can do so without altering the taste because it is unflavoured. You can even mix it with food as long as you stir it properly.
Swiish collagen comes in two sizes – a 135g pack for those who want to try it out first and a 335g pack if you want to enjoy 19% savings. We also love that the packaging is made from recyclable materials.
Where to buy: Swiish

Current discounts: Subscribe and save 20% off, Free shipping Australia-wide for orders above $59

How much you get: 27 servings (135g), 67 servings (335g)

Different flavours: Unflavoured

What we like most about this collagen powder: Premium marine collagen that gives us a youthful glow
The Beauty Shake: Pure Marine Collagen
Fans of The Beauty Shake will love their 100% pure marine collagen that contains type I fish collagen peptides for fast absorption and high bioavailability. It has zero artificial colours, flavours, additives or preservatives. It's also gluten-free, lactose-free, soy-free, and GMO-free, so it's super safe to take even for those with allergies.
Note that it tastes a bit 'fishy' when mixed with water, though. So you might want to mix it with juice or soup. But overall, we love The Beauty Shake Collagen for its price and health benefits.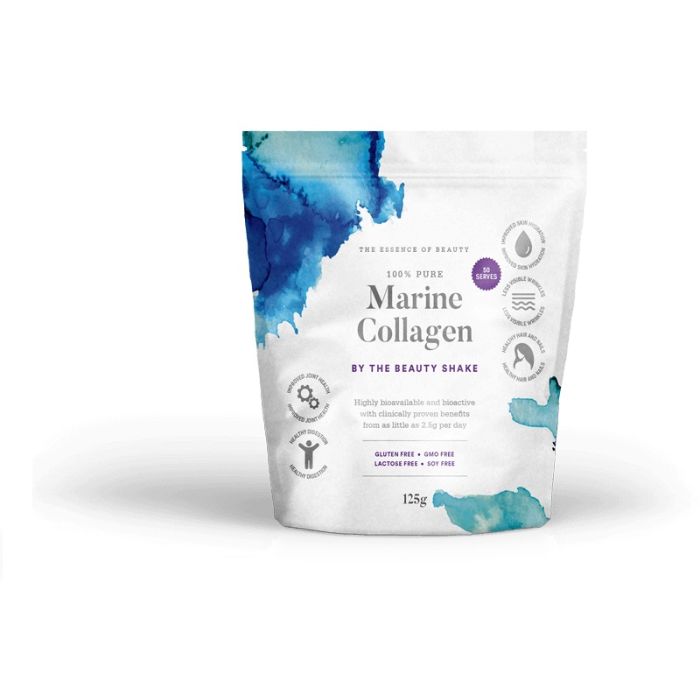 Where to buy: Chemist Direct

Current discounts: Free shipping on orders over $125, Sign up for exclusive discounts

How much you get: 25 serves

Different flavours: Unflavoured

What we like most about this collagen powder: Fish collagen peptides that's easy on the wallet
X50 Pure Collagen
X50's Pure Collagen is a delicious way to look young and radiant. The watermelon flavour is a must-try! No need to worry about chemicals that might harm your health because it has no fillers. The flavours are all-natural as well.
Each serving contains 5000 mg of pure bioactive marine collagen. What does this mean? This means that this type of collagen offers better absorption. So your skin, nails, and hair quickly get their daily dose of C.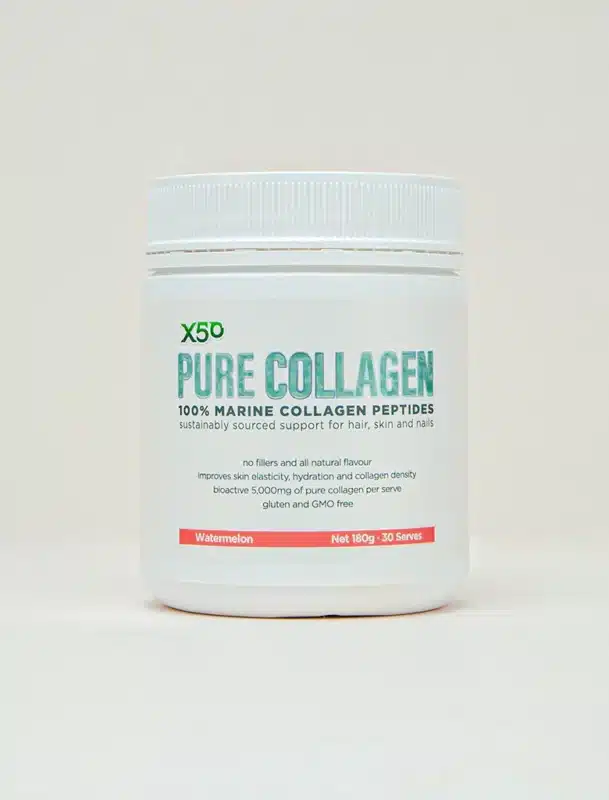 Where to buy: X50 Lifestyle

Current discounts: Spend $50 and get a free gift, Free domestic shipping on orders over $30, Sign up for exclusive discounts

How much you get: 30 serves

Different flavours: Finger Lime, Unflavoured, Kakadu Plum, Watermelon

What we like most about this collagen powder: For a 180g container, you get 30 servings
The Healthy Mummy: Beauty Collagen Powder
This yummy berry-flavoured collagen powder from the Healthy Mummy adds a delightful twist to your morning routine. It blends seamlessly into smoothies, shakes, or breakfast bowls, making it super convenient and perfect for busy mornings.
It's also infused with vitamin C for an extra boost to your immune system. What we love most is how it not only supports skin health but also helps promote a glowing complexion. Plus, the ease of use and the delicious taste make it a must-have for fans of The Healthy Mummy.
Where to buy: Healthy Mummy

Current discounts: Save 45% permanently when you choose monthly delivery (cancel anytime), Sign up for emails for great discounts, Free shipping for orders above $70

How much you get: 20 serves

Different flavours: Natural Berry

What we like most about this collagen powder: Great collagen powder for fans of the Healthy Mummy workout and products
Vida Glow: Natural Marine Collagen
If you're looking for a collagen powder brand with the best value, Vida Glow's entry will not disappoint.
Get a generous 90 serves from Vida Glow's Natural Marine Collagen which comes from clean, ethical and sustainable sources. You read that right, 90 servings for every 270g of collagen. And if you think that its efficiency is compromised, think again because it has a 90% absorption rate.
Plus, this type of collagen is 'heat stable.' That means you can mix it with either hot or cold drinks and it will be as effective and will dissolve as quickly.
Where to buy: Nourished Life

Current discounts: Free shipping on orders over $50, get 10% off and earn points when you sign up

How much you get: 90 servings (270g)

Different flavours: Blueberry, Pineapple, Cranberry Lime, Mango, Peach, Mocha, Unflavoured

What we like most about this collagen powder: Marine collagen with no artificial flavours, preservatives or additives
Vital Proteins: Collagen Peptides
Vital Proteins is a collagen powder from bovine sources that gives you 20g of collagen per serving. It comes in plenty of flavours that you can mix and match to what you're eating. The Dark Chocolate and Blackberry flavour was a surprisingly yummy combination!
These collagen peptides come from grass-fed and pasture-raised cows. Unlike marine collagen, the unflavoured variant doesn't have any aftertaste even when mixed with water alone. Vital Proteins collagen is an effective way to stay youthful without breaking the bank.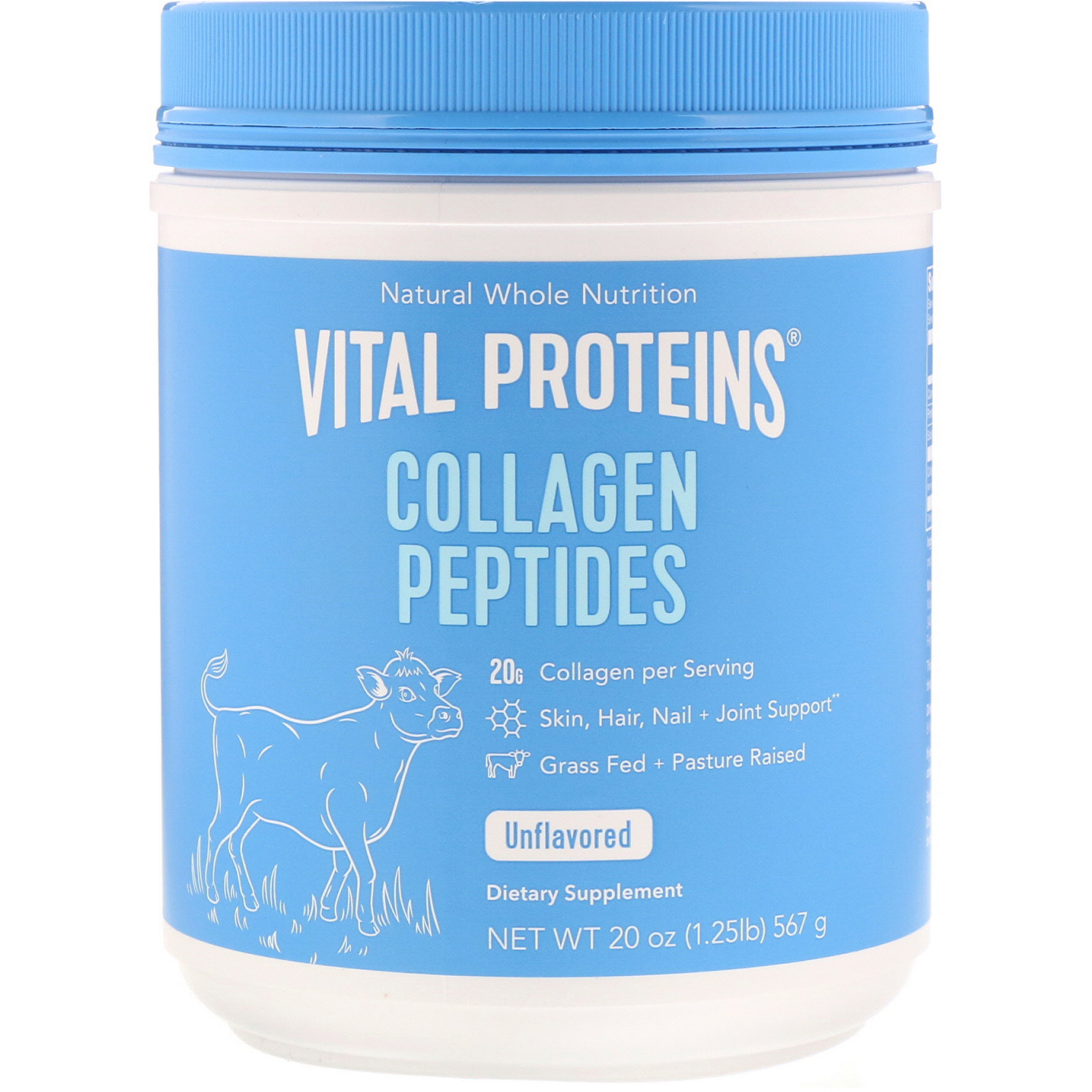 Where to buy: Au.iHerb

Current discounts: Free shipping on orders over $80, Get 26% off your first order, Daily deals in their website

How much you get: 28 serves

Different flavours: Mixed Berry, Tropical Hibiscus, Strawberry Lemon, Lavender Lemon, Matcha, Dark Chocolate and Blackberry, Chocolate, Vanilla, Unflavoured

What we like most about this collagen powder: Affordable powder with 20g collagen/serve
180 Nutrition Collagen Powder
Made from 100% bovine collagen peptides, 180 Nutrition's Collagen Powder packs 18g of collagen per serving. What's more, it comes with a 100% money-back guarantee (terms and conditions apply) in case you're not satisfied with your purchase. That's how much they trust their product!
This collagen powder has no sugar or carbohydrates. It is specially formulated to help improve tissue connectivity and increase muscle mass. This type of supplement is perfect if you're already feeling the oohs and aahs of ageing in your knees and your back.
Where to buy: 180 Nutrition

Current discounts: Money-back guarantee, Free shipping on orders over $99, Get 10% off when you subscribe

How much you get: 25 serves

Different flavours: Unflavoured

What we like most about this collagen powder: 100% money-back guarantee
Happy Collagen
No time to stop and take your collagen supplement? You can take the Happy Collagen drink on the go! It comes in an easily resealable pouch that's perfect for busy single mums like us.
This gluten-free collagen drink mix consists of prebiotic fibres, probiotics, zinc, and vitamin C. Plus the antioxidants and superfoods added to the formulation come from herbs, so your liver doesn't have to take the hit. Happy Collagen is not only good for your skin, but it's also great for your gut health.
Where to buy: Happy Healthy You

Current discounts: Subscribe and enjoy 10% off, Free shipping for orders over $50

How much you get: 30 serves

Different flavours: Mixed berry

What we like most about this collagen powder: Comes in a resealable pack
Gelpro Australia
GelPro collagen is the only collagen made exclusively from Australian and New Zealand hides. The Advanced Marine Collagen is sourced from wild-caught cod skin and is perfect for non-meat eaters. It exclusively uses fish skin (no scale or other fish parts), as the skin contains the most premium-grade collagen. This one contains 95% protein with zero fats, carbs, or sugar.
Unlike other marine collagen brands, GelPro does not smell and taste fishy. Plus it's not very heavy on the wallet!
Where to buy: Gelpro Australia

Current discounts: Sign up for emails to get 20% off your first purchase, Free Australia-wide shipping for orders above $129, Free NZ shipping for orders above $199

How much you get: 30 serves

Different flavours: Unflavoured

What we like most about this collagen powder: The only collagen produced exclusively from wild-caught cod skin in Arctic and North Atlantic waters
Nutra Organics: Collagen Beauty
Nutra Organics Collagen Beauty is one of our top collagen powders. It's made from hydrolysed collagen (bovine) with other organic skin-boosting ingredients. Its sweeteners and flavours are all-natural and plant-based. We especially love the Waterberry flavour, it's tangy, sweet, and refreshing. No need to add ice to your water!
It's also one of the most affordable brands among our picks. So if you need to watch what you spend, Nutra Organics Collagen Beauty is heaven-sent.
Where to buy: Doorstep Organics

Current discounts: Free Australia shipping on orders over $150, 10% off on your first order

How much you get: 18 serves

Different flavours: Waterberry, Wildflower, Tropical, Pineapple and Mango, Watermelon and Berry, Fruity Floral and Berry, Lemon Lime

What we like most about this collagen powder: Certified organic, ethically sourced collagen + organic skin-boosting ingredients
What do collagen supplements do?
Collagen supplements and collagen powders sold in shops are usually made of hydrolysed animal collagen from bones, skin or cartilage of fish, cows and chickens. Collagen powder is similar to supplements but more convenient for people who like to mix it with soups, smoothies and diet shakes. You know how much you're getting and different flavours are available to spice up your drinks.
Because the body breaks down collagen faster than it can be replaced, many people look to collagen supplements for an anti-ageing solution. Compared to collagen injections and topical cream applications, supplements containing collagen peptides (hydrolysed collagen) are more easily absorbed by the body because the amino acids are shorter. Collagen supplements have been linked mainly to reduced symptoms of arthritis and possibly to healthier skin and fewer wrinkles.
But how much of the supplement is absorbed and whether it actually makes it to the target organs to build collagen is still questionable. Multiple studies have been done that show promise, linking supplements to improved skin elasticity and skin moisture. Keep in mind that these studies are small and preliminary, and many were funded by the manufacturers so it's hard to ignore the bias.
Then again, there are no documented downsides to taking collagen peptides (as long as it's the recommended dose) so the choice is up to you.
How to store collagen powder
It's essential to keep your collagen in tip-top shape so you can enjoy its benefits. Here's a quick guide:
1. Choose the Right Container: Use an airtight container to prevent moisture and air from getting in. A glass or plastic container with a secure lid works great.
2. Keep It Dry: Moisture is collagen's enemy. Make sure your container is completely dry before filling it with collagen powder.
3. Store in a Cool Place: Collagen prefers a cool, dark spot. Don't expose it to direct sunlight or heat, as it can break down the protein.
4. Avoid Humidity: High humidity can cause clumping in collagen powder. Keep it in a dry environment to maintain its quality.
5. Seal It Tight: After every use, seal the container tightly. This helps prevent any air from sneaking in and affecting the collagen.
6. Label it: If you have multiple supplements, label your collagen container to avoid mix-ups.
7. Don't Freeze It: Freezing collagen can alter its texture, so avoid the freezer.
8. Keep It Away from Odors: Collagen can absorb odours easily, so don't store it near strong-smelling items like spices or garlic.
By following these simple steps, you'll ensure that your collagen powder stays fresh and effective for your beauty and health routines.
Collagen and ageing
As we age, our bodies not only produce less collagen but also lower-quality collagen. Collagen breakdown is also faster for older adults than for teenagers or someone in their 20s. You may experience significantly reduced collagen production after menopause and after age 60.
While you can't test for collagen levels in the blood, you can check for signs of decreased collagen production in the body such as wrinkles, loose and crepey skin, deeper hollows in the eyes and cheeks, weakening muscle, muscle pain, stiff joints, and joint pain.
Collagen makes up the lining of the gut and intestines, so you may also experience stomach problems as you age. In addition, older adults may experience partial or total loss of mobility due to damage in the joints because of low collagen.
How to take collagen
Eating collagen-rich foods won't necessarily raise your collagen levels, as the body breaks down all the protein you ingest into amino acids and directs these to areas that need them most.
As food
The best way to boost collagen production is through a healthy diet. High-protein foods that are rich in collagen include the bones and skin of fresh and saltwater fish, poultry, tougher meat cuts, eggs, dairy, legumes, bone broth, and gelatin. You can make your own bone broth by simmering bones in water and vinegar for up to 24 hours. Nutrients like zinc, copper and vitamin C are required for collagen production, so make sure to add these to your diet as well.
As supplements
Collagen supplements have soared in popularity in the last decade. Taking collagen supplements may help boost your collagen production if you can't get enough protein in your diet. Supplements may also contain additional nutrients to support joint and skin health. Supplements are convenient because you can easily mix up collagen with your favourite foods and drinks.
Conclusion: Collagen powder to buy in Australia
Whether you're seeking to enhance your skin, joint health, or overall well-being, our collagen powder recommendations provide a range of options to choose from, catering to different preferences and dietary needs. As we age, collagen supplementation can potentially help improve skin elasticity and moisture. Some brands even aid in digestion and help maintain muscle mass.
While research in this area is still evolving, trying these supplements could offer a convenient way to incorporate collagen into your daily routine. While doing so, it is essential to eat healthy and exercise regularly as well.
In addition, storing your collagen powder properly is crucial to maintain its quality and efficacy. Choose an airtight container, keep it dry, store it in a cool place, avoid humidity, seal it tightly, label it, and keep it away from strong odours. Remember, moisture is collagen's worst enemy.
Following these simple guidelines will ensure that your collagen powder continues to support your beauty and health routines effectively.
So, go ahead ... choose the collagen powder that suits your needs, and enjoy the benefits of this stardust for a youthful appearance and overall well-being.