Dear Santa

My Mum & Dad are getting divorced so at Christmas, how will you know where to leave the presents for me and my little brother Angus?

We've both been really good this year, except for a few times when we fought and I'm pretty sure it's not our fault that Mum & Dad have different houses.

We don't know yet whose house we will be at but will you be able to find us wherever we are on Christmas Eve?

Lots of love from Emma

Santa knows Mum and Dad are divorced
Dear Emma
Thank you for your letter. The North Pole is incredibly busy at this time of year as I'm sure can imagine. The elves are busily making and putting the final touches on all the toys. The reindeer are resting up, eating lots of oats and carrots to make sure they are fit and healthy for their long Christmas Eve journey.
Mrs. Claus is organising everyone and making sure all the communication between the sleigh and the workshop at the North Pole will work well on Christmas Eve. She is our technology whiz!!
I'm busy checking off the lists of all the children, making sure everyone has done their best to be kind and considerate this year, and of course double checking who will be where on Christmas Eve.
Every single year, there are LOTS AND LOTS of children who don't spend Christmas at home. Some families go on holidays and are a long way from their home, in a hotel or a beach house, sometimes in a whole other country than where they usually live. Some spend Christmas at their grandparents or with friends. Some go camping and are sleeping in a tent or a caravan in the middle of the bush! Some children even have to spend Christmas in hospital because they need the special care of the doctors and nurses there to help them get well. And some kids, like you and Angus, spend part of Christmas with their Mum and part of the time with their Dad.
With the help of Mrs. Claus, the elves and the reindeer, I will ALWAYS find you.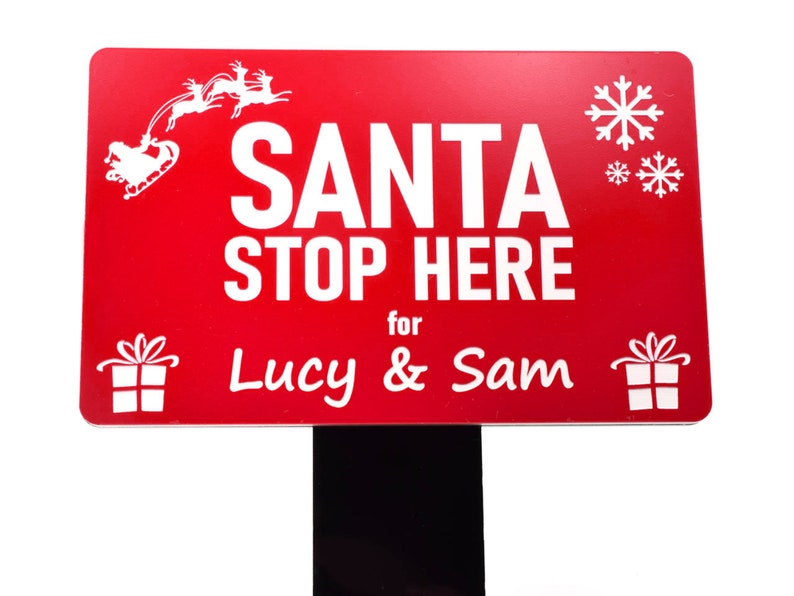 Get this Santa sign from: Etsy AU
Sometimes I leave all of your presents at one house but sometimes, (and I think this is the most fun for kids!) I divide them between your Mum's house and your Dad's house. That way, you get presents wherever you are and the grown-ups don't miss out on sharing your excitement when you wake up or come home to find what I've left in your stocking, Santa sack or under the tree. And you get to have presents TWICE. How lucky are you??!!?!
Some kids even get to do the whole entire Christmas thing TWICE. They spend Christmas Day with, say their Mum. Then, the on Boxing Day they go to their Dad's where they get all the special treats and traditions, the presents, yummy food, chocolate, lollies and family and friends all over again. But this time with their Dad. Then, next year it's the opposite. Christmas Day with Dad and his family and Boxing Day with Mum and hers.
Mostly it works best if the grown-ups can talk calmly with each other and work out well ahead of time where you kids will be. That way, everyone is happy and knows what's going to happen. No-one gets worried that I will miss leaving presents for you and Angus (even though I never, ever would). Always remember that Santa knows mum and dad are divorced.
But if the grown-ups leave their Christmas planning to the last minute, and don't tell you what's going on, it's easy for you to get worried, I know.
It's also great if everyone can stick to the plan that's been made and be on time for pick-ups and drop-offs. That way no-one gets worried that they've been forgotten.
Santa knows mum and dad are divorced (cont.)
Some families, even after the grown-ups are divorced, still share a part of their Christmas together. They might decorate the tree, go driving to see the Christmas lights or go to carols together, open some of their presents together. They might even spend Christmas lunch or dinner all together. This can't happen in every divorced family, but sometimes it can. It doesn't mean the Mum and Dad will get back together, it just means that they love their kids, and they like and respect each other enough to have some family time together at Christmas.
And, if this isn't possible in your family, know that it's not because your Mum and Dad don't love you. They absolutely do. It just means they need to be in different houses to give you the best and happiest NEW kind of Christmas they can.
I know it's hard sometimes when parents decide they need to live apart and there might be some times when you feel sad. If that happens at Christmas time, it's OK. You don't have to feel like you need to be happy and smiling ALL day if you are missing your Mum, Dad or other family. I think even the grown-ups might feel a bit sad, especially if they can't be with you and your brother. A hug with Mum or Dad, Grandma or Grandpa can help.
Perhaps you have a special something that you take with you from your Mum's house to your Dad's house. Some children have a special Christmas stocking they take with them when they move from house to house, or they take their 'Elf on the Shelf' or another special decoration and hang it up in the house where they are staying. I like the decorations that play music. Music always helps me feel better when I'm sad. Something special like this can help you and Angus feel a special connection with your Mum or your Dad when you're apart, make your sadness slip away and the magic of Christmas fill you up again.
We found this personalised Santa sack at: Bright Star Kids
Learning new ways of being a family after divorce is tricky and can be really hard. Sometimes it's happy and everyone gets along and agrees. Sometimes it's sad and hard to understand why things have to change, and why your whole family can't just be together for Christmas. But, with Mum and Dad's help, you'll find new ways to celebrate Christmas.
Keeping some of your old traditions is good (I like to eat ice-cream for breakfast when I get home from the Christmas run) and creating new ones can be fun too. Maybe you, Angus and your Dad can discover a new thing to do for Christmas together this year, and you can help Mum think of another. It might be a special food treat, or that you all wear brand new Christmas pyjamas to bed on Christmas Eve (I might have to sneak in to your bedroom to check them out if you do!). Maybe you go to carols together or you have a special advent calendar that you only open on the days you are with your Mum/Dad, or that you take with you when you move between houses.
Some parents think it's fairest to split Christmas Day in half so kids spend the morning with one parent and the afternoon with the other. This might seem fair, but sometimes it works out to be really difficult. If, say you usually have Christmas lunch at your Grandma's house with your Mum and her family, but your grandparents live a long drive from your Dad's new house, it can mean you spend hours of your Christmas Day driving from one house to another. That's not really good fun when you've got heaps of new toys to play with, books to read, and cousins to hang out with, and special foods to share. This might be why you only get to see one of your parents on Christmas Day. You get to spend the WHOLE day in one place and not miss out on any of the special things that happen on Christmas Day, including dessert!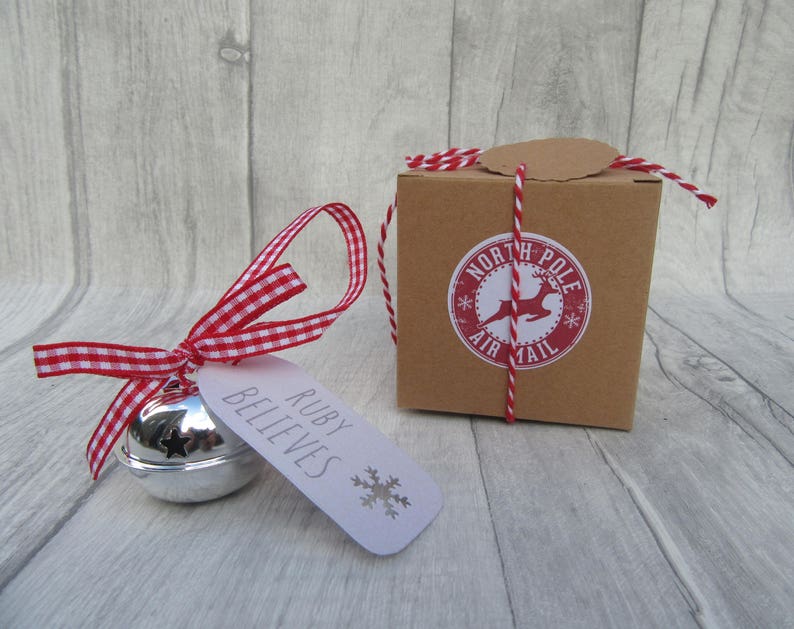 We found this cute reindeer bell at: Etsy
Once you're a little older, Mum or Dad might ask you how you want Christmas to be. If they're not asking you right now, it's probably because they don't want you to feel like you have to choose one parent over another. They know you love both of them just the same so, for now, they are making the decisions for you. But, when you're older, they might discuss with you how you'd like to spend your Christmas holiday time.
Whatever you and your family decide for Christmas, I'll always be able to find you. You can write me a letter or, now that Mrs. Claus is so very smart with technology, you can send emails or texts, to let me know that way too. Mum or Dad will help you.
Please Emma, just make sure you leave out those biscuits you left last year. I really, really liked them. I'll try extra hard to save one to take one home for Mrs. Claus this year. Also, the reindeer loved the special food you left for them, so if you and Angus could leave more of that this year, I'm sure they will be extra keen to find your new house!
Ho Ho Ho. Merry Christmas.
Love Santa x
Need help with your Christmas shopping? We have ideas galore …
25 Gift ideas for young girls (primary school age)
25 Gifts ideas for young boys (primary school age)
24 Gifts for teenage girls that have nothing to do with iPhones
24 Gifts for teenage boys that have nothing to do with gaming
The best gift hampers for delivery in Australia
50 Gift ideas for mum (sisters, aunties and friends)
22 Homemade Christmas gift ideas
12 Hilarious Christmas gift ideas for your ex
30 Cute little stocking stuffers for little girls
20 Cool little stocking fillers for little boys
50 Christmas gift ideas for men under $50
10 Beautiful personalised Christmas gifts for kids
Cheap yet life-changing Christmas gift ideas
15 Christmas gift ideas for a newish boyfriend
17 Gift for teachers which they'll actually really like
30+ Subscription boxes to gift friends and family