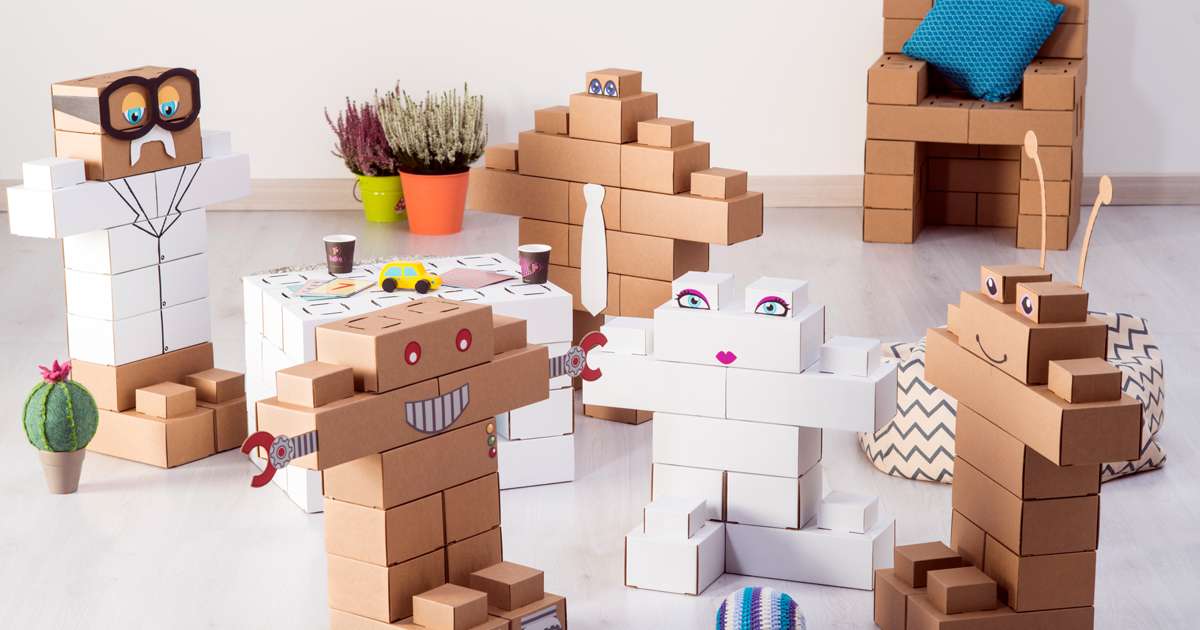 Let's face it, even the most eco conscious among us would admit that living sustainably is hard.
Convenience unfortunately usually equates to things wrapped in plastic.
Throw kids in the mix and voila … it's a plastic bonanza.
Not only do Children's toys have a disastrous effect on home aesthetic, but they also wreak havoc on our environmental footprint.
Plastic now days seems to be in almost anything that is child related. From cots and highchairs to clothes and prams, and especially in toys.
Bright colourful, music playing plastic fun by the truckload.
Although it can be hard at times, there are plastic free options such as wooden toys, felt toys and a wonderful new product that's just hit our Australian market PlayEdo Giant Cardboard Bricks.
Believe it or not, cardboard is up and coming in the world of children's toys, it's de rigueur, especially for interactive play.
It's environmentally friendly, can be made large scale, whilst maintain structural integrity and durably incredibly strong.
Cardboard play is also a great adherent of the Reuse, Reduce, Recycle environmental cycle.
Ok, so quick science recap on how the cycle of cardboard helps us reduce our carbon footprint and promote healthy environmental practises for life…
Let's start at the very beginning and look at how our cardboard is manufactured … The Cycle of Cardboard Life so to speak.
The Cardboard boxes are made of – you guessed it! – cardboard.
Cardboard made from a combination of tree pulp, which is milled and processed, then dried.
The Cardboard used in Play Edo consists of recycled material so that's a huge plus.
First, cardboard layers are created by pressing and gluing different pieces of cardboard material together. The flute is typically sandwiched between two flat cardboard pieces, creating a stronger and more durable cardboard layer for assembly. This is known as corrugated cardboard.
In respects to the Play Edo cardboard toy bricks they are considered 100% recyclable and can be sent to any recycling facility to be made into renewable fibreboard liners and or more corrugated cardboard.
The bricks are also biodegradable and have been tested to break down easily back into the environment.
The greatest value of the non-plastic toy option is that they can be used, re-used and eventually recycled, in my eyes that's a win, win, win.
As new products go, this is a great one…
The PlayEdo Bricks are so strong and durable, Australian made, and Montessori and STEM play designed.
I spoke to their Australian co-founder Lisa Giusti Gestri, a competent and well skilled designer and academic teacher, she has gone on to design additional uses for the bricks as modes of storage for when children are not playing with them… a huge bonus for all us mums out there, sick of stuffing toys in cupboards, praying we don't start a unwanted toy avalanche.
Lisa explains:
"You can build a bookshelf where you can store kids' books and/or their other toys. Also, you can build a wall that you can use as a message board or a décor element. You can even build a bed or a chair: interior elements essential in each home."
And yes, I checked, the Edo blocks are strong enough to successfully complete these piece of furniture and have been put to the test.
Lisa goes on to explain she has:
"Built super tall towers as a décor element for the kids' room, built a home for pets, a toy box to store other toys in and even used the bricks to create a wall as a divider to create separate spaces in the home."
The fun seems endless with these now Cardboard Warriors.
Lisa explained that the science behind this style of corrugated cardboard makes it incredibly durable, and therefore something children can play with for years to come, whilst growing and adapting.
The PlayEdo cardboard blocks itself is manufactured in Melbourne (VIC) and is exceedingly strong, each brick being able to support a loading greater than 50kg.
It's the combination of quality corrugated cardboard and engineered designed bricks is what gives the ability for your child's structures to be sat on, walked on, and even climbed on, making interactive play a deeper experience, and ever changing.
As a mum with a preschool aged child, I was sceptical about these bricks… I thought my little one wouldn't be interested, or it would be too bulky for our home.
Trying to reduce our plastic addiction, I ordered a box and decided to give it a go. Question was, could I entertain an almost 4-year-old with cardboard or was I undertaking an impossible task?!
Now, truth be told, I'm not handy with flatpack of any kind, in fact, I loathe it … so the idea of an entire box load of flat pack cardboard made me break out in sweats.
I preserved though and quickly got the hang of the folding technique thanks to the easy to follow instructional videos, and in the end it became a little personal competition, to see if I could do it faster each time, yes, a true testament to lockdown life and what it reduced me to.
Once the bricks were complete, we started our building adventure and guess what… Little one LOVED it. We built robot friends (see photo), a small house, a shopfront, a crocodile, and when we weren't playing, we made an "apple tree" to place in the room as décor.
Needless to say it's been a hit in our house and I feel ultra-good about the fact that for a change, I know this toy has been designed to be reused and recycled, reducing our footprint just a little bit more and making my consumer conscious feel a little less guilty.
This is a true cardboard warrior and was a great find for our home.