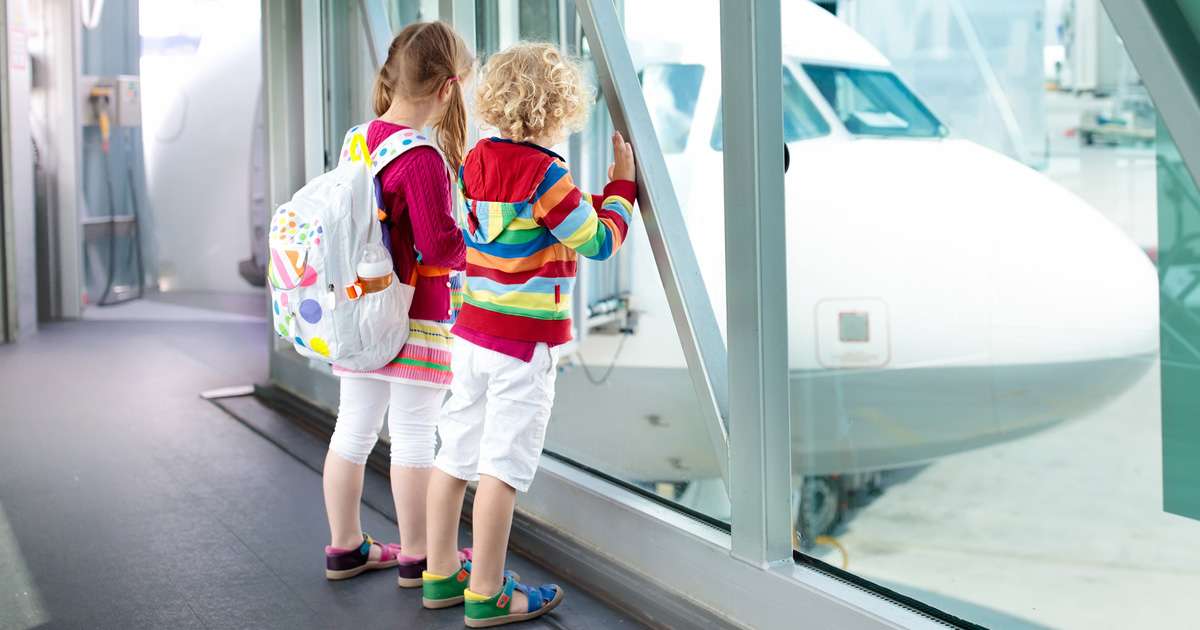 If you are co-parenting and live a long way from your ex, it is possible that you will have to contemplate your kids flying alone. Dependent on the ages and characters of your children, this could be a big adventure for them. Or they might be really frightened to take to the skies without a parent. And for us mums, it is completely at odds with our maternal instinct to see our kids fly 30,000 feet into the air without us.
Knowing as much as possible about kids flying alone and preparing them (and you) for the event will make sure the journey is as smooth as possible.
In this article we take you through everything you need to know to get your child safely on an aeroplane without a meltdown at the airport … from anyone!
WHAT AGE CAN A CHILD FLY ALONE IN AUSTRALIA?
We'll leave the answer to this question to the experts.
Flight Centre says:
"An unaccompanied minor (UNMR) is any child aged between 5 and 11 (not yet 12 years of who is flying by themselves and not travelling with a parent, guardian or immediate family member.

Children younger than five are not permitted to fly by themselves. Children aged 12 and over are considered 'adults' by airline ticketing standards, but parents can specifically request an unaccompanied minor service for children aged 12 to 15."
HOW DO I BOOK A FLIGHT TICKET FOR MINOR TRAVELLING WITHOUT PARENTS?
Parents or guardians of kids flying alone must make a specific unaccompanied minor (UNMR) booking with the airline. The booking must meet age requirements, noted above. Because the number of unaccompanied minors is limited on each flight, make sure to book your child's trip as early as possible.
First, check with the booking agent or airline if they accept unaccompanied minors. Not all flights do, and there are restrictions on transfers and stopovers. It may be better to have a booking agent handle all the details so you can focus on preparing your child for their solo trip.
Parents must also complete and sign an unaccompanied minor travel document for the trip. This document contains information on the person who will accompany your child at the departure and arrival points. In order to send-off or pick-up your young traveller, adults at the departure and arrival area must present identification that matches the info on the travel document.
If you are in doubt, make a call to the airline to get the answers you need. It might be a long wait-time, but will be worth it and saves time and money if you get it wrong and have to change or cancel a ticket.
DOES IT COST MORE FOR A CHILD TO TRAVEL ALONE?
Yes, it does. The fee varies depending on the airline and whether it's a domestic or international flight. The airfare is usually charged at the adult rate, but some airlines may reduce the price.
Again, take time to read the small print, contact the airline direct or head to your local travel agent. This way you can compare prices and get the best value available for your little unaccompanied minor.
HOW TO PREPARE KIDS FOR FLYING ALONE?
If your child is a first-time flyer, visit the airport beforehand to familiarise them with the surroundings

Choose the right luggage. Backpacks are usually the best for kids whether flying alone or supervised

Pack comfort items, an entertainment pack, medication, cell phone with contact numbers, cash and necessary documents, including the itinerary, medical forms if needed and photocopy of the passport and ID

Pack nutritious snacks and drinks

Teach your child to place items in and out of their bag carefully, particularly important documents

Go over the itinerary so your child knows the day's schedule

Explain to your child what to expect at departure (security checks, boarding process), on the flight (how long it will take, airplane noises, how to handle delays and cancellations) and on arrival

Help the cabin crew do their best job looking after your young jet-setter by telling your child to listen for instructions and be on their best behaviour
WHAT HAPPENS AT THE AIRPORT?
At the airport, parents or guardians must accompany their child through the check-in counter, bag drop area and to the gate. Don't forget to bring travel documents, medical clearance forms if needed, and identification cards for you and your child.
After getting your child's boarding pass, go the gate at least 30 minutes before departure. A flight attendant will meet you there. Present your ID and the child's ID so they can review the paperwork before boarding. Unaccompanied minors receive priority boarding so the flight attendant can get your child settled and stow away their luggage.
It's a good idea to wait for the plane to leave in case it has to return to the gate unexpectedly.
Keep the mood light and fun. Look at the aeroplanes and talk about how exciting it is going to be for them to fly. Answer any questions your child has and re-explain what happens next if they don't seem to understand the process.
WHO WILL LOOK AFTER MY CHILD ON THE AEROPLANE?
A cabin crew member will look after your young traveller during the flight and until they are collected by the person meeting them at the destination airport.
During boarding, the crew member will show your child to their seat, show them where the bathrooms are, explain entertainment controls and how to use the call button. Kids flying alone usually sit close to the cabin crew areas near exits, bathrooms and the food service area. Flight attendants make sure to give young travellers a lot of attention to help them feel comfortable and secure.
At this stage you need to put your trust in the crew member who is caring for your child. They are usually wonderfully kind and supportive, whilst keeping everything calm and easy … remember they do this everyday! They are the best placed person to look after your little one during the flight.
WHAT HAPPENS AT THE OTHER END?
Arrival is probably the most exciting part of the journey for kids flying alone and the person who will meet them at the airport.
Unaccompanied minors are the last to leave the plane so don't panic if you don't see them arrival amongst the other passengers. The flight attendant will help them with their luggage, accompany them to the gate or arrival area, check the ID and travel documentation of the waiting parent/guardian, and sign the form before handing the child over.
Airlines will not deliver the child over to someone without an ID or who is not listed on the documentation, so make sure to list all possible receivers on the travel form in case the primary person is unable to collect your child.
HOW TO PREPARE YOURSELF FOR YOUR KIDS FLYING ALONE
Sometimes it's unavoidable to let your kid fly solo. In fact, millions of children all over the world fly alone each year, and the vast majority of these unaccompanied trips happen without incident. Keep this is mind.
It's important that you don't share your worry with your child. If they sense you are ok with it, they will be ok. If they sense you are stressed about putting them on a plane on their own, they may feel stressed too.
Make a plan if you think you will feel emotional when your child leaves you. Think of something nice to do when you have said goodbye. Maybe meet a friend and make the most of your child-free time. It is perfectly normal to experience separation anxiety when you are not with your little one, so be kind to yourself and stay busy
Preparing your child and yourself properly goes a long way to ease anxiety on both sides and ensures a safe, fun trip.
Further reading: How to deal with separation anxiety as a single mother.