In today's fast-paced world, it can be challenging to stay in touch with our loved ones. Whether it's because of distance, busy schedules, or other commitments, it's easy to feel disconnected from the people we care about. However, technology has made it easier than ever to stay connected, no matter where we are in the world. Online chat tools, in particular, have become increasingly popular for staying in touch with loved ones.
There are many different online chat tools available, from messaging apps to video conferencing platforms, and each has its unique features and benefits. In this article, we will explore some of the best online chat tools for staying in touch with loved ones. Whether you want to send a quick message, have a group video call, or share photos and videos, these tools can help you feel closer to the people you care about.
We will discuss the features and benefits of each tool, as well as any potential drawbacks or limitations. We will also provide tips for getting the most out of each tool and staying connected with your loved ones, no matter where you are in the world. Whether you're a tech-savvy millennial or a baby boomer just getting started with online communication, there is a tool for you. So let's dive in and explore the best online chat tools for staying in touch with loved ones.
Related reading: How to move interstate as a co-parent.
WHAT TO CONSIDER CHOOSING AN ONLINE CHAT TOOL
Features
The features of the chat tool will determine what you can do with it. Some chat tools only offer basic messaging, while others allow for video calls, file sharing, screen sharing, and more. Consider what features you need and choose a tool that offers them.
User interface
A user-friendly interface can make the chat tool more accessible and easy to use. Look for a tool with a clean and intuitive interface that makes it easy to navigate and find the features you need.
Compatibility
Check the compatibility of the chat tool with your devices and operating system. Some tools may not work on certain devices or require specific software to function properly.
Security
Security is essential when it comes to online communication. Look for a chat tool that uses encryption to protect your messages and data from hackers and other security threats.
User base
The user base of the chat tool can impact its functionality and popularity. Look for a tool with a large user base, as it will likely have more features and be easier to connect with your contacts.
Pricing
While many online chat tools are free, some may require a subscription or premium features that come at a cost. Consider your budget and choose a tool that fits your financial needs.
BEST ONLINE CHAT TOOLS FOR STAYING IN TOUCH WITH LOVED ONES
Facetime is the go-to video chat app for iOS users. It's pre-installed in iPhones, it's free, and works great most of the time if you have a strong connection. Facetime lets you online chat with up to 32 people from anywhere in the world over cellular data, but it works best for one-on-one calls or a small group. Probably the best thing about Facetime is the HD quality video calls (up to 720p on Macs). The image is crystal clear compared to similar apps, especially if you have a strong WiFi connection. And even if Facetime isn't running, you still receive incoming calls without opening the app.
Cost: Free over Wifi
Pros: Easy to use, invite up to 32 people, lots of fun features, high definition video
Cons: Requires an Apple device, works best for one-to-one calls
You will love this app if: You're an iOS user who wants an easy-to-use app to check in on kids, parents and grandparents.
Whereby is a professional collaboration tool that lets you setup meetings with team members easily. It's geared towards professionals and businesses instead of families, with highly-rated audio calls, video conferencing and muting features. The app also supports polls, scheduling and annotations. One of Whereby's best features is that guests don't need to download or sign in. They can connect right away and start chatting. Whereby is an excellent communication tool if you work mostly on the computer.
Cost: Free option (limited functionality), paid version starts at $6.99 (pro) and $9.99/month (business)
Pros: Easy to use, guests don't need to download or install software, video conferencing is done via web browser
Cons: No app version, can join other groups/calls by mistake
You will love this app if: You are a small business owner or professional connecting with clients and partners.
You've probably used Zoom for work. It's the top video conferencing tool right now mainly because you can invite up to a hundred people for meetings and classes. It's already the go-to video app for professionals working at home during the quarantine. If you're a teacher stuck at home, Zoom is perfect for connecting with your students. The premium version lets you chat with 500 people–great for virtual seminars, conferences and TED-like talks. Setting up Zoom is easy if you know your way around Skype and similar apps. You can also customise your screen with fun backgrounds and effects and choose the popular grid layout.
Cost: Free version available, Zoom Pro $14.99/month, Zoom Business $19.99/month
Pros: Invite up to 500 people (paid version), screen sharing, record meetings
Cons: App can be hard to use and navigate in the beginning, free 40-minute call limit can be annoying
You will love this app if: You work from home or you're already familiar with video conferencing tools.
Booyah is a video chat app similar to Facetime but is designed specifically for WhatsApp, the popular instant messaging app for Android. The fact that WhatsApp doesn't have a video conferencing feature and that you need to install another extension to enable that is a huge drag. But if you already have WhatsApp and you need video chat, definitely get Booyah. You can add contacts from WhatsApp, Facebook, Instagram, Snapchat, and more. Simply send a link to invite up to 12 people for the video chat. No need for guests to sign up.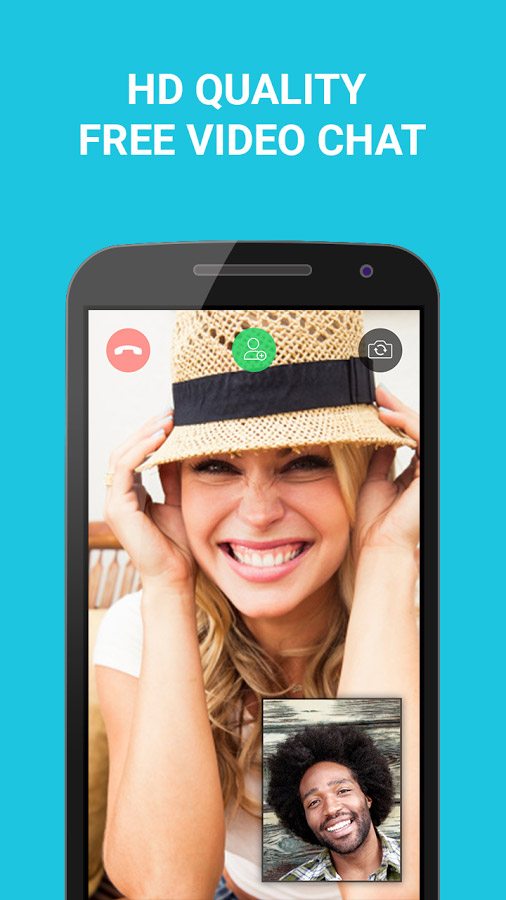 Cost: Free
Pros: Invite contacts from other apps like Facebook, Instagram and Snapchat
Cons: Designed for WhatsApp on Android
You will love this app if: You're a WhatsApp user.
Ever wanted to share a cool video with your friend while you're on video chat? Airtime lets you do that and more. You can chat and watch movies, TV shows and YouTube, listen to music and share photos. Plus, you can create private rooms and party rooms for different people, as well as customising your screen with animated stickers. Airtime lets you chat with up to 10 people at the same time. It's a fun way to connect with friends and family during isolation, but not ideal for younger kids without supervision. Overall, the app is easy to use and set up, and it's completely free. Just remember that the app collects a ton of information about you based on what you share with others.
Cost: Free
Pros: Fun, easy to use and set up, great for teens and young adults
Cons: Not ideal for young kids, privacy policy could be improved
You will love this app if: You have teens and young adults who want a fun video chat tool.
Best online chat tools (cont.)
GoTalk is another video online chat tool that requires no log ins or software installations for guests. Simply make a link, connect using your computer or phone, and video chat with up to three other people for free. The link can be shared on social media, instant messaging apps or through text. We like that GoTalk allows you to make custom links in any language. GoTalk works best on Chrome in Windows, Mac and Android. For iOS users, you need to use the Safari browser instead of Chrome, which can cause lags in streaming.
Cost: Free version available, premium starts at $8.99
Pros: Can create paid rooms for meetings and seminars, on-screen titles and annotations, up to full HD video quality
Cons: You can only invite up to 3 people, requires strong broadband connection for smooth streaming, iOS users need to use Safari to avoid delayed streaming
You will love this app if: You are a professional or business owner who wants to monetize videos or online lessons.
Like Houseparty, Bunch combines video chatting with games and Snapchat-like filters to make virtual huddles a fun experience. The user interface pops with colour and there's a lot of filters/animations that you can use to customise your screen. The games are fun and range from easy peasy to super difficult. There's a drawing game similar to Pictionary, a billiards game and a trivia game. You can also play third party games like Fortnite, Roblox and Minecraft. Pro tip: Installing the games on your first go can eat up a lot of time. Skip this process if you only want straight video online chat.
Cost: Free
Pros: Fun games and video chat for the younger crowd
Cons: Installing games can take a while
You will love this app if: You're a gamer or you have kids who love games.
If you're already using Gmail (and who isn't), give Google Hangout a try. It's accessible from your email and easy to use even if you're new to video conferencing. Just go to the Google Hangout page and invite people directly from your contact list. It's best to open a pop out window for chatting instead of having the conference from your inbox as people can see your email messages. The quality of calls is far from exceptional, and it's very noticeable if you have poor to average broadband connectivity. You can also get dropped randomly from large group chats. When this happens you have to reconnect manually as it won't add you back in. While not perfect, Google Hangout is extremely easy to use even for the tech averse, and you can start chatting with family, friends or colleagues in seconds.
Cost: Free
Pros: Easy to use and accessible for Gmail users
Cons: No grid layout, users report connectivity issues, you can get randomly dropped from large group chats
You will love this app if: You already have a Gmail account and want an accessible chat/video tool.