We all know how hard it can be to reach a goal … and for children, it is harder still.
If your kiddies are anything like mine, if they don't have an incentive, they will lose interest … and fast.
Enter: The reward chart. A fun and funky visual to display how well they're tracking in their chosen tasks.
Luckily, when it comes to reward charts, there is heaps of of choice online and you're bound to find something on our list that will have your little one kicking goals and feeling fab in no time at all.
In this article I answer the following questions for you:
Are reward charts a good idea?
What age can you use reward charts?
What should be included in a child's reward chart?
Where to buy lots of different types of reward charts online.
ARE REWARD CHARTS A GOOD IDEA?
I think reward charts for kids are a good idea to encourage positive behaviour and get them into healthy habits like brushing their teeth without the need to nag or turn everything into an argument. They work best if the reward chart is suited to your child's personality and interests … and if the rewards are a big enough incentive.
However, reward charts may not be as effective on some kids and may even backfire. Sometimes the charts work too well with unintended consequences, such as kids asking for a reward every time they perform certain tasks!
Both my girls loved their rewards charts and we have even kept a few for special memories.
WHAT AGE CAN YOU USE REWARD CHARTS?
Reward charts for kids work best on ages three up to eight. Make sure the chart is geared towards your child's age and is used for age-appropriate chores only.
Using a rewards chart is a good introduction to teach kids how to save money and reap the rewards at a later age.
WHAT SHOULD BE INCLUDED IN A CHILD'S REWARD CHART
Reward charts for kids usually contain a goal or target behaviour and blank spaces toward that goal where the stickers go. Each time your child completes the desired task, he or she gets a star/sticker until all the spaces are filled.
You can make your own chart, use an app or buy a ready-made reward chart for kids. Whatever you use, reward chart for kids should have goals that are clear, achievable and suited to the child's developmental stage. The target behaviour should be as as descriptive as possible especially for younger kids.
It's great to involve your child when setting up the reward chart so everything is clear including:
What they must do to get a reward
What rewards they can expect to receive
What happens when they don't earn a reward
How long it might take to complete the chart
My favourite reward charts for kids
In our family we love anything from Stuck on You. Each Hygienius Reward Chart pack comes with 70 motivational stickers and multiple magnetic charts for easy display on the fridge. They come personalised with six different designs so you should be able to find one your child likes.
I found this at: Stuck on You
Reward charts like this extra-large magnetic chart are perfect for younger kids (ages 3+). It's easy to use and big enough to show multiple targets and activities at the same time. Your child can choose their favourite colour while mum picks the activities.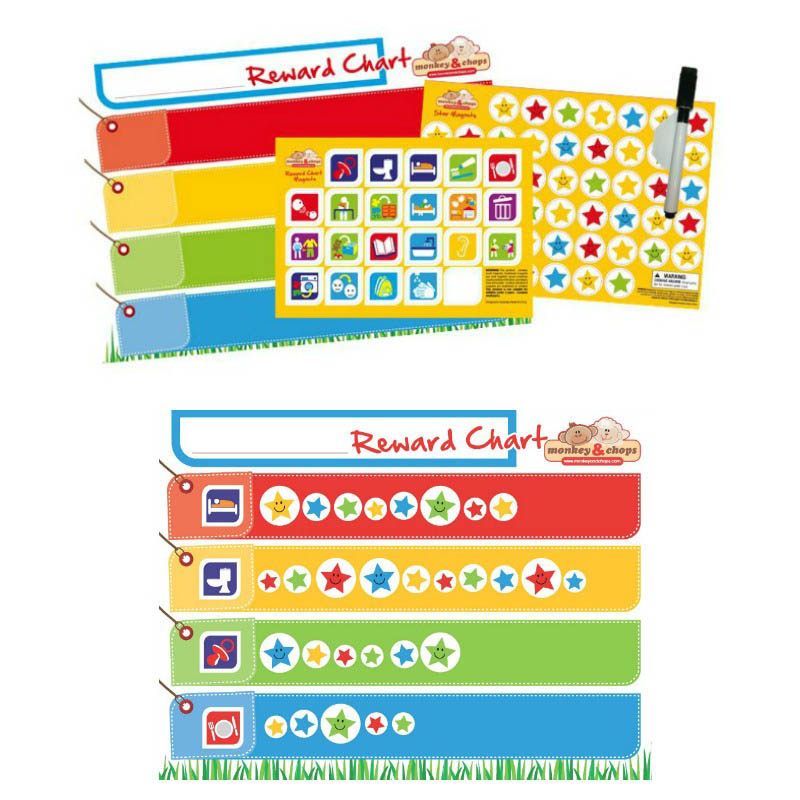 I found this at: Lime Tree Kids
I'm a sucker for anything personalised so had to share these reward charts. There are 16 different designs and they feature a dry erase surface so you can easily wipe them clean and use again and again. They come complete with 28 stickers star reward stickers.
I found this at: Bright Star Kids
Reading reward charts help young bookworms track their reading progress and see what they've earned. This magnetic chart comes with a whiteboard marker and 40 reward magnets. Recommended for children ages 3 and over.
I found this at: Entropy
If you have a colour printer at home, this is a cheap and easy reward chart that certainly does the job. Order the template, print, grab some sticky stars and you're off.
I found this at: Etsy
Behaviour charts for kids (cont.)
How adorable is this personalised reward jar from Etsy? Kids get to put a star in the jar each time they do something right (finishing homework on time, tidying up, etc.) and get a reward when the jar is full of stars.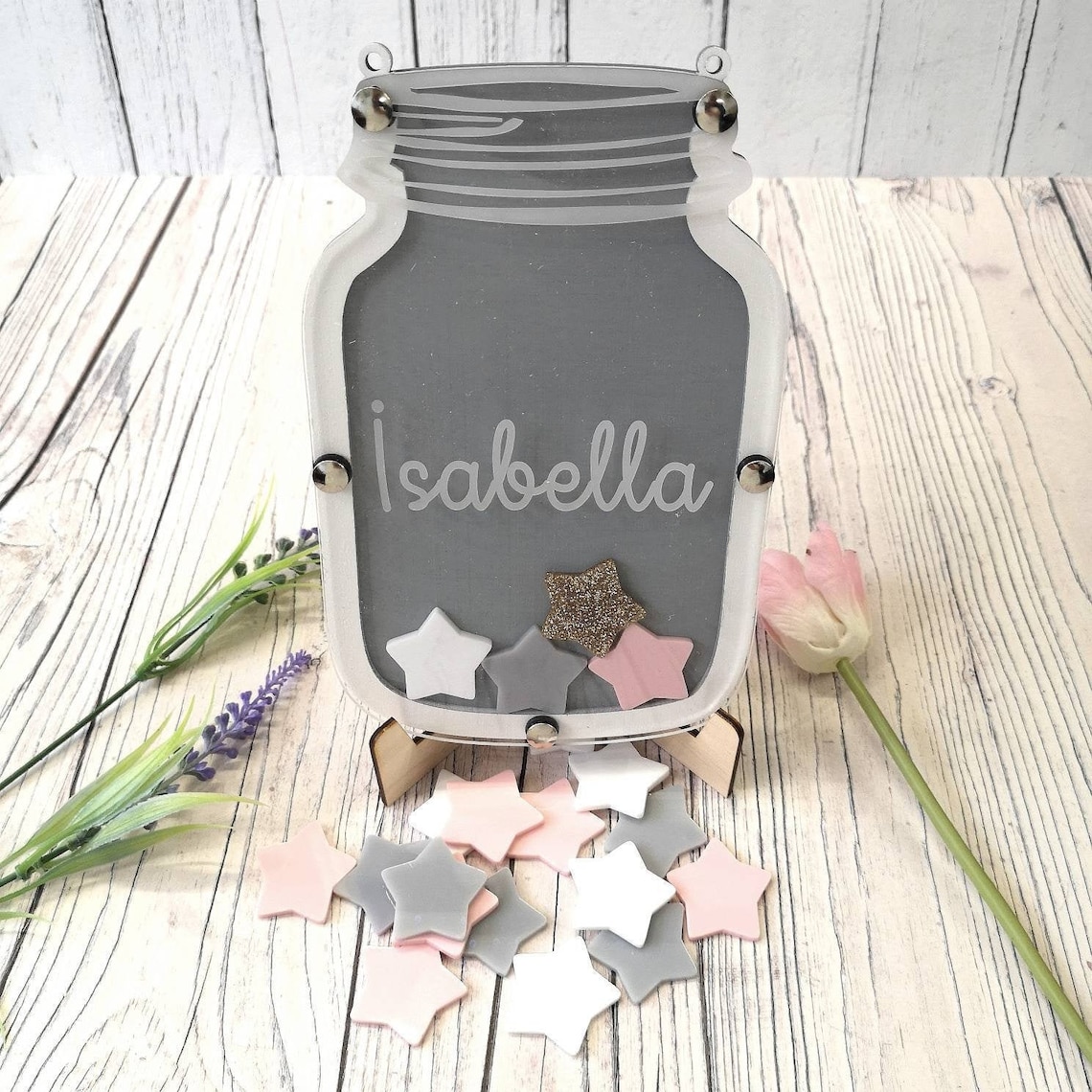 I found this at: Etsy
This no-frills magnetic reward chart is fully customisable and ideal for older children. The calendar-style chart lets you fill in the child's name, activities and rewards. These can be tracked using the colourful praise-themed stickers.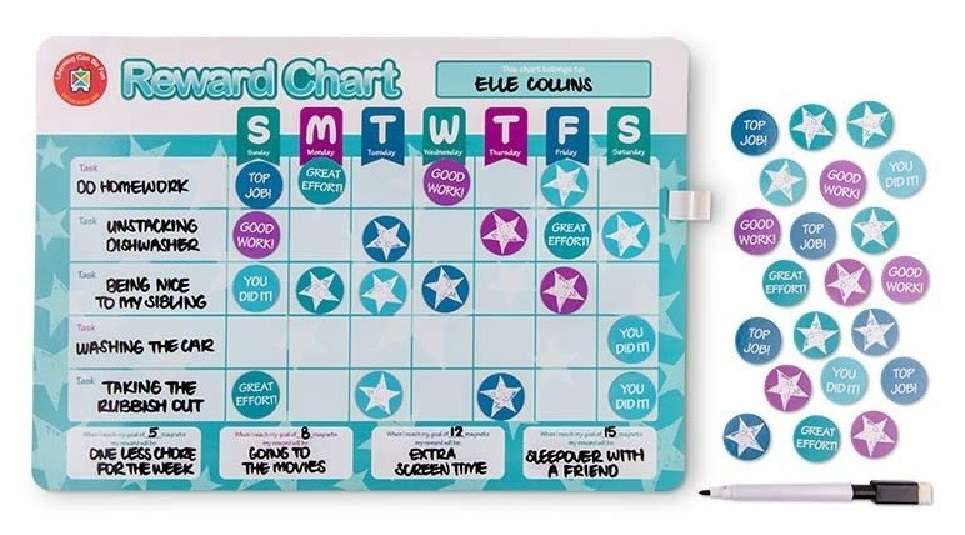 I found this at: Baby Bunting
Calendar reward charts like this one from Etsy are perfect for older kids. Set up 3 types of chores or activities using wooden star markers. Personalise it with your child's name or custom saying.
I found this at: Etsy