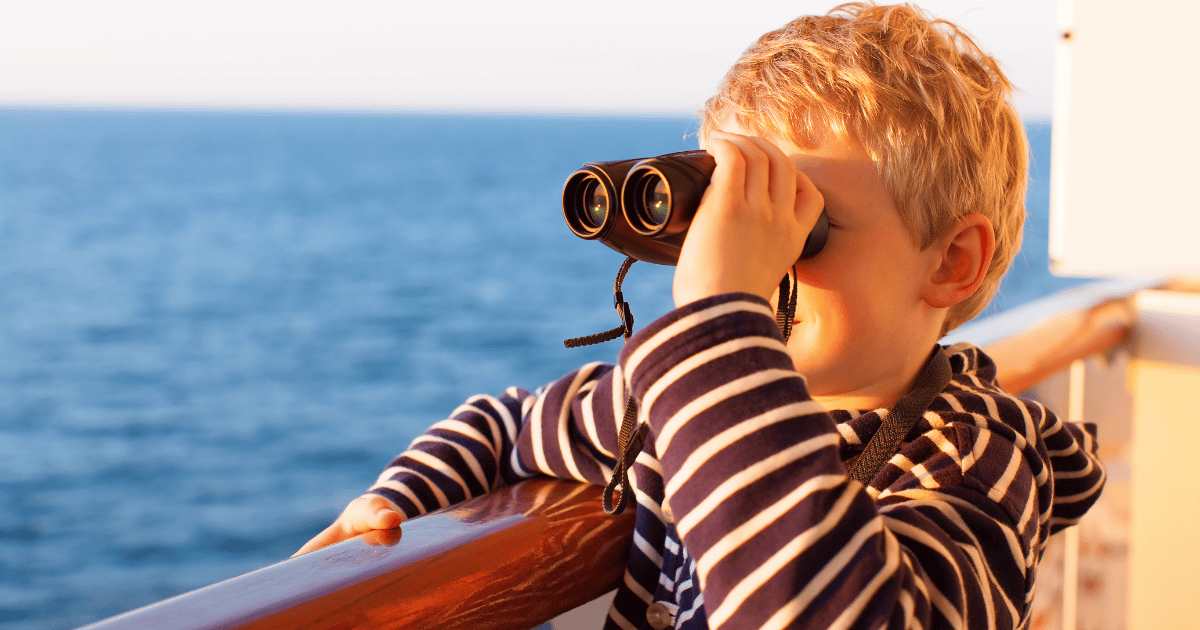 Contents:
I love taking my kids on holiday but it can be exhausting, especially with young kids. Packing, travel, where to stay, what to eat, and keeping them safe and entertained. Finding time to unwind and enjoy the break myself is near-on impossible. That was until I discovered cruising with kids.
Even as an ex-travel agent who loves to organise my own itineraries, cruising has been a game-changer.
I'd done a few cruises pre-kids and put them in the "I'll do them again later in life" box, assuming this would be when I was old and grey. But, a couple of friends took their kids away on a cruise and they both raved about it. Of course, I couldn't miss out and decided to give cruising with kids a go.
I'm so glad I did. It is the best.
So, what do I love so much about these floating holidays? And why do they work so well for kids?
Let me tell you.
Further reading: Single parent travel and holiday tips.
The ship is a huge playground
Until you have been aboard one of these huge cruise liners you can not understand how much "stuff" they fit onboard.
From swimming pools complete with waterparks and surf simulators to dodgem car tracks, rope walks, laser tag, arcades, and rock climbing. Royal Caribbean takes it to a whole new level with theme park rides like the North Star Mechanical Arm and an iFly Indoor Sky Diving.
These aren't just ships, they are a floating paradise for kids of all ages. They're gonna love it.
Loads of entertainment
What I like most about cruising with kids is that I don't have to provide entertainment. And I don't have to listen to them tell me they are bored when I'm trying to have downtime.
Alongside the massive array of activities you can do with your kids, there is heaps of entertainment they can enjoy without you.
Cruise ships are the masters of the kids club. In some cases, families will book based on the kid's clubs alone. I think the standard of the kid's clubs is so high because the major cruise companies compete to make theirs the best and attract as many people as possible. Healthy competition is great, especially when it results in an even better cruise experience for us families.
Tip: Get your kids booked in early. As word gets around about the best clubs onboard they book out fast.
Don't think that putting your kids in a club for the day means confining them to a room with a few toys for entertainment. Oh no, they get out and about enjoying everything the ship has to offer. Think pool parties, arts, sports, karaoke, cooking classes, educational programs about the sea (Princess Cruises), and heaps more. I always remember spotting one of my daughters halfway up a rock wall while I was heading back from a massage. That was weird.
You can even book kids in for shore excursions with a group but I enjoy the experience of visiting a new place with my kids so we tend to stick together when venturing from the ship. Although encouraging them to get off the ship is not always easy.
Your kids will make friends
With all these clubs happening, your child will likely make a friend or two.
I think this is lovely because I remember making friends on holiday when I was younger. It was always so exciting to meet kids from different parts of the country or the world and make friends outside the confines of my school.
And while they're off socialising it might give you a chance to meet people too. As a single mum, I feel a bit lost when my kids head off. I was pleased to discover that cruises are very popular with single parents and luckily we can spot one another a mile away.
You are travelling with your kids
As wonderful as the onboard entertainment and facilities are, don't lose sight of the fact that you are travelling.
Whether it's up the coast of Australia or to the South Pacific Islands, cruises offer a comfortable, easy way to show our kids the world around us.
In my opinion, shore excursions are the best parts of the cruise and just quietly it's rather nice to get away from the madhouse of never-ending activity onboard.
I was amazed to meet people on cruises who don't get off the ship! Such a missed opportunity especially if you have children as they can benefit hugely from seeing different countries and cultures.
Don't worry, they won't fall in
I'm going to be honest here. One of the reasons I didn't try a cruise with kids sooner is because I was worried they might fall over the side of the ship and into the sea.
Let me tell you now that there is no way this can happen. The guard rails are really high and solid.
One less thing to worry about.
The accommodation works
These ships are built to accommodate families. I find this a welcome relief.
As a single parent travelling with two children, getting the right room in most hotels is complicated and pricey. On cruises it's easy.
Depending on the size of the ship you are cruising on, rooms will come in several tiers depending on size, location and amenities. Because of this choice, it's easy to find something to fit your budget. There are big family rooms that sleep up to 10 people (depending on the cruise) and interconnecting rooms for families who want separate rooms with easy access to one another.
I always book a room as high as I can on the ship and always with a balcony. I would rather not go than have a room without a balcony. It's like going to a brilliant theatre show and having someone's head blocking your view throughout.
Tip: Steer clear of rooms near lifts, they are noisy (never ever again!).
Less logistics
Having owned my a travel agency, I enjoy arranging itineraries and booking travel. But if I want a genuinely relaxing holiday, then a cruise is the answer.
Oh the ease of boarding, unpacking and not having to repack and move again.
You get to relax and enjoy while the trip does the work taking you to new places to visit.
All-inclusive keeps cost down
Never in a million years would I book all-inclusive for a land holiday because we would miss out on all the options available outside our hotel.
Getting an all-inclusive food and drink pass on a cruise works because you can't step outside the ship and find something elsewhere.
Always check exactly what you're paying for. Most all-inclusive packages include meals and non-alcoholic drinks. Others include the internet and/or entertainment. For example, the P&O All-Inclusive Holiday Package covers accommodation, entertainment and food and you can add an extra pass for drinks.
It doesn't hurt to do a few calculations to see what you'd usually spend on food and drink in comparison to the all-inclusive passes.
There is something decadent and fun about rolling up and a restaurant and not paying. More importantly, it helps you budget effectively for your holiday.
Easy eating and no cooking
Even if you don't go all-inclusive, eating aboard a cruise ship is just so easy.
The bigger ships have 20+ restaurants on them to suit all tastes, ages and styles. Finding somewhere to eat is super easy.
And I secretly love that there are no kitchen facilities in the cabins, so no guilt because we're eating out every night.
Eating out and not cooking is what I call a proper holiday.
B

uilt-in medical care

Things can go wrong on holiday.

It is scary to think what would happy you or your children fall ill or get injured when you are far from home and in unfamiliar surroundings.

Rest assured that these floating cities we call cruise ships have excellent medical facilities. Most also have a helipad for tourist rides which can also take patients off the ship and to more specialised medical support if needed.

Tip: Different operators have different charges for medical services and it can get complicated especially if you are overseas. Get travel insurance so you can claim back any medical or out of out-of-pocket expenses. I personal recommendation based on experience with making a large travel claim is Covermore.
My final words
Cruising with kids is great fun for everyone ... parents included!
It's a holiday that effortlessly caters to every family member's diverse needs and interests. Whether we're splashing in the pool, enjoying delicious meals together, or creating lifelong memories through shore excursions, cruising has become our ultimate family getaway.
Seeing my kids develop a sense of adventure, curiosity, and cultural appreciation while aboard a cruise ship is an experience that truly warms my heart. Cruising with kids has undoubtedly become a beloved tradition for our family, where the bonds are strengthened and unforgettable moments are forged.