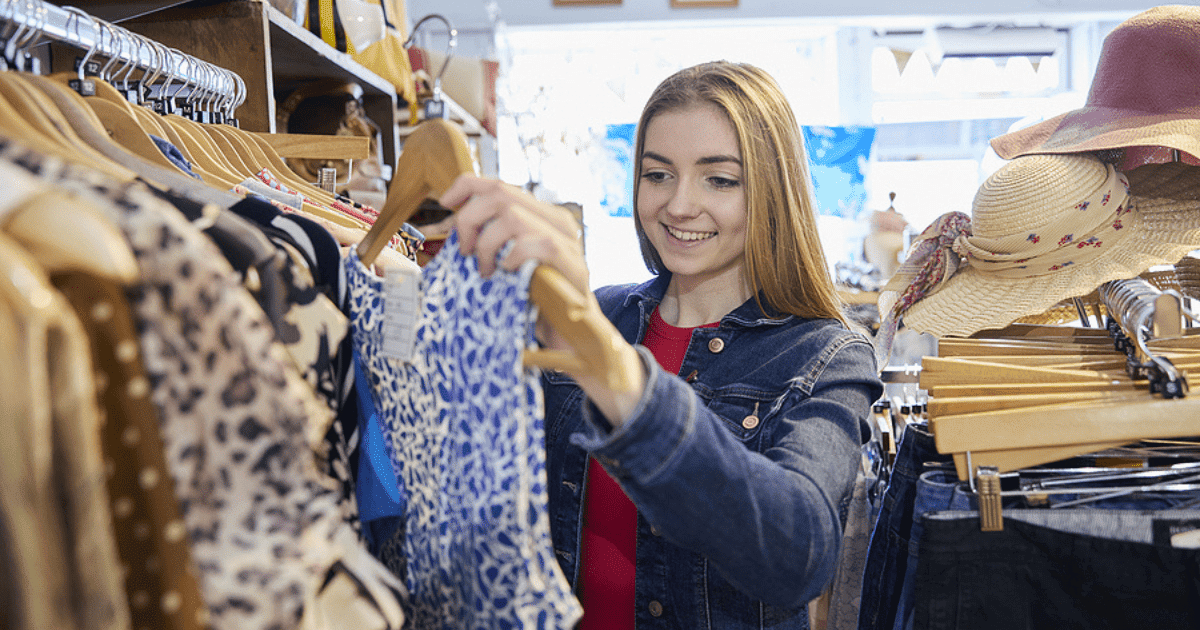 If you've noticed more and more op shops popping up in your home town, it's because of demand. Nowadays people can't get enough of op shopping.
Whether you are a seasoned customer at your local op shop or you're not quite sure how to approach this new style of shopping, we have good news!
Op shopping has so many brilliant benefits … not only for you but for people across the world, and for the world itself.
Let us explain …
10 Brilliant reasons to op shop
1. Save money
When you have a tight budget and need a new outfit for work or a special event, nothing beats op shopping. It's one of the OG ways to stretch the everyman's dollar. For the price of a new dress at the mall, you can buy five or more at a thrift store. And who doesn't want to go on a spending spree?
2. Give back to the community
The king of op shops, including Lifeline and The Salvation Army, are not for profit and exist to help the disadvantaged. Proceeds of their sales go to support vulnerable members of the community through services like food relief, temporary housing and counselling. Other op shops donate a portion of the sales to charities of their choice.
3. Style for less
Designer clothes, shoes, bags and jewellery for as little as a dollar? You'll find them in an op shop. While you may have to dig around a bit and follow the shop's restock schedule, you're sure to find something. Even better, check out an upmarket op shop that specialise in designer apparel if you love high-quality items at bargain prices.
4. Enjoy the thrill of the hunt
The op shop treasure hunt, that is. Buried beneath racks and piles of fast fashion are hidden gems: high-quality designer items, barely used or brand new electronics, antique furniture and so much more. You'll feel like Lara Croft after unearthing a $1000 designer bag or prom dress for $15.
5. Feed your need for vintage
Vintage clothes are always cool and always in style. And we're not just talking hippy-dippy fashion. Items made as recently as 20 years ago are considered vintage, and you'll find heaps of these styles in an op shop. Supplement your modern wardrobe with 70s sheath dresses, cute 80s jumpers, on-trend 90s denim and other fashion hits of the past.
6. Shop unique costumes
Need a one-time-use outfit for a fancy dress, ugly Christmas sweater or Halloween party? Or maybe you just want to dress differently from everyone else. Hit the op shops. From vintage ensembles to sexy costumes to wacky animal hats, you're guaranteed to find something fun, unique and best of all, cheap.
7. Find affordable kids' toys and clothes
Things that your kids will outgrow, like toys, clothes, baby books, strollers and school uniforms, are perfect to buy at an op shop. You can usually find barely used and even brand new items with tags still on them for cheap. Choose a big op shop or a shop that restocks daily for the best options.
8. Get materials for your DIY projects
Do you love sewing or crafting? Do you spend your weekends making Ikea furniture look less boring? Head to the op shop for vintage furniture and fixtures, affordable materials for your DIY projects and plenty of inspiration for improving your home.
9. Be a more ethical shopper
Fast fashion–cute and cheap but poor-quality clothes and accessories–is often made in countries with cheap labor, many in sweatshops that exploit workers. Buying pre-loved, vintage or donated clothes feels good because you're reducing your carbon footprint and at the same time supporting organisations that provide services to the community.
10. Help save the environment.
Op shopping is good for the planet because items that would otherwise end up in landfills are used again.
According to Greens.org:
"27 kilograms' worth is the amount of textiles the average Australian buys annually, according to Textile World … op shops diverted more than 530,000 tonnes of clothing and other donated items from landfill in Australia in 2015-16."
Be part of this brilliant cause and make every purchase a "feel good purchase" by getting acquainted and buying from your local op shop.