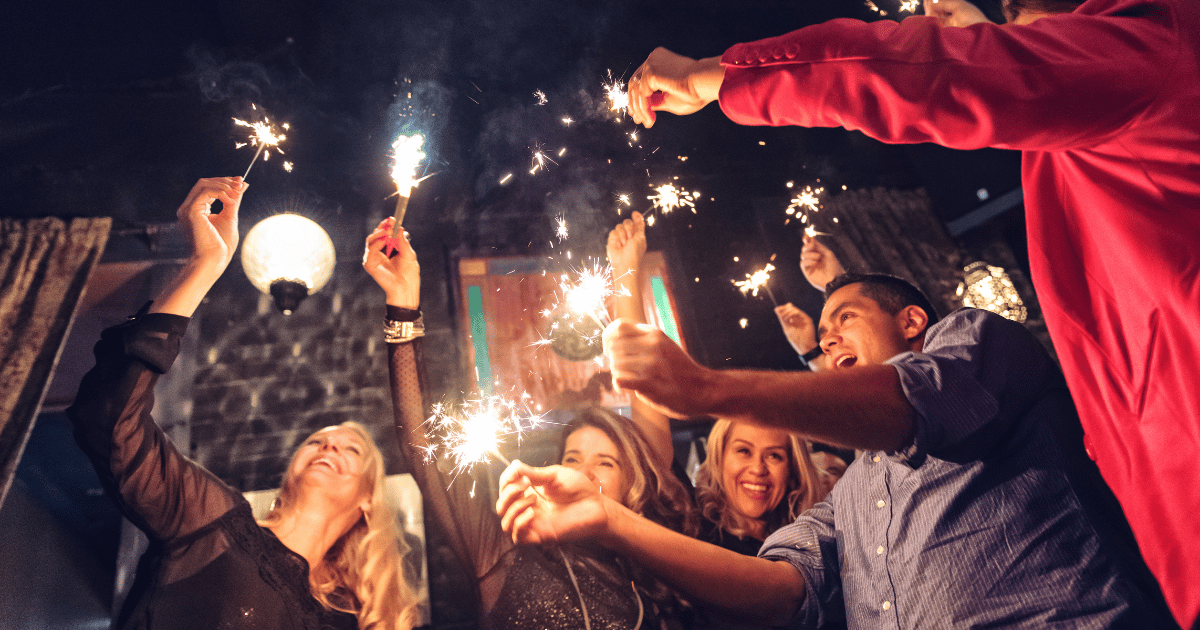 New Year's Eve is the biggest party time of the year and whether you are going out or staying in, alcohol is often a star feature. After all, what's a celebration without a glass of champagne followed by five vodka chasers?
Actually drinking heaps, especially on a night like New Year's Eve, is not a good idea.
Having drunk heavily for 25 years long, messy years, I want to encourage you to change your mindset about New Year's Eve (and celebrations as a whole). They don't have to be booze-soaked to be fun. Quite the opposite.
If you're making plans to welcome in 2023 here are my reasons not to get drunk on NYE.
10 Reasons not to get drunk this NYE
1. YOU'LL REMEMBER IT
New Year's Eve is significant. It's the kind of night you want to remember for years to come … for all the right reasons.
Getting intoxicated is not conducive to remembering things, and what you do remember, you might wish you had forgotten.
I have lost count of the number of times I have peaked too early on New Year's Eve and blacked out by midnight and the all-important countdown.
It is likely you have prepared extensively for the night and spent lots of money, don't get so drunk that you can't remember it. You may as well stay home, have an early night and save your money.
2. YOU'LL LOOK BETTER IN THE PHOTOS
New Year's Eve photos are the kind that keep cropping up as people reminisce on times gone by.
You don't want to look like a deranged zombie in them. And you don't want to be the topic of conversation.
"Oh look there's [NAME]. She was absolutely wasted that night."
Equally, you don't want to be missing from photos.
"Where's [NAME]? I'm sure she was there that night. Oh that's right … she was passed out on the couch with vomit down the side of her face"
Be fab in the photos by staying sober and looking hot, hot, hot.
3. THE 1ST OF JAN WILL BE WAY BETTER
What are we celebrating on New Year's Eve?
The new year.
It's a fresh start, a new beginning, a time for resolutions and promises of success, prosperity and well-being.
Getting blind drunk the night before it starts and waking up in the black hole of a horrific hangover is illogical.
My hangovers were the three-day variety so it would take until 3rd January to regroup and function again. I would feel like I was playing catch-up in a race that had barely started. Terrible for mindset and mental health.
It doesn't have to be this way. Leave the booze in the bottle and focus on having a brilliant 1st of January instead.
4. YOU'LL BE HEALTHIER
Give your body the gift of health by not drinking on New Year's Eve. And please don't think that one night of abstaining won't make any difference. It will.
According to Aspen Ridge Recovery:
"The National Institute on Alcohol Abuse and Alcoholism (NIAAA) stipulates that even one episode of binge drinking can compromise the immune system's function and lead to acute pancreatitis."
Do you really want to start 2023 with damage to your immune system and pancreas?
5. YOU WON'T EMBARRASS YOURSELF
I still cringe when I think of my drunken behaviour. It was always so much worse on New Year's Eve because of the copious amounts of flavoured ethanol I would funnel into my system.
And I tell you, people don't forget NYE behaviour like they might on other nights.
One of my most mortifying moments was falling on top of a friend on the dance floor and breaking her arm. Something like that isn't forgotten in a hurry and New Year's Day in emergency with a hangover in last night's clothes is the stuff of horror movies.
HAVE A SOBER NEW YEAR'S EVE
6. NO APOLOGIES NEEDED THE FOLLOWING DAY
There is nothing worse than those humble, humiliating apologies for your behaviour the night before.
For me, the worst part was that I usually couldn't remember what I did. In some respects, this might have been a good thing as the reality was too mortifying.
Don't allow your first messages and phone calls of the new year to be grovelling apologies.
7. THERE IS LESS HELP TO HAND
If you drink too much and something goes wrong (and it can) the emergency services are already stretched and may not be able to get to you quickly.
To give you an idea, The Age reported:
"On New Year's Day Ambulance Victoria paramedics were sent out to almost 1800 cases, almost 20 percent more than the daily average of about 1500 calls."
Common accidents caused by those who have overindulged in alcohol include drink-driving accidents, domestic violence, unconsciousness, injuries and assaults. Don't even allow the tiniest chance of any of these spoiling your celebrations by staying off the booze.
8. SET THE TONE FOR 2023
You could skip the party or go to the party and skip the alcohol, get a good sleep and wake up bright and breezy on the first day of 2023.
Get up early and watch the sun rise on a brand new year or have a lazy lie-in.
There is something meaningful about how we spend New Year's Day. Start as you mean to go on by doing something you love or simply being kind to yourself.
Secretly, I love the smug feeling of waking up hangover free on the 1st of January and get a pompous pleasure from imagining all the hungover people all over the world suffering while I am as fresh as a daisy.
9. YOU CAN DRIVE
One of the things I love most about not drinking is being about to drive everywhere. Meaning I can arrive when I want, leave when I want, and hide in my car for an hour if all the drunk people are annoying me.
This is a real winner on NYE when taxis and ride-shares are either unavailable or triple the price and a three-hour wait.
I often find myself ferrying friends around and helping out with my oh-so-sensible driving hat on. It's a return of thanks for all the times they have scraped me up off the floor or held my ponytail while I chug into a toilet bowl.
10. YOUR KID'S WON'T SEE YOU IN A STATE
Do it for your kids! Don't let them see you get wasted at any time of the year.
If they see you drinking heavily on NYE, they grow up thinking it is the societal norm to drink heavily on celebratory occasions.
Instead, role model to them what a healthy NYE celebration looks like. You can still party but instead of booze make some yummy non-alcoholic cocktails. Then wake up and do something fun together on New Year's Day.
Be a shining example of how to genuinely celebrate the New Year, minus the moonshine.
Further reading: 10 Ideas to celebrate New Year's Eve with your kids.