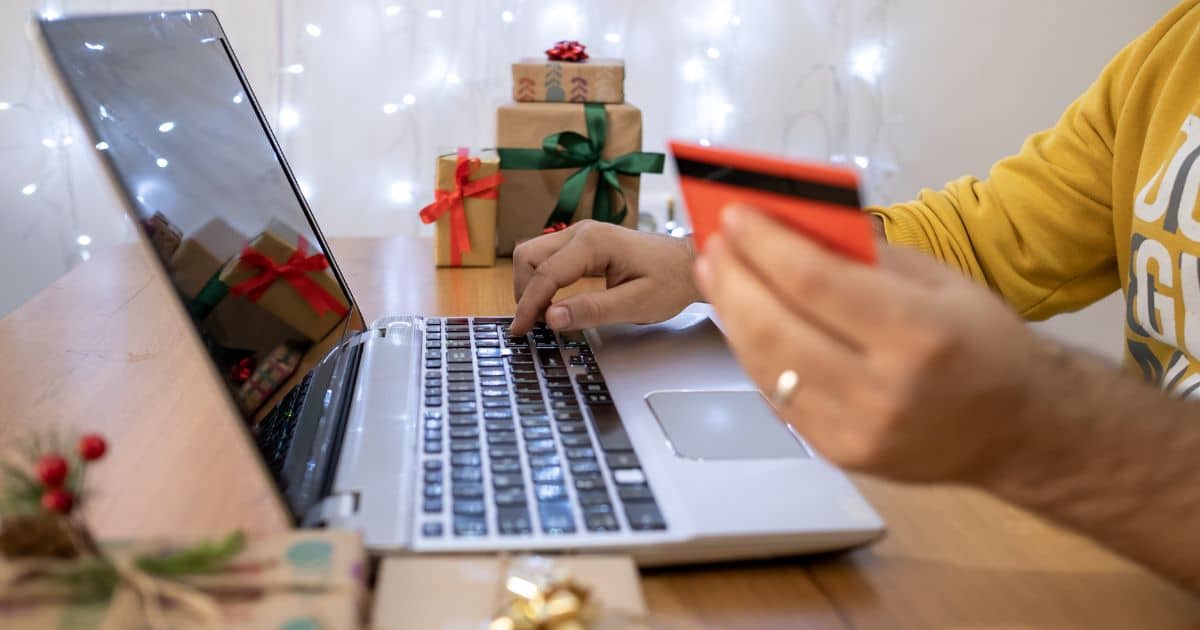 Online shopping is the way to go this Christmas. Not only is super easy but it saves you lots of money too.
There are some brilliant online superstores offering a massive array of products with regular sales, promotions and even free delivery.
It's important to be savvy when shopping online to ensure you're getting the best deals arriving to your doorstep at the right time, with no complications. Here are a few questions to ask yourself when browsing online superstores.
Further reading: Do you wish you could buy more for your kids this Christmas?
Online shopping websites: What to look for before you buy
Where is the e-commerce sited based?
Firstly, check you are shopping on a website based in the same country as you. If not, will they deliver to your location, and what is the timescale and cost? Also, if the site is overseas, check the currency and convert it to your own so you know exactly how much you are paying before you hit 'buy'.
What are the delivery details?
Even if the website is based in the same country as you, check the 'delivery page' so you know how it all works. It might be that delivery is a set price or free over a certain spend. The top notch shoppings sites will also tell you how long it will take for delivery and dispatch. All this is worth knowing before you browse so you don't get caught out with a huge delivery cost at the checkout or your item doesn't reach you in time. Worst. Thing. EVER.
How do you return an item?
You might be 100% sure your item is perfect when you buy, but you just never know. Disappointment at the opening stage is common and needs to be followed-up with a swift return. Before you buy, double check how returns work. For example, are they free and can you return easily to a local post office, or do they charge and make it super complicated? Again, knowing this before you buy is worthwhile as it will make you consider your purchase more carefully.
What deals can I get?
What we love most about shopping online are the deals and exclusive codes. They are often displayed really clearly on the website (think flashing banners in psychedelic colours) or along a banner at the top of the page. Some have a code to enter when you head to your cart or at the checkout. There are lots of savvy hacks for online Christmas shopping. Make sure you are all over them.
What is customer service like?
More often than not, word-of-mouth will tell us how good a shopping site is. Simply listen to what people say about them. If you're new to a website, click on the customer service page and see what kind of information they provide. Is it detailed yet concise and clear? Or limited and over-complicated. We also like websites that display their contact information loud and proud, phone number included, so you can make contact easily if you need to.
Is there a review system?
All good ecommerce sites should have a review system which allows you to read other people's experiences with the products you are considering buying. Take the time to read the reviews. Make sure they are relevant to the product in question and not for a different product, as is sometimes the case. Also, get a feel for if they are genuine as fake reviews are all around us, we just need to learn to see through them.
Ok, lesson over! You are now ready to shop across Australia and the globe with our list of online shopping websites for great deals this Christmas … all from the comfort of your home.
Further reading: Where to buy alcohol online in Australia.
Best online shopping deal sites
Crazy Sales is a favourite shopping destination for ozzy bargain hunters. They offer thousands of products in every imaginable category and sell everything from jewellery to musical instruments to novelties. Customers love the after sales service, fast delivery and rewards program.
Did you know that the hyper-popular online shopping website for women's apparel is also home to a wide range of household and garden items? They have everything from bedding to decor to cleaning supplies. What we love best about this shop is their frequent specials (honestly, there seems to be a deal for every day of the week) and huge markdowns during sale season.
Payday Deals is another discount retail paradise that is home to Australia's best online shopping specials. They compile all the best internet deals in one place. Get deep discounts on a wide range of products, including homeware, gifts, pets and electronics.
Endless specials and half-price bargains make OZ Sale a top online destination for people on a budget. The entire website is deals and more deals on men, women, baby and kids' items, plus home, furniture, and beauty products.
The original online shopping website is still the go-to place for auction lovers and people looking for one-of-a-kind, vintage and exclusive items. Ebay Australia's Business and Industrial category is a must if you're in the market for farm equipment, heavy machinery and manufacturing products.

Online shopping websites for great deals this Christmas (cont.)
Bang Good is a one-stop eCommerce shop for everything you need, with thousands of products in categories that range from fashion to industrial and scientific, including carbon fiber and lab chemicals. The site scores highly on deliveries, payment options and 24/7 customer service.
Speaking true to its brand philosophy to redefine the meaning of living, Costway provides a myriad of fresh homeware choices to consumers. From home tools and gear products to stylish furniture and DIY projects, this online shop has you covered for versatile home living without breaking the bank.
Mytopia is a fast-growing online shopping website for home and lifestyle products. Some of their most popular categories are treadmills, sofas, solar panels, massage tables and electric bikes. The product selection is pretty extensive and the site scores highly on customer service, delivery and quality (12-month warranty on most items).
Big W is an affordable online shopping destination for the whole family. They have everything you need, from party supplies to household cleaning products to kids toys from local and international brands.
The direct-to-consumer online retailer Light in the Box is known for its affordable apparel, gadgets and home and garden products. Specials are featured on top of the page so you don't miss out. Also check out their made to measure evening and wedding dresses and other customised items.
Best online shopping deal sites in Australia (cont.)
Amazon has come a long way from its beginnings as an online bookstore in 1994. Now you can buy anything you want from the world's leading online shopping website, including digital products like streaming music and movies. Amazon Australia is the nation's second largest online retailer.
Kogan's appeal lies in its variety of products on offer. It started in 2006 as an online shopping website selling mainly electronics before expanding to other categories. The site still features televisions, home theatre systems and electronics deals prominently.
An endless selection of products with wholesale prices is the main draw of Mini in the Box. The online shopping website keeps prices low by sourcing directly from a network of Chinese manufacturers. Whether you're reseller or a shopper on a budget, you're guaranteed to get the best deals.
Head to DH Gate if you are looking for great deals on quality electronics, appliances, and home improvement products. The popular budget shopping website was originally set up for business-to-business (B2B) sales, so the more you buy, the more you can save. Check out their top-ranking category and flash deals to save big on popular and trending items.
Bargains Online is an online shopping website for all your household needs. Shop great deals on mattresses (from $209), furniture, outdoor, garden, kitchenware, kids toys, sports and more. Daily deals are featured prominently on their website to make sure you never miss out. We like their 30-day return policy on most products, fast delivery times and great customer support.
Alibaba's sister site for online retail AliExpress is a must for direct-from-supplier items with matching bargain prices. Both shoppers and sellers love the endless variety of items available (over 100 million) at AliExpress. Whether you're a DIYer, foodie or fashionista, you'll find all the essentials you need plus fun, hard-to-find items. AliExpress is a must for Christmas shopping, but make sure to order well in advance due to long delivery times.
My Deal is your ultimate online shopping destination for home and lifestyle. They have millions of products in their catalogue and a community that connects sellers with customers to make it super easy to find that elusive item you're looking for. Don't miss their Wine section–they have a huge selection of great brands for up to 75% off.
You've probably shopped for bed linen and kitchen appliances at Harris Scarfe. This retail giant has been around for more than 170 years and has 43 stores all over the country selling homewares, apparel, intimates, travel and outdoor items. Other things to love about this online shopping website: great customer service and price match guarantee.
Looking for the latest gear in tech, fashion, beauty, sports and even grocery? Catch a wide range of items from the brands you know and love at affordable deals (it's massive!), here at Aussie's everyday online marketplace, Catch. Every dealing is fast and eager with a Push notification feature to keep you in touch. Plus, all items in your cart come with a full warranty.