This article about money saving hacks for Christmas shopping was last updated in 2021.
Christmas shopping. It can be fun. But it can also be extremely stressful. Especially if you are short of time and are in the constant company of your kids. Which is why online shopping for Christmas gifts is such a blessing.
But before you get started there are some really cool tricks you need to know to get the best gifts at the best prices … all from the comfort of your couch.
Here's how to rock at online shopping and be the most relaxed single mum on the street this Christmas.
HOW TO SAVE MONEY ONLINE SHOPPING
The shopping cart tease
We love this handy hack for online Christmas shopping. Make sure you are signed in to your preferred shopping site, then put an item into your online shopping cart and then simply walk away i.e. leave the website. You might find they are keen to entice you back to complete your purchase and may even offer you a discount to do so. You need a bit time to play this game, but it can be well-worth it and very rewarding.
Get a free trial of Amazon Prime
If you're a seasoned online shopper you'll already love Amazon, but you will love it even more as an Amazon Prime member. There are heaps of benefits including fast, free shipping and free ebooks, games and music. You can get a 30-day trial … so time it with your Christmas shopping to make the most of all the extras.
PayPal refund on return shipping
There will be occasions when your purchase isn't perfect and you need to return it. If you made payment with PayPal they offer a refunds on return shipping service. It doesn't matter what the problem is (wrong size, colour or you simply don't like it), they will refund your return shipping costs on any eligible PayPal purchases. Save time, money and complications with this little-known hack.
Use the Honey app
Shopping on Amazon is the best for online Christmas shopping. You can't beat the prices they offer. Yet with so many sellers selling the same products it can get confusing. Simplify it and never pay more than the lowest available price with the Honey app. Honey will alert you if you can buy the same item cheaper from another seller, cleverly showing you how much you can save . It can also save you money by automatically applying the best coupon code available at the checkout.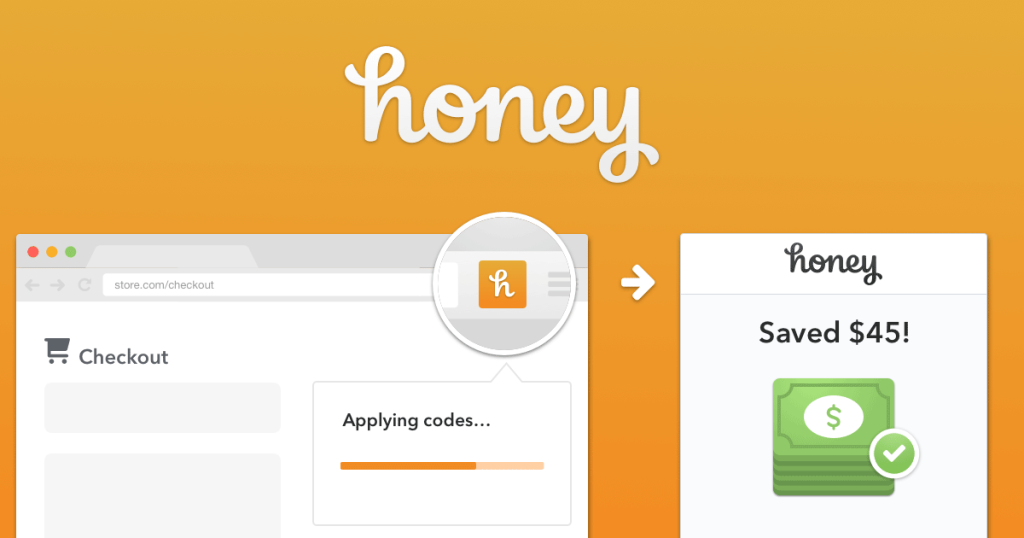 Money saving hacks for online Christmas shopping (cont.)
Suss out the product reviews
Never buy online without checking the product reviews. They provide information on the product/service you are purchasing, as well as feedback on after service sales, delivery and returns. Check reviews are up-to-date because it is the most recent ones that matter. And be vigilant for fake reviews. Use the Fakespot browser extension, which grades reviews in terms of credibility so you know which to take notice of and which to ignore.
Clear your browser history
It is mind-boggling how the internet works, but it definitely feels like Big Brother is watching. If you keep returning to the same product online, you might notice that the price starts to increase. You are seen as a keen buyer and you may end-up paying more. Clear your history so you can't be tracked and you will appear as a new buyer each time. Don't ask for the technical details, but if this happens erase your tracks.
Get daily lightening deals
If you want to know what's on sale before everyone else does, you will love Amazon's Lightening Deals. If you are Amazon Prime member you can see what's going to be on special and choose to 'Watch the deal'. You will then be notified before it actually goes on sale, meaning you won't miss out to another savvier shopper. It's a jungle out there but if you are prepared to play the game, you'll get bargains galore.
Pay the right way
Steer away from using your debit card for online payments as they offer little protection if things go wrong i.e. card details being stolen or a purchase dispute. Most credit cards offer purchase protection up to a certain limit, so make sure you check yours. Using PayPal is a good option as you avoid providing your card details each time you purchase and they offer Buyer Protection. Or alternatively, use just one card for online shopping so your life-savings aren't at risk if the card is compromised.
In need of Christmas gift ideas? Look no further …
25 Gift ideas for young girls (primary school age)
25 Gifts ideas for young boys (primary school age)
24 Gifts for teenage girls that have nothing to do with iPhones
24 Gifts for teenage boys that have nothing to do with gaming
The best gift hampers for delivery in Australia
75+ Brilliant gift ideas for mums
22 Homemade Christmas gift ideas
12 Hilarious Christmas gift ideas for your ex
30 Cute little stocking stuffers for little girls
20 Cool little stocking fillers for little boys
50 Christmas gift ideas for men under $50
10 Beautiful personalised Christmas gifts for kids
Cheap yet life-changing Christmas gift ideas
15 Christmas gift ideas for a newish boyfriend
17 Gift for teachers which they'll actually really like
30+ Subscription boxes to gift friends and family
Next up, here is some inspiration on what to buy:
24 Gifts for teenage boys that have nothing to do with gaming
24 Gifts for teenage girls that have nothing to do with iphones
30 Cool stocking fillers for little boys
30 Cute stocking stuffers for little girls