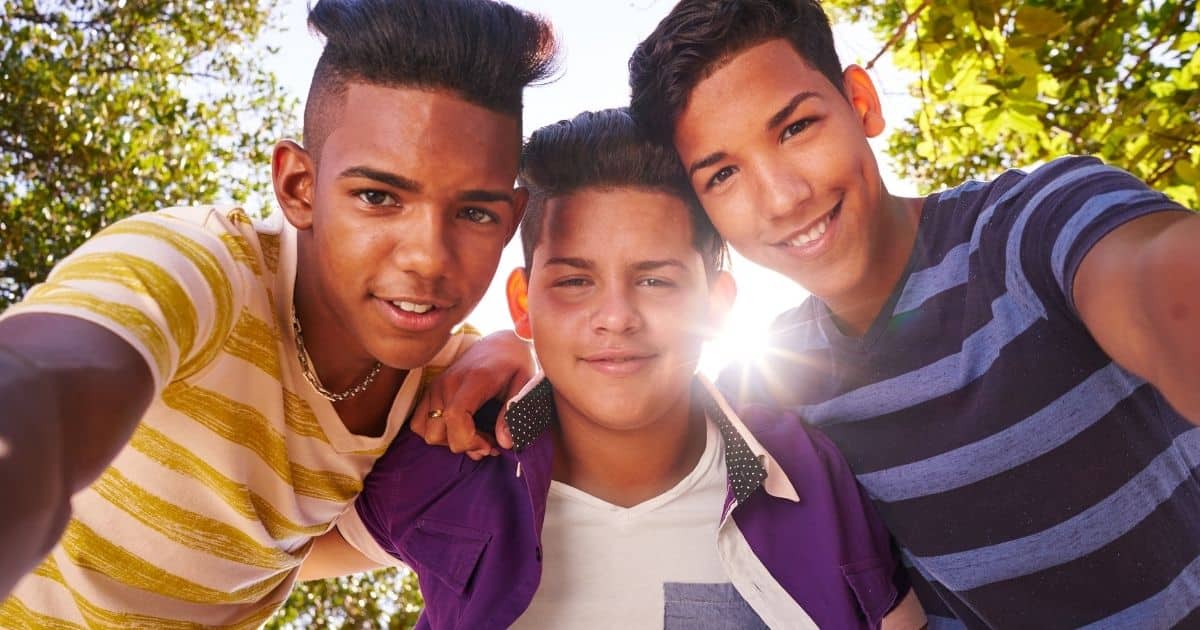 Have you ever sat racking your brains and wondering what on earth to buy for a teenage boy?
Join the club!
We've taken it upon ourselves to find some really cool gifts that teen boys will love.
2023 has brought a digital transformation in the wake of the pandemic so technological gifts are going to be a hit. Yet, we want to get our teenage boys outside and moving so we've included some sports and outdoor equipment. Of course, our teens can always do with a little help to get organised and for this reason there are plenty of practical gift ideas too.
Whatever they're into, this list of gift ideas for teenage boys will give you some much needed inspiration … and may even earn you a hug.
Or, if you have a teenage girl to buy for try: 24 Gifts for teenage girls that have nothing to do with iphones.
Pop Up Tent
First on our list of gifts for teenage boys is an awesome pop-up tent for him and his buddies. It can fit three people comfortably and is super easy to set up.
Available at: Big W
Vitamins for teen boys
Boost your teen's immunity with a vitamin supplement to help him stay on top his game everyday. Make sure he is well-equipped to tackle these challenging teenage years.
Available at: iHerb
Funny Toilet Book
Don't let your teen waste time on the loo while they poo. Give them a copy of this book so they'll never run out of things to do.
Available at: Booktopia
Night Light
Give your Star Wars fan a super cool colour-changing nightlight that will geek up their bedroom. Choose from 3 iconic scenes: Death Star, Millenium Falcon, or R2D2.
Available at: Fantastic Furniture
Basketball Stand
This freestanding basketball stand with an adjustable pole is all about convenience. Your teen can now practice his shots anywhere in your own home.
Available at: Big W
Wallet
You can't go wrong buying a teen boy a place to stash his cash. The cooler the wallet, the better. Think of popular brands like Quicksilver, Nike and Billabong.
Available at: City Beach
Personalised Keyring
A key holder this stylish will instantly turn your teen into a responsible adult. Or not, but hopefully he never loses his keys again.
Available at: Gifts Australia
Beanie
For winter and cooler evenings, teens boys love to keep themselves warm with a stylish beanie. Don't go too expensive as they are easily lost!
Available at: Surf Dive n Ski
Gifts ideas for teenage boys (cont.)
Punching Bag
We love punching bag kits that come complete with gloves and removable chains. Great for teens who are into martial arts, boxing or general fitness training.
Available at: Light in the Box
Air Pods
Our list of gift ideas for teenage boys won't be complete without air pods. Get this trendy pair as a backup or replacement for their iPhone pods.
Available at: Kogan
Festival Survival Kit
Absolute genius! This festival survival kit comes with a bottle opener and torch combo, spork, earplugs and waterproof poncho. Your teen will be super-ready for their next fest.
Available at: Kogan
Electric razor
Now your teen can shave like a man. Make sure he has the right tool for the job by gifting him a good quality electric razor.
Available at: Shaver Shop
Wireless Bluetooth Speaker
Get the party started anywhere with this stylish bluetooth speaker. Comes with manual voice control and 360-degre stereo surround sound.
Available at: Dick Smith
More gift ideas for teenage boys
Grooming Kit
They might not want to admit it but even teen boys like to look after their skin. Save them the embarrassment of buying it themselves with a kit containing everything they need.
Available at: Big W
Gaming Chair
A gaming chair that lights up? With headrest speakers in 2.0 stereo sound? And it's a rocker? Your teen will absolutely love this. The perfect chair to take gaming to the next level.
Available at: Big W
Lava Lamp
You can't go wrong with a traditional lava lamp and we're sure your teen boy will love it too. It adds instant style to any room.
Available at: Catch
A thrill experience
Give your teen the gift of adventure. What teenage boy wouldn't want to fly a plane, experience a helicopter ride or do a skydive. Bragging rights for years to come!
Available at: Thrill Experiences
Gifts ideas for teenage boys (cont.)
Toy Car Building Set
Just because he's a teen now doesn't mean he has to let go of his love for toy cars. Support his hobbies while also helping him develop creative thinking and problem solving skills with a Lego set.
Available at: Lego
Digital Watch
Every teen needs a digital watch that's made for adventure. We particularly like this rugged and basic watch from Fila that has a stopwatch and is water resistant up to 50m.
Available at: Big W
Spud Gun
A potato zapper gun completes our list of gifts for teenage boys. This a great alternative to the Super Soaker as it shoots both water and potato pellets to dominate enemies in a spud war.
Available at: Yellow Octopus
Tackle Box
Teens who love fishing need their very own tackle box. The Jarvis Walker kit contains 125 pieces, including hooks, lures, and swivels designed to catch flathead.
Available at: Big W
Our final pick of gift ideas for teenage boys
Remote Control Drone
Looking for a drone for your teenager? We love this beginner-friendly rig that has a 4K camera, WiFi connectivity, and easy-to-use controls.
Available at: My Deal
Duffel Bag
A sporty bag that's spacious and stylish is a must for active teens who travel. We like this one from Nike that has heaps of pockets for easy organisation. And it's made from 665% recycled material.
Available at: City Beach
New Beddings
Instantly upgrade your teen's room with this a cool bedding set, like this gamer controller quilt cover set. Choose a colourful design does not fade easily and the microfiber material is super soft to the touch.
Available at: My Deal
Final words: Gift ideas for teenage boys
In the quest to find the perfect gifts for teenage boys, we've embarked on a journey filled with creativity and practicality. The year 2023 has brought about a digital revolution, and our list reflects this with technological marvels like Air Pods, Bluetooth speakers, and digital watches. But we also recognize the importance of balance, encouraging outdoor activities with items like pop-up tents, basketball stands, and tackle boxes.
Teens are often in need of some organisation, and our selection of wallets, grooming kits, and duffel bags serves as a nod to their growing responsibilities. We even offer a touch of nostalgia with a traditional lava lamp that can add flair to their rooms.
Furthermore, we've explored the world of experiences, allowing you to gift them adventures and bragging rights they'll cherish for years. From flying a plane to skydiving, the possibilities are endless.
In the end, this diverse list of gifts for teenage boys is not just about the items themselves, but the thought and care you put into choosing something that resonates with their unique interests and passions.
So, whether it's a digital gadget, sports equipment, or an exciting experience, these gifts are sure to earn you a grateful smile, or even that elusive teenage hug.