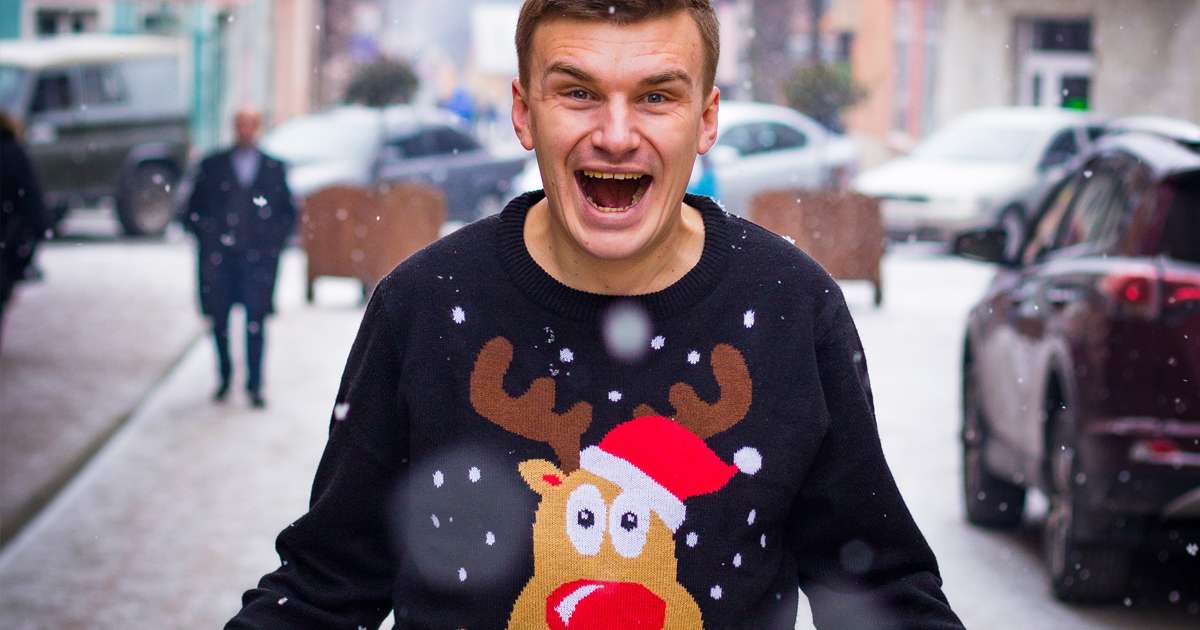 Christmas 2023 is looming and as usual the men in our lives leave us digging-deep for what to give them. There has to be something fun or functional which fits their personality and will make them smile this Christmas. I find myself racking my brains every year. Whether it's the kid's dad, your own dad, brother, uncle, friend, boyfriend here is my list of Christmas gift ideas for men for under $50.
50 Christmas gift ideas for men for under $50
1. Leather Keyring
I have a guy best friend who is known for losing his keys. This personalised monogram keyring would be perfect for him as it clips to the belt loop of his pants … and it has his name on it if he still loses them.
Available at: Gifts Australia
2. Save the Bees Pollination Kit
The perfect gift for the eco-conscious green thumbed male. This kit includes paper cups, coffee compost, and sachets of borage and alyssum flower seeds.
Available at: Flora & Fauna
3. Safe Box Piggy Bank
Store his valuables in the unlikeliest place … a book! I recommend something like this one with both a password and key for extra protection.
Available at: Ali Express
4. Camping Chair
When in doubt, I buy a guy a camping chair! Extra points if it has a drink holder and leg rest.
Available at: Big W
5. Custom BBQ Branding Iron with Interchangeable Letters
Literally every man I know loves steak and loves to BBQ making this branding iron a great gift idea. Name your steak and never end up with rare when you asked for well-done. Or play a joke with a funny message .. with 52 interchangeable letters the skies the limit for your steak-filled fun.
Available at: Yellow Octopus
6. Steak Knives Set
More and more of my man friends and family members like to cook, so a set of steak knives will always be a welcome gift. This set is made from high-quality stainless steel for durability.
Available at: Gifts Australia
7. Stunt Quadcopter
Do you know a guy who is still a kid at heart? Hours of fun guaranteed with this stunt quadcopter.
Available at: Kmart
8. A Game of Thrones, A Song of Fire and Ice Series: Book 1
He's seen the series (several times) but still not had enough? How about giving him the book? They say the read is always better than the screen.
Available at: Booktopia
9. Portable Bluetooth Speaker
Get the outdoor party started with a waterproof portable speaker from JVC. This one has a microphone too if your dad/brother/uncle/son/mate likes to perform after a few beers!
Available at: Big W
10. Personalised Face Socks
A man can't have enough socks. Give him a little something different with these personalised ones with his face on them! I got these for a mate a couple of years ago and he still wears them.
Available at: Etsy
Christmas gift ideas for men for under $50 (cont.)
11. Shower Beer Holder
Scrub. Sip. Sigh. This handy beer holder will grip to any shower surface including tiles, glass and even mirrors. Shower and beer … the ideal combination, and a brilliant choice on our list of Christmas gift ideas for men.
Available at: Yellow Octopus
12. Knit Jumper
Gotta love a Christmas jumper! They make a brilliant part-practical, part-joke Christmas gift for men.
Available at: Asos
13. Engraved Leather Wallet
If you're buying for a man whose wallet is on it's last legs, this little gem will make a great replacement. Made from faux leather, it's the quintessential gift idea for men.
Available at: Etsy
14. Wooden Watch and Sunglasses
Christmas gift ideas for men just got stylish. This box contains a watch and pair of sunglasses made out of … you'll never guess … wood! Great for the environmentally conscience man. Manly jewellery is a great gift for your boyfriend.
Available at: Ali Express
15. Bluetooth Speaker and Alarm Clock
A radio, bluetooth speaker and alarm clock rolled into one and finished off in a fabulous vintage style. Unique design, crystal clear sound and portable. I already have this gift marked for my brother this year.
Available at: Amazon Australia
16. Magazine Subscription
This holiday season, give your man the gift of a magazine subscription. Grab yours now on iSubscribe and get up to 73% off on top selling magazines.
Available at: iSubscribe
17. Australian Craft Beer Mixed 6 Pack
If the man you are buying for is a beer connoisseur, you can't go far wrong with this craft beer tasting pack. With a selection of beers from Australian breweries, it's a great opportunity veer off VB and try something different.
Available at: Beer Cartel
18. It's Cookie Time
Does the man in your life have a sweet tooth? If so, he will love you forever if you gift him this giant chocolate cookie from Dessert Boxes. It comes with a personalised message. I'll send this to my nephew who lives interstate.
Available at: Dessert Boxes
19. Pornburger: Hot Buns and Juicy Beef Cakes Cookbook
Not for the health conscience, this book is packed with mouthwatering photos and 80 delicious burger and burger-related recipes – pretty much every kind imaginable. A fun, useful and cheeky book. Perfect for a boyfriend … if I had one!
Available at: Booktopia
20. Mad Millie 15-minute Sourdought Kit
This is actually so cool, in every way. Your man can make his very own delicious sourdough in just 15 minutes with Mad Millie's kit.
Available at: My Deal
Christmas gift for dad (cont.)
21. Bacon Air Freshener
Come on! Our list of Christmas gifts for men just gets better and better … as we bring to you this fabulous bacon air freshener which is sure to delight any man on Christmas morning.
Available at: Kogan
22. Funny Dad Socks
Another joke and more socks but don't all men love these two things? Eco-friendly and made of cotton blend that fits sock sizes 10-13.
Available at: Etsy
23. Levi's Batwing Tee
A brand tshirt is my go-to gift when buying gifts for the men in my life.Brand labels are usually super-expensive, but not in this case. This trendy batwing Levi's t-shirt comes in at brilliant price.
Available at: Myer
24. Australia's Most Unbelievable True Stories
This book will provide plenty of subject matter to impress friends and family. From the unknown, the forgotten and the very, very surprising, these unbelievable yarns are sure to impress.
Available at: Booktopia
25. Swim Shorts
Shorts make a good gift if the guy you are buying for is on holiday at Christmas or lives in a hot climate These swim volleys are just perfect with their tropical print, above the knee length and drawstring waistline.
Stockist: Best & Less
26. Oyster Mushroom Grow Kit
If the man in question fancies himself as a bit of a green-fingered wiz he'll love this brilliant kit to grow his own mushrooms in just 10-15 days. Go on … give him his hunter/gatherer moment.
Available at: Yellow Octopus
27. Cards Against Humanity AU Edition
Addictive, hilarious, inappropriate and nasty in a kinda funny way, this Cards Against Humanity game has an Aussie twist and will keep him and friends entertained for hours.
Available at: Yellow Octopus
28. Barbecue Tool Set
Another excellent gift for the man who loves his outdoor cooking: a 10-piece barbecue tool set made of stainless steel.
Available at: Temple & Webster
29. The Very Embarrassung Book of Dad Jokes
Ah, the good old Dad jokes. All the more funny because they're not very funny. But that doesn't matter, they still make us laugh. If you're buying for your dad, make sure he never runs out of material to entertain with this handy joke-filled book.
Available at: Booktopia
30. Boganology Booze Bus
Does he love drinking games? Give him this Boganology Booze Bus board game so he and his friends can drink their way to the win.
Available at: OZ Sale
Christmas present ideas for him (cont.)
31. Head Shiatsu Massager
No need to book a spa visit when you have this little baby at home. The heated shiatsu massager is helps soothes achy muscles and relieve tension. And yes, it comes in at under $50.
Available at: Kogan
32. Gift Card
When you can't think of a gift, or your man is just difficult to buy for, try an adventurer gift card. Perfect for men who love the outdoors.
Available at: Special
33. Thermos
Keep his drinks cool or piping hot, whatever the weather. This insulated food jar is right size for a meal, with a wide mouth that's easy to fill. I like this particular one as the insulation is high quality.
Available at: Big W
34. Mad Millie Make Your Own Cheese Kit
This is a brilliant first-time cheese-making kit for anyone looking to try their hand at something a bit different in the kitchen. Gives a special 'man-twist' to home-made pizzas. This is one of our favourites on our list of Christmas gift ideas for men for under $50.
Available at: Yellow Octopus
35. The Aussie BBQ Bible
We all know how much any man loves a BBQ. With over 100 delish recipes, this book will encourage him to lift his game and produce some dishes he can really get his teeth into.
Available at: Amazon Australia
36. Pizza Boss Pizza Wheel
Your man will slice pizza like a beast with this pizza wheel masquerading as a circular saw. Great for entertaining guests at parties and a bit of fun too.
Available at: Amazon
37. Cheer and Beer Hamper
Since most of my family live overseas, hampers are saviours when it come to Christmas and birthdays. You can chose from lots of themes but the men in my family usually like the boozy ones best. They can get expensive but there is good choice for under $50.
Available at: Macarthur Baskets
38. Reusable Cup
No man can live without a sturdy, reliable travel cup. This one lets him enjoy hot drinks in style while saving the environment.
Available at: Yeti
39. I'm Off for a Poo Mug
How can your man possibly feel down in the dumps when he gets to drink his coffee in this mug every morning?
Available at: Etsy
40. Noise Cancelling Wireless Headphones
I bought my dad some noise cancelling headphones last year and he uses them every single night! They don't have to be super pricey. I found these for under $50. Win.
Available at: BigW
Christmas gift ideas for men for under $50 (cont.)
41. Dart Gift Set
For the man who loves darts, this gift set makes a brilliant Christmas gift. A bullseye when it comes to presents for men.
Available at: Etsy
42. Bluetooth Water Bottle Speaker
A water bottle with a built-in bluetooth speaker? It's what your techie guy wants for Christmas, trust us.
Available at: Temple & Webster
43. Beer Caddy with Bottle Opener
I got this beer caddy as a gift for my young girls to give their dad last Christmas, complete with six of his favourite beers.
Available at: Yellow Octopus
44. Cleanse and Protect Set
Men might pretend they don't care about their skin but they secretly do! Save them the embarrassment of having to buy their own skin care regime by getting it for them. Great for the many metrosexual men amongst us.
Available at: Chemist Warehouse
45. Uggs
All men need a nice, comfy pair of Uggs to soothe their weary feet. These are made from ultra-soft sheepskin wool with an EVA sole.
Available at: The Ugg Shop
46. Smartwatch Tracker
Help your man reach his fitness goals with a smartwatch tracker that monitors sleep, heart rate, blood pressure, and more. Some models come in at under $50 and have great reviews, like the one below.
Available at: MyDeal
47. Wall-mounted Ring Toss
We had one of these when I was with my ex and it was great entertainment when friends came over. A great Christmas gift idea for men who are competitive.
Available at: Yellow Octopus
48. BBQ Wood Chip Smoker Box
Take BBQing to the next level with this simple yet effective wood chip smoker box. And so easy too: Simply fill with wood chips and place on the BBQ. Dishwasher safe and beautifully gift boxed.

Available at: Yellow Octopus
49. Sun Hat
Shield his precious head from the heat of the sun with a classic straw hat that's made for outdoor fun.
Available at: Best & Less
50. Backpack
A sporty and stylish backpack that can fit everything, from his laptop to a water bottle, is a brilliant present for the man in your life.
Available at: City Beach