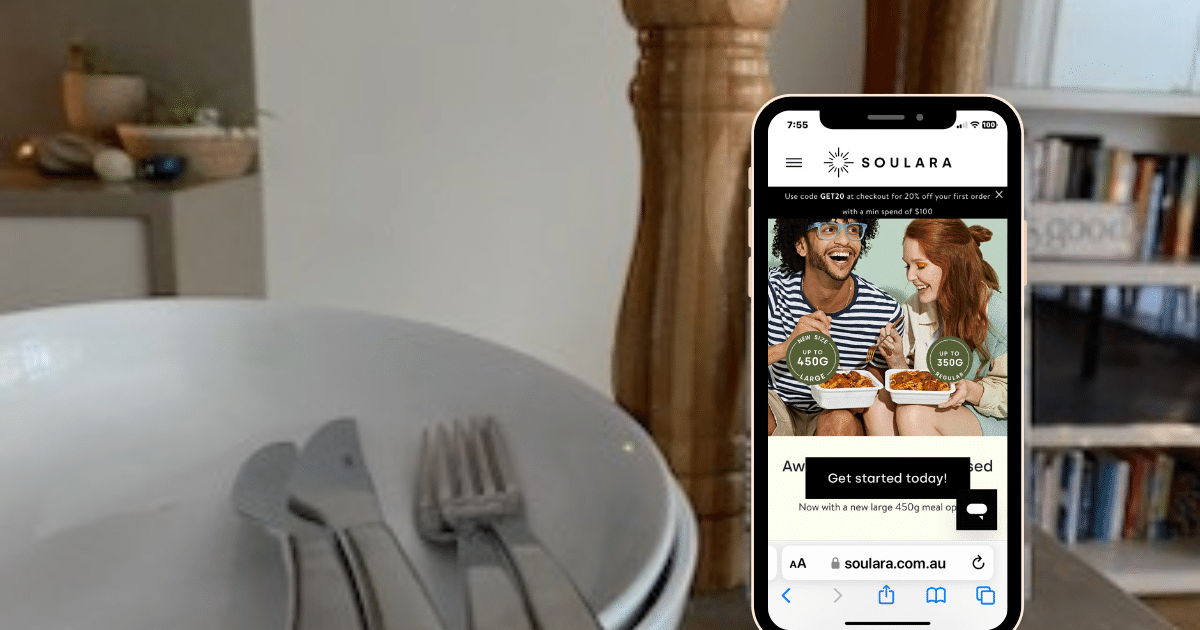 I am a lover of healthy, plant-based food so was very excited to do a Soulara review.
Soulara has been popping up in my online space regularly and each time I see a meal, I think "ooh that's a bit of me". It's exactly the kind of food I love to eat. I guess if you are reading this review, you like plant-based, healthy food too.
However, the big question is: Do the Soulara meals look and taste as good as they do in the pictures?"
Of course, as a consumer, you will have lots of other questions as well. Such as how easy is it too order, are the meals worth the money, and so much more.
That's what this Soulara review is all about. I'm going to take you through my experience of purchasing, re-heating and eating Soloura meals so you can decide whether it's the right meal delivery service for you, or not.
Current special
There is always a special available for Soulara. If there isn't one, wait a day or two … don't pay full price.
The current offer is: Save $100 over your first 4 orders.
A bit about Soulara
Soulara is a plant-based meal delivery service that offers ready-to-eat meals that are nutritious, delicious, and sustainable.
Soulara's meals are created by chefs and nutritionists, and are made with whole food ingredients free from artificial preservatives, colour and flavours. The meals are also gluten- and dairy-free, making them suitable for different dietary needs and preferences.
Customers can choose from various meal plans, including high protein, calorie-controlled and low-carb options, and customise their orders to suit their taste preferences. Soulara's meals are delivered directly to customers' doors weekly, making it easy and convenient to eat healthy, sustainable, plant-based meals.
Signing up with Soulara
Ordering with Soulara is as easy as pie (of course, a nice healthy, plant-based pie).
After the standard sign-up and password creation, you go seamlessly onto placing an order.
Regular or large meals
The first question you will be asked, which I love, is whether you would regular or large meals. Thank you Soulara for acknowledging that standard ready meals are not enough to satisfy most appetites.
To clarify:
I, for one, jumped at the chance of large meals and I can tell you that the 100g extra makes all the difference. Being greedy, not only did I order large but I bought a heap of salad and fresh vegetables to add to my meals to ensure they satisfied my hunger. I needn't have bothered! They really are more than enough as a stand alone, even when, like me, you have a huge appetite.
Plans and prices (Soulara review 2023)
If you are undecided as to whether to order regular or large, Soulara makes it easy to flip between the two size plans to see what you can get for your money. Obviously, if you order regular sized meals, you will get more meals for your money. If cash is tight, consider the regular meals which you can top up with veg or salad.
As at May 2023 here are the options:
Regular price plans
Large price plans
Once you've picked your meals you'll be taken to the "Extras" section where, at an additional cost, you can add kombucha and/or bliss balls to your order.
The Soulara referral program
In addition to that, they have a special called Give $30 Get $30 which is a basic referral program. Refer a mate and when they order they receive $30 off their order and you will get a $30 credit to put towards your next order.
Yes, you can use both specials. So, for maximum financial benefit, use code 120SOULARA at checkout for $120 off your first six orders, then refer a friend for $30 off your next. Win/win
Meal choice
Now comes the fun part: Looking at the delicious food photos and deciding what to order.
You can rest assured that everything you order from Soulara is free from animals parts, phew.
To help you decide, meals are categorised like this:
High protein
Radiance
Gut health
Calories controlled
Everything is what I would consider a full dinner meal. In addition, there are three breakfast dishes such as Ruby Sunrise Chia Pudding, which I would (and did) eat for dessert.
Delivery
What can I say? I couldn't be easier.
This is how it worked:
I received reminder text the day before delivery
I received a text on the day confirming the approximate delivery time
The box was delivered and left in a safe place during the allocated time-frame
I received a text to inform me that the delivery had been made
Packaging
I was delighted when I opened the box as the meals were tightly packed and had all remained upright. This is really important with ready meals. If they are sideways or upside down, it can ruin the appearance of the meal, turning it from something yummy and enticing to an unidentifiable mess.
There were three large, solid ice packs. My delivery sat outside in 24 degrees celsius for nearly three-hours. I am not sure how well it would have faired if left out longer during the summer. At least everything is meat-free so that elevates worry about E. coli and Salmonella.
Note: A lot of the Soulara meals contain cooked rice which has the bacteria Bacillus Cereus – this can produce vomit-inducing toxins if left between 5 and 60 degrees celsius for a long time. So get your meals out of the box and into the fridge as soon as possible.
Taste testing
Having received 18 meals, I won't provide details on all. Instead, have picked a few different ones to talk about in this article.
Thai style tofu
As I rule, I always review the very first meal I try to ensure non-bias opinions (it's easy pick and talk about the best meals!).
I was impressed.
The Thai Style Tofu is a generous helping of deliciously spiced quinoa with green beans, broccoli and tofu. There must have been about 250g of tofu which made the dish super filling. While the green beans were slightly overcooked, the broccoli was perfect – still intact with a bit of crunch. And the flavour was spot on with a hit of chilli, lemongrass and garlic mellowed out with coconut milk.
This first dish has me excited as I still have lots more left in the fridge to try.
BBQ Black Bean Casserole
Soulara meals understandably feature a lot of tofu and other meat substitutes. Personally, I like to make up my protein with beans and pulses. For this reason, I was keen to try the BBQ Black Bean casserole.
My heart sank when I took it out of the microwave as the potatoes looked floury and dry (nothing worse), but they weren't … they were waxy and very flavoursome. Lots of garlic and rosemary in this classic comfort dish.
I was surprised that it contained pearl couscous which I am not a fan of. As a main ingredient, it should have featured on the title of the dish. And couscous alongside beans and potatoes makes for a very heavy dinner, especially when you order large, as I had.
Overall, it was crazy-filling and surprisingly tasty. I left the couscous, thoroughly enjoyed the rest and was still full to the brim!
Mindful Moussaka
A great name for a veggie dish but not one of my favs when doing my Soulara review
A nice helping (large of course!), lots of perfectly cooked vegetables (a bit of bite) but, although very flavoursome, it wasn't a flavour I was keen on. It was tasted slightly sweet. Having checked out the ingredients list, it was the addition of palm sugar and cinnamon. I am sure some people would love it, but I prefer my savoury food to be just that … savoury. Personal choice.
Not to say I didn't eat it all! Like the other large portions, it was more than enough. Plenty of vegetables, although more eggplant would be nice since it's the star of the show with moussaka. And chickpeas too which added some texture and made it all the more filling.
Ruby Sunrise Chia Pudding
Omg to this gem from Soulara.
I am a dab-hand at chia puds so wasn't expecting the Ruby Sunrise Chia Pudding to meet my high homemade expectations. And, I have to say, it doesn't look great in the container.
You'll see from the photo that I had took the pudding out and decanted it into a nice heart-shaped dish, topped with the coconut yoghurt and seed topping provided. I then devoured it in front front the TV. Dee-licious!
Perfect consistency and creaminess, full raspberry flavour and sooo much of it. I couldn't eat it all … which is saying something! But stored the rest in an air-tight contain for brekkie the following day.
Impressed!
Customer service
Since my order and delivery was super-smooth and I was happy with my order, I had no reason to contact the Soulara customer service. I looked through the many (4.8+ star) Soulara reviews and saw only good things about it though.
There is a comprehensive FAQ section on the website and a direct email address, which I prefer over an untraceable-once-sent contact form.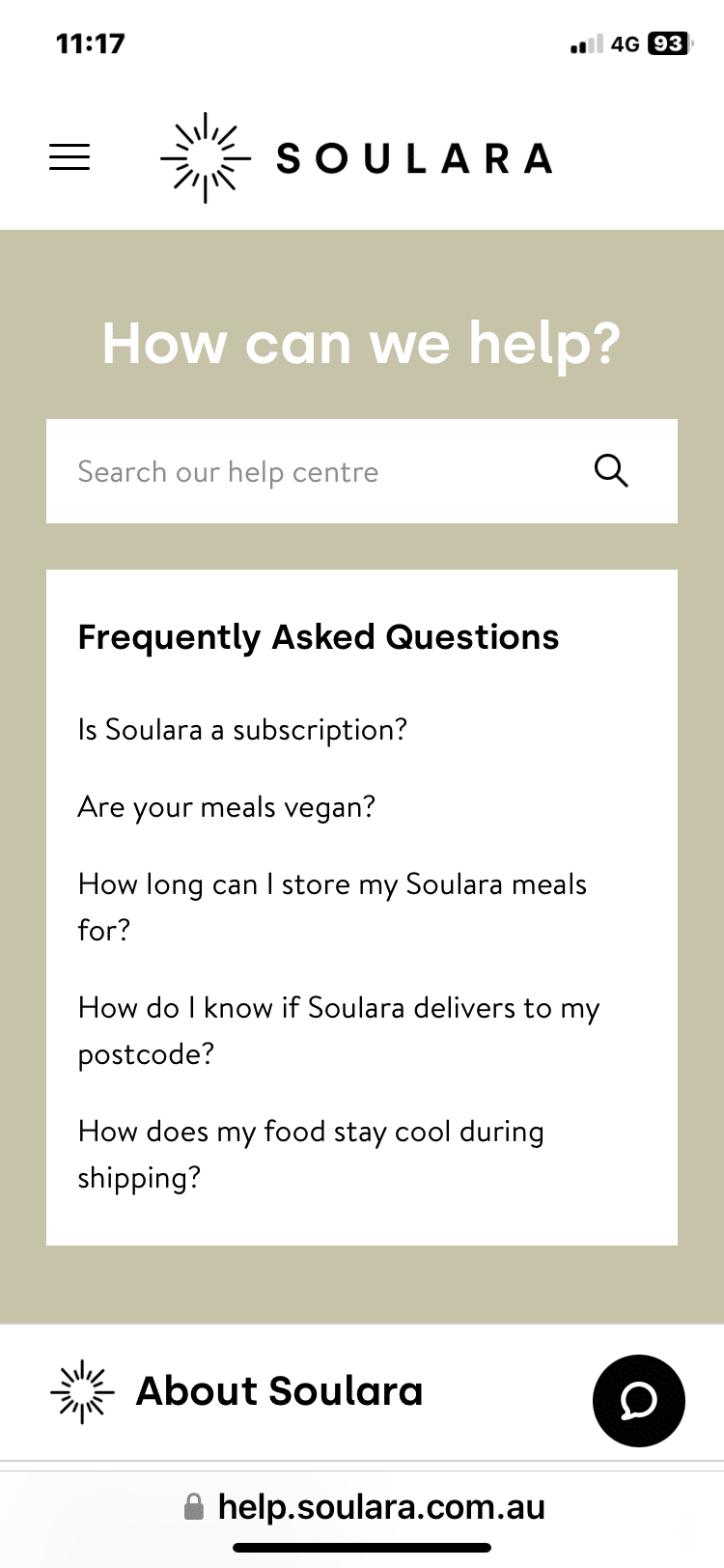 Soulara review: Pros and cons
Pros
It's wonderful to have a menu based entirely around plant-based foods, no more narrowing down the menu to limited vegetarian options
I like the way meals are further categorised allowing me to choose between meals that are calorie-controlled or high in protein etc.
Absolutely love the larger portions which I have never seen in a ready meal delivery service before
The packaging for Soulara is 100% recyclable, so important and a deciding factor when ordering packaged meals
Overall the meals are super tasty, beautifully flavoured and well-cooked … not an overcooked vegetable in sight
A great price with excellent value for money
Cons
The packaging looks great but I can't read the instructions or ingredients unless wearing my glasses and standing in the sun
It would be good to have a few more breakfast and dessert choices
Some of the dishes weren't to my taste and others were a little bland, I will order with more care next time based on my experience with this order
Although the packing is 100% recyclable, I still worry about so much waste with each meal
Is Soulara worth the money?
Having completed my Soulara review, there is a lot I like about Soulara, but top of the list is value for money. I base this on ordering the large portions which were more than enough for every meal, meaning there was no need to supplement with more food/cost.
Out of all the ready meal delivery services I have tried (even with meat) these are the most filling so you definitely get your monies-worth.
Would I recommend Soulara to a friend?
Soulara was recommended to me by a friend, and then it kept coming up in my online feed (how does that happen?). This is the reason I gave Soulara a go.
To all my veggies friends, I would definitely recommend Soulara. I might even try and convert some meat-eating friends as it's a great way to discover the diversity of vegetarian food without having to cook it yourself.
It's worth noting that Soulara has 1200+ 4.8 star reviews on Product Review at the time of writing, so I am not the only one who is impressed.
I hope you have enjoyed and got use from my Soulara review.