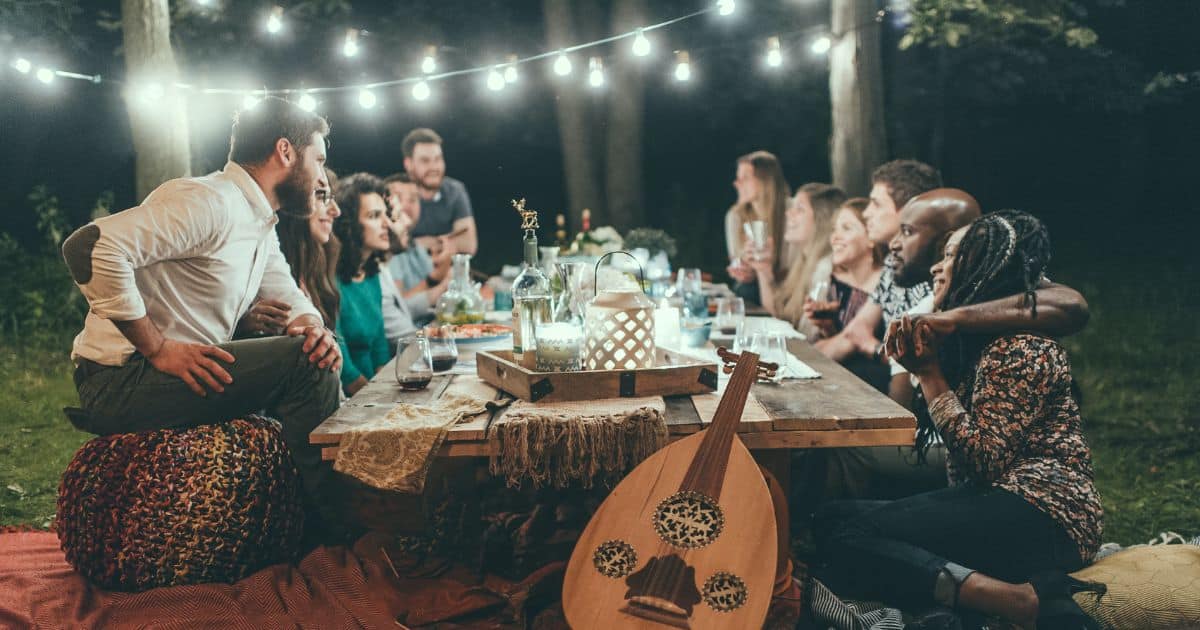 Outdoor celebrations are a great way to bond with loved ones and make memorable memories. Outdoor lighting is one of the most effective design components you can use if you want to completely enhance your outdoor party.
The correct lighting can turn your outside area into a spectacular and unique environment, whether you're throwing a birthday party, a wedding reception, or a simple summer barbecue.
This post will examine eight original outdoor lighting concepts that can help you pull off the ideal party and astound your visitors.
Fairy Lights Extravaganza
Fairy lights are a classic option that will quickly give your outdoor celebration a magical touch. They produce an enchanting garden scene when entwined with rich flora like ivy or hanging vines.
To add to the romantic ambiance of a boho-themed party, picture these tiny lights embellishing a rustic wooden arch. To evoke the atmosphere of fireflies on a warm summer night, hang them from trees, fences, or above.
To transfer your guests to a bygone era, pair them with vintage-inspired décor like lace tablecloths and antique tea sets for a delightful outdoor party.
Lanterns and Candlelit Pathways
Use lanterns and illuminated walkways to direct guests around your outdoor space; this design decision produces a feeling of enduring romance and charm.
These lanterns provide the ideal entry for a fairytale-themed wedding when they are placed along a garden walk since they give off a welcoming vibe. To create a warm and inviting ambiance, scatter lanterns throughout stairways, tables, and pathways.
For a shabby chic outdoor party, combine them with vintage-inspired furnishings like elaborate wrought-iron tables and lace-draped chairs.
For a risk-free alternative that still offers a warm glow, think about using flameless candles. They're perfect for small gatherings when you want to preserve a worry-free, peaceful atmosphere. Outdoor solar lights for pathways offered by Hoselink are ideal for any of the aforementioned ideas.
Twinkling Canopy of Stars
Hang light strings above your outdoor seating area to simulate a starry night sky for a heavenly vibe.
This lovely lighting option provides a setting that's ideal for a celestial-themed event, like a stargazing party or a romantic outdoor wedding. Your event will have a little bit of enchantment and fun thanks to this starry canopy.
For a unified and magical atmosphere, combine it with celestial decor such as moon and star-shaped centrepieces, celestial-themed table linens, and constellation-inspired seating charts.
The backyard will be transformed into a private, starlit sanctuary where you can spend time together beneath the "starry" canopy with the help of these lights, which are also perfect for a romantic date night setting.
Mason Jar Lanterns for outdoor lighting
An inventive DIY lighting option that adds rustic warmth to your outdoor event is to place tea lights inside mason jars to transform them into attractive lanterns.
A rural or farm-themed event goes well with this rustic ambiance. For a warm, homey atmosphere that perfectly accentuates outdoor settings, hang them from tree branches or lay them on tables. For a dreamy rural gathering, pair these mason jar lanterns with wooden farm tables, burlap table runners, and wildflower centrepieces.
Alternately, use them to create a classy yet comfortable environment at a vintage outdoor party with antique lace decorations and pastel-coloured tablecloths.
Colorful LED Uplighting
Utilise LED uplighting in a variety of colours to create a colourful and energetic ambiance. This contemporary and adaptable lighting option may turn your outdoor area into a visually spectacular show.
Whether you're throwing a raucous summer fiesta or a classy cocktail party, LED uplighting may be customised to fit the theme or atmosphere of your event.
For a dramatic impact, illuminate trees, buildings, or architectural details with these adaptable lights. For a trendy urban ambiance, pair them with modern, streamlined furniture and metallic accessories.
Use vibrant LED uplighting to highlight tiki torches and palm tree decorations for a tropical luau to enhance the seaside ambiance.
Edison Bulbs and Vintage Chic
With Edison lights, you may embrace a retro and industrial look that skillfully combines nostalgia and modern beauty.
These lights may provide a variety of outdoor settings with a feeling of personality and charm. Imagine them hanging in groups over long, wooden farm tables with burlap runners and wildflower arrangements to embellish a small outdoor party with a rustic-chic feel.
On the other hand, if you want to create a sophisticated urban party, combine Edison bulbs with modern furniture and dark, somber colour schemes. The end product is a chic, loft-style industrial environment that exudes refinement and urban attractiveness.
Whatever the occasion, Edison bulbs provide a distinctive combination of vintage allure and contemporary sophistication, transforming your outdoor party into a once-in-a-lifetime event.
Projection-Mapping and Visual Effects
Consider projection mapping to project captivating images on walls, trees, or even the ground for a high-tech, futuristic touch.
Your outdoor event may be enhanced by this cutting-edge technology to a level of visual enchantment. Utilise metallic and chrome accents in your décor to give it a sci-fi or futuristic feel. Visualise metallic dinnerware, streamlined contemporary furnishings, and LED-lit walkways.
Alternately, you might employ projection mapping to turn trees into enchanting woodlands or provide a magnificent castle background for a whimsical fairytale theme.
Your outdoor event may become a really immersive and unique experience by allowing you to take your visitors to a whole new realm of visual enjoyment.
Fire Pits and Warmth
Last but not least, keep in mind the usefulness of warmth and comfort. Your outdoor gathering will have a warm, flickering glow thanks to the addition of a fire pit. This crucial component makes your party an adaptable addition by enhancing numerous outside settings. At an autumn harvest celebration, incorporate fire pits with wooden seats, tartan blankets, and cups of hot chocolate for a rustic and warm atmosphere.
Alternately, to create the atmosphere of a beach bonfire, surround the fire pit with vibrant beach chairs, tiki torches, and a bar made of sandcastles. The focal point of any outdoor event should be a fire pit since it promote close interaction and a relaxing atmosphere that makes everyone feel at home beneath the stars.
Your event will certainly have an amazing ambiance if you use these outdoor lighting suggestions, and your guests will be talking about it for years to come. Therefore, the appropriate lighting may make all the difference in transforming your outdoor party into a genuinely wonderful event, whether you're going for a romantic, whimsical, or vibrant vibe.
Further reading: How to host a great backyard birthday party.