Welcome to our electric drill buying guide for Australia!
Whether you're a DIY enthusiast or have never owned a drill before, a electric drill is an essential tool for tackling a variety of projects around the home and garden. But with so many options on the market, it can be overwhelming to choose the right cordless drill for your needs.
That's where we come in. In this article, we'll provide you with all the information you need to make an informed purchase, from the different types of electric drills available, drill attachments and the features you should look for. We'll also highlight some of the top electric drills currently available in Australia, so you can find the perfect tool for your next project.
Whether you're drilling into wood, metal, or masonry, we've got you covered. So let's dive into the world of electric drills and find the right one for you.
Related read: Beginners DIY: 6 Tips if you're new to home improvement.
DIFFERENT TYPES OF ELECTRIC DRILLS
Drill/Driver
The most common type of electric drill, a drill/driver is a versatile tool that can be used for drilling holes and driving screws. It typically has a chuck that can accept a variety of drill bits and screwdriver bits.
Hammer Drill
A hammer drill is designed for drilling into tough materials like concrete and masonry. It has a special hammering mechanism that delivers rapid, short bursts of force to the drill bit, allowing it to break through hard surfaces.
Impact Driver
An impact driver is a powerful tool that's designed specifically for driving screws and bolts. It uses a combination of rotational force and concussive blows to drive screws quickly and efficiently.
Right Angle Drill
A right angle drill is a compact, versatile tool that's perfect for working in tight spaces. Its head is angled 90 degrees, allowing you to drill or drive screws in areas that are hard to reach with a traditional drill/driver.
Rotary Hammer Drill
A rotary hammer drill is a heavy-duty tool that's designed for drilling into hard surfaces like concrete and stone. It uses a piston mechanism to deliver a powerful, hammering action that can quickly break through tough materials.
Drill Press
A drill press is a stationary tool that's used for precision drilling. It's typically used in woodworking and metalworking applications, and it allows you to drill holes at exact angles and depths.
FEATURES TO CONSIDER WHEN BUYING A electric DRILL
Battery
Look for an electric drill with a battery that has a long run time and a quick charging time. Lithium-ion batteries are a popular choice for cordless drills because they are lightweight, long-lasting, and recharge quickly.
Chuck
The chuck is the part of the drill that holds the drill bit. Look for a drill with a chuck that's easy to change and adjust. Keyless chucks are a popular option because they allow you to change bits quickly and easily.
Speed
Most electric drills have adjustable speed settings, which can be useful for different types of projects. Look for a drill with a variable speed motor that allows you to control the speed from low to high.
Torque
Torque refers to the twisting force that a drill can generate. Look for an electric drill with a high torque rating, especially if you'll be working with tough materials like hardwood or metal.
Comfort
Look for a drill with a comfortable grip that's easy to hold for extended periods of time. Some drills also have features like rubberized grips or ergonomic designs that can help reduce hand fatigue.
Size and Weight
Consider the size and weight of the drill, especially if you'll be using it for extended periods of time. A smaller, lighter drill may be easier to handle, but a larger, heavier drill may be more powerful and better suited for heavy-duty projects.
LED Lights
Some electric drills come with built-in LED lights that illuminate the work area, making it easier to see what you're doing. This can be especially useful if you'll be working in dimly lit areas.
OUR PICK OF THE BEST ELECTRIC DRILLS AUSTRALIA
Now, it may be just me, but who can resist this super stylish, hot pink contraption? Specifically made for ladies, you can take this high performance drill wherever you go. It also comes with a drill, battery pack and charger, as well as commonly used bits, so it doubles as a screwdriver, too!
We found this at Kogan
If you're looking for a lightweight and cordless electric drill that's not a, then Certa
We found this at Dick Smith
I'm so down for this eye-catching handheld machine that can do all the drilling and driving you need. The easy-to-carry drill comes with the lithium battery and charger to kickstart your DIY journey. What's more? You get a 6-year warranty for the drill and 3-year warranty for the battery and charger!
We found this at Bunnings.
If you're looking for something that looks basic but with a professional punch, there's MasterSpec. Coming in a gender neutral body, it's perfect for mum, dad, and even the future beau. This power tool is a tool kit and cordless drill with 19 position key-less chuck, and made of high-grade steel and comes in a sturdy tool case. So whether you're a contractor or a DIY beginner, MasterSpec will surely last.
We found this at OzSale.
Teal is in and this Makita driver and drill looks super chic. Stylish exterior aside, this cordless drill is perfect in drilling narrow and compact spaces. It has all the capabilities of other electric drills. You'd love that it only takes 22 minutes for your Makita drill to recharge! You also get up to 5 years in warranty.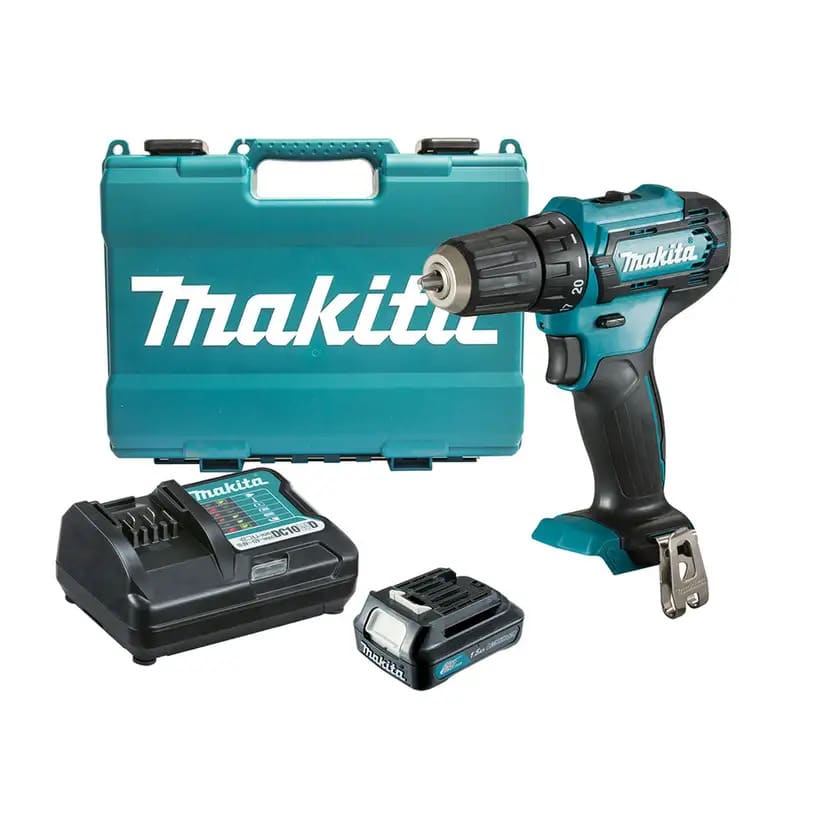 We found this at Mitre10.
Last on the list (but definitely not the least) is this cordless lithium power drill. This lightweight and compact power tool boasts its trademark TriMode – drill, screw and hammer. It also comes with charger, battery, hammer drill function, and accessory kit, making it your all-in-one companion for your DIY projects.
We found this at Mytopia.
ATTACHMENTS THAT MAY COME WITH YOUR ELECTRIC DRILL
The attachments that come with a electric drill may vary depending on the manufacturer and model of the drill, but typically they include:
Drill bits: These are the most common attachments that come with an electric drill. They are used to make holes in a variety of materials such as wood, metal, and plastic.
Screwdriver bits: These attachments are used for driving screws into different materials. They come in different sizes and shapes to fit different types of screws.
Nut drivers: These are used for tightening or loosening nuts and bolts.
Hole saws: These attachments are used to make larger diameter holes in wood, plastic, and some metals.
Spade bits: These are used for drilling larger holes in wood and are shaped like a spade.
Auger bits: These are used for drilling deep, narrow holes in wood.
Sanding attachments: Some electric drills come with sanding attachments that can be used for sanding or polishing surfaces.
Wire brush attachments: These are used for removing rust or paint from metal surfaces.
Jigsaw or reciprocating saw attachments: Some electric drills come with attachments that can be used to turn the drill into a jigsaw or reciprocating saw.
Masonry drill bits: These attachments are used for drilling holes in concrete, brick, and other masonry materials.