This article about robot vacuums was last updated in 2022.
Robot vacuums are becoming hugely popular, and with good reason.
Who doesn't want to designate one of lives most tedious household chores to a trusty electronic gadget that does a thorough job without complaint?
If you're in the market for a robot vacuum, we cover off on everything you need to know in this article, including:
What is a robot vacuum
Is a robot vacuum right go for my home?
The features to consider when buying a robot vacuum
Our pick of robot vacuums
Further reading: 10 Hacks to get the housework done faster.
What is a robot vacuum?
A robot vacuum is an automatic vacuum cleaner that cleans surfaces without you having to operate it. Unlike upright vacuums that you have to move around manually, robot vacuums have computer systems, sensors/lasers, Wifi connectivity and controls that let them navigate your house independently. A robot vacuum can remove dust, dirt, debris and pet hair from different surfaces: floors, carpets, mats and rugs.
Is a robot vacuum right go for my home?
Robot vacuums are genius devices. They can keep your house relatively clean without you ever getting up from the couch. You'll likely still need a traditional canister vacuum for heavy duty cleaning on the weekend, but the robot vac definitely makes a handy buddy for the time-poor single mum. A robot vacuum is amazing at daily cleaning, and you can schedule the vac to run multiple times a day.
Robots vacuums are great for homes that:
Have few nooks, crannies, and obstacles. Lower-priced robot vacuums will be able to clean properly without constantly getting stuck and bouncing off the walls.
You share with roommates or other people. Vacuuming will be one less chore to delegate.
You use as an office or place of business. Robot vacuums are great at tidying up dust, dirt and spilled paperclips.
They may not suit homes that:
Have very cramped areas. Some house layouts are difficult to clean because of all the obstacles in the way of the robot vacuum. It's best to use a push vac for these cramped spaces.
Have multiple rooms and floors. Some robot vacuums are designed to clean very large spaces with multiple floors and rooms, but these can be pricey.
The features to consider when buying a robot vacuum?
With a new model released every week and endless options to choose from, which type of robot vacuum is right for you? Before you decide, consider the size of your home, the kind of floors you have, and whether you have pets that shed hair. Also consider features that you can't live without, as well as extras that are nice to have.
Size of your home
A robot vacuum with sophisticated navigation (home mapping features and can store the layout of a space) is great if you live in a large house, while a vacuum with sensors/lasers is necessary if you live in a two-storey home.
Battery life
For uninterrupted cleaning, choose a robot vacuum with long battery life or something that can operate for at least 30 minutes on a single charge. Also look at the recharge time, as this can take several hours. If you have the budget, go for a robot vacuum that recharges itself.
Type of surface
Do you have wood, carpeted, tiled or mixed floors? Do you have pets that shed hair? Consider the type of surface or debris in your house and choose a robot vacuum that can clean it efficiently. If you have carpeted floors that hold a lot more dirt, get a vacuum with good suction capabilities.
Mop feature
Some models have a built-in mop feature to clean hardwood floors as well as carpets. A hybrid model may not be as good as cleaning as a dedicated mopper, however.
Bin size
The larger the waste bin, the better, especially if you have a large house. It means less frequent emptying. Choose a robot vacuum with at least a one-litre bin capacity. If you have the budget, a self-emptying robot vacuum is a real time-saver and protects you from exposure to dust.
Noise
No one likes to wake up to the noise of a manual vacuum. Thankfully, most robot vacuums are designed for quiet or low-noise operation. This is perfect if you have babies or very young children.
Price
It eventually comes down to your budget. Robot vacuums can cost from a couple of hundred to over a thousand dollars. A lower-priced basic vacuum usually does not have features like sensors, self-emptying bins, or WiFi connectivity, but does a good job of cleaning an average-sized home. Consider what you'll use the vacuum for before investing in bells and whistles.
Our pick of robot vacuums
iRobot Roomba 670
Have pets? The iRobot Roomba 670 is designed to clean dust, dirt and all types of hair and debris from carpets and hardwood floors. It's whisper-quiet, compatible with Alexa and Google Home, and has a self-charging battery.
We found this on: Big W
Roborock S5
The Roborock S5 is a powerful vacuum cleaner/mop combo that automatically mops and cleans your floors. It comes with precise water control and voice assistance. Perfect for larger homes and hard-to-reach areas.
We found this on: Dick Smith
Eufy RoboVac 11S Slim Robot Vacuum
The Eufy is a cleaning powerhouse that can fit under the lowest couch. It's also affordable and perfect for small spaces, if you don't mind your vacuum ping-ponging around the house.
We found this on: Kogan
Black MyGenie ZX1000 Intelligent Robotic Vacuum
If you need vacuuming and wet mopping functions, the MyGenie ZX1000 has you covered. It's super sleek, thin and has powerful suction.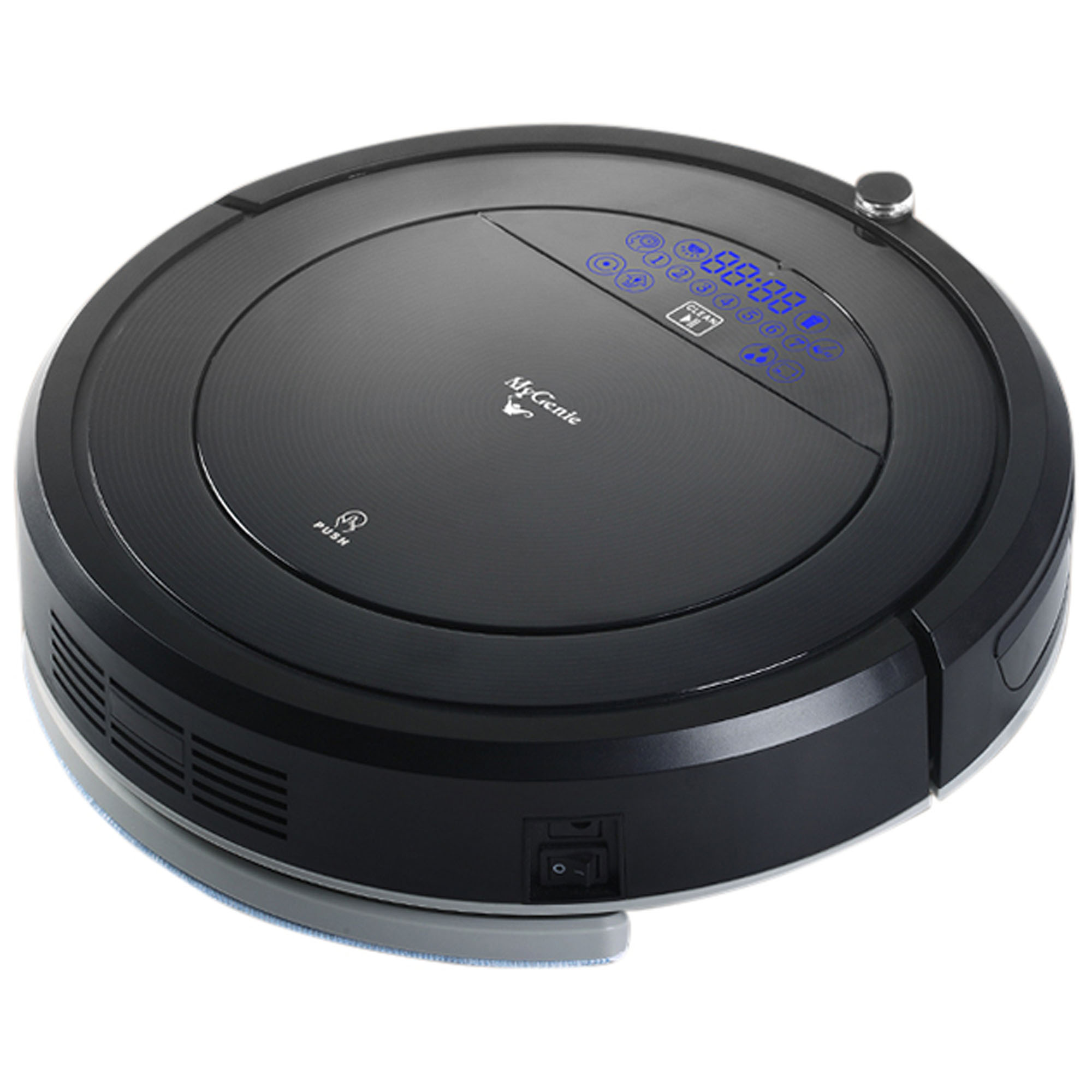 We found this on: Temple & Webster
MyGenie ZX1000 Automatic Robotic Vacuum
Here's another 2-in-1 robot vacuum/wet mop combo that won't drain your wallet. The MyGenie ZX1000 has all the basics you need plus nice extras like HEPA filters and an intelligent anti-collision and anti-fall system.
We found this on: Woolworths