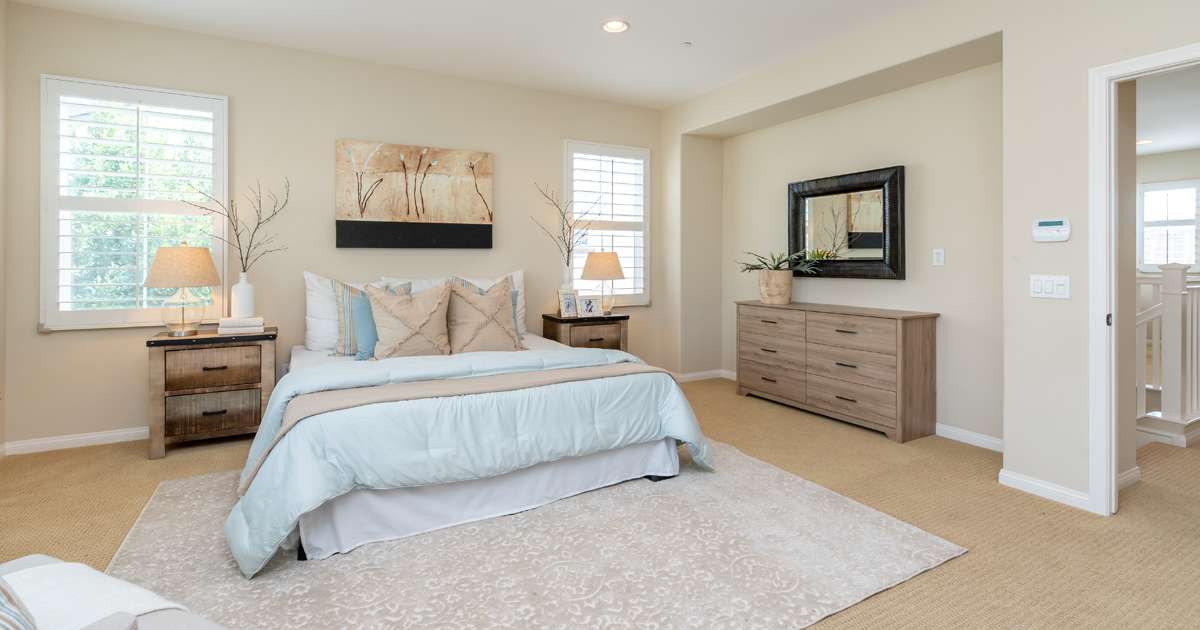 One of the best things about being single is designing your bedroom just the way you want it. Whether it's classy, cosy, cluttered or cherry blossom pink. The. Choice. Is. Yours.
Yet, with heaps of colours, patterns, textures and designs available, which best suits your personality and needs?
Get comfy, relax and enjoy our list of gorgeous bedroom designs for the classy (or not so classy) single lady.
Further reading: 7 Exciting interior design trends that will shape our space this year.
12 Gorgeous bedroom designs for the classy single lady
1. MINIMALIST MAGIC
Minimalists will love this bedroom design from Home Designing. The clean lines, neutral tones, and absence of pattern create a harmonious room that is soothing to the eye and soul. You'll want to jump into bed at the end of an exhausting day and stay there.
We picture a creative spirit loving the minimalist magic bedroom, perhaps an architect, influencer, or designer who make 'less is more' their mantra. Or maybe a busy single gal who reads Kinfolk and follows fashion trends.
Minimalist magic is one of the easiest designs to pull off as you're not coordinating colours and patterns. Choose a white base, then add neutrals and natural finishing to capture the Zen vibe like in this picture. We love the huge mirror on the left side of the room, which adds interest in the absence of art or photos the walls. Complete the look with books, plants, and minimal vases.
Image source: Home Designing
2. GORGEOUS GREY
Grey is a powerful hue that can inform the aesthetic of an entire room, as this gorgeous bedroom shows. Far from boring, grey serves as the anchor point, like a neutral wardrobe staple. The great thing about grey is that you can dress it up anyway you wish—let your mood dictate the look. Go light or go dark, it's up to you.
A grey bedroom is perfect for funky furniture pieces and statement décor. Choose vibrant abstract painting to make the wall pop, or arrange stylish black and white photos on a grid over the bed. The options are truly endless when you choose grey as your main colour.
The dark grey walls in this room is not overpowering due to the light-coloured bedding and carpet, plus that huge window over the bed that lets in plenty of light. Plants and knick-knacks on the shelf in the same neutral shades tie it all together.
3. FLOWER POWER
One of our favourite gorgeous bedroom ideas is florals. Flowers never go out of style, and this bedroom updates the look with a statement wallpaper. It's a modern botanical pattern that is big, bold and just amazing. This beautiful wallpaper would look awesome in any room, but it's just the thing for the bedroom of a classy single lady.
The trick with striking wallpaper is choosing accents that complement the design. You definitely don't want pieces to clash and colours to overpower each other. But if you're a maximalist who adores mixing patterns (and you know what you're doing), go ahead and create something wild.
This wallpaper works best for medium to large rooms like the one in this picture. You really get a sense of scale and drama. Furniture and fixtures are clean and unobtrusive. We're loving that bright green bedding with the mauve blanket that follows the wallpaper colours.
Image source: Murals Wallpaper
Gorgeous bedroom ideas (CONT.)
4. WARM AND COSY
As for gorgeous bedroom ideas, warm and cosy (or Hygge) is beautiful and super on-trend. Warm tones represent comfort and security, and it's perfect for winter decorating. Warm neutral colorways give a look of subtlety and refinement to any room. It's like staying at a five-star hotel or an exotic tropical resort.
Choose coordinating décor and furniture that are also warm toned. Add accents like pillows, throws, blankets and woven baskets to ramp up the cosy factor. Texture is your best friend. You'll want the accents to be beautiful but touchable, evoking warm, comfy feelings.
This bedroom is more casual boho than luxe, and you can easily achieve the look with white walls, warm pastel bedding, and natural wood accents. Don't be afraid of prints and patterns, but keep it subtle. Also, notice the abundance of plants and the small white rug that doesn't cover the gorgeous floor.
Image source: Pinterest
5. BEACHSIDE LIVING
Gorgeous bedroom ideas like this beachside living bedroom takes us straight back to summer. The look is laid-back and understated, perfect for professional single women who want to forget work when they get home. No matter how tiring your day went, it's super easy to relax when your room exudes that beachy vibe.
It's easy to get this look, whether it is a Nantucket or Bali beach vibe you want. The key is natural materials. Think woven baskets, reclaimed or polished wood, flowers, and nautical-themed décor like faux coral and wall art/photos (subtle is best). We like to keep the main colour a warm neutral, then pile on cool coordinating accents.
The blue walls and accents in this room works well with the neutral tones of the bed and furniture. Instead of wall art, the hanging shelf adds charm and the right amount of quirky—perfect for a guest bedroom.
Image source: Ideal Home UK
6. THE GREEN ROOM
If you've never considered having a green bedroom, this gorgeous design might just change your mind. The emerald green on the walls is like being inside a jewel box. It is elegant, unexpected and revitalising. We want to be in this room to chill and recover our energy.
This grown-up room is perfect for the ambitious single lady. We love the contrast of dark furniture with light carpeting. The wall art is understated and the curved mirror over the dresser breaks the straight lines and adds interest. If you want to tone down the formality and make it look more inviting, choose white bedding and pile on the texture.
Green goes well with either modern or traditional furnishings. If you're all about that sustainable lifestyle, add lots of indoor plants (floor, desk and hanging) in woven baskets or natural pots. Or jazz it up with complementary jewel-toned accents like deep purple cushions, gold or copper lighting fixtures, and metal embellishments.
7. COUNTRY MANOR
If old world elegance is more your thing, you will adore this amazing country manor bedroom. It's easy to transport yourself to the posh English or French countryside with the right wallpaper, furniture and décor.
Country manor is all about elegant, high-quality furnishings and accents that stand the test of time. You can opt for a luxurious, ultra-posh bedroom or a slightly more vintage, weathered aesthetic. The lovely custom bed is clearly the star of this bedroom. The matching nightstands and gorgeous corner chair unify the look. We also dig the contrasting paneling on the walls.
It can be hard to find pieces for a country manor bedroom if you're on a budget. We suggest eBay, Amazon or Facebook marketplace to score beautiful but cheap finds. Antique or vintage shops and flea markets are other great sources of high-quality furniture and décor.
Image source: Domayne
BRILLIANT BEDROOM DESIGNS FOR SINGLE WOMEN (CONT.)
8. BLING BEDROOM FUN
Our list of gorgeous bedroom ideas won't be complete without bling. Bling is fun, flirty and empowering at the same time. It tells the world that you take your work seriously, but not yourself. If you're a die-hard minimalist, use bling as embellishments to add more oomph to a boring or safe bedroom.
This bedroom is the perfect example of grown-up bling. The black and white accents on the white base screams luxury, but it's not in your face. We love the metal photo frames and matching silver mirrors on either side of the bed. The tufted headboard, silk pillows and sleek seating up the wow factor.
If you're investing in just one main piece, try an elegant crystal chandelier or a studded headboard. Tufted ottomans and Louis XVI chairs also give off that 'yaas queen' vibe. For colour lovers, we suggest bold jewel tones and vibrant, happy shades for accents.
Image source: Pinterest
9. PARISIAN CHIC
There's a reason Parisian chic never goes out of style. It's an elegant, feminine, and pretty aesthetic that women of all ages drool over. You can go all out Marie Antoinette with the dainty floral prints, pastels, clawfoot furniture and paneled walls, or go bohemian with vintage pieces, weathered finishing, and plenty of great art.
Modern Parisian is another option, with sleek furniture, graphic wall art, neutral base colours with vibrant accents, and vases filled with flowers. A black and white modern Parisian bedroom is incredibly chic, with pops of colour like a patterned area rug or cushions.
The classic furniture in this neutral Parisian bedroom ties the look together. The amazing bed with the canopy, the vintage nightstand and the dressing table with folding mirrors are all tres chic. You can get the look without spending a fortune by investing in one central piece (like a great bed) and adding affordable but beautiful accents.
Image source: Pinterest
10. WHITE DELIGHT
White made a huge comeback about a decade ago, and it's still the dominant colour in interiors today. Just look at Pinterest, Instagram or your favourite design magazine. White is a canvas, and you can use it in your bedroom to make your personality truly shine.
A white bedroom can be maximal or minimal, vintage or modern, depending on your aesthetic. Keep everything white on white, from the carpets to the drapes, or throw in a few vibrant or neutral accents. White is a fabulous backdrop for boho chic furniture and décor, whether its kingdom villas or warehouse loft.
We love the ultimate white bedroom below with its tufted headboard in a darker shade of pale, and a rug with a subtle print to break the monotony of white. The gallery of botanical prints above the bed adds some colour without being distracting. That headboard looks expensive, but it's actually pretty cheap and easy to DIY. Check out Pinterest for tutorials!
Image source: Pottery Barn
11. BEDROOM BRIGHTNESS
Who doesn't love a pop of colour? Bright, happy shades make a room look alive and inviting—perfect for a classy, single lady who is full of pep and energy. If pastels or a neutral palette is more your thing, you can add a splash of colour here and there.
We love the uniquely patterned boho quilt pictured below, cushions in bright salmon and pink shades, and that gorgeous teal accent wall. The art over the bed echoes the pink and warm tones of the rest of the room. The woven rug and pouf add texture.
This style is easy to copy, and painting the accent wall can be done in one day. You can also try painting a key piece of furniture in an unexpected colour. A bright pink or purple nightstand, desk, ottoman, or chair makes a perfect accent for a pastel room. To complete the look, add vases of cheerful flowers on desks and surfaces.
Image source: Pinterest
12. MODERN GOTHIC
Yes, Gothic is in our list of gorgeous bedroom ideas. Modern Gothic, that is. Think moody, broody shades of deep blue, purple, green, or just plain black, sleek furniture and fixtures, and dramatic accent pieces like a huge black chandelier. For a more subtle effect, try a black accent wall over the bed or dark carpeting and curtains.
The bedroom below is a perfect example of modern Gothic done right. Despite the dark bedding and walls, it doesn't feel stuffy or heavy at all. The floors and furniture are lighter so you feel like you can breathe. The subtle abstract pattern on the accent wall adds interest.
To get the look, paint all the walls a dark colour except the accent wall (or use wallpaper that you can easily remove if you change your mind). Choose similar dark accents and fixtures, and keep some pieces light to give the eye a break.
Image source: Pinterest