If you are a porridge lover, like me, you will love the comeback of this classic comfort food. Porridge recipes are getting increasingly more delicious as we work out wondrous new ways to enjoy this nourishing nosh.
I can't go past porridge for breakfast and will eat it anytime of the day. It's my go-to comfort food and if it's on a menu, I have to order it.
Although porridge has been taken up a notch over the last few years, it has been around forever. According to New Scientist:
"Hunter-gatherers ate oats as far back as 32,000 years ago – way before farming took root."
There's good reason why porridge has stood the test of time.
It's tastes good and it makes you feel good. In fact, oats are a superfood which provide us with all sorts of goodness such gut soothing fibre, a host of vitamins and minerals, together with antioxidants to make us look younger, yay. And if that isn't enough, they are a slow-release energy, so if you chow down on porridge oats they will keep you feeling full and energised long after you've washed up your bowl.
If I've not converted you to become a fellow porridge lover yet, the below porridge recipes are sure to do so. No longer the grey sludge of prison canteens, modern-day porridge is now complemented by other wonderfully health-giving ingredients with vibrant colours and beautiful adornments like bright fruits and edible flowers.
Here are my most-loved porridge recipes …
10 Amazing porridge recipes from a porridge connoisseur
1. APRIL BLOOMFIELD'S ENGLISH PORRIDGE
Sometimes with porridge, the simpler, the better. This one is really easy to make but it has a twist: Sugar and salt. I promise you that it works. We all thought salted caramel and chilli chocolate was strange … until we tried it. It is no different with this porridge. Give it a go and you will be converted.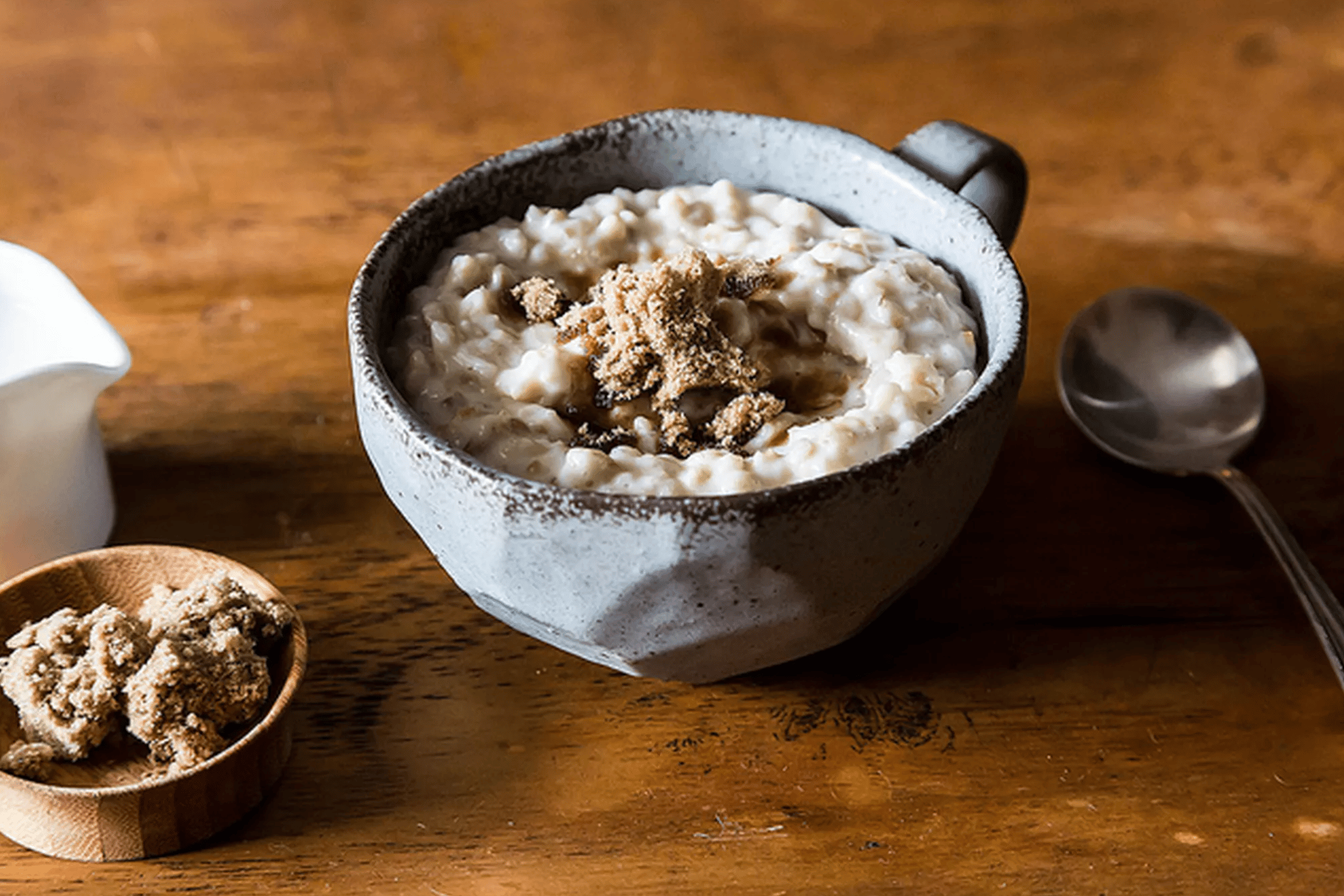 Get the recipe for April Bloomfield's English porridge.
2. Cinnamon porridge with berries and banana
This is one of the best combinations for porridge I have had. Cinnamon complements the creaminess of the oats, cooked banana is sweet and delicious and the berries give a pop of acidic taste and colour.
Get the recipe for Cinnamon porridge with bananas and berries.
3. Chocolate porridge
From one of my favourite chef's, Jamie Oliver, comes this unusual but yummy porridge for the chocolate lover. Adding gooey dates, cocoa powder and nuts (I use whatever I have in the cupboard) is a winning combination and totally works.
Get the recipe for Chocolate porridge.
4. Rhubarb porridge
Rhubarb has a tongue-twisting tang that works well alongside creamy oatmeal. I would go so far as to say they are a match made in heaven. Rhubarb can vary in sourness so I often add a little more sugar or sugar alternative when I make this one.
Get the recipe for Rhubarb porridge.
5. Congee
No list of porridge recipes would be complete without congee … the traditional Chinese dish made with rice (not oats like the other recipes on this list). I have made this recipe twice and mixed it up with both sweet and savoury ingredients which is the way in the East. Congee can take ages to make but this recipe is just 20-minutes which is super-fast in the congee world.
Get this recipe for Congee.
Best porridge recipes
6. Raw apple pie porridge
Possibly the healthiest dish on my list of porridge recipes, this one is packed full of healthy ingredients, all served raw. It's has the added bonus of being vegan. Although it's raw, you can still serve it warm by putting it over a gentle heat before serving. I used normal sugar or maple syrup if I can't find coconut sugar.
Get the recipes for Raw apple pie porridge.
7. Pumpkin porridge
This recipe for pumpkin porridge has no less than 20 ingredients! Most are store cupboard but I have skipped and/or substituted a few occasionally. I'm not usually one for too many tastes, preferring more simple dishes but this is well-worth the effort. It's another porridge that can be enjoyed by the vegan's amongst us.
Get the recipe for Pumpkin porridge.
8. Coconut cream pie overnight oats
The jury is still out on whether overnight oats constitute as porridge but it's my list, so my rules … and these decadent coconut cream oats are too good not to include. I love that you make it all the night before. Knowing it's sitting in the fridge waiting to be eaten will sometimes get me up earlier in the morning, no joke!
Get the recipe for Coconut cream pie overnight oats.
9. Cherry Bakewell Porridge
If you love a cherry Bakewell tart, you're gonna love this porridge. It incorporates the ingredients of the original cake such as cherries and almonds and even includes a crumbled digestive biscuit on the top to give it that cake-like feel. I always use frozen cherries as they are cheaper and the stones have been removed making the process less fiddly.
Get the recipe for Cherry Bakewell porridge.
10. Matcha oatmeal
Ending on a healthy high, my daughter got me into this antioxidant-packed matcha oatmeal. It does have a tiny bit of sugar which I have tried to omit but it's needed to balance the strong and not-that-nice matcha flavour. I also like to substitute the nut milk for coconut milk, again, to overwhelm the matcha. The end result is delicious and super-duper healthy.
Get the recipe for Matcha oatmeal.