Build your graphic design skills on a good knowledge foundation!
This free online graphic design course is highly-rated and will teach you the fundamental principles of graphic design which includes typography, composition, colours and shapes which are the common basics in all aspects of graphic design practice. This course also encourages you to design along the course with its opportunities to create through its exercises and practical projects.
If you want to learn how "to explore and investigate visual representation through a range of image-making techniques, understand basic principles of working with shape, colour and pattern, and understand applied principles of composition and visual contrast", this course could be perfect for you.
For this course you will need access to a computer. A beginner's level knowledge of Adobe Creative Suite programs (such as Illustrator, Photoshop and InDesign) will also help you.
Course length: Approximately 15 hours to finish
Course platform: Coursera
It's understandable how this course is one of its platform's bestsellers.
This online graphic design course proudly covers Photoshop, Illustrator, InDesign, design theory, branding and logo design.
With its extensive coverage of topics, the course promises that you develop a deep understanding of typography, colour theory, layering, blocking and other design theories and skills.
If you wish to develop skills in creating branding packages and logos, master essential vector design tools in Adobe Illustrator, learn editing and manipulation skills using Photoshop, and how to create magnificent editorial spreads and magazine layouts, you should check out this impactful online graphic design course.
Course length: 29 hours on-demand video of 225 lectures
Course platform: Udemy
Perhaps you see yourself headed towards a creative director position where you will be working with a team of designers. As much as you are quick to conceptualise or identify creative or artistic paths to pursue, you also have to know the language and the technical terms and elements to be able to get your direction across to your designers.
If you need a course to help you digest and communicate your graphic design requirements and critique, and more importantly, to empower your creatives to perform better, this is the one.
This course, created by the University of Colorado-Boulder, is a hands-on specialisation where you will be encouraged to explore basic graphic design elements, the creative process, how to discuss ideas in a brainstorming, and also how to critique design in a professional setting.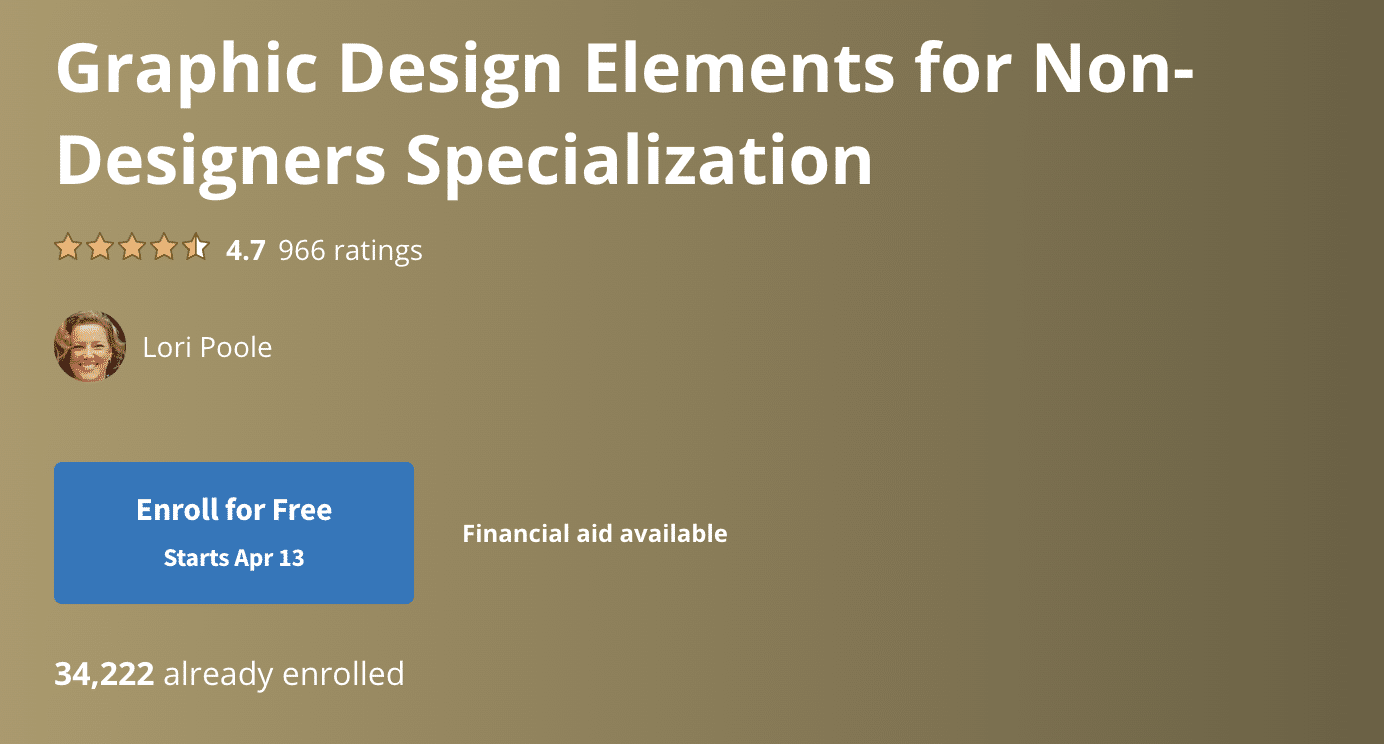 Course length: Approximately 4 months to finish at a 3hrs/week pace
Course platform: Coursera
This online graphic design course is actually a slice from the previous course for non-designers.
Also considered as Part 2 of the Graphic Design for Non-Designers Course, this course focuses on exploring different types of images and graphic elements employed in design.
The course delves into colour theory, image file types and usages, and understanding the combination and harmony of graphics and text in logo design.
Course length: 12 hours
Course platform: Coursera
This online graphic design course promises intermediate to expert level knowledge of graphic design theory and the thought processes behind the principles taught, which you can immediately apply in your job, hobby, or academic projects.
The program includes real-world projects where you will be encouraged to practise on.
This course also teaches about different design trends, typography theories, layout, user interface and experience design, and the legal side of design to empower you in ensuring safety when it comes to copyrights and trademarks.
Course length: 10 hours worth of 82 lectures
Course platform: Udemy
If you are motivated by exams and passing requirements before progressing or earning a certificate, this online graphic design course (focused on teaching you how to use Adobe Indesign to its full potential) is right up your alley.
This course also boasts of awarding Continuing Education (CE) / Continuing Professional Development (CPD) credit points that are accepted and recognised by academic institutions and professional member bodies across the US and internationally.
Course length: 5 modules
Course platform: International Open Academy
If you want an online graphic design course that will serve as your roadmap to a career or an additional expertise in graphic design, this is it.
With a more general and extensive approach to graphic design, yet one that also includes the communication and professional aspects of graphic design, this course discusses principles of great graphic design, the process of becoming a graphic designer, how to use popular graphic design tools (such as Photoshop, Illustrator, InDesign, and Acrobat), and even how you can secure a job as a graphic designer.
Course length: 20.5 hours worth of 203 lectures
Course platform: Udemy
With three certificate options that range from Certificate to Post-Graduate, the graphic design online courses of the academy encourage self-paced learning for both beginners and those who wish to advance their skills in graphic design.
The programs promise to equip the students knowledge and mastery of graphic design fundamentals, practical skills and in-depth understanding of graphic design– and also how to secure design projects.
The academy also offer optional work placement to its students who want to kick off their graphic design career right after certification.
Course length: 3-9 months duration
Course platform: Australian Academy of Graphic Design
Final words: Graphic design online courses
In the realm of graphic design, where creativity knows no bounds, these carefully selected online courses for beginners serve as gateways to a world of artistic expression and professional growth.
From understanding the fundamentals of graphic design principles to delving deep into industry-standard software like Adobe Photoshop and Illustrator, these online graphic design courses offer an invaluable foundation. Moreover, they empower you to explore critical aspects such as colour theory, typography, branding, and logo design, ensuring a comprehensive education.
Remember that creativity knows no boundaries, and with dedication and the right knowledge, your graphic design dreams can flourish. So, seize the opportunity, enrol in the course that resonates with you, and let your artistic journey begin.