One of the biggest challenges of being a single mum is the financial impact. Even so, it can be the last thing on your mind as you navigate the murky waters of a break-up. For many, it's not until later that the financial implications hit home. And then we need all the money saving tips we can find!
According to a survey by Raising Children:
"Single mums have 47% less disposable income than coupled families."
Mildly worrying?
Or a reason to get proactive to make more money and to save more of what we make?
If you want to take the strain off your haemorrhaging purse help is at hand with our brilliant money saving tips.
Further reading: 21 Ways for single mums to make money from home.
Money saving tips for single mums
SAVE MONEY IN THE HOME
Do you need to heat or cool your house? If so, be mindful of the costs, they can be hefty. Contain the required temperature in the rooms you're using by shutting doors/curtains and using door snakes. Simply switching-off temperature control units when you're not using them is one of the easiest money saving tips ever.
Borrow tools/machines for home maintenance jobs that you rarely do. There's always a neighbour or friend who will oblige and you can thank them with a home-made cake or a hand-drawn card from you children, which costs hardly anything.
It might sound over the top but get in the habit of timing your showers, and especially those of your kids. There's no need to be too frugal, just remember that a number of long luxurious showers daily will play havoc with your water bill.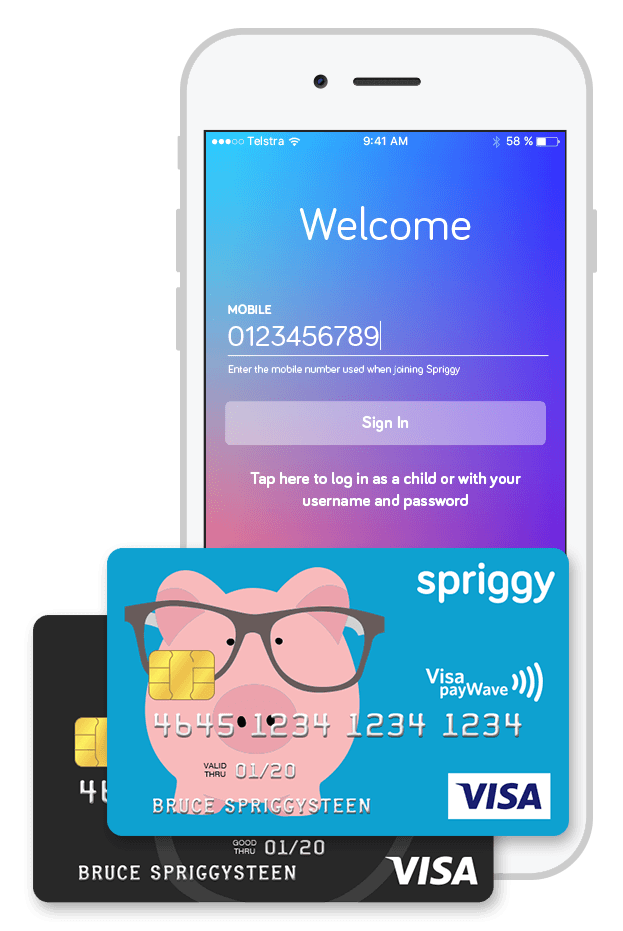 Image: Spriggy for kids pocket money
SAVE MONEY AT THE SHOPS
Don't go to the supermarket on an empty stomach. You'll end up buying food you don't need and eating half of it on the way home! Have a snack before you go if necessary. And make sure you know all the money saving tips for grocery shopping.
Prepare a list for grocery shopping. Don't attempt to visualise the contents of your fridge to remember if you need more milk. You'll end up buying things you don't need (and forgetting stuff you do need).
Going on a shopping spree? Lovely, but make sure you keep within your budget. Leave your naughty-but-nice credit cards at home and only take the cash you have available to spend.
Save big time by buying clothes from charity shops. There are some great bargains to be found, many of which are brand/nearly new. This is especially good for children's clothes as they grow out of them so quickly (and they won't know where you got them). Take a look at second hand clothes shops online, you'll be pleasantly surprised by what you find.
Christmas shopping undoubtedly gets more expensive as children get older. Spread the cost throughout the year by setting-up a savings account with a small automated payment. By the time Christmas comes round you're off on the right foot with money ready to spend.
Try grocery shopping online. Not only will it save you heaps of time, you'll save money on fuel and you can check out all the current specials at the click of a button. But the best bit is that you can see exactly what you're spending as you shop.
Image: Woolworths Online
MONEY SAVING TIPS FOR SOCIALISING
Cut back on meals out with friends, especially with your children, as they'll leave a gaping hole in your purse. Instead suggest you meet at the park or someone's house where everyone can provide some food/drink.
If you're lucky enough to have a night out with friends explain that you'll pay your own way and make careful low-cost choices. Don't get stuck in a round where you could end up paying for other people's expensive tastes.
Before you go anywhere that costs money i.e. a theme park, restaurant, cinema, check online for special deals. There's usually something to be had, and you'll kick yourself if you get there and find you could have saved money by simply printing a voucher.
AND YET MORE MONEY SAVING TIPS FOR SINGLE MUMS
GENERAL MONEY SAVING TIPS
Use your local library. Not only can you borrow a huge array of books but you can also rent DVD's and children's toys, all for free. Our local library has computers available for kids to play games and a selection of floor activities for toddlers. It makes for an easy and free afternoon out. Not only that, you could rent one of these brilliant finance books that will teach you even more about money!
Cut-back on daily treats. Are you buying lunch at work every day or grabbing a coffee after school pick-up? Don't miss out entirely (we all need treats) but try to limit them and see how much you save.
Personal finance apps are a great way to budget and to ultimately save money. Make sure you check out the many free options available.
Consider your childcare options. Is it costing you too much? There are lots of different types of childcare available and they don't all cost the earth. Try organising a vacation care club with other school mums, or look into other ways of managing childcare that are less pricey than your current arrangements.
Keep on top of your bank account/s. Make a time every week to run through your statements online. This way you can identify any errors (they do happen) and get your head round where your money's going. You can then identify where you need to tighten the purse strings.
If you're planning a holiday avoid peak time for travel (especially flying) such as public holidays, and if possible, school holidays. Search online for specials and check your loyalty cards to see if you can redeem points for flights, accommodation or activities. One of the best money saving tips for holidays is to Airbnb your home while you're away. Everybody's doing it, and it may even pay for your whole holiday!
SAVE MONEY ON YOUR BILLS
Make a note of when your insurance policies expire and make sure your crafty insurance company doesn't automatically role your policy into another year at whatever cost they choose. Use super-fast websites such as Compare The Market to compare policies as you're bound to find something cheaper. The same with health insurance. Make sure you have the right health insurance for a single parent family.
Have you checked the fees on your bank account lately? You might get a shock. The banking market is more competitive than ever and some banks don't charge monthly fees or overdrawn penalties anymore. Bank account comparison sites make it quick and easy to find the best deal. No need for bank loyalty here. Swap if you can save.
Regularly run through your bank statements and check you're not paying for memberships or subscriptions you no longer use. Is your gym membership burning calories or just a hole in your pocket? If you don't use it, then cancel it.
How carefully do you check your utility bills? Take five minutes to check the details. Are you being charged correctly? If you don't understand anything then call and get clarification. And if you have time, shop around. If you find something cheaper tell your original supplier and they may beat the price so you'll pay less without the hassle of changing provider.