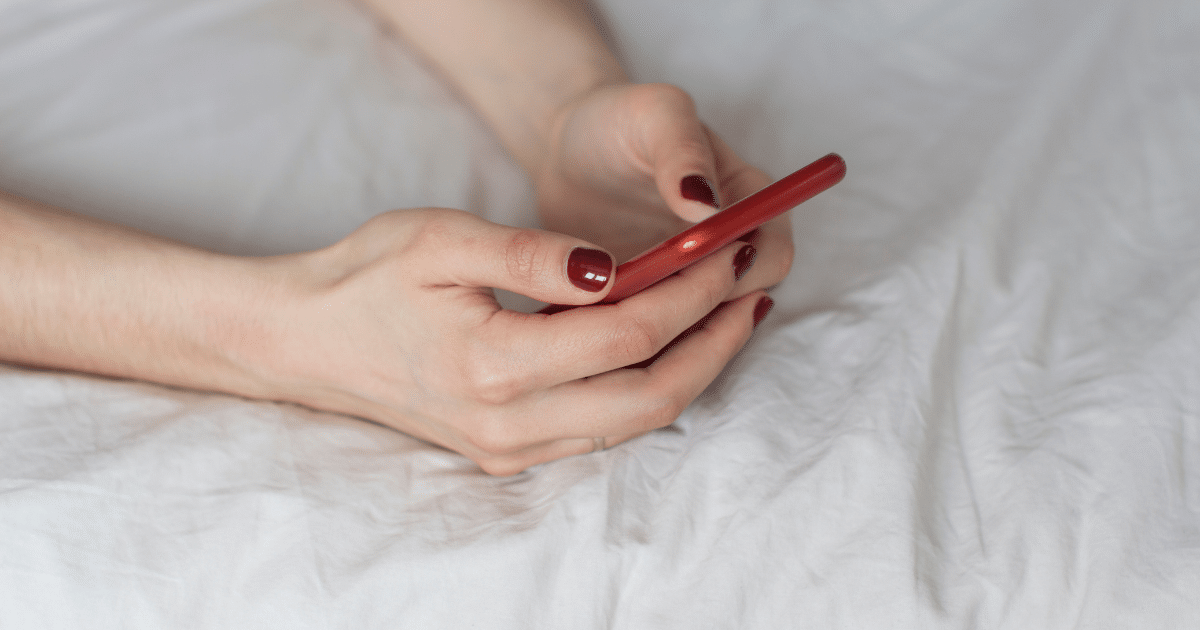 I am not a pro at sexting, but I've had my fair share of experience. And if there's one thing I've learned it's this: Safe sexting is the best sexting.
In this digital age, getting carried away and sending a naughty photo without thinking twice about the potential consequences is easy. But let's be honest, nobody wants a private photo sent in a moment of passion to end up somewhere it wasn't intended to be.
The question is: How can you enjoy the thrill of sexting without putting yourself at risk?
From setting boundaries to choosing the right messaging app, I'll cover everything you need to know to keep your sexting adventures safe and secure.
Use the right message app
Not all messaging apps are equal when it comes to sexting.
Firstly, choose one that offers end-to-end encryption to protect your messages from being intercepted by hackers or other third parties. Apps like Signal and WhatsApp are excellent choices for this.
Also, if I'm sending something a little x-rated, I prefer apps with disappearing messages that automatically delete after a specific time. The most popular of these is Snapchat, but Instagram has a feature called "Vanish mode" and WhatsApp recently introduced "View Once" which allows users to send disappearing photos and videos that can only be viewed once.
Note: Even with disappearing messages, the receiver can screenshot to view them later, so send with caution.
Set clear boundaries of consent
Boundaries and consent are critical aspects of any sexual interaction, including sexting.
It can feel awkward having this conversation with your sexting partner. Getting all serious might momentarily take the edge off the sexy mood, but I can't emphasise its importance enough.
By establishing clear boundaries, you will avoid unpleasant misunderstandings that could damage your relationship and have serious legal consequences.
On a positive note, boundaries and consent help ensure that both you and your sexting partner are on the same page regarding what you enjoy and what you don't. This creates a safe space to have fun and leads to a more enjoyable experience.
Don't Share Personal Information
Sharing personal details with people you don't know in real life can be risky. Aside from being used in possible crimes like extortion and blackmail, your personal information can also be used in cybercrimes like phishing and identity theft.
If you don't personally know your sexting partner, it will be wise to err on the side of caution and maintain a level of skepticism.
But keeping your personal information private should not be limited to sexting. You must also avoid sharing them on social media and other sites. Creeps and criminals exist everywhere, so always be cautious when sharing details that can be used for fraudulent activities.
Don't Include Your Face or Other Identifying Features
Sending nudes is OK as long as it's consensual. But don't show your face.
As I mentioned earlier, be skeptical when interacting with anyone online – regardless of whether you know them personally or not. Part of protecting your identity is keeping your face off those racy selfies and videos.
Don't take the risk of your face and identifying features getting shared illegally – because that happens all the time. Remember, we've all heard of someone who lost their job or have been ostracised after having their faces and x-rated stuff illegally exposed online.
We all know better … don't take the risk.
Think twice before sending
The well-known advice when it comes to information security is:
Think before you click.
Never is this more important than while sexting. In the heat of the moment, we can lose our minds and do things we don't normally do.
The great thing about sexting is that you're in control of this interaction (at least on your end). Allow yourself time to think about what you're about to send and the possible consequences should it end up somewhere it wasn't intended.
Slow down to check what you've typed or photographed.
Remember, the Internet never forgets.
Avoid using public WIFI
Using public Wi-Fi for sexting is like playing Russian roulette with your intimate photos and messages.
You might as well print them out and tape them to the nearest lamp post for all the privacy you'll have. It's like inviting your nosy neighbour, creepy co-worker, and judgmental aunt to join the bedroom fun with you.
Public Wi-Fi networks are often unencrypted, making it easier for hackers or other malicious individuals to intercept and access your private messages and personal information. Furthermore, you have no control over who else is using the same network and could potentially view your messages.
It's always best to use a private Wi-Fi network, preferably one that is encrypted and password-protected, or to use a cellular data connection for secure messaging.
Be Careful Who You Sext With
While it can be a fun and spicy way to connect with your partner or explore your sexuality, it's important to be careful who you're sexting with.
Always triple check you are sending your message to the right person. You don't want to accidentally send your saucy snaps to your boss or your grandma.
Choose your sexting partners wisely and always make sure they're someone you trust and feel comfortable with. And maybe double-check that you're not accidentally sending your nudes to your dentist instead of your significant other.
Delete your conversations regularly
There's nothing scarier than the idea of your child or or our mum scrolling through your phone and stumbling upon you – or someone else – naked!
To be safe, always delete all evidences of sexting from your phone, whether it's something you've sent or received. That includes messages and photos from your phone gallery and trash folder.
You should also establish deleting rules with your partner from the start for your mutual protection. Although that's not a guarantee that they will delete your conversations and photos from their end, at least you've done your part.
And, for Pete's sake, have a password!
Be aware of revenge porn
Personally, I will never understand people who will humiliate you in public for dumping them. That's such a loser behaviour.
Revenge porn is revealing someone's explicit videos and pictures without the other person's consent. Usually, this happens after a breakup in order to embarrass someone.
Unfortunately, it can happen to anyone. Regardless of whether it's a person you're in a romantic relationship with, a friend with benefits, or an online stranger, there's no guarantee that this will not happen to you.
Being cautious from the start by not sending them your face and identifying parts provides that crucial layer of protection.
Report any abusive behaviour
Nothing ruins the thrill more than guys (and girls!) who send unsolicited pics and those who don't respect your clearly stated boundaries. Unfortunately, there's a lot of them on the Internet, especially since some are anonymous.
Here's my easy, two-step guide for minor offenders:
Block
Report
As in real life, you absolutely don't have to tolerate anyone's abusive behaviour. This is easier with strangers you meet online, since you can just block them and never interact with them again. On the Internet, ghosting is easy. If you know the person in real life, it will get tricky.
If the offences escalate to major crimes, then that's totally different. If they keep harassing you, start extorting you, or distribute your photos and videos, don't hesitate to report them to the police immediately.
Always remember to take the precautionary measures – don't share your identity – so you can stay protected if the worst happens.
Conclusion: Safe sexting in the digital age
While sexting can be a spicy and exhilarating way to connect with your partner or explore your sexuality, it's important to do it safely in the digital age.
Before you start sending your saucy snaps or tantalising texts, make sure you're doing it with someone you trust, and who won't accidentally share your intimate moments with the entire internet.
Remember: With great sexting power comes great sexting responsibility.